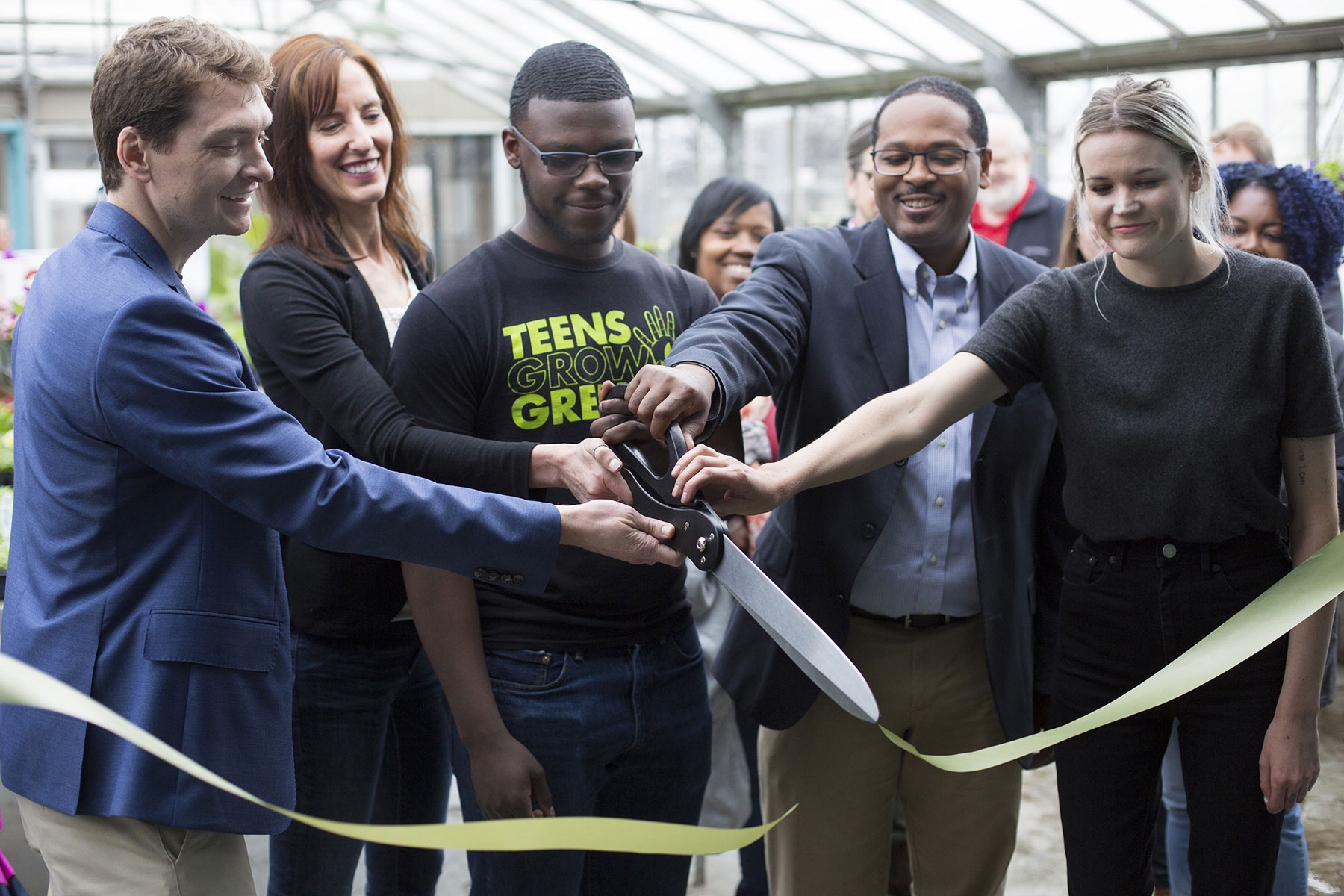 Teens Grow Greens officially added the Webers Greenhouses to its program when it opened on May 5, bringing a fully functioning greenhouse for community members to purchase plants, herbs, and vegetables, and as an experiential learning facility for Teens Grow Greens interns.
The mission of the nonprofit Teens Grow Greens is simply to offer teens a place to "learn, grow, and go." During a nine-month paid internship, local teens learn life skills through hands-on experience in mentorship, entrepreneurship, and agriculture. Following the internship, Teens Grow Greens provides post-graduation support to ensure the success of each Teens newfound individual goals, like graduating high school, becoming employed, or launching an entrepreneurship product.
"Teens Grow Greens not only grows healthy food, it also grows and develops leaders and activists within our community." said Edward Rodgers, a Teens Grow Greens Graduate. "Being in the program gave me the extra drive to seek out others in my community and expand my horizons on marketing and entrepreneurship. They even helped me start and complete my resume. My dream is to become a neurosurgeon. Through Teens Grow Greens, I was able to make a connection and shadow a specialty doctor at a hospital."
Through the purchase of Webers Greenhouses, Teens Grow Greens interns will not only have a new home to grow in their agricultural and entrepreneurship skills, but Teens Grow Greens will also be able to provide employment opportunities for graduates of the internship program. This year, Travon, a 2017 Graduate of Teens Grow Greens, plans to set up a small cafe in Webers to sell his own created product to customers, Joe Veggie Go.
"I'm proud to support organizations like Teens Grow Greens," said Ashanti Hamilton, President of the Common Council. "Teens Grow Greens not only encourages local Milwaukee teens to take charge of their futures, but the being done right here in the 1st district will benefit the entire community by providing greater access to fresh produce and flowers."
Teens Grow Greens also plans to hold a visioning session in October with the goal to host a discussion for community, business, and non-profit leaders to identify more ways Webers Greenhouses can better serve not only the mission of Teens Grow Greens, but also its immediate community.
"Opening Webers Greenhouses is a growing step for Teens Grow Greens as an organization. We will be able to expand our ability to support and impact local Milwaukee teens during their internship and provide additional post-graduation support," said Charlie Uihlein, Teens Grow Greens Executive Director. "We are incredibly thankful and excited for this opportunity to grow in our mission as an organization and also cultivate vegetables, herbs, flowers, and plants for the community to enjoy."