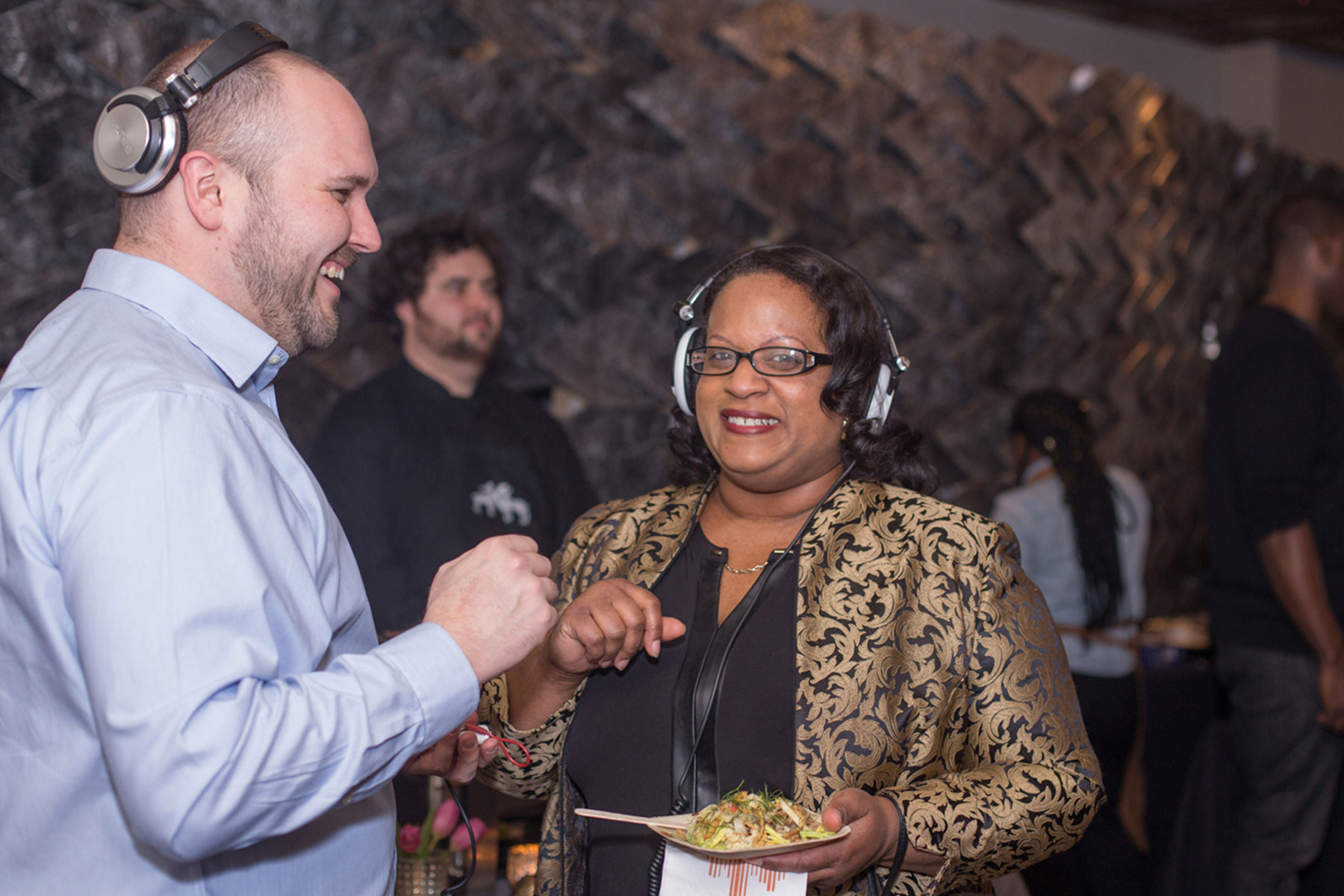 Top chefs from restaurants around the city joined 88Nine Radio Milwaukee DJs to serve one-of-a-kind music-and-food pairings at the station's seventh annual SoundBites fundraiser on February 8 at the Iron Horse Hotel.
SoundBites let food and music enthusiasts savor unique pairings at 13 tasting and listening stations. Guests were able to enjoy flavors from across Milwaukee's diverse food scene, and listen to creatively matched tunes on earbuds. Taking inspiration from the ingredients of their food and music, the paired chefs and DJs collaborated to combine small plates with the perfect songs, harmonizing them to create unique dining and listening experiences. Participating chefs and their 88Nine music counterparts were:
BALZAC, Ronnie Oldham + Laura Kezman
Dish: Crawfish bread + boudin balls with creole remoulade
Song: "Iko Iko" by The Dixie Cups
THE DIPLOMAT, dane Baldwin + Alyssa Feuerer
Dish: Peanut butter mousse, chocolate brownie, sable cookie, honey marmalade
Song: "Gooey" by Glass Animals
LAKE PARK BISTRO, Adam Siegel + Amelinda Burich
Dish: Gnocchi a la Parisienne – Choux pastry dumplings with Pleasant Ridge Reserve fondue, duck confit + mushrooms
Song: "Un canard dans la mare (Lord love a duck)" by Les Cheries
SMYTH, Kevin Baumann + Sarah Fierek
Dish: Braised beef cheek agnolotti with cherry + porcini mushroom jus
Song: "Colors" by Beck
AMILINDA, Greg Leon + Kenny Perez
Dish: Spicy lamb meatballs, cheese grits + linguica oil
Song: "On My Mind" by Jorja Smith X Preditah
GOODKIND, Katie Gabert + Justin Barney
Dish: Savory plum tart with Rush Creek Reserve + French butter crust
Song: "Hymne a l'amour" by Edith Piaf
JUNIPER61, Darin Yenter + Dori Zori
Dish: Seared potato pancake, smoked paprika braised beef short rib + white pepper creme fraiche
Song: "Start Wearing Purple" by Gogol Bordello
KINDRED, Simon Barcelona & Joe Piscitello + Nate Imig
Dish: Homemade pork sausage with black pepper spatzle, gruyere cheese sauce + apple fennel slaw
Song: "Goodbye" by Porches
THE PABST THEATER GROUP, Kevin Sloan & Cole Ersel + Vianca Fuster
Dish: Mofongo Puerto Rican plantain dumpling with chicharrones, pork shoulder, frijoles + mojo
Song: "Pow Wow" by Manny Corchado
PARKSIDE 23, Kevin Marx + Ken Sumka
Dishes: 1 Braised beef short rib, mashed potatoes + Diane sauce 2 Croissant jubilee, mascarpone cheese, cherry rum sauce, salad of frisee lettuce + matchstick apples
Song: "Wichita" by The Jayhawks
SURG, Jarvis Williams + Tarik Moody
Dish: Jollof rice + smoked beef
Song: "Day Ones" by Manu Crook$
THE TANDEM, Caitlin Cullen + Tyrone Miller
Dish: Port shoulder + dressing
Song: "Redbone" by Childish Gambino
THIRD COAST PROVISIONS, Andrew Miller + Kima Hamilton
Dish: Smoked lake trout, pickled pepper remoulade, crispy rice, charred scallion + bacon
Song: "Let's Go Get 'Em" by Rebirth Brass Band
BEER TASTING – Courtesy of Miller Brewing Company
COCKTAIL TASTING – Courtesy of Twisted Path Distillery + Bittercube
"When DJ Tarik Moody, our resident foodie, first suggested this idea, we knew it'd be a hit," said Program Director Jordan Lee. "The event has become one of our staff's favorites, and our fan's most popular. The artistic challenge of pairing a great song with a great dish is one that our team is always excited to step up to."
In addition to tasting food and music pairings, guests enjoyed a champagne welcome reception and a sampling of Wisconsin cheese and craft beverages. Guests also had the opportunity to bid on unique food, music, and entertainment experiences in the SoundBites Silent Auction.
As a non-profit, community-funded radio station, 88Nine Radio Milwaukee (WYMS-FM 88.9) has been a part of Milwaukee since 2007. With a mission of creating a more inclusive and engaged city, 88Nine plays a unique blend of new and local music and public affairs programming that raise the social awareness of listeners and online audiences.