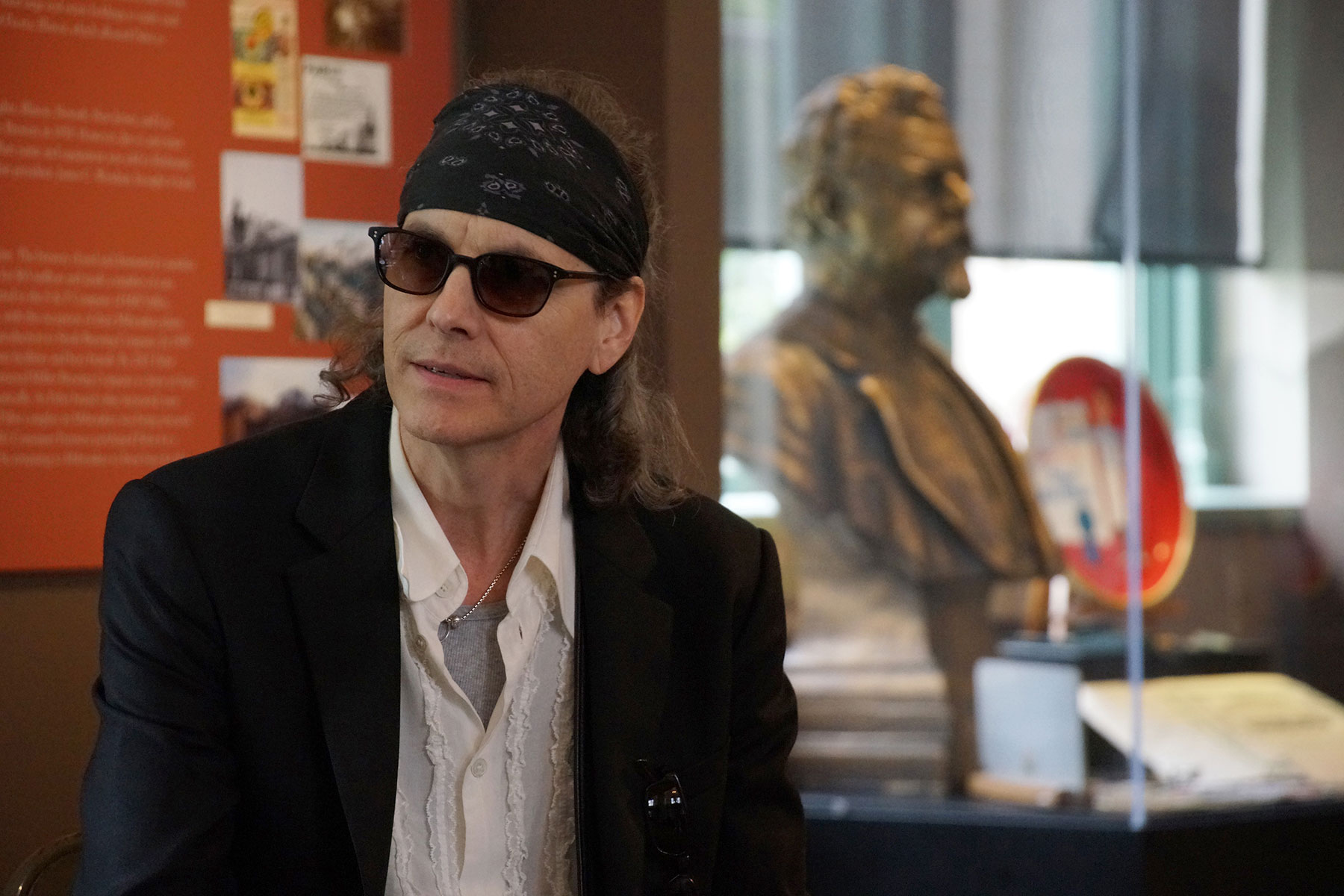 On June 16, the Milwaukee County Historical Society hosted a 30th anniversary celebration and exhibit for the BoDeans, the most well known rock band to hail from the Milwaukee-Waukesha area.
Before the live performance of their new single, "My Hometown," the Milwaukee Independent was able to ask singer, songwriter, guitarist, frontman, and band founder, Kurt Neumann, a few questions about growing up in Milwaukee and how it shaped his life and career.
Milwaukee Independent: What is your fondest memory about growing up in Milwaukee?
Kurt Neumann: For certain, playing BoDeans and building our following around Milwaukee is definitely up there. As a child, though, there is one thing that's really strong in my memory. I was probably about three years old and my Dad took me downtown. He was a manager at a JCPenney store on 35th and North. He brought me downtown one day and all of a sudden he stopped, and this guy was walking out. He goes "Oh, Mayor Maier, nice to meet you." I was a kid and didn't know what we was at the time. But I met Mayor Maier when I was just a kid, and he was such a big part of this city that I always thought it was important that I met someone important as a kid. So that's the one memory I have.
Milwaukee Independent: When you look back on the past 30 years, what do you pick out from the experience in Milwaukee that prepared you for or left you vulnerable over the path of your music career?
Kurt Neumann: Milwaukee and Midwesterners, we're not real showy people and that could be looked at as a weakness in this industry. When you go to LA and New York, those people are real professional, show business, image conscious people. We weren't like that. We wanted to play good music, high-energy rock and roll, and that's all that mattered to us. So I think that was kind of a good and bad thing. You build a repertoire of stuff that works. I can pull up to a park anywhere, set up and play my music, and people will get it. It's easy to grab onto, and enjoy, and feel, and sing-along. The downside is I'm not Mr. Show Business. I was never going to be a giant pop star, because I wasn't shooting for that.
Milwaukee Independent: What was your inspiration for writing the new song My Hometown?
Kurt Neumann: I was asked to write songs about that subject, working with the producers from the Netflix show called "The Ranch." They wanted to use our old material, and then asked me to write stuff along that theme about someone coming back to their hometown. So I wrote five or six songs about it. But that one, My Hometown, really was personal. Somehow it just threw me back to the Midwest. A couple of my kids were born in Texas, but they feel at home when they're in the Midwest. It didn't make any sense to me why they would feel more connected up here, other than it's kind in their DNA. So My Hometown is kind of about that. It's who you are, it's kind of based on where you're from, the beliefs around you, what people tell you, what you see, how people act. All of that forms you as you're growing up. I was formed here in the Midwest, and it made me think about coming home to Milwaukee. In some respects, in the eighties when we are coming out, people would talk to us at shows and be like what's Milwaukee like? They'd never been there, like it was some remote place and it struck me as strange because it was so normal to me. But when we got out into the world and all the different places, I could see why they would not have been here. I think Milwaukee is really a gem. When I come back now and I see all the architecture and the buildings, I feel like it's just a great place to be. A great place to raise kids. I felt real fortune that we came out of here. I give it gave us a good perspective on everything.
Milwaukee Independent: You have given a lot of interviews over the past 30 years, so what question do reporters never ask that you wish they did?
Kurt Neumann: Lots of stuff. But when it comes to BoDeans, people don't know or think about the fact that I had played all the guitars, acoustic and electric, on all the records. And many records, I played all the guitars and all the drums, and sang, and played the keyboards, and no one ever asked me about that or noticed so much. They just see a group of guys who made music. But a lot of the sound really came from what I play, and how I play, what I was doing. I think I had a lot to do with the forming of the BoDeans' sound. In the end, I've never really been asked about that at all throughout the , because it's presented as just a band making the music. And it's great when you have a band doing it. But a lot of times, because I had really good timing and could play a lot of instruments, I was just the guy who did all that stuff.
About the exhibit: A celebratory exhibit of the BoDeans' 30-year history is available beginning on June 16 and continuing through the fall at the Milwaukee County Historical Society. The exhibit will include commemorative photos, instruments, posters, articles, t- shirts, laminates, and various other artifacts. Also on display is the first exhibition to explore Milwaukee's beer and brewing history, Brew City MKE: Craft, Culture, Community.
About the BoDeans: Best known for their catchy single, "Closer To Free," the band's accessible adult alternative sound has led to many a milestone, including a Rolling Stone Reader's Poll For Best New American Band in 1987, and support slots with U2, Bob Dylan, Paul Simon, Tom Petty George Thorogood, The Pretenders, David Bowie and numerous others. Appearances at Farm Aid, Summerfest, ACL Festival and others followed, along with TV appearances on "Saturday Night Live," "Letterman," "Today," "Imus," CNN, and ESPN, to name a few. BoDeans have a permanent installation at the Rock and Roll Hall of Fame Museum in Cleveland as part of their Midwest Artists exhibit. After multiple chart- topping radio singles, and movie and TV placements, BoDeans have defined a sound that a generation embraced – songs like "Good Things," "You Don't Get Much," "Idaho," "If It Makes You," "Closer To Free," "Stay," and "All The World."
BoDeans signed their first recording contract with Slash/Warner Brothers Records in 1985 and their debut record, "Love & Hope & Sex & Dreams" was released in May, 1986. Since then, they have released 12 studio albums with ten records that hit the Billboard Top 200 Chart, and numerous singles on the Mainstream Rock, Top 40 and Triple A radio charts. Few would expect them to still be going strong – so many years after Wisconsin's favorite musical sons first formed, but they've proved as energetic and determined as they did on day one. Their music will be featured throughout the new Netflix original series, "The Ranch," which premiered in April and features Sam Elliott, Ashton Kutcher, Danny Masterson and Debra Winger.