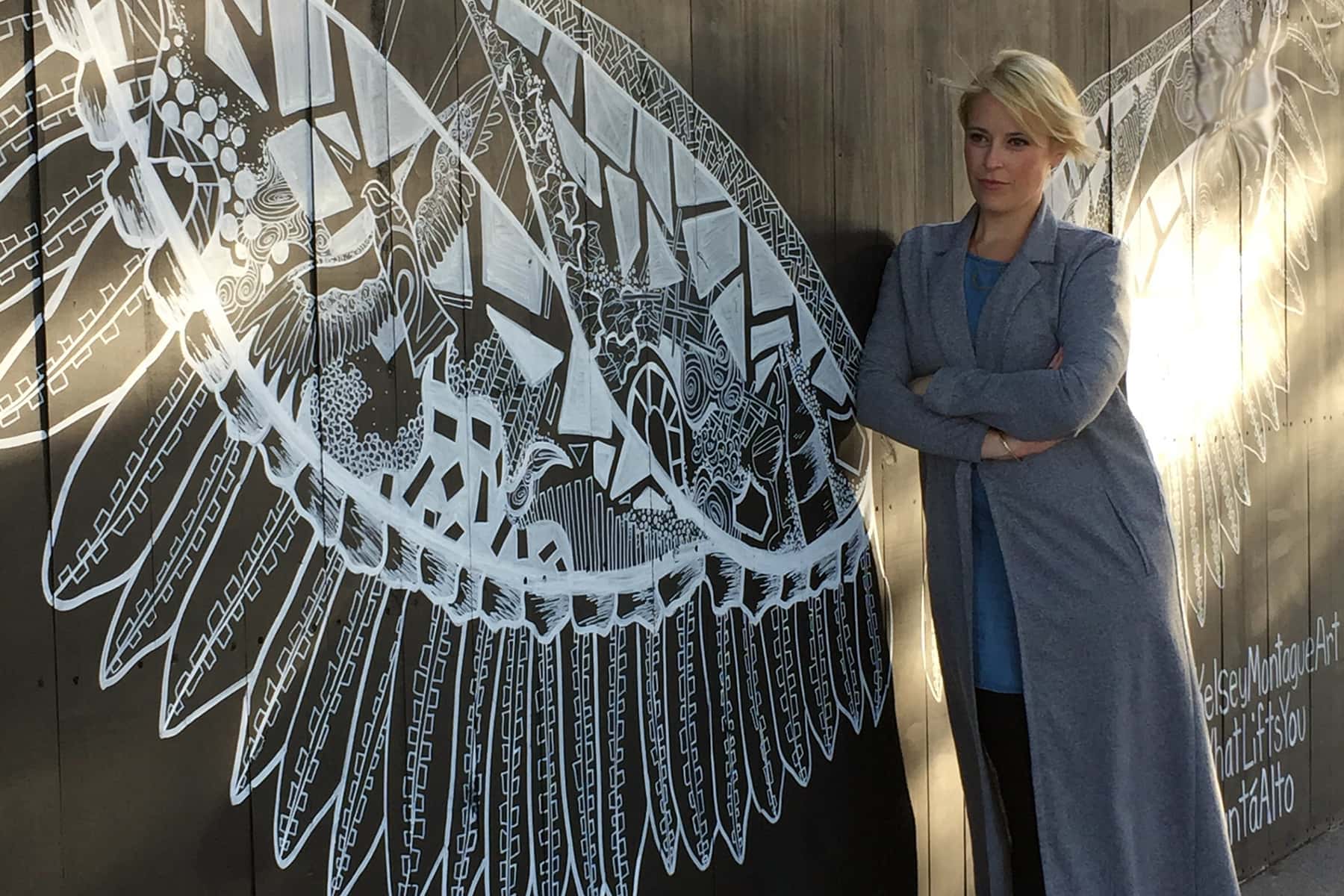 Milwaukee Downtown BID #21 and the Wisconsin Center District (WCD) announced on May 13 the commissioning of internationally-acclaimed street artist Kelsey Montague for a one-of-a-kind mural on the north wall of the UW-Milwaukee Panther Arena.
Known for her iconic installations around the globe, the mural will be her first in Wisconsin. Montague's #WhatLiftsYou project has resonated with millions by offering pedestrians interactive photo ops, which have been made popular by social media influencers in recent years.
"I'm delighted to be chosen for this project and bring my work to Milwaukee," said Kelsey Montague. "When contemplating a subject matter, I always turn to the community for inspiration – what imagery is uplifting and what sort of visual would make them proud to share with out-of-town guests. Thinking about Milwaukee and how this beautiful city has really come into its own over the last decade, led us down a very exciting path. I hope the community shares in my excitement."
Montague's Milwaukee installation will feature a peacock, which symbolizes self-expression, integrity and pride. These qualities are also mirrored in the WCD's values to "Be Bold. Be Proud. Be Experience Obsessed."
The mural will be created on the north façade of the UW-Milwaukee Panther Arena, near the intersection of State Street and Vel R. Phillips Avenue, in early July. It will span approximately 15 feet by 15 feet and will connect Milwaukee to a collection of more than 300 works around the globe by Montague.
The hashtag #BuildingMorePride will be incorporated into the installation.
"The WCD has long admired and supported BID #21's vibrant public art efforts, so when the opportunity arose to work with an artist of Ms. Montague's acclaim, we jumped at it," said Marty Brooks, president and CEO of Wisconsin Center District. "The enthusiasm surrounding her work is contagious and consistent with the WCD's vision for our future. The swagger of the peacock image complements Milwaukee's rise as a destination, and it, along with the thematic #BuildingMore concept of the expansion of the Wisconsin Center, fit seamlessly. I couldn't be prouder to bring this piece to one of our buildings for residents and visitors alike to enjoy."
To further #BuildingMorePride, project organizers issued a "Call For Local Artists" to participate in the initiative. Local artists are encouraged to respond with a concept that incorporates the hashtag #BuildingMorePride for a temporary public art campaign to be installed on The Hop's streetcar station shelters between June and July. Three artists will be selected by the Downtown Placemaking Task Force, and each will receive a $1,500 commission to finalize an interactive design for the campaign. Up to six streetcar station shelters will be part of the campaign.
"Public art and the activation of public spaces continues to be a priority for Milwaukee Downtown," said Beth Weirick, CEO of Milwaukee Downtown BID #21. "As we rebound from the pandemic, we know that public art can be a source of inspiration and hopefulness. It can be a magnet, drawing in those yearning for community connection, and is one of safest ways to explore and become acclimated with a city. I'm certain Ms. Montague's mural will be a sought-out destination among downtown Milwaukee's many monuments and murals."
Last year, Milwaukee Downtown BID #21 commissioned several murals, including "Kindred" by Jaime Brown at the 2nd Street skywalk, "The Hero in You" by Ken Brown at the MacArthur Square parking garage, and the "Brighten the Passage" freeway pier murals featuring works by Tia Richardson (Cosmic Butterfly Design), The Couto Brothers, Dave Watkins (Real Abstract), and Josephine Rice.