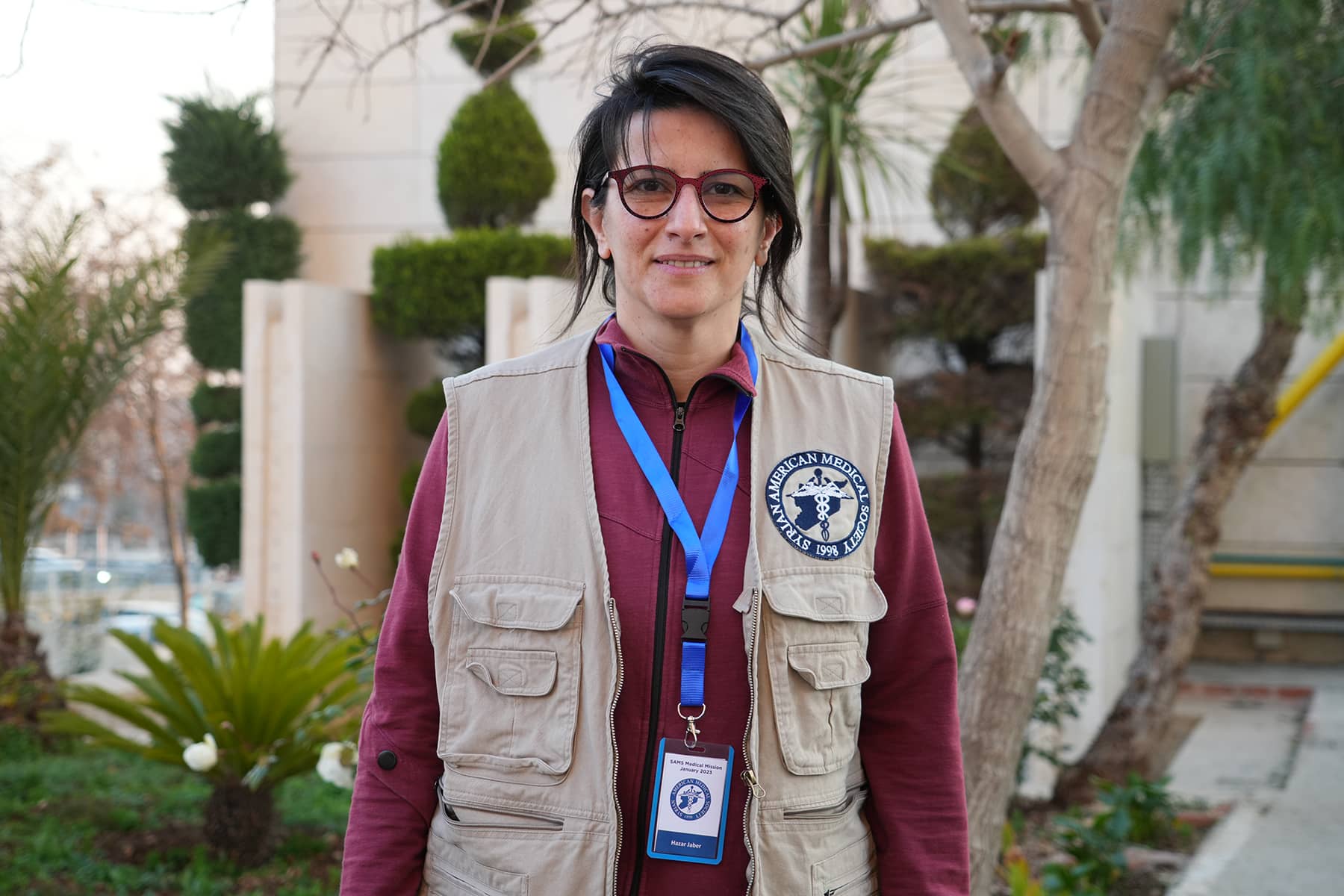 Medical Mission to Jordan: After more than a decade of Civil War in Syria, and continuing conflicts like the unprovoked Russian invasion of Ukraine that further displaced millions of civilians, understanding the longterm conditions that war refugees face remains relevant. But as public attention fades, such topics do not capture headlines today, even as the impact continues to be felt here in Milwaukee. mkeind.com/jordanmedicalmission
Medical professionals spend many years learning, growing, and accomplishing work in their field. For those who were not born in the United States, or are from immigrant families, the path to medical school is often an adventure story in itself. In preparing introductions of the Syrian American Medical Society (SAMS) volunteers who were interviewed for the "Medical Mission to Jordan" series, the depth of what each individual has achieved in their career literally requires a separate article to detail. Being chief of a department, or professor, or research leader, or board chair, are all in addition to the root vocation of their dedicated medical care of adults and pediatric patients. In this context, regardless of position or occupation, all the volunteers of the SAMS Medical Mission arrived in Amman with one purpose, to offer crisis relief to refugees affected by the Syrian Civil War. Exploration of medical backgrounds was explained within each interview to the extent necessary by the participant. While each layer of their medical career and position of responsibility were essential to their mission work in Jordan, those detailed descriptions were actually a distraction in being able to share their story. Who they were "in person" was why they were interviewed. Not who they were "on paper," which was still immensely impressive but simply too much to unpack in this context.
Q&A with Dr. Hazar Jaber DDS
Milwaukee Independent: How were you inspired to follow a career in the medical field?
Hazar Jaber: I have always wanted to help people. It is something I have wanted to do since high school. I used to volunteer a lot. I worked for the Red Cross, volunteering with the Syrian Red Crescent Society. That got me into wanting to be in healthcare, in any shape or form. And I ended up in dentistry, which is a part of a bigger mission of my life – to improve people's health and their overall quality of life.
Milwaukee Independent: What personal impact did the Syrian Civil War have on you and your family?
Hazar Jaber: All of my family, every single person in my family, was impacted dramatically. Because of the war, a lot of people emigrated or became refugees. I have cousins and uncles in all different countries around the world. It was horrible in the beginning. I had cousins who died during the war. Everyone who I know has been affected in some way.
Milwaukee Independent: How did you become involved with the Syrian American Medical Society (SAMS)?
Hazar Jaber: I heard about SAMS before the war. It was mostly structured as an educational community for Syrians not living in Syria. But when the war happened, SAMS started looking seriously at actually volunteering and being more impactful. There is really no organization like SAMS, the public knows what they are doing and how passionate they are. For me and my husband, we decided to join SAMS and do all our volunteer work through that organization.
Milwaukee Independent: Why is the dentistry part of the medical mission so important for Syrian refugees?
Hazar Jaber: I truly believe that overall health for children cannot be achieved without oral health. The oral cavity is where kids eat and speak. Everything that comes into your body first comes through your mouth. So for children with bad oral health, like tooth decay, cavities, pain, swelling, they are unable to eat. They are unable to sleep. They will be unable to thrive and learn in school – because they are up all night in pain. Decay is always progressive. It gets worse over time. So I truly believe oral health is key for every child. So when my husband and I joined the mission and started being a part of helping refugees, each one of us needed a purpose and a goal. For some it was building schools. For us in healthcare, and being in dentistry, we really wanted to make sure every child had a good quality of life – not affected by any health issues. That is what I believe, and that is what drives me. Dentistry is what I do for a living. I improve the oral health for children to improve their overall health for life.
Milwaukee Independent: What was the hardest experience of your working with Syrian refugees?
Hazar Jaber: This trip is my 7th medical mission. In the early days, we were just trying to help wherever we could. Over time, our efforts became more systematic. We now have dental clinics that provide services all year. We have dental committees that have created guidelines and procedures – a roadmap for how to improve the oral health for Syrian children. But not just kids, adults as well. The ability to plan allows us to be more impactful. SAMS has almost three missions a year, sometimes four, to help and support the clinics set up in Jordan and other countries where Syrian refugees are living. Thankfully we are in the position where we do not show up and then leave, and that is a big improvement from the uncertainty during the start of the war.
Milwaukee Independent: Statistics from UNHCR (United Nations High Commissioner for Refugees) show that dental conditions are 10% of all health problems faced by Syrian refugees. How does that fit with what you see at places like Za'atari Camp?
Hazar Jaber: Dentistry is one of the biggest providers of health care service. It is desperately needed, and we are growing what we can offer. We are adding dentists, and our dental mission this year is one of the largest. We have five pediatric dentists and two oral maxillofacial surgery dentists. So our work is getting bigger and more impactful, and local volunteers have joined us as well. That has been very beneficial, because it works both ways. They help us, we mentor them, and it grows the mission. All this has allowed us to serve more patients this time.
Milwaukee Independent: What were you surprised to learn about yourself after your first SAMS mission?
Hazar Jaber: I have always been a helper, it is a part of who I am. But it also made me realize that sometimes when we are helping, we are just not thinking. That enabled me to become more organized, and put my efforts into where I can have the most impact. It is easy to just get stuck, doing what you know while conditions change. My experiences with SAMS has really helped teach me how to be a better helper, where is the best use of my abilities to make a difference. Even just how to invest financial resources, where should I invest my funds to be most useful in helping others.
Milwaukee Independent: Why was it important for you to bring your son this time on his first SAMS mission?
Hazar Jaber: I have a history of volunteering and serving, but that was my choice. So when my son asked if he could join us on a mission, we said that he could only come if he was committed to help. It was not a vacation trip. So he actually got his dental assisting license. All last summer, he worked at our practice. After that, my husband and I felt he had proven himself and said he could come. Now he knows the things he needs to do, and he is continuing to learn so much – and all without getting paid. That part is very important to me, because being a volunteer is such an important privilege. I feel like we are very privileged that we are able to volunteer and help people in need.
Milwaukee Independent: What would you like the public to know about conditions for children in refugee camps?
Hazar Jaber: The unhealthy impact of poverty is the same around the world, but as a refugee it seems to more intensely shape lives. Poverty is most prevalent for children in the form of cavities and dental decay. It is the disease that disproportionately affects those who are very young. Poverty means you have less access to food. Refugee Kids in camps, but even those living outside in local communities, they exist in places that are a food desert. They do not eat breakfast, they do not have access to healthy things like eggs or fresh vegetables. So they end up with a diet full of sugar. They eat cookies and candies because sugar is cheap and accessible. Parents want to give kids energy, so they turn to what is available and what they can afford. Sugar is cheap, and it is a staple. It is almost 90% of some diets here. There are no preventative measures that parents have. They are not able to stand over their children to watch them brush their teeth. The sugar just sits there in the mouth, eating away at the enamel until the tooth dissolves. We are also seeing a terrible increase in childhood diabetes, which again is a result of a cheap sugar diet. Families do not have access to a glucose monitor to manage the disease. So even when we can fix teeth for children, poverty ensures that they struggle with lifelong health conditions. We all eat sugar, but when sugar is combined with poverty it is an absolute poison.
Milwaukee Independent: As a mother, what is it like for you to see children who were born in camps a decade ago who are now coming in for care? And, where do you still find hope?
Hazar Jaber: There is a lot of shock and it is unsettling. People are always moving, and we honestly thought that refugees would be a temporary condition. But now when I return to Za'atari Camp, I think back to how it evolved over the years. There used to be just makeshift tents and rudimentary infrastructure. Now there are actual streets and caravans for homes. It feels like people are settling in, and it was never where they expected. None of us thought this would last for a generation. Children born in the camp are now 10-years-old. It is definitely devastating. Yet at the same time, people at least have the idea of permanency, that this situation is not temporary, and so they can be resourceful and creative. It is not an ideal place, but they can make plans and build, and consider what to do next. Now people are more permanent, even our services are more permanent. So we can think about the long term services needed. We can leave resources here and expand them, and not limit our work to a few missions a year. For me, it is all very sad, but I still have hope. I have hope of a renewal for the next generation. That is why all of my passion is about children, because children are the future. If we help this group of children that were born at the camp to be more successful, it improves the quality of life for everyone.
This editorial feature is one of a multi-part explanatory series about the "Dr. Majdi Omar" SAMS Jordan January 2023 Medical Mission. The journalism project embedded a Milwaukee Independent photojournalist, from January 21 to 26, 2023, with a group of Syrian American doctors from Milwaukee and Chicago. It documented their trip to Jordan and the medical work done at clinic locations like Za'atari Camp, Salt, Jerash, En Albasha and Marej in Amman, and Basma in Ma'adab. Medical Mission to Jordan: A journey from Milwaukee to help Syrian Refugees, shares the personal voices, stories, images, and conditions around those involved in the Syrian American Medical Society (SAMS) mission to Jordan. It also explores the refugee experience, and the intimate connections of local medical professionals, who put their work on hold and left their families behind for a couple weeks to provide healing to others who have endured a generation of trauma.
The 7.8 magnitude earthquake struck parts of Syria and Türkiye on February 7. It came a week after the SAMS Medical Mission ended, and while Milwaukee Independent finished the final production of this editorial series. The public is encouraged to make donations to the Syrian American Medical Society in support of their vital crisis relief work.