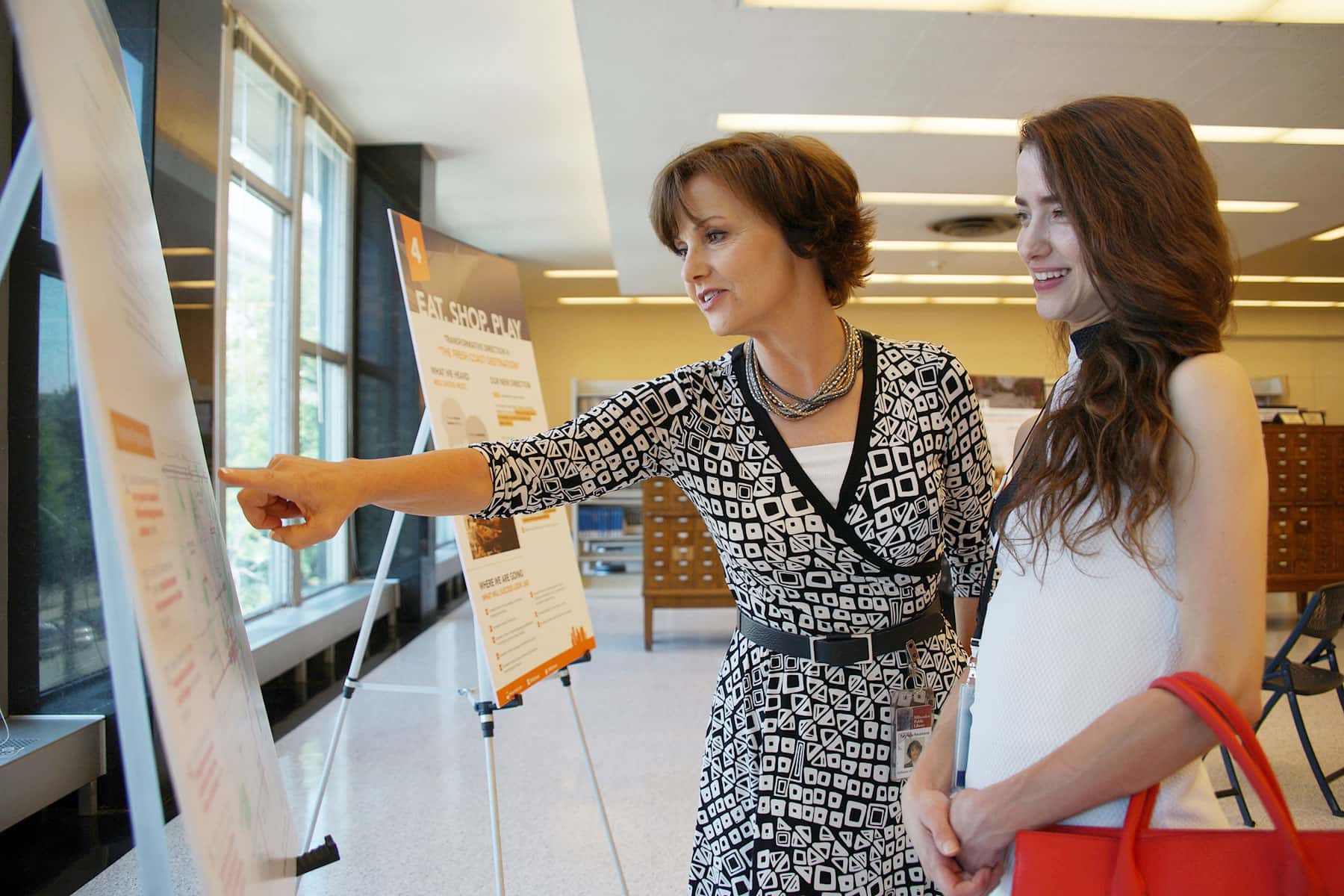 MKE United held an open house and informational session at the Milwaukee Public Library's Central Library on August 16 to share planning progress and invite community feedback for its action agenda outlining the future for Downtown and adjacent neighborhoods.
With an estimated $5 billion of private development projected for the downtown Milwaukee region, a shared and inclusive vision for the direction of that investment has not existed between government, business, and the community.
Milwaukee is experiencing once-in-a-generation development cycle in and around downtown that is creating tremendous opportunities for the city. Milwaukee United was formed to respond to this critical crossroad for the area's future, by connecting the mutual interests and needs of Greater Downtown with adjacent neighborhoods.
"We have recently released revisions to our Transformative Directions, six key areas of focus to create a Greater Downtown that works for all," said Tony Panciera, Project Manager at the Greater Milwaukee Committee. "We plan to continue engaging Milwaukeeans in this process as we work towards building the action agenda and encourage anyone interested to sign up for our newsletter, connect with us on social media, and come out to events to talk to us more about our work."
The Greater Milwaukee Committee, in partnership with the City of Milwaukee, the Milwaukee Urban League, and the Greater Milwaukee Foundation, developed the MKE United Greater Downtown Action Agenda (MKE United), in an effort to create a collaborative and comprehensive plan for Greater Downtown Milwaukee, supported by a strategic Action Agenda that will make that vision a reality. The MKE United Executive Committee is advised by a Steering Committee representing a diverse cross section of Milwaukee leaders from government, community, nonprofit, philanthropy, business and institutional sectors.
What is the Greater Downtown?
MKE United defines the Greater Downtown as the downtown area and its surrounding neighborhoods:
Lindsay Heights / Fondy-North
King Drive / Bronzeville
Brewer's Hill / Harambee
Lower East Side
Historic Third Ward
Near West Side (East)
Menomonee Valley (East)
Clarke Square
Walker Point / Walker's Square
What are the areas of focus?
Within the Greater Downtown, MKE United's Action Agenda will be focused on:
Neighborhood development and commercial corridors
Open space, sustainability and the public realm
Land use and zoning
Transportation and mobility
Economic development and workforce
Housing, office, hospitality, cultural and entertainment development
"Milwaukee is experiencing unprecedented downtown development," said Milwaukee Mayor, Tom Barrett. "Working together, we have a once-in-a-generation opportunity to leverage those developments to create more equitable benefit for all Milwaukeeans and the neighborhoods adjacent to downtown."
MKE United plans to leverage the significant planning and implementation work that has already occurred across many disciplines and interests in the city, while creating stronger integration and coordination across neighborhoods, that depends on a cross-sector partnerships that will accelerate effective implementation.
"There is often skepticism about planning processes, as people fear the end result will only be a plan that sits on the shelf," said Linda Gorens-Levey, Partner at General Capital Group and Co-Chair of MKE United's Executive Committee. "Instead, the MKE United Greater Downtown Action Agenda will be a 'living' implementation playbook, with actionable items over the next 10 years."
A key component of the effort is its civic engagement process, which launched in July 2016 with the creation of the Steering Committee, the convening of community ambassadors, and the launch of the project's website. Public workshops began in July to secure feedback and insight into MKE United's efforts. The process was divided into two phases along an almost two year timeline.
Phase I for building the Greater Downtown vision (Spring 2016 to Summer 2017) would analyze existing plans, conditions, and trends to identify priority challenges to overcome and opportunities to pursue; establish a draft vision for the Greater Downtown; and launch a comprehensive civic engagement strategy including focus groups, community ambassador meetings, a project website, and a public survey.
For developing the Action Agenda (Summer 2017 to Winter 2018), PHASE II would build upon strengthening and expanding a civic engagement strategy; and developing a 10-year Action Agenda with clear outcomes and implementation strategy for early (1 year), near-term (1–5 years) and long-term actions (5–10 years).
"Civic engagement and dialogue is critical to the success of this effort," said Ricardo Diaz Executive Director of the United Community Center and former Co-Chair of the MKE United Steering Committee. "Our goal is to build trust, create cross-sector working relationships and partnerships, and establish a well-informed, long-standing constituency for planning and implementation."
The Action Agenda will be a "living" implementation playbook, useable by all, including specific assignments that government, business, community, philanthropic, and institutional sectors can reasonably commit to accomplish.
Throughout the process of review and revisions, based on extensive community input, updates can be found at the MKE United website under the "work product" section along with the original Transformative Directions.