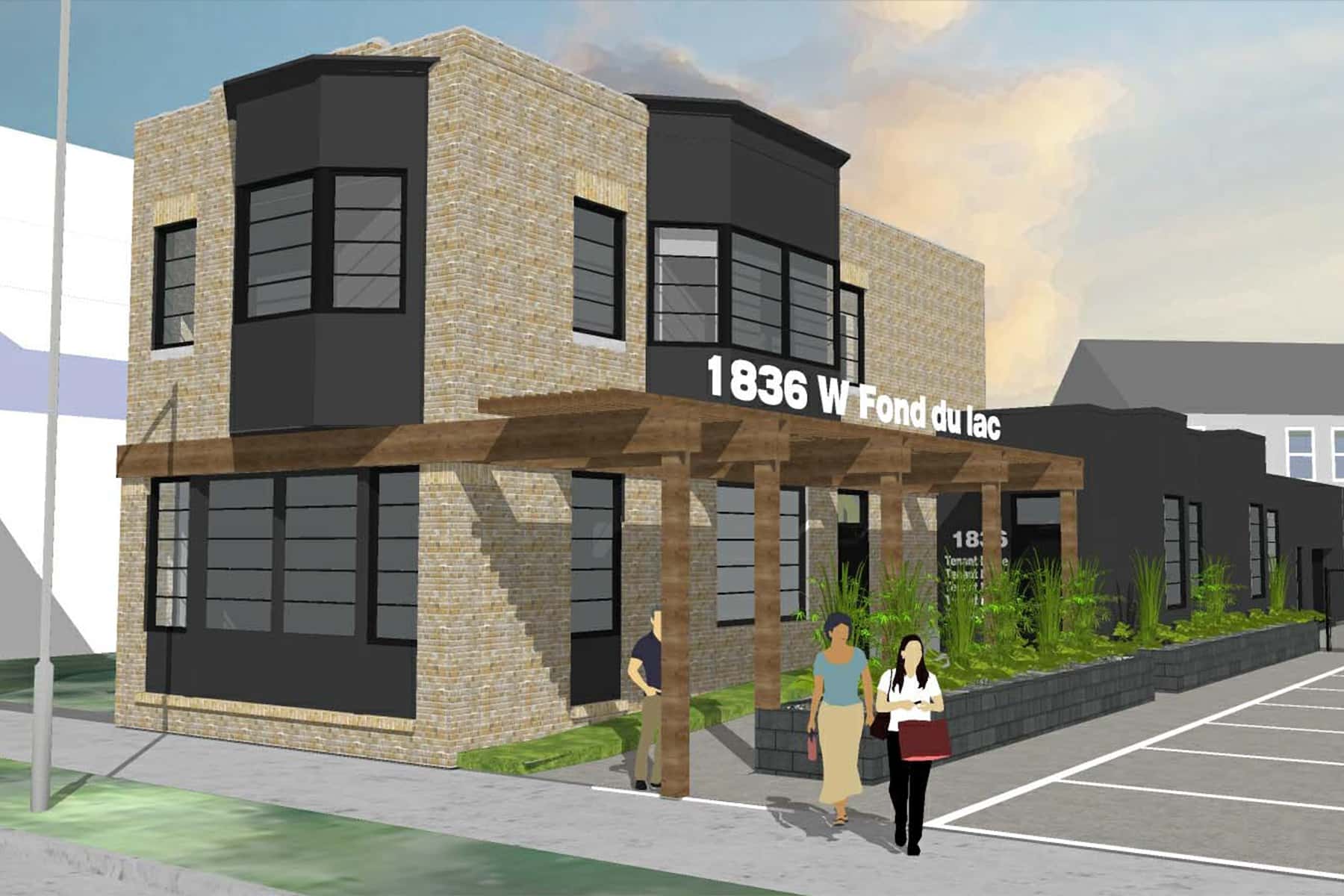 Sharon and Larry Adams hosted a celebration to mark the start of construction for Adams Garden Park on May 23.
Located at 1836 W. Fond du Lac Avenue the new development showcased several local environmental organizations that will be tenant partners in the Adams Garden Park. The $1 million redevelopment project will renovate a full-block assemblage of parcels, including a currently vacant commercial building, and create a vibrant environmental hub for organizations promoting clean air, pure water, healthy land and green jobs in Milwaukee.
Tenant partners will include the Milwaukee Environmental Consortium, Milwaukee Water Commons, Wisconsin Conservation Voters, and Walnut Way's Blue Skies Landscaping Program. Positioned less than 1.5 miles from recent downtown investments like the Fiserv Forum, the project helps ensure that the city's current renaissance extends to nearby neighborhoods.
Adams Garden Park sits at the southeastern gateway to the Lindsay Heights neighborhood. The project builds upon other community-driven development efforts and is part of a movement of residents leading efforts to strengthen and revitalize their neighborhood main streets.
"We develop commercial real estate as sacred places for the common good. We are investing in blighted commercial spaces as pathways for learning, safe and beautiful spaces and long-term economic viability," says Sharon Adams, project developer and a neighborhood resident. Other recent neighborhood developments include the Wally Schmidt Redevelopment – home to The Tandem Restaurant, Walnut Way's Innovations and Wellness Commons, St. Ann's Bucyrus Campus, and the planned One MKE Plaza and IKON Hotel.
The Adams Garden Park environmental hub aims to be a welcoming home for everyone who is committed to stewarding natural resources – neighbors, educators, naturalists, sustainable business owners, activists, gardeners and researchers. The renovated offices and open convening spaces hope to promote synergy among partners and promote access to experiential education for youth and families in the community.
Set in a landscape oasis, the surrounding gardens are designed to support residential experiences toward healing within the center of the city. Sharon and Larry Adams are Adams Garden Park's Co-Developers and residents of the Lindsay Heights neighborhood. As the retired Co-Founders of Walnut Way Conservation Corp, the Adams have led efforts for more than two decades to strengthen the Lindsay Heights neighborhood.