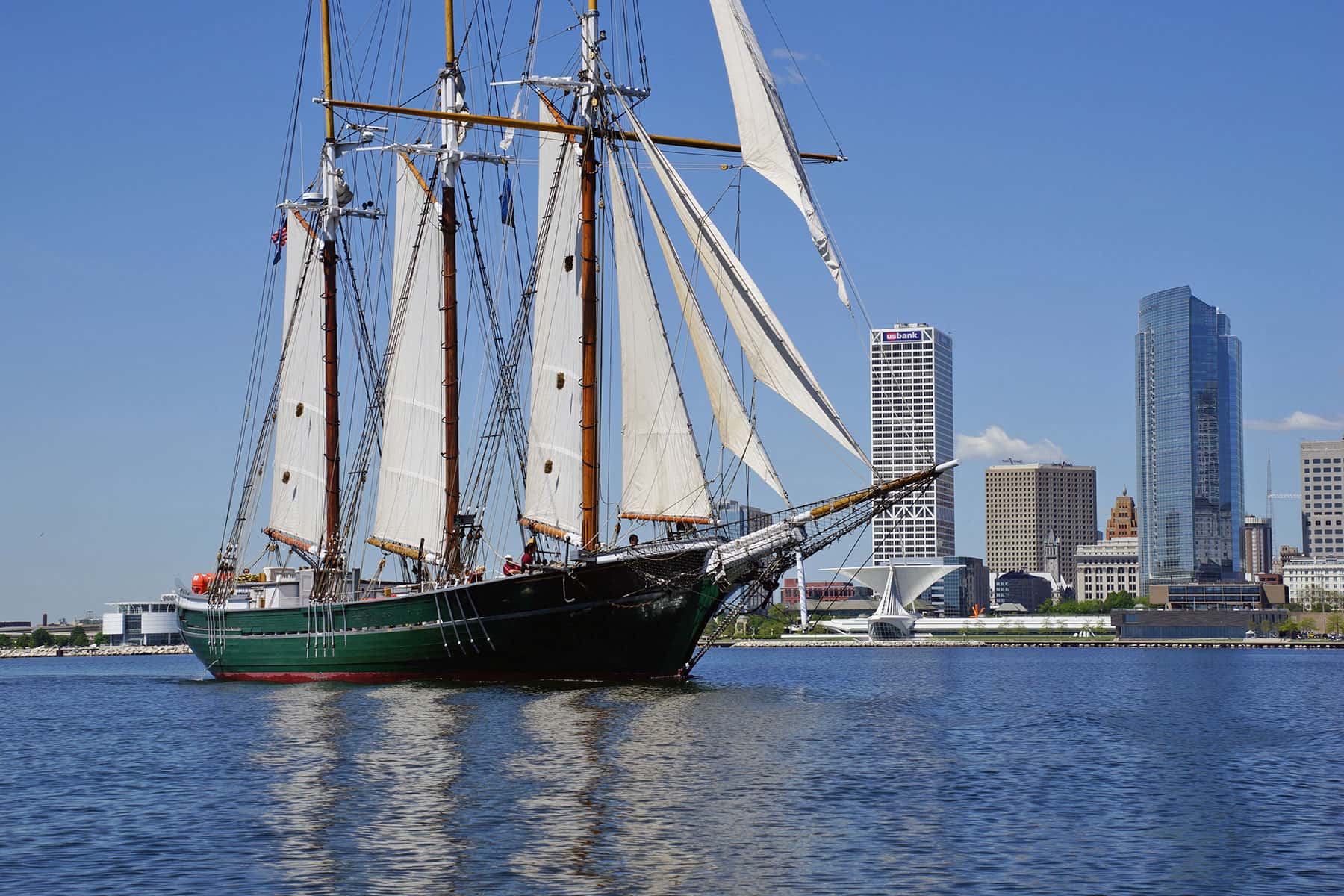 The S/V Denis Sullivan left Discovery World for Port Washington on June 1 for the maiden excursion of its 5-hour Lazy Day Sail program.
The world's only re-creation of a 19th Century Great Lakes Schooner offered its first day trip, nearly tripling the time and distance of its regular sailing tours. The vessel left port along the downtown Milwaukee lakefront and made the 25 nautical mile voyage to Port Washington. Its arrival at Coal Dock Park coincided with the Pirate Fest celebration from June 2 to 4.
"We had an arrangement up in Port Washington for the weekend to do some sails for the Port Exploreum. Since we had to go anyway, we decided to offer people the chance to join us for a longer trip than our usual two hour sails," said Tiffany Krihwan, Captain of the S/V Denis Sullivan and Director of Marine Operations. "It is a different kind of experience, and passengers get to see what really keeps the ship going."
The most accurately way of describing the S/V Denis Sullivan is a traditionally rigged sailing vessel. Everything else at Discovery World is fixed and does not leave that building. The schooner can go anywhere there is water deep enough. It has ventured all the way down to the Caribbean and South America, representing not only Discovery World but also at the Port of Milwaukee, the City of Milwaukee, and the State of Wisconsin.
"For these Lazy Day Sails, we let passengers go out onto the head rig, which is the net under the front of the vessel. They are clipped in with safety equipment and escorted by a crew member. We would never be able to offer that on a public day or evening sail because the line would be so long with everybody wanting to do it," added Krihwan, who has been sailing professionally for almost 35 years. "We also offer the chance of going aloft to anyone who wants to climb up the rigging. It is a really pretty view from 60 feet off the water, and getting up there can be kind of invigorating."
The S/V Denis Sullivan keeps the historic art of sailing alive. Even though the materials are modern, with masts now made of Laminating Douglas Fir instead of solid trees that were shaped into a mast. And the material for the sails is a synthetic canvas, which is a type of plastic that is more resistant to rot and decay than old canvas fabric sails. But the actual act of sailing is identical to 150 years ago.
"The Sullivan would be right at home in the Age of Sail. There might be some variations with the rigging and the sails, because we had to work with the Coast Guard and Bureau of Shipping for safety concerns. Shipbuilders could be a bit more loose back in the day," said Jonny Slanga, Chief Mate and Relief Captain. "Some of the design changes were also applied for stability. Minus all our modern equipment, the Sullivan could sail into 1800s and people would not think too much about how different it is. We would fit right in."
The Great Lake are full of tall ship wrecks, especially Lake Superior. The Rouse Simmons, known better as the Christmas Tree Ship, is a 1912 wreck near Milwaukee. It was actually one of the inspirations for the Sullivan's blueprint, which is not a replica of a specific vessel. When shipbuilders were putting the Sullivan project together, from the beginning there were a lot of design considerations from well preserved wrecks. They allowed engineers to re-create something that has not been used for over one hundred years. There were measurements and documentation about shipbuilding to create the Sullivan, but a lot of the process came from looking through old pictures and seeing how ships used to be crafted.
"It surprises people to know that the Sullivan is not an original boat. No original boats have survived from the Age of Sail on the Great Lakes," added Slanga who has been sailing for the past 7 years. "People also disbelieve that we live onboard, and that this is a full-time job and a career. They find it interesting that it is still a way of life, a lifestyle, and a career in this day and age."
Since her official launch in 2000, the S/V Denis Sullivan has operated as a floating classroom, a United Nations Environment Program flagship, and ambassador for the State of Wisconsin. Each year, over 7,000 students, families, and adults cross the S/V Denis Sullivan decks and engage in informative tours, educational day sails, and overnight expeditions. Nearly 1,000 dedicated volunteers generously gave more than one million hours over five years to build the schooner and see their vision become a breathtaking reality. The S/V Denis Sullivan was the first tall ship built in Wisconsin during this century, and was ultimately designated as Wisconsin's Flagship.
"I enjoy the balance between the challenges and a certain amount of freedom within those challenges. I can choose what I want to focus on, whether traveling to learn the Great Lakes history or the technology side of sailing." said Slanga. "The lifestyle that some people are able to find at sea allows you to transcend anything that is still in your way. So if there is anything you have ever wanted to get past, what you'll find is a whole a lot of inner strength on the water. There is a lot of beauty, and it is a way to take you anywhere you want to go. You will learn how to be the person that not only you can feel comfortable with, but also that person who others can trust and find real value in."
The next Lazy Day Sail is scheduled for September 1, which includes parking and bus transportation back to starting port, along with a boxed meal aboard the schooner.
The S/V Denis Sullivan and crew will be featured in an upcoming segment of Around the Corner with John McGivern. A multiple Emmy Award Winner and show host, McGivern is not shy about sharing the effect that sailing has on his stomach. But the Discover World's floating classroom fit the theme for episode one of the show's 7th season, "Around Milwaukee."