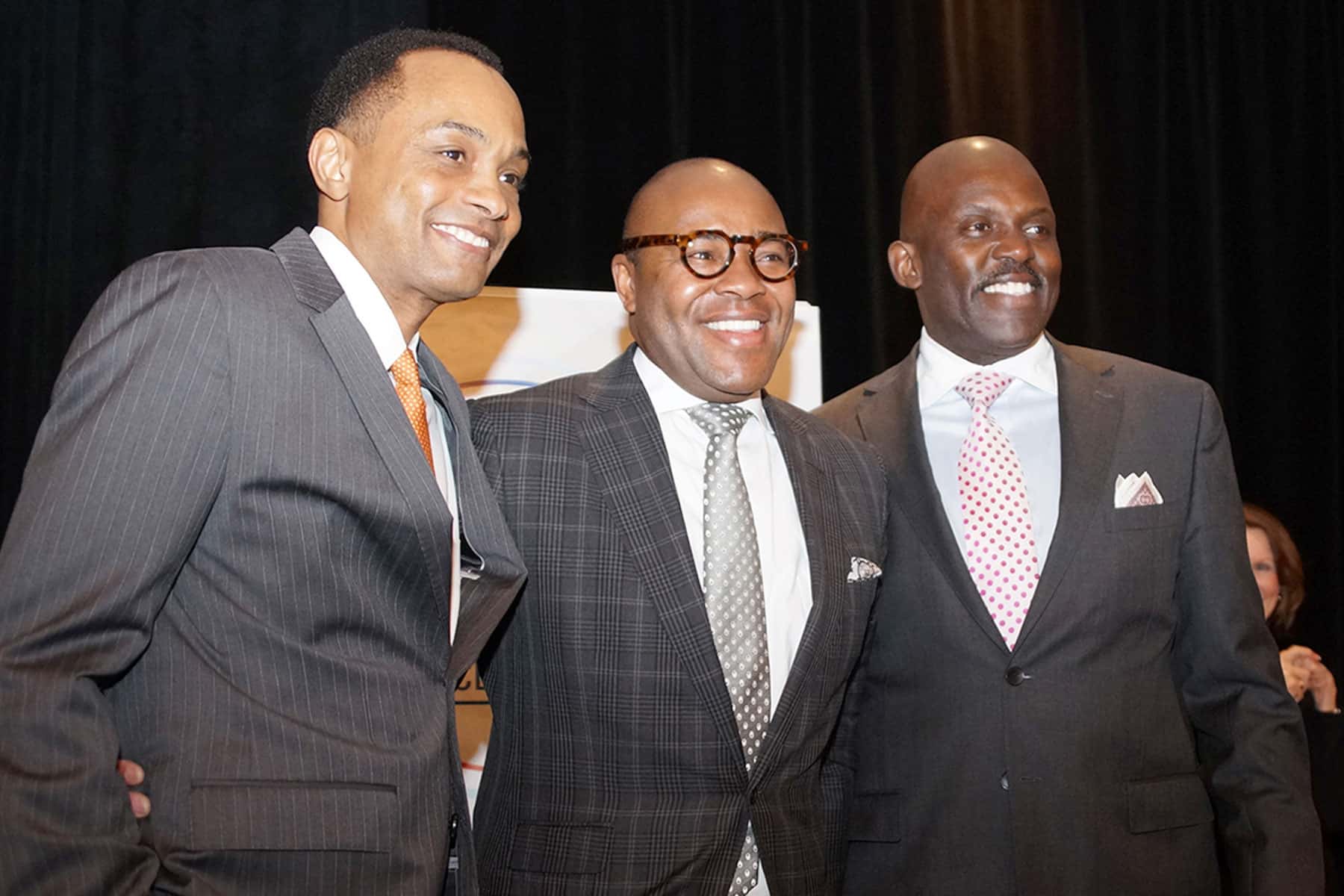 "Cory is one of the great entrepreneurs of our generation."
– Vincent P. Lyles, President & CEO, Boys & Girls Clubs of Greater Milwaukee
Cory L. Nettles was honored as the 2016 Business Champion during the African American Chamber of Commerce of Wisconsin's inaugural event, the Breakfast of Champions. Hundreds attended the celebration, including elected officials of all state and local levels. Held on May 3 at the Pfister Hotel during Small Business Week, Nettles was recognized for his career and leadership in improving conditions for the African American business community.
"This is really overwhelming, and humbling beyond words. I realized this is not about me at all, its really about African American businesses in this community," said Nettles. "And if we are going to change the outcomes in this community, we must do something more than business as usual."
"Champions for the Chamber recognize the value of business of color," said Dr. Eve M. Hall, President and CEO of AACCW. "They recognize the value that successful businesses bring in terms of contributing to the tax dollar, creating jobs and, most importantly, creating wealth."
"Cory is a true example of America, where opportunity and preparation meet," said Greg Wesley of Gonzalez Saggio & Harlan LLP. "He is a visionary and connector. He is civic minded, has a strong business acumen, he believes in people, and in making things better."
AACCW also recognized Bader Philanthropies, the Greater Milwaukee Foundation, and We Energies with awards.
The event was part of Dr. Eve M. Hall's ongoing initiative to extend the mission of AACCW. As President and CEO she has reshaped the organization to be a serious agent of change in the community, in only a few short years. Dr. Hall has been a seismic change for the nonprofit, and the impact it is felt within the African American business community.
"We know that there is a serious racial gap when it comes to education, income, and wealth. And in order for us to succeed as a city and a region, we are going to have to do a better job. A big part of that is making the business connections," said Mayor Tom Barrett. "And the more we can have people from this community working together, the more opportunities we can create for African American businesses and other small businesses here in the City of Milwaukee."
In the African American community, the AACCW is one of the most important institutions. Studies have shown that to have a successful and thriving African American community, it requires a successful and thriving African American business community.
"It's a big deal that Milwaukee is on the rise, and it is a very big deal that the African American Chamber of Commerce is paving the way for so many of Milwaukee's residents, for entrepreneurism, for education, and for an incredible future," said Lt. Governor Rebecca Kleefisch.
"When people are working, when people have thriving businesses, violence is reduced," said Dr. Hall. "It means that we have an educated workforce. It means that the tax base is growing. And it means that people have the opportunity to give back to the community."
"I am a champion for Milwaukee because I think it is a phenomenal community of tremendous promise and potential. The city has great people in it who are passionate about making it a great place for all people who live in Milwaukee," said Nettles. "One of the best solutions I know is to create opportunity for those folks who are hurting and who are suffering, and make sure they have jobs that pay family sustaining wages."
Cory L. Nettles is the Founder and Managing Director of Generation Growth Capital, Inc., a private equity fund focused on buyouts and providing growth capital to small businesses and lower-middle market companies in the upper Midwest. He is also on the boards of several nonprofits, and does extensive philanthropic work. Nettles recently served as Secretary for the Wisconsin Department of Commerce.
Focused on developing the capacity of and opportunities for diverse businesses, Mel Gravely served as keynote speaker at the Breakfast of Champions. As president and CEO of TriVersity Construction and founder of the Institute for Entrepreneurial Thinking, he also led the Diverse Business Summit.
Melinda Davenport from WISN-12 was the Emcee, which also featured messages from event co-chairs John W. Daniels Jr. of Quarles and Brady, Peter Feigin of the Milwaukee Bucks, and Mary Ellen Stanek of Baird.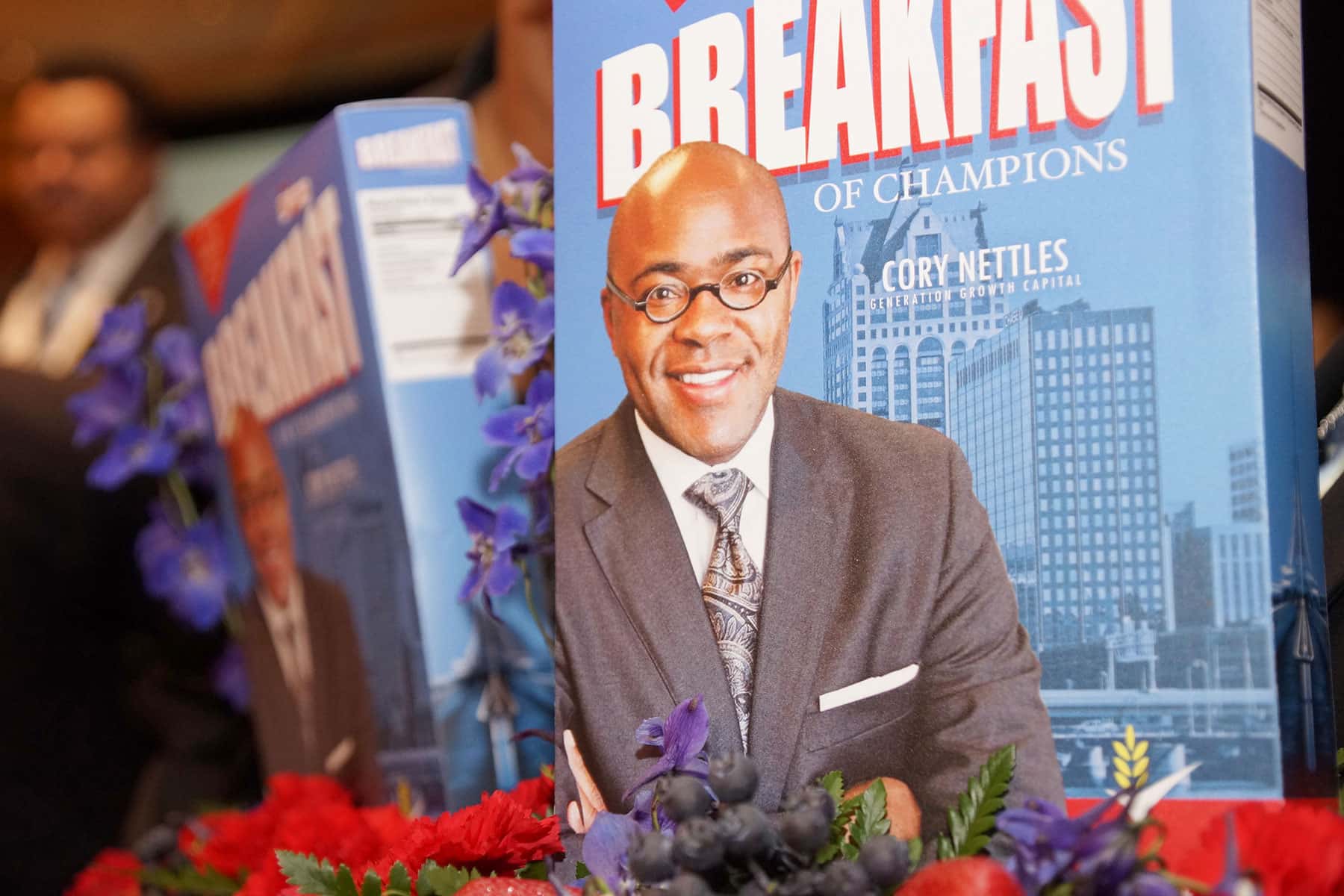 Read the article and view the photo essay that was produced as companion features for this news report.