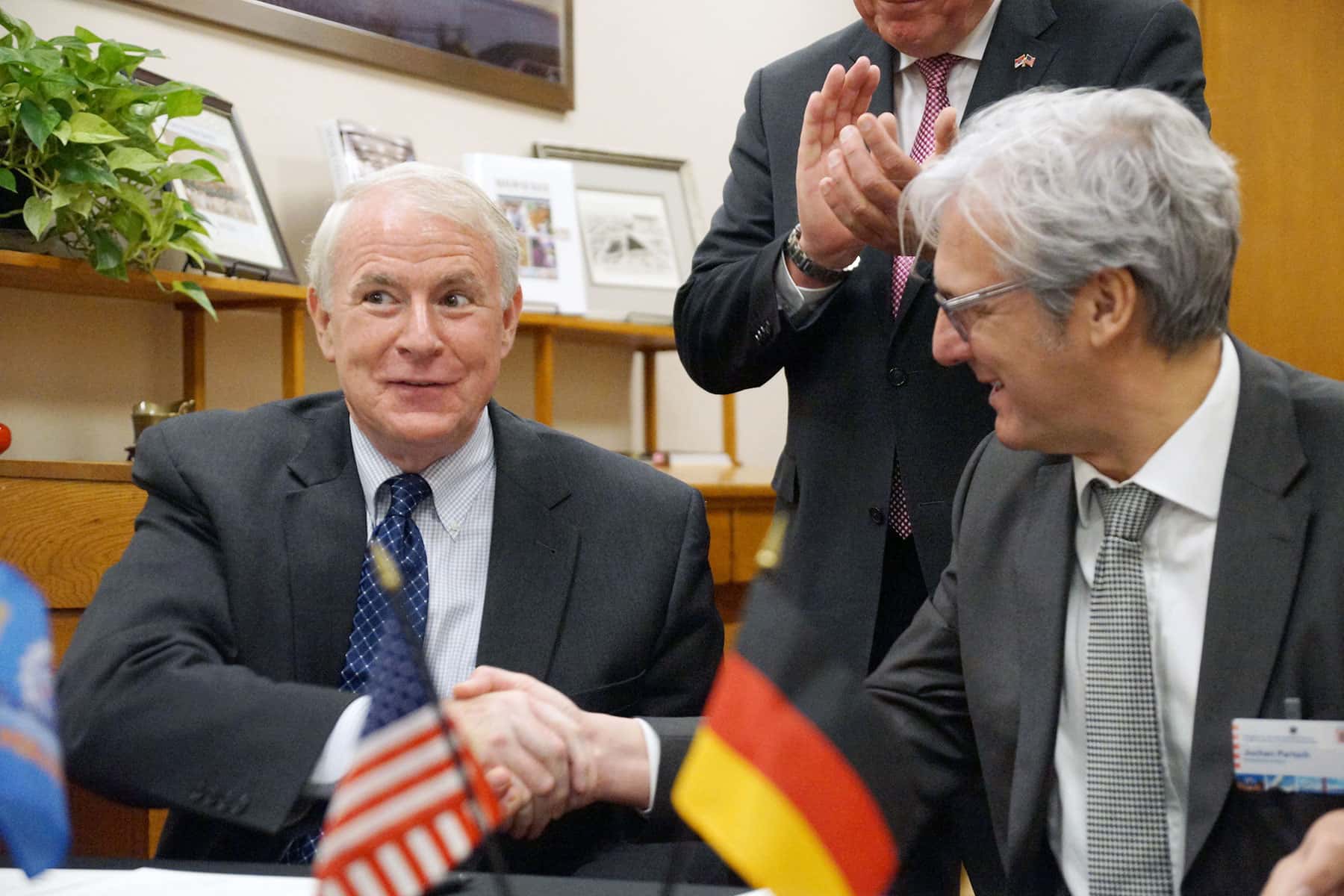 Milwaukee Mayor Tom Barrett welcomed the German Delegation from the Federal State of Hesse and the City of Darmstadt, on May 2. The Delegation's visit includes meetings with City of Milwaukee officials, Wisconsin State officials and the Wisconsin Economic Development Corporation.
During the meeting with the Delegation, Mayor Barrett and Lord Mayor Jochen Partsch signed a Letter of Intent. The document expressed a desire to establish a closer relationship between the City of Darmstadt and the City of Milwaukee.
"That Milwaukee and Darmstadt intend to explore exchange and collaboration opportunities with intent to develop a long term relationship that aligns with their mutual sectors, and that both confirm their intentions to focus on promoting exchanges and collaboration within the fields of science and research, education, and culture." – from the Letter of Intent, dated May 2, 2016 and signed by Tom Barrett, Mayor, city of Milwaukee and Jochen Partsch, Lord Mayor, city of Darmstadt.
"I love the opportunities that Darmstadt and Milwaukee have with each other," said Mayor Barrett. "We are both centers of commerce. Technology is important to both communities. And any chance we have to exchange ideas, and best practices, and business, I think it'll be a win for Darmstadt and a win for the city of Milwaukee."
The deep German history of Milwaukee remains obvious around the city, from architecture to street names. And while the language is not spoken commonly on the street like in the days of the early German immigrants, there remains a natural affinity to the German people.
An example of Darmstadt's connection with Milwaukee goes back to the early 1900s, when Oscar Werwath graduated from the University of Darmstadt and settled in Milwaukee because of its German-American reputation as an industrial center. Werwath was the founder and first president of the Milwaukee School of Engineering (MSOE).
Mayor Barrett stated that he was committed to expanding the cultural appreciation among local residents. Meetings with out-of-country delegations provide opportunities to gain new ideas that will benefit the City of Milwaukee.
He also remarked that all his children spent their first seven years attending the Milwaukee German Immersion School, so while growing up they could talk in German with each other behind his back.
FAST FACTS:
Darmstadt holds the official title "City of Science" as it is a major centre of scientific institutions, universities, and high-technology companies. The European Space Operations Centre (ESOC) is located in there, and is also the center of the world's oldest pharmaceutical company, Merck.
The city located in the state of Hesse in Germany, in the Frankfurt Metropolitan Region. With a population around 150,000, Darmstadt was formerly the capital of a sovereign country, the Grand Duchy of Hesse and its successor, the People's State of Hesse, a federal state of Germany.