Study forecasts transit route loss for black workers will be "massive economic hit" to Waukesha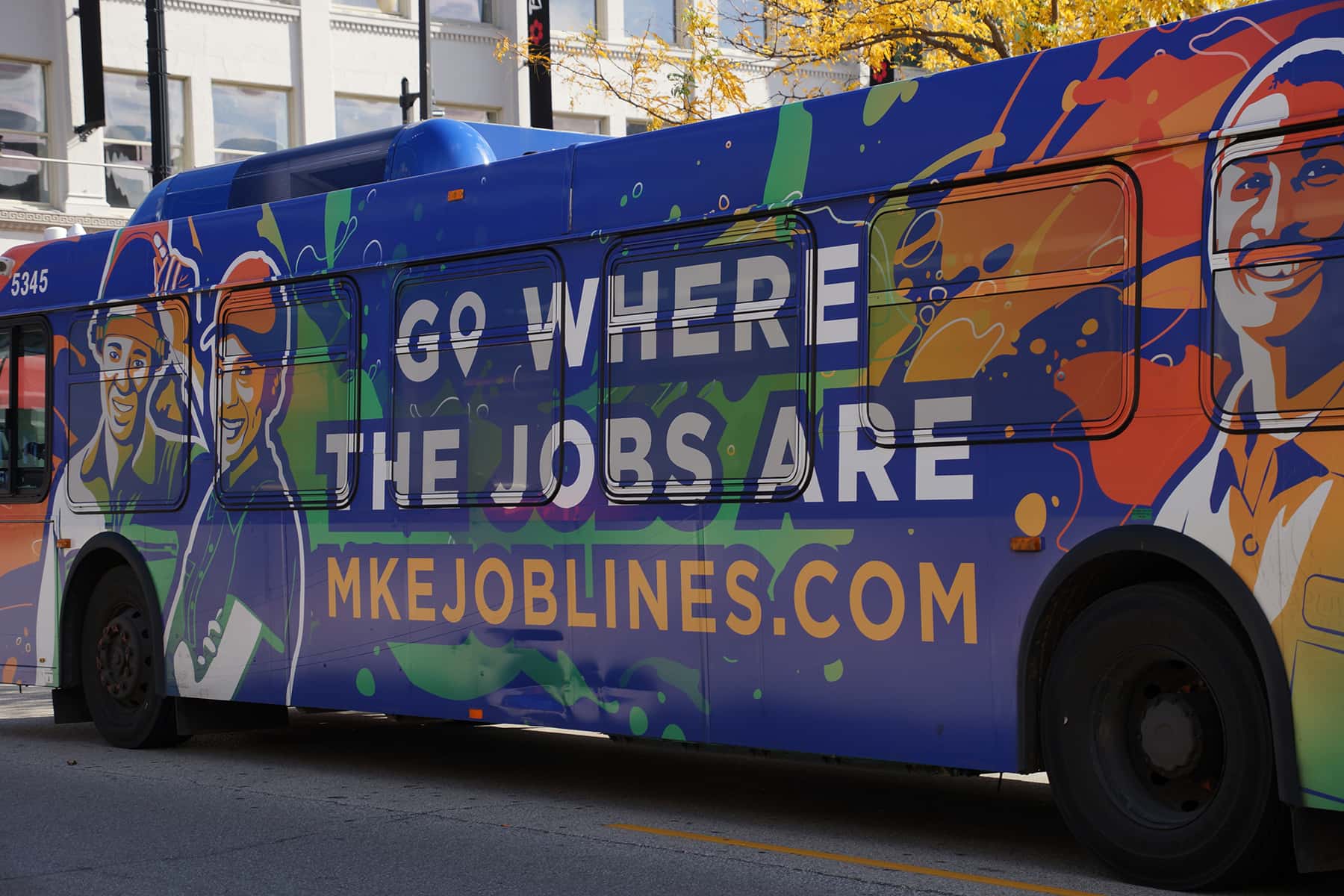 A recent economic impact study conducted by the University of Wisconsin-Milwaukee's Center for Economic Development (CED) concluded that local areas with some of the strongest job growth and the largest numbers of job opportunities will no longer be accessible by transit if Milwaukee County Transit System's (MCTS) JobLines Routes 6 and 61 are discontinued at the end of December. As a result, the economies for both Milwaukee and suburban Waukesha will take a "massive economic hit."
The study, "An Analysis of Milwaukee County Transit Service Routes 6 and 61," found that nearly 700 businesses with 15,000 jobs in New Berlin, Menomonee Falls and Germantown will lose access to their only available bus service. Approximately 72 percent of the 1100 JobLines riders rely on the routes for work and for shopping in Waukesha County.
JobLines route 61 particularly has had steadily increasing ridership to over 900 since its creation in 2014. It currently provides the only bus service to some 320 employers along Appleton Avenue to County Line Road in Menomonee Falls and Germantown. This area offers a variety of jobs from retail, food service, accommodation, finance, health care, and commercial establishments, including Walmart, Woodman's, Culvers, Middle West Manufacturing, Alto Sham, Target, and Costco.
Virtually all the employers interviewed in the study stated they were facing labor shortages and have difficulty recruiting employees locally. Twenty-five percent stated they currently have employees, job applicants, and customers who depend on the route 61 bus. Most viewed transit service as an advantage in addressing the shortage of workers.
"We have a number of team members who rely on the route 61 bus as their only source of transportation, while some team members rely on it for days they do not have a ride. We work with a lot of young people and partner with schools in their school-to-work and Careers study programs," said Kim Nelson of the Culvers franchisee on Bancroft Drive in Menomonee Falls. "Many of these young people do not have their driver's licenses and the bus line is an important element in making those programs successful. I believe the use of the bus line will only increase in the Menomonee Falls area as the labor market continues to be very tight."
The study also indicated that better transit could address both the high jobless rates of Milwaukee's inner-city neighborhoods and the shortage of workers faced by many suburban employers.
"Many employers in our community count on filling jobs with workers that come from Milwaukee," said Sue Graff, administrative assistant at Middle West Manufacturing Corporation in Menomonee Falls. "Many of those workers take the route 61 bus into Menomonee Falls to get to their jobs. If that bus line closes, it will be a hardship on many employers in this area," Graf said.
Joel Rast, P.h.D, who authored and oversaw the economic impact study, noted that mostly low-income residents of Milwaukee's West Side use the JobLines route 61 to reach jobs with Waukesha County employers, many of whom are facing significant labor shortages.
"Many of the riders we surveyed expressed fear over losing route 61," said Dr. Rast. "A substantial number would have no way to get to work and would have to quit their jobs should the route be discontinued."
Both JobLines routes are operated by MCTS, but funded through a 2014 multi-million-dollar settlement with the Wisconsin and U.S. Departments of Transportation, the Black Health Coalition of Wisconsin (BHCW) and Milwaukee Inner-City Congregations Allied for Hope (MICAH). As such, Waukesha County has not had to contribute any funding for JobLines. In April 2018, MCTS announced funds would be depleted by the end of December 2018. Both the Milwaukee and Waukesha County Transit Boards have yet to develop a new plan for funding.
MCTS has indicated it is willing to work with Waukesha County to find a solution so the JobLines routes continue to run. Currently, the only proposed solution is creating a truncated bus line that would run the same path as Route 61, but terminate at the Milwaukee County line without venturing into Waukesha.
"At the end of the day, everyone can support someone who is willing to work, businesses who need workers, and a service that cost-effectively enables that ambition. JobLines is more than a bus route, it's transportation to success and a career," said Pastor Marilyn Miller of Milwaukee Inner-City Congregations Allied for Hope (MICAH). "The Waukesha County Board of Supervisors has the power to work with us to save the JobLines. The Waukesha County Public Works Committee has an opportunity to be progressive. The current Route 61 is a bridge between our isolated communities and an important business connection for now and the future."
As a result of a settlement with the Wisconsin and U.S. Departments of Transportation, the Black Health Coalition of Wisconsin (BHCW) and Milwaukee Inner-City Congregations Allied for Hope (MICAH) have partnered to establish and manage the "JobLines" (MCTS routes 6 and 61) to aid in transporting individuals living in the central city to employment opportunities in Waukesha and Washington Counties.
"Too many of Milwaukee's neighborhoods face serious challenges as it relates to poverty and unemployment," said Alderman Cavalier Johnson. "With record low unemployment in the Wisconsin as a whole, employers are in a constant scramble to find employees. It only makes sense that State government would move aside and allow for regional transit in southeastern Wisconsin. Doing so would benefit those looking for work and those looking for workers alike."