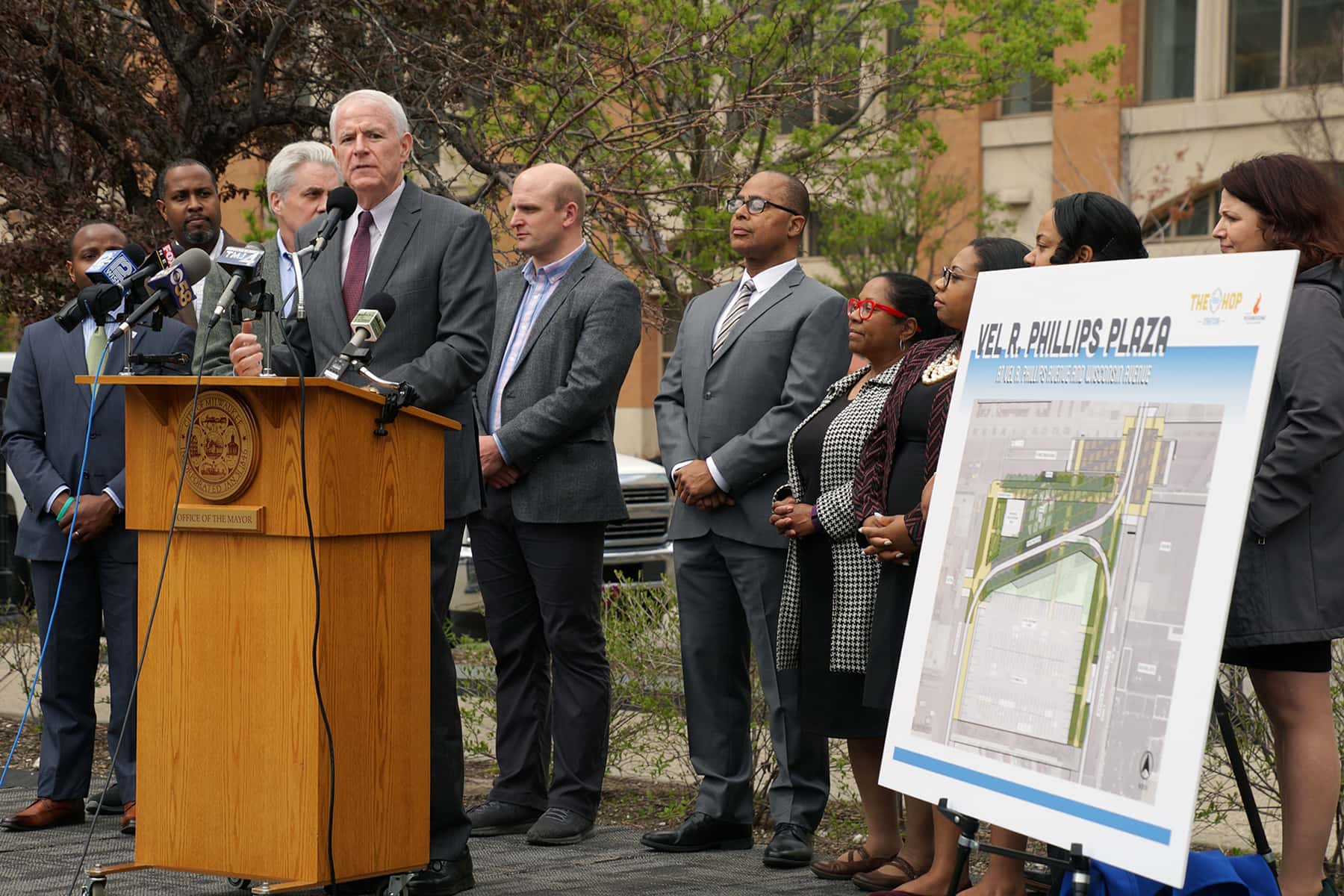 The City of Milwaukee shared plans for a new vibrant urban space in the Westown neighborhood on May 14 designed to provide important civic amenities and needed transit connections in a portion of the city undergoing significant redevelopment.
The proposed plaza, to be named in honor of noted Milwaukee politician, attorney, jurist and civil rights activist Vel R. Phillips, will be situated south of Wisconsin Avenue between N. Fifth Street and N. Vel R. Phillips Avenue, bringing new life to a parcel of land in the heart of Westown that has been underutilized for nearly 30 years.
"The vision for this incredible public space is a reflection of the renewed energy and growth we're seeing throughout the city," Milwaukee Mayor Tom Barrett said. "The Westown neighborhood in particular, with the recent roll out of Fiserv Forum and the Deer District and upcoming Democratic National Convention, is poised to be a center for development, activity and investment for years to come. We envision this plaza as a fitting tribute to the great Vel R. Phillips as a dynamic and active gathering place that will bring our community together and make for a more connected urban environment."
Phillips left an indelible mark on Milwaukee history through her lifelong work as an attorney, jurist, politician and civil rights activist. She was both the first African American and first woman elected to the city's Common Council, the first female judge in Milwaukee County and the first black judge in the state of Wisconsin.
She was the first woman to hold the office of Secretary of State in Wisconsin and the first African American to win a statewide election. Up until her passing in April of 2018, Phillips was an active leader in pushing for social justice, education and equal opportunities for minorities in Milwaukee.
"The Phillips family is honored, once again, by the worthy recognition bestowed by the City of Milwaukee upon our mother, Vel R. Phillips," The Phillips family said in a statement. "Were she here, rest assured, she'd be smiling."
Key elements of the proposed nearly one-acre plaza include a 3,000 square foot retail space to be potentially activated as a café or beer garden, a manicured garden, a flex space that could host farmers markets, food trucks or other community events, an informational kiosk and a potential site for public art.
The Vel R. Phillips Plaza would also provide a space for important transit connections, including a stop for the proposed Hop streetcar extension to Wisconsin Avenue and a station to accommodate Milwaukee County's proposed Bus-Rapid Transit. Mid-block connections with the adjacent Wisconsin Center and neighboring properties would serve to further connect the plaza with surrounding retail, residential and commercial development.
The proposal preserves over 50,000 square feet of space on the site for future development. The parcel's proximity to numerous other Westown development projects including Deer District, MSO, Hub 640, the Hilton and The Avenue, and improved connectivity provided by the proposed plaza and transit connections, make for an attractive development opportunity in the heart of a fast-growing area of the city.
"This plaza is another exciting announcement among a growing list of catalytic developments for Westown," Stacie Callies, Executive Director of the Westown Association, said. "The design has the potential to change the face of Westown and create a new and unique gathering space with multimodal connections."