Alderwomen Coggs and Lewis honor Milwaukee's black history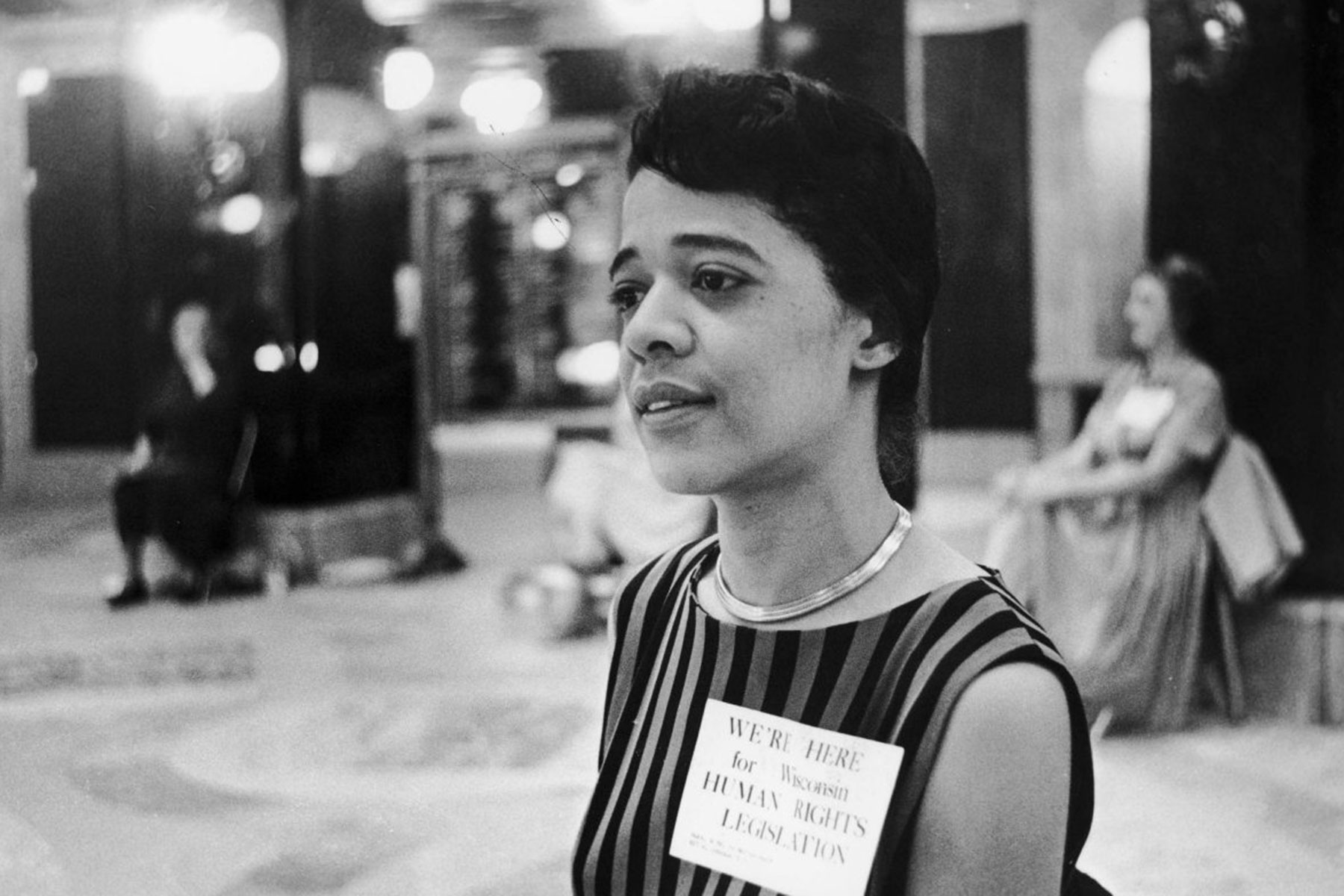 The City of Milwaukee website and Milwaukee's government access cable channel will each host a series of informative vignettes throughout the month of February, in a 28-day salute to Black History Month.
Alderwoman Milele A. Coggs and Alderwoman Lewis have spearheaded a first-of-its-kind effort to honor the notable individuals who played a role in Milwaukee's black history, through a prominent informational campaign.
"In many ways, the history of the civil rights movement is still being written today," Alderwoman Chantia Lewis said. "Many proud pioneers of the cause have called Milwaukee their home, and this year's Black History Month is an excellent opportunity for our community to honor their accomplishments."
Every day in February, the official city website will feature the photos and backstories of local people who were critical to the civil rights movement. These same informational vignettes will also run regularly during City Channel programming.
The online and broadcast spots will give local students and Milwaukeeans across the city a chance to learn about and celebrate some of the city's notable and unsung heroes.
The recognition will culminate with a special City Hall reception Friday, February 24 at 2:00 p.m. in the Milwaukee City Hall rotunda. Young members of the community will make special historical presentations, and Common Council members will honor local people whose work today is advancing the civil rights cause.
"I am inspired by all of the trailblazers and game changers. They have all contributed a piece to create the entire fabric we now see. Without their contributions, none of us would be where we are today," said Alderwoman Lewis. "I am honored to follow in so many of their footsteps and I hope I make them, and the community proud."
Supporting Alderwoman Lewis and Alderwoman Coggs in the black history campaign are colleagues Common Council President Ashanti Hamilton, Alderman Russell W. Stamper, II, Alderman Cavalier Johnson, and Alderman Khalif J. Rainey.
"I am absolutely inspired by Mother Esther Lovelace. She was a phenomenal woman, who had to endure many hardships to eventually become the first African American female county deputy clerk. She persevered and stayed strong, held onto her faith and never gave up. In a lot of ways, I can relate to her struggle. Having to be a woman in this male dominated field is never easy." – Alderwoman Chantia Lewis
28 Days. 28 Individuals: African-Americans with a Milwaukee connection
Aaron, Henry ("Hank")
Baseball legend who played for both the Milwaukee Braves and the Milwaukee Brewers, baseball's "home run king" in 1974, elected to Baseball Hall of Fame in 1982, records include most home runs, runs batted in, total bases, and extra-base hits, his Chasing the Dream Foundation awards scholarships through the Boys & Girls Clubs, the Greater Milwaukee Foundation and UW-Madison, State Trail namesake.
Allen, Will
Growing Power founder, MacArthur "Genius Grant" winner and expert in urban agriculture, first African-American basketball player for the University of Miami (1967), played professional basketball for the Baltimore Bullets.
Barbee, Lloyd
Civil rights activist, lawyer and Wisconsin State Assembly member, led efforts to desegregate Milwaukee Public Schools, elected president of the Madison branch of the NAACP in 1955 and Wisconsin NAACP in 1961, as an assembly member, introduced legislation concerning open housing, fair employment practices, promoting gay rights, women's rights and prison reform.
Butler, Louis B., Jr.
First African-American on the Wisconsin Supreme Court, first Wisconsin public defender to argue a case before the U.S. Supreme Court (1988).
Cameron, James
Only known survivor of an attempted lynching, imprisoned for five years following his lynching, but eventually officially pardoned by the State of Indiana, founder of America's Black Holocaust Museum, author of his autobiography, "A Time of Terror."
Coggs, Isaac
Served in the Wisconsin State Assembly (1953-1964), elected to the Milwaukee County Board of Supervisors in 1964, Isaac and Calvin Moody were the first African-American County Supervisors, and due to redistricting had to run against each other in 1968, a race Moody won, the Isaac Coggs Heritage Health Center is named for him.
Daniels, Kathryn (Mother Daniels)
Social justice advocate, state supervisor of the women's department of the diocese, helped set up food pantries, clothing banks, shelters, soup kitchens, educational programs, and mission programs, board member of Bethesda Senior Citizen Center, honorary street name, mother of Bishop Sedgwick Daniels.
Driver, Darienne
First female superintendent of Milwaukee Public Schools, previously a high-level administrator in the School District of Philadelphia, overseeing improvement efforts in that district's most troubled schools, earned a master's degree in curriculum development from the University of Michigan, a master's degree from Harvard's Graduate School of Education, and a doctorate in education from Harvard's Urban Superintendency program.
Dumas, Tyrone
First African-American director of Milwaukee County Department of Public Works, architect and stand-up comic, worked as a building inspector for the City of Milwaukee, as an architectural and civil engineer designer for Miller Brewery, as a facilities project engineer for Snap-On Tools Corp., and as an assistant superintendent of bridges and buildings for the City of Milwaukee.
Ellis, Andre Lee
Founder of the "We Got This" mentoring and employment program for Milwaukee youth, founder and managing director of the Andre Lee Ellis & Company theatre group.
Gallimore, Vernice
In 1946, became the first African-American Milwaukee Police Department policewoman, later became a probation officer with the Children's Court, earned a master's degree in social work from Atlanta University, chairwoman of the County's Human Rights Commission.
Gillespie, Ezekiel
Early Wisconsin settler, successfully sued election inspectors before the Wisconsin Supreme Court in 1866 for the right to vote, four years before the 15th Amendment to the Constitution was passed, a founding member of Saint Mark's African Methodist Episcopal Church.
Harpole, Mildred and Reuben
Longtime education advocates and "community connectors", advocates for needy and low-income people, especially youth, in Milwaukee's African-American community for more than 40 years, Reuben was a Senior Outreach Specialist at UW-Milwaukee's Center for Urban Community Development and Programming Director and Special Advisor to the Foundation President at the Helen Bader Foundation, established scholarship program, honorary street namesakes.
Hebert, Stanley P.
First African-American to attend Marquette University High School (salutatorian, class of 1940), U.S. Navy deputy general counsel, member of the Kerner Commission, Ph.D. from UW-Madison and J.D. from Marquette University, law professor at Southern University in Louisiana, commissioner on Wisconsin Public Utilities Commission.
Holton, Douglas
First African-American Chief of Milwaukee Fire Department, former fire chief of St. Paul, MN (first African-American chief there also), previously a firefighter and officer in Milwaukee for 25 years, retired to become Associate Dean of Human and Protective Services at MATC.
Jackson, Gwen T.
Chair Emeritus of the American Red Cross, Southeast Wisconsin, active with the YWCA and Milwaukee Urban League, Milwaukee Public Schools school namesake, chairperson of Child Care Advisory Committee, lead formation of the Early Childhood Council of Milwaukee, appointed to the State Child Care Council, a prominent voice for almost 50 years in support of young children.
Johnson-Odom, Marlene
Common Council member from 1980-2004, making her the longest-serving female Council member to date, sponsored re-naming of N. 3rd St. to Dr. Martin Luther King, Jr. Dr. and the creation of the City's Minority Business Enterprise Program, championed developments throughout her district, particularly in Brewers Hill.
Jones, Arthur
First African-American Chief of the Milwaukee Police Department (1996-2003), first president of the League of Martin, an organization of African-American police officers founded in 1974 that successfully challenged discriminatory practices in the Milwaukee Police Department.
Kemp, Harry
Prolific photographer and "visual griot" of African-American community, events, celebrities, athletes and politicians, photographer for African-American press, including the Milwaukee Community Journal, the Milwaukee Courier and the Milwaukee Times, photographer for the Milwaukee Brewers, subject of Milwaukee Public Television-PBS documentary honoring his legacy.
Lovelace, Ester (Mother Lovelace)
First female African-American deputy court clerk for Milwaukee County, Elder Emerita at Christian Faith Fellowship Church, director and CEO of The Buck Stops Here Ministry, Inc., an organization helping individuals to become self-sufficient, self-supporting and productive.
Lyles, Vincent
President and CEO of Boys & Girls Clubs of Greater Milwaukee, member of the Greater Milwaukee Committee and the Milwaukee Cultural and Entertainment Task Force.
Moody, Calvin
Over a 25 year career with the Milwaukee Police Department, in 1949 became one of the two first African-American detectives in the department, elected to the Milwaukee County Board of Supervisors in 1964, he and Isaac Coggs were the first African-American Milwaukee County Supervisors, and due to redistricting had to run against each other in 1968, a race which Moody won, Moody Park is named in his honor.
Moore, Gwen
Wisconsin's first African-American member of the U.S. Congress, the first African-American woman elected to the Wisconsin State Senate in 1992, having previously served in the State Assembly.
Oliver, Joe
First recorded African-American settler in Milwaukee, first African-American to cast a vote in a city election in September, 1835, hired in 1835 as a cook for Milwaukee founding father and first mayor Solomon Juneau.
Phillips, Vel
First woman and first African-American elected to the Common Council, first African-American judge in Wisconsin and first to win statewide office as Secretary of State, main sponsor of the City's open housing ordinance, active in civil rights marches.
Pratt, Marvin
Member of the Common Council (1986-2004) and Common Council President, in 2004, became the first African-American to serve as Milwaukee Mayor, only person to serve as both Mayor and Milwaukee County Executive, the namesake for Milwaukee Public Schools Marvin E. Pratt Elementary School.
Raimey, Mabel Watson
First African-American woman to: graduate from UW-Madison, attend Marquette Law School, and be admitted to the Wisconsin State Bar.
Woods, Mattiebelle
Noted journalist for many black newspapers, including 40 years at the Milwaukee Courier, her column "Partyline" focused on the social news of Milwaukee's African American community, active with the Democratic Party from the 1940's.
* All information provided by the City of Milwaukee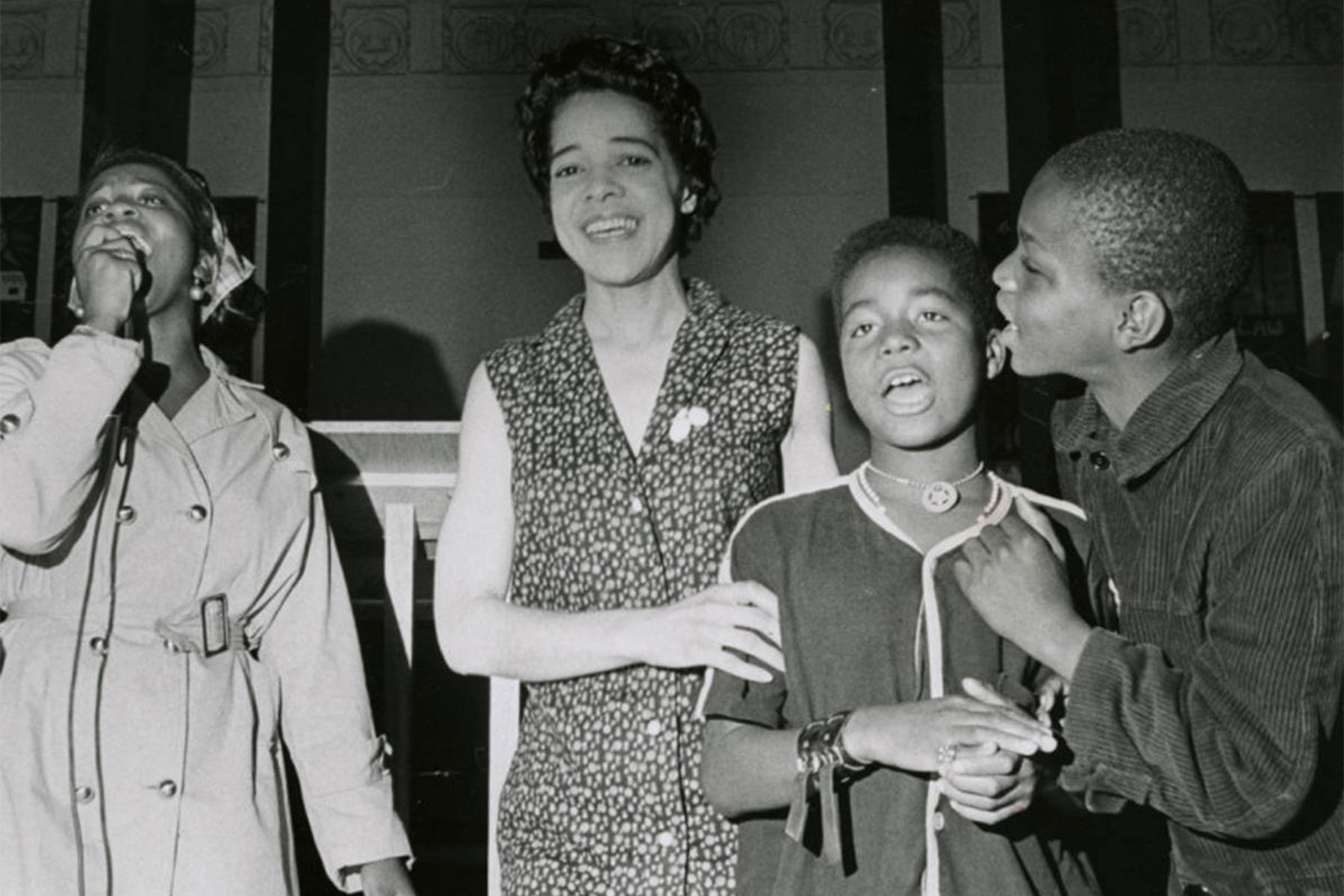 © Photo
Wisconsin Historical Society, Milwaukee Public Library's Historic Photo Collection, and the City of Milwaukee