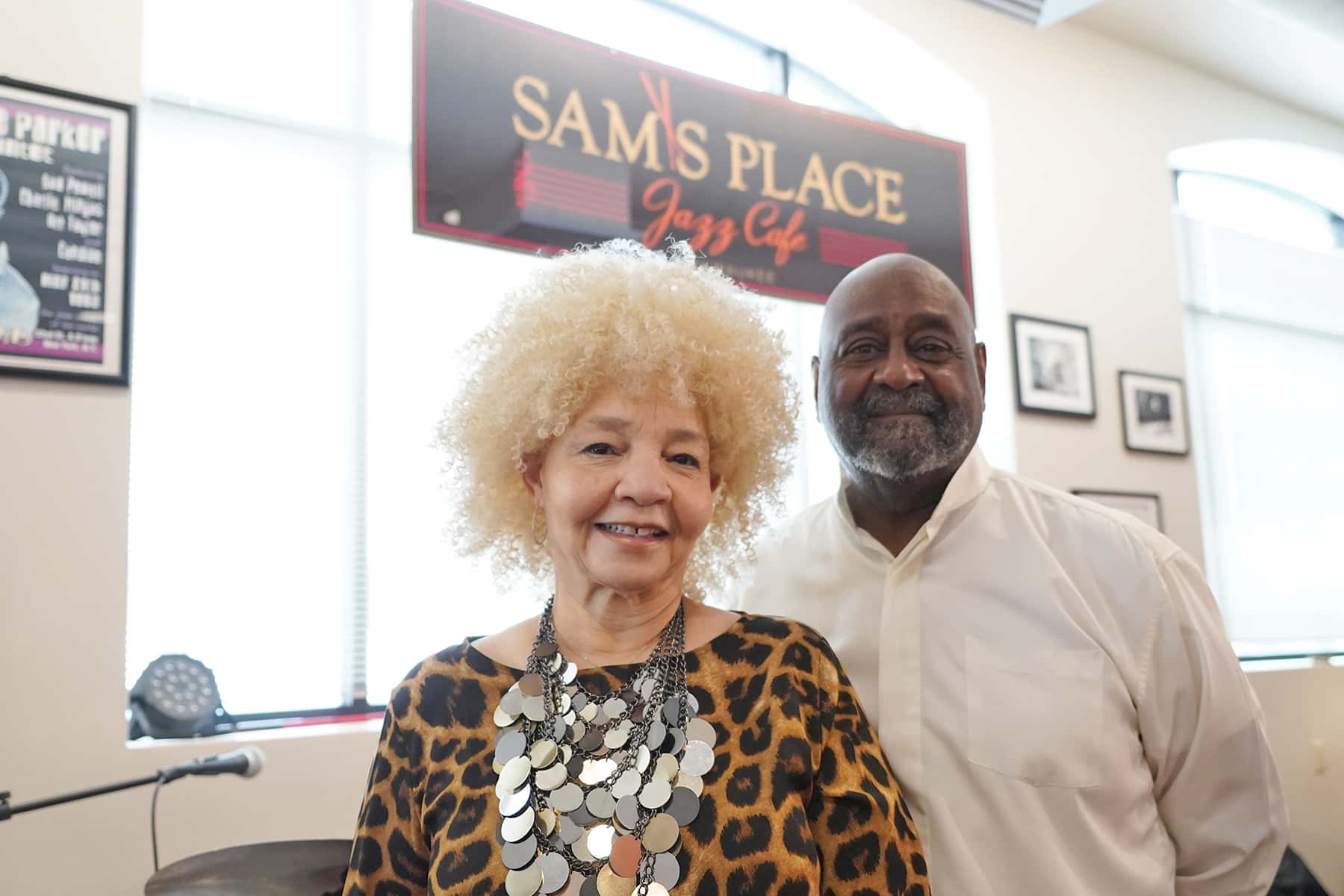 The Milwaukee-based eatery and jazz cafe, Sam's Place, held a soft opening on February 21 in the first floor of the newly renovated historic two-story building located next to Bader Philanthropies at 3338 N. Dr. Martin Luther King, Jr. Drive in the Harambee neighborhood.
Opening to the public on February 22, with an official Grand Opening Celebration on March 6, the ideas for Sam's Place came directly from Harambee residents, through a series of "Chat with Bader" events organized by the foundation as a way to get to know neighbors and hear ideas on what would enhance the quality of life for local residents.
Sam's Place, an eatery and jazz café, will be a unique place to enjoy good food and drinks, socialize, and enjoy an array of entertainment – including live jazz and learning sessions about coffee and music. Sam Belton, the owner of Sam's Place and jazz musician, was born and raised on Milwaukee's north side and knows the local community well. Belton has been particularly interested in seeing the area revitalized.
"We are continuing a culture in our jazz café where neighbors of all backgrounds feel welcome, can relax and forget about everything else while they're enjoying freshly ground coffee or food inspired by jazz legends," said Belton, who also owns CITY.NET Jazz Café, Milwaukee's Jazziest Coffeehouse located in downtown Milwaukee. "We want to be a cornerstone of vitality in the Harambee neighborhood. My hope is that we continue to make progress and people see, feel and talk about how special this space is."
Abyssinia Coffee Roasters, which Belton started in 2007, offers "small batch air roasting." All of the café's coffee is roasted onsite and will be offered at the café, for retail and wholesale purchase. The coffee will be Kosher certified. Sam's Place will also offer specialty coffee tastings and host classes and workshops on coffee.
Belton plans to use the café to bring live jazz back to Milwaukee's central city. On Friday and Saturday evenings, Sam's Place will host some of the most well-known jazz musicians, both locally and nationally, including Belton – who has been a professional musician for over five decades. In addition to jazz, the café will also host poetry and spoken word readings. Sam's Place also features a community room for rental for private meetings and events.
"Sam's Place, Shalem Healing and Refua Medicinals are signs of progress and transformation," said Daniel J. Bader, president and CEO of Bader Philanthropies. "Sam Belton and Dr. Robert Fox are humble individuals committed to bringing people together and offering opportunities for them to nourish their hearts, minds and bodies. They persevered to open their doors which is a testament to the stamina needed to transform our neighborhood amid a global pandemic."
Located above Sam's Place on the second floor is Shalem Healing, a community-oriented health care practice treating all members of the family. Shalem Healing combines both eastern and western medicines, and looks at patients' health from a holistic perspective to determine the best treatment for the patient. The clinic has been operating at the new location since September 2020, providing a variety of science-based health care services to the community, including daily COVID-19 saliva-based testing for schools and COVID-19 vaccinations.
"We want to have a real relationship with our patients and work together in a partnership to attain optimal health and wellbeing," said Dr. Robert Fox, who founded Shalem Healing in 2003. "We want to treat our patients through the most natural, holistic, and integrative approach we can. We lean more toward herbal, dietary-based treatments, and use non-traditional alternative therapies. Ultimately, we hope to see a beneficial change in the local communities' overall health and would like to see this model replicated in other communities."
Dr. Fox also developed Refua Medicinals, combining his knowledge of both ancient practices and modern scientific principles to create extracts for his patients, and now for the general public. Dr. Fox has made his blend of traditional Chinese medicine and modern nutrition science since 2001, and patients achieved significant improvements with their health.
"I am excited to welcome the opening of Sam's Place, a jazz café restaurant along with Shalem Healing and Refua Medicinals to the Harambee neighborhood," said Milwaukee 6th District Alderwoman Milele A. Coggs. "The community was a part of the planning process assisted by Bader Philanthropies hosting several visioning sessions with the residents. It is a development that the community played a role in and demonstrates that neighborhood voices were heard and now, the resources they need are accessible and available."