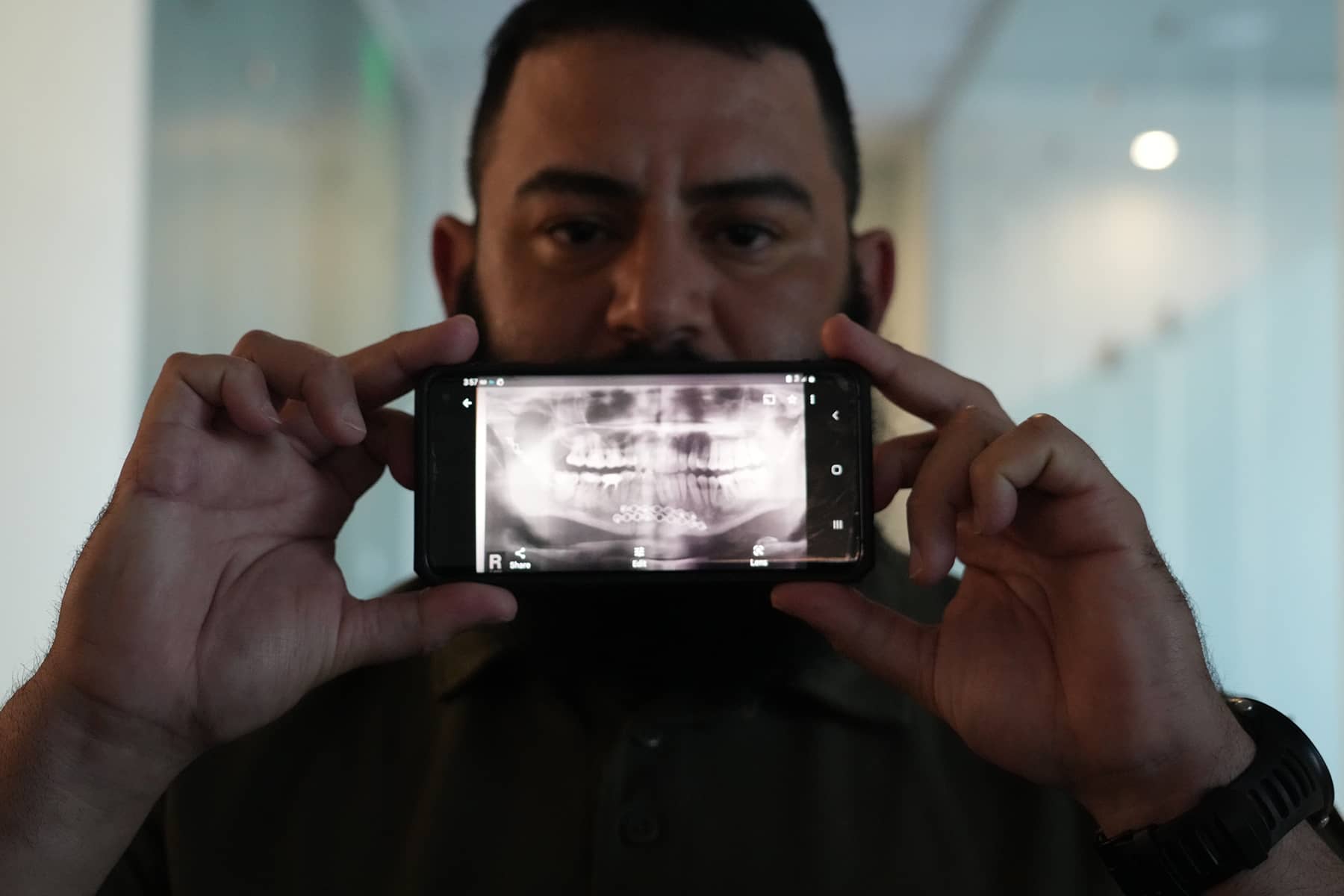 Return to Ukraine:
This feature is part of an original
Milwaukee Independent
editorial series that recorded news from areas across Ukraine, including Milwaukee's sister city of Irpin, from June to July of 2023. It was the second time in the span of a year that the award-winning Wisconsin news organization traveled to the country during the war. The purpose of this journalism project was to document a humanitarian aid mission by the Milwaukee-based nonprofit,
Friends of Be an Angel
, and report about conditions 17 months after Russia's brutal full-scale invasion.
mkeind.com/returntoukraine
An American volunteer with military experience, known by his call sign as "Max," will soon undergo his third facial reconstructive surgery for injuries suffered on the frontlines in Ukraine.
The groundbreaking surgical procedure is being paid for by donations from a Milwaukee nonprofit that has sponsored similar procedures for Ukrainian soldiers left with physical disfiguration from battle injuries.
The combat experience of Max is one of many untold stories that have come to symbolize the dedication and courage of foreign volunteers, as Ukraine pushes back against the full-scale invasion by Russia.
Originally from Atlanta where he owns an architecture firm, the U.S. veteran felt called to assist in Ukraine.
Driven by a deep sense of duty and a desire to share his military experience, Max arrived in Ukraine in August 2022 to help train the Ukrainian military. His previous service in the U.S. armed forces made him a valuable asset in teaching strategic knowledge and enhancing the capabilities of raw Ukrainian recruits.
"I have trained tactical police officers, and also United States military personnel in Brazilian Jiu-Jitsu and combat technics," said Max. "So I felt my skills would be useful here in Ukraine, especially with what the Russians have done to so many innocent people."
Within a few months Max would find himself thrust into a path of sacrifice, bravery, and unyielding determination.
Max's unit came under intense enemy fire during a mission in winter conditions against an occupied position on December 10, 2022. In the midst of the firefight, a team member was tragically killed and another sustained a severe head injury.
"We were on an operation behind enemy lines at night when our unit got hit by a tank," said Max. "I lost a friend, and at times I was unconscious so I do not remember everything. But I pulled my injured team members out of our vehicle and waited for help to arrive. I didn't realize that a shell had blown up in my face and how hurt I was."
Despite being injured himself, Max continued fighting until he was evacuated.
Sent to a hospital in the city of Dnipro, Max received critical medical attention for injuries that shattered his jaw and damaged his eardrums. He underwent two complex operations in Ternopil, where medical professionals worked to mend his disfiguring wounds.
During each stage of recovery, Max returned to his combat unit instead of remaining hospitalized to heal. Knowing that his troops had to fight without him was more painful than his battle wounds. So against medical orders he continued to join combat missions or train troops.
"I am old enough to have lived my life, but so many of Ukraine's soldiers are still young," said Max. "These kids are the future of this nation, and somebody has to help. They still need a future. Ukraine needs a strong generation to grow up and rebuild their country. So I am here to do all I can to help."
Max's upcoming third surgery will involve the removal of previous implants that have deteriorated and need repair. In their place he will receive patient-specific custom 3D titanium implants.
The July 24 operation will take place in Kyiv, and is being paid for by the Milwaukee-based nonprofit, Friends of Be an Angel. The humanitarian organization has committed to covering the costs of the surgery, ensuring that Max receives the highest standard of care and the best chance for a quick recovery.
"In six months I was supposed to return to the United States, but I remain here at the front with my guys who I fight with. I have no choice but to help defend Ukraine," added Max.
© PHOTO NOTE:
All the original editorial images published here have been posted to
mkeind.com/facebook
. That Facebook collection of photos contains the
Milwaukee Independent
copyright and watermark for attribution, and may be used for private social media sharing. Do not download and repost images directly from this page.
Milwaukee Independent has reported on Russia's brutal full-scale invasion of Ukraine since it began on February 24, 2022. In May of 2022, Milwaukee Independent was the first news organization from Wisconsin to report from Milwaukee's Sister City of Irpin after its liberation. That work has since been recognized with several awards for journalistic excellence. Between late June and early July of 2023, Milwaukee Independent staff returned to Ukraine for a second assignment to report on war after almost a year. The editorial team was embedded with a Milwaukee-based nonprofit, Friends of Be an Angel, on a humanitarian aid mission across Ukraine. For several weeks, Milwaukee Independent documented the delivery of medical supplies to military and civilian hospitals, and was a witness to historic events of the war as they unfolded.
Return to Ukraine: Reports about a humanitarian mission from Milwaukee after a year of war