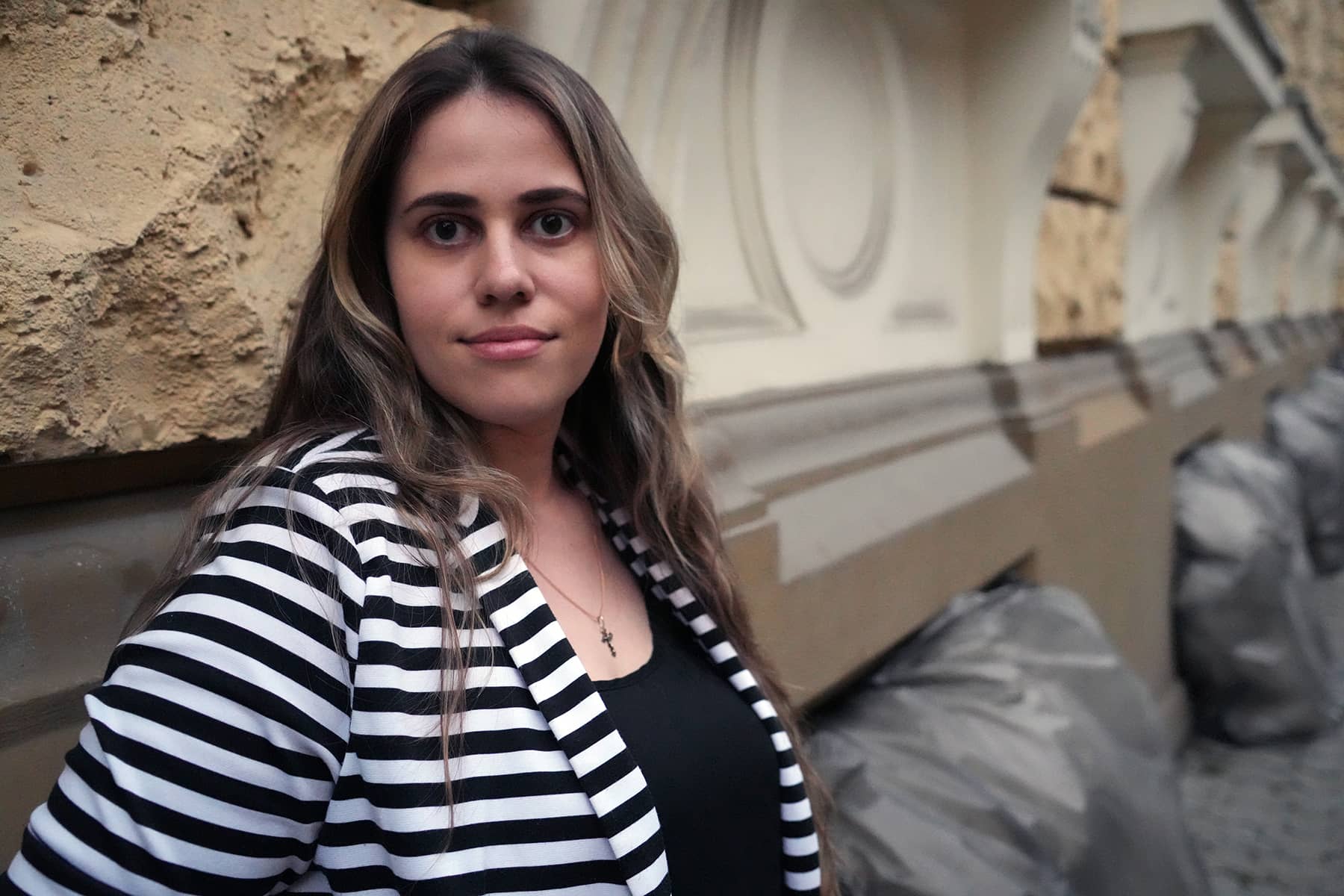 Return to Ukraine:
This feature is part of an original
Milwaukee Independent
editorial series that recorded news from areas across Ukraine, including Milwaukee's sister city of Irpin, from June to July of 2023. It was the second time in the span of a year that the award-winning Wisconsin news organization traveled to the country during the war. The purpose of this journalism project was to document a humanitarian aid mission by the Milwaukee-based nonprofit,
Friends of Be an Angel
, and report about conditions 17 months after Russia's brutal full-scale invasion.
mkeind.com/returntoukraine
There are ongoing discussions in Roma society today about how to preserve memories about the genocide of World War II. With a legacy of indifference to the small ethnic culture, and the distraction of war in Ukraine, it has become harder to invest resources in the study of Roma history. But as a professional historian, Tetiana Storozhko has always been driven by the process of searching for answers.
Since 2007, she has worked extensively with Roma oral histories. The majority of those materials were collected from interviews recorded by the Shoah Foundation. Over the years, Storozhko heard stories about the incredible people who were instrumental in documenting that research. Anya Verkhovskaya had always been a person at the top of her wishlist to speak with. Storozhko never imagined she would actually have the opportunity to meet with her. That day arrived in June, when the Director of Friends of Be an Angel came to Lviv on a humanitarian mission. It was a short but very significant meeting with Verkhovskaya, and a deeply moving experience for both women. For Storozhko, it was the fulfillment of a dream to finally speak to someone whose legacy she had been working with daily for the past 16 years.
One of the most frequent questions I hear is why I have connected my life with the Roma theme. The question is very obvious but difficult to answer. My contact with the Roma community happened almost unconsciously back in 2007 when I was still a schoolgirl. I had to choose a topic for my extracurricular research project, but all the options suggested by my teacher seemed too ordinary and boring.
Then she handed me a newspaper and said, "If nothing suits you, maybe you'd like to write about 'Gypsies'?" The newspaper had an article about Roma people written by an unknown author using the pseudonym Django Barr. At that time, for me, it was more of a youthful rebellion or resistance — an attempt to make independent decisions rather than following someone else's ideas.
So I began researching the history and culture of the Roma in my hometown of Okhtyrka, located in the Sumy region. At that time, it was extremely challenging to find quality written materials on the Roma theme, so my main source was field research materials. In this endeavor, I received the most support and assistance from my mother. Since I was very modest and shy, she accompanied me during visits to Roma families, and together we conducted our first interviews. Often she even asked the questions instead of me because I was too shy to speak with strangers.
That was how my love and fascination with oral history began. With my school project, I won several national competitions and even received an invitation to my first real academic conference. I was 16 years old at the time. Entering the academic circles of a specialized topic allowed me to gain support and mentorship from many experienced scholars and researchers who sincerely supported me on my path.
When I enrolled in the history faculty at the university in Kyiv, I chose the study of the history and culture of Roma in Ukraine as my main theme for term papers, my thesis, and later my dissertation. In my dissertation, I focused more on oral history, specifically the study of initiatives involved in collecting oral testimonies of Roma.
Only a few years after starting to work with the theme, I heard a family story from my mother that provided answers to many questions. One day, when my mother was a student at a local college, she went to a concert of amateur art. Her astonishment knew no bounds when a Roma duo took the stage — a boy and a girl who were brother and sister, and their last name was announced— Brusenko. That was my mom's maiden name.
When she visited her mother, my grandmother, in the village on weekends, she shared her surprise and indignation, saying, "Mom, can you imagine?! There are Gypsies in Okhtyrka with the same last name as ours! What a shame!" My grandmother calmly replied, "That's not a shame, my dear; they are our relatives. Remember when your father and I had an argument, and he didn't come home for a month? Where do you think he was living? At his cousin's place, with his Roma family."
After that, I made many attempts to find my Roma relatives, but they were all unsuccessful as that family had moved to another city many years ago. So I never resolved my dilemma — I felt like being somewhere "in-between" from the beginning of working with Roma.
In school and university, when people found out that I was closely involved with Roma, suspicions, rumors, and even bullying would start. I lived with the stigma of being called a "Gypsy" and a "fortune teller" for a long time. At some point, it was more comfortable for me to socialize with Roma because my Ukrainian friends no longer saw me as one of them. But even among Roma, although I knew and felt that I was respected and accepted, there was still a lack of complete acceptance. I never fully became one of them.
In academic circles, I met a researcher of the history of the Roma genocide, Mikhaylo Tyaglyy, who invited me to work on a project where I transcribed interviews collected by the Shoah Foundation from Roma who survived the genocide during World War II. I spent hours listening to and re-listening to the voices of witnesses to that historical and tragic event. I can still quote excerpts from some narratives that deeply impressed me. It was an incredibly powerful experience that determined the direction of my activities for years to come.
After spending many years in academic circles, I became disillusioned with the approaches and demands that the Ukrainian scientific community imposes on researchers. Unfortunately, in many aspects, we still rely on Soviet approaches. As a result, scientific publications tend to have dry language and are not interesting to the general public.
For me, it was important that as many people as possible became interested in and familiar with the stories of real people. That was why I started working in the public sector and non-formal education. Over the past years, I have initiated numerous projects aimed at popularizing history and giving a new voice to Roma stories, so they would not remain only in the archives of research institutions. These initiatives have included educational youth events at the national and international levels, documentary theater productions, exhibitions, and more.
A significant friend, advisor, and mentor on this journey for me became Django Barr, the author of the pivotal article that marked the beginning of my path in the Roma theme. Under this pseudonym was none other than Valeriy Sukhomylniv, a Roma researcher, intellectual, public figure, and simply a person with a big heart. He was one of many experts who recorded testimonies of Roma for the Shoah Foundation in the 1990s.
I heard his voice in the interview recordings even before I personally met him. We met in Kyiv at a Roma event, and since then, he became a welcome guest and expert at the events I organized. Thanks to his support and advice, I was able to better understand the specifics of Roma culture and piece together the puzzle of individual stories within the community.
One day recently my phone rang. It was Valeriy: "Tania, you have to be in Kyiv on July 1! I need to introduce you to an extraordinary person! Anya Verkhovskaya, who organized our work on collecting testimonies for the Shoah Foundation, is coming."
In fact, I did not need to travel to Kyiv because within minutes, Valeriy arranged our meeting in Lviv. The next day, I sat and had a conversation with a woman who preserved the stories of Roma I had been working with daily for the past decade and a half.
I found it significant that the meeting happened precisely now, when Ukraine is going through such challenging but undoubtedly historical events. Our society, every individual, is experiencing pivotal moments — they are filled with stories of loss, horror, survival, and support. This is what shapes our history.
I am convinced that right now we must make every effort to preserve these invaluable experiences for future generations, so that our successors do not have to reconstruct current events from mere fragments.
© PHOTO NOTE:
All the original editorial images published here have been posted to
mkeind.com/facebook
. That Facebook collection of photos contains the
Milwaukee Independent
copyright and watermark for attribution, and may be used for private social media sharing. Do not download and repost images directly from this page.
Milwaukee Independent has reported on Russia's brutal full-scale invasion of Ukraine since it began on February 24, 2022. In May of 2022, Milwaukee Independent was the first news organization from Wisconsin to report from Milwaukee's Sister City of Irpin after its liberation. That work has since been recognized with several awards for journalistic excellence. Between late June and early July of 2023, Milwaukee Independent staff returned to Ukraine for a second assignment to report on war after almost a year. The editorial team was embedded with a Milwaukee-based nonprofit, Friends of Be an Angel, on a humanitarian aid mission across Ukraine. For several weeks, Milwaukee Independent documented the delivery of medical supplies to military and civilian hospitals, and was a witness to historic events of the war as they unfolded.
Return to Ukraine: Reports about a humanitarian mission from Milwaukee after a year of war