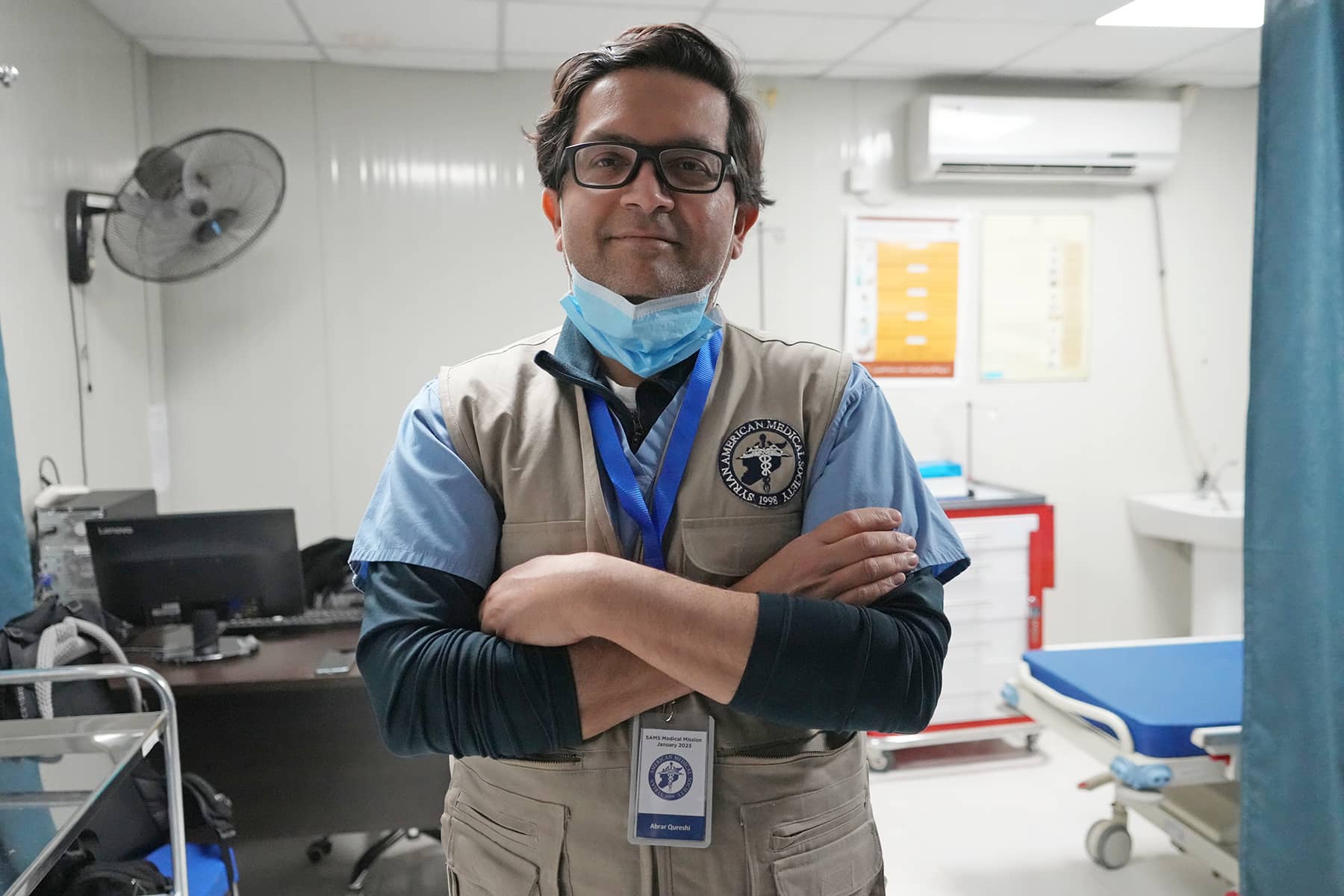 Medical Mission to Jordan: After more than a decade of Civil War in Syria, and continuing conflicts like the unprovoked Russian invasion of Ukraine that further displaced millions of civilians, understanding the longterm conditions that war refugees face remains relevant. But as public attention fades, such topics do not capture headlines today, even as the impact continues to be felt here in Milwaukee. mkeind.com/jordanmedicalmission
Medical professionals spend many years learning, growing, and accomplishing work in their field. For those who were not born in the United States, or are from immigrant families, the path to medical school is often an adventure story in itself. In preparing introductions of the Syrian American Medical Society (SAMS) volunteers who were interviewed for the "Medical Mission to Jordan" series, the depth of what each individual has achieved in their career literally requires a separate article to detail. Being chief of a department, or professor, or research leader, or board chair, are all in addition to the root vocation of their dedicated medical care of adults and pediatric patients. In this context, regardless of position or occupation, all the volunteers of the SAMS Medical Mission arrived in Amman with one purpose, to offer crisis relief to refugees affected by the Syrian Civil War. Exploration of medical backgrounds was explained within each interview to the extent necessary by the participant. While each layer of their medical career and position of responsibility were essential to their mission work in Jordan, those detailed descriptions were actually a distraction in being able to share their story. Who they were "in person" was why they were interviewed. Not who they were "on paper," which was still immensely impressive but simply too much to unpack in this context.
Q&A with Dr. Abrar A. Qureshi, MD
Milwaukee Independent: How were you inspired to follow a career in the medical field?
Abrar Qureshi: The notion of caring for fellow human beings, and having the skills to help them and solve their problems was very fulfilling. It was something I saw my parents do every day – they were both physicians. It was different back then, often patients would call our home number, and often I would pick up the phone and take a message, or they would directly call to one of my parents. Sometimes my father would do home visits. There was a level of caring that was typically reciprocated with incredible gratitude on the part of patients, which made it even more satisfying. Then there was research that sucked me in, where curiosity armed with the appropriate skills and tools could make an even bigger difference at a larger population level.
Milwaukee Independent: How did you become involved with the Syrian American Medical Society (SAMS)?
Abrar Qureshi: We had all heard about the plight of the refugees after the war in Syria. A number of people donated money, and so did our family. However, after the initial couple of years of acute trauma related medical needs, it became apparent that more chronic medical care was needed. As a dermatologist I could make a difference. On a whim, after a discussion with my wife, and a couple of phone calls, I found myself on a flight to Amman, Jordan – on my first medical mission with SAMS in 2016 – accompanied by a few suitcases of medical supplies, biopsy instruments, and wound care materials.
Milwaukee Independent: What were you surprised to learn about yourself after your first SAMS mission?
Abrar Qureshi: We lead really full and busy lives in the United States, constantly on the move, eternally in a race to get more done and achieve more. Some are driven by research and academic achievements, some motivated by making revenue, others may be moved by their specific clinical interests. Whatever our differences, a common thread we share is satisfaction at work and overall fulfillment. I believe that is often achieved by giving of yourself where there is no secondary gain, and no personal interest other than giving for the sake of others. Giving is even more fulfilling if we do so from what we truly hold most dear – our time. Through missions with SAMS, I learned that working with people who were displaced, and possessed little to no material things, was eye-opening and impactful. Instead of feeling overwhelmed by the number of displaced individuals and their medical problems, and their overall needs, we were making a difference. One person at a time, we saw smiles, and relief on the faces of our patients who were so happy to make human contact, especially with physicians and nurses and dentists. Above all I learned that there were many other empathetic and like-minded healthcare professionals. We all left the comfort of our homes, and traveled to simply give our time and expertise to help others. It was an honor serving with them.
Milwaukee Independent: What was the hardest experience of your working with Syrian refugees?
Abrar Qureshi: Probably the most difficult feeling is one of helplessness when we know what to do for a patient, but cannot because of lack of resources or materials. Knowing that help is so close, yet so far, can be difficult. Then there are several unfortunate circumstances, mostly when caring for children with special needs and disabilities. Especially difficult for children with cerebral palsy, or mishaps at delivery that resulted in severe, developmental delay – both mentally and physically. In restrained environments, we cannot imagine how impossible it is to care for a child with such needs. I will never forget a case or a young woman I saw about five years ago, who I have not been able to find again. She had a rare genetic disorder called xeroderma pigmentosum, that resulted in skin cancer development on any area of her skin where she got sun exposure. We started her on some oral medication to help mitigate the risk of skin cancer and reduce the need for surgeries. I tried to advocate to bring her to the National Institutes of Health in Washington DC for special care. But then we lost touch with her family.
Milwaukee Independent: What would you like the public to know about conditions in refugee camps?
Abrar Qureshi: Living for years in makeshift metal, fabricated, UNHCR-funded shelters, with lack of running water, lack of heat during cold days in the desert winter, and overcrowding can take a toll on both the physical and mental health of any individual. On top of that, if there is a general lack of schooling for children, or jobs for the adults, and restricted movement within the camp, the limits can probably be even more difficult. Having said that, human resilience and ingenuity is always hardening to see color, and specifically in the Zaa'tari Refugee Camp. The last 5 to 6 years, I have seen the growth of shops and businesses, and almost the development of a downtown area. Positivity and resilience in the face of immense adversity is evident everywhere we look in the camp. I will never forget the name of a street sign, coming right off one of the main roads in the middle of the camp, called in Arabic "Sharae Suroor," the "Street of Pleasure/Joy/Happiness."
Milwaukee Independent: Where do you still find hope?
Abrar Qureshi: This time around, I saw billboards and signs of international organizations that had now faded away, some were barely readable. I saw a beautiful building off to the side of the road in the camp named 'Clinic of Hope' that was shuttered. I saw another aid agency's facility also shut down. I wondered if the Syrian refugees had been forgotten already? And then, there was purpose again because SAMS was there. We were in-person, shaking hands, talking to the patients, hearing from them, laughing with them, and sharing in their difficulties. In those moments I realized – there was hope again.
This editorial feature is one of a multi-part explanatory series about the "Dr. Majdi Omar" SAMS Jordan January 2023 Medical Mission. The journalism project embedded a Milwaukee Independent photojournalist, from January 21 to 26, 2023, with a group of Syrian American doctors from Milwaukee and Chicago. It documented their trip to Jordan and the medical work done at clinic locations like Za'atari Camp, Salt, Jerash, En Albasha and Marej in Amman, and Basma in Ma'adab. Medical Mission to Jordan: A journey from Milwaukee to help Syrian Refugees, shares the personal voices, stories, images, and conditions around those involved in the Syrian American Medical Society (SAMS) mission to Jordan. It also explores the refugee experience, and the intimate connections of local medical professionals, who put their work on hold and left their families behind for a couple weeks to provide healing to others who have endured a generation of trauma.
The 7.8 magnitude earthquake struck parts of Syria and Türkiye on February 7. It came a week after the SAMS Medical Mission ended, and while Milwaukee Independent finished the final production of this editorial series. The public is encouraged to make donations to the Syrian American Medical Society in support of their vital crisis relief work.