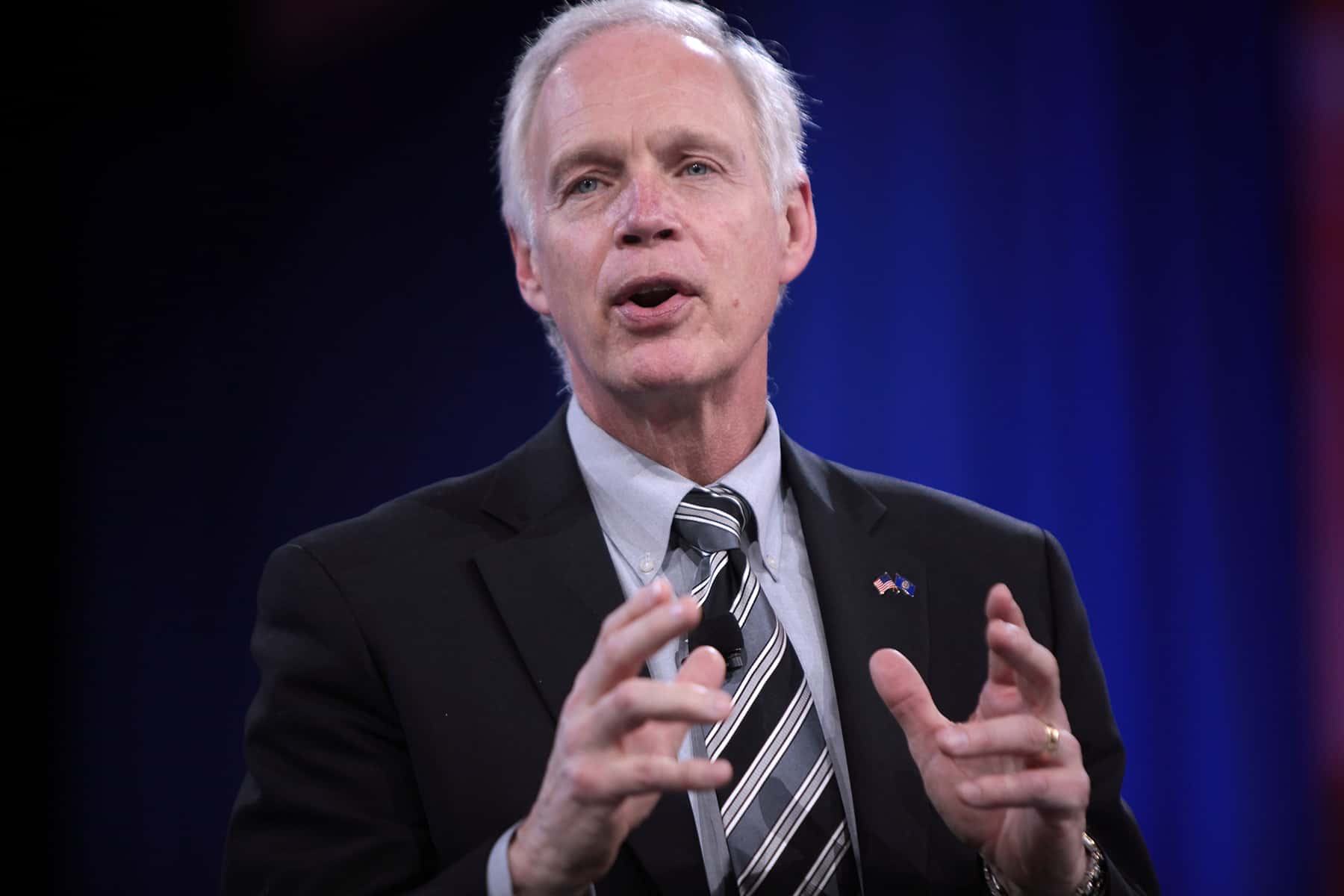 Everyone in America is angry about the dismantling of the Postal Service by Donald Trump and Postmaster General Louis DeJoy. Except, of course, for Ron Johnson.
The Republican senator from Wisconsin heads the Senate Homeland Security and Governmental Affairs Committee that should be getting to the bottom of allegations of political scheming on the part of the Trump administration to slow down the mail in advance of a COVID-19 election where most people expect to cast their ballots by mail. But Johnson is, as always, just fine with whatever nefarious activity in which the president engages.
Performing his usual role as the president's political valet, Johnson greeted DeJoy at a hearing on August 21 with lavish praise and a nutty conspiracy theory.
"I have no doubt the Democrats are ginning these issues up into a false narrative designed to extract a political advantage," chirped Johnson, before soothingly telling the scandal-plagued postmaster general, "I'm sorry that you're the target of those."
Pronouncing himself to be "highly supportive" of efforts to trash sorting machines and blue mailboxes, cut overtime and more generally reduce service, Johnson claimed, "It is Postmaster DeJoy's commendable attempt to reduce those excess costs that are now being cynically used to create this false political narrative."
The problem with Johnson's conspiracy theory is that DeJoy's mangling of the Postal Service has already caused such a national outcry — from Democrats and honest Republicans — that the postmaster general has suspended some of the most egregious abuses. And, of course, President Trump has acknowledged to Fox Business News that he's been messing with Postal Service funding because "they need that money in order to have the post office work so it can take all of these millions and millions of ballots."
So, once again, Johnson is playing the fool on Trump's behalf.
Thankfully, responsible representatives are treating the crisis seriously. Rep. Mark Pocan, D-Town of Vermont, is leading a congressional effort to hold DeJoy to account. With Massachusetts Democrat Katherine Clark and 88 other House members, Pocan has signed a letter asking the U.S. Postal Service Board of Governors to immediately remove DeJoy.
"Mr. DeJoy has used his time as Postmaster General to sabotage the United States Postal Service (USPS) and he must be removed immediately to protect this critical institution," they point out. "Despite recent claims by Mr. DeJoy that implementation of certain changes may be delayed, he has already done considerable damage to the institution and we believe his conflicts of interest are insurmountable."
Those conflicts of interest are political and personal.
"Mr. DeJoy holds a significant investment in his former company, XPO Logistics, a USPS contractor. Since becoming Postmaster General, he has also invested tens of thousands of dollars in stock options in another USPS contractor and competitor," the letter notes. "Both investments represent a tremendous conflict of interest. We cannot trust that Mr. DeJoy will act in the best interest of the USPS or the people who rely on it."
DeJoy is also a major donor to Trump's campaign and to Republican causes, which is as good an explanation as any for why Ron Johnson is praising the worst postmaster general in American history.