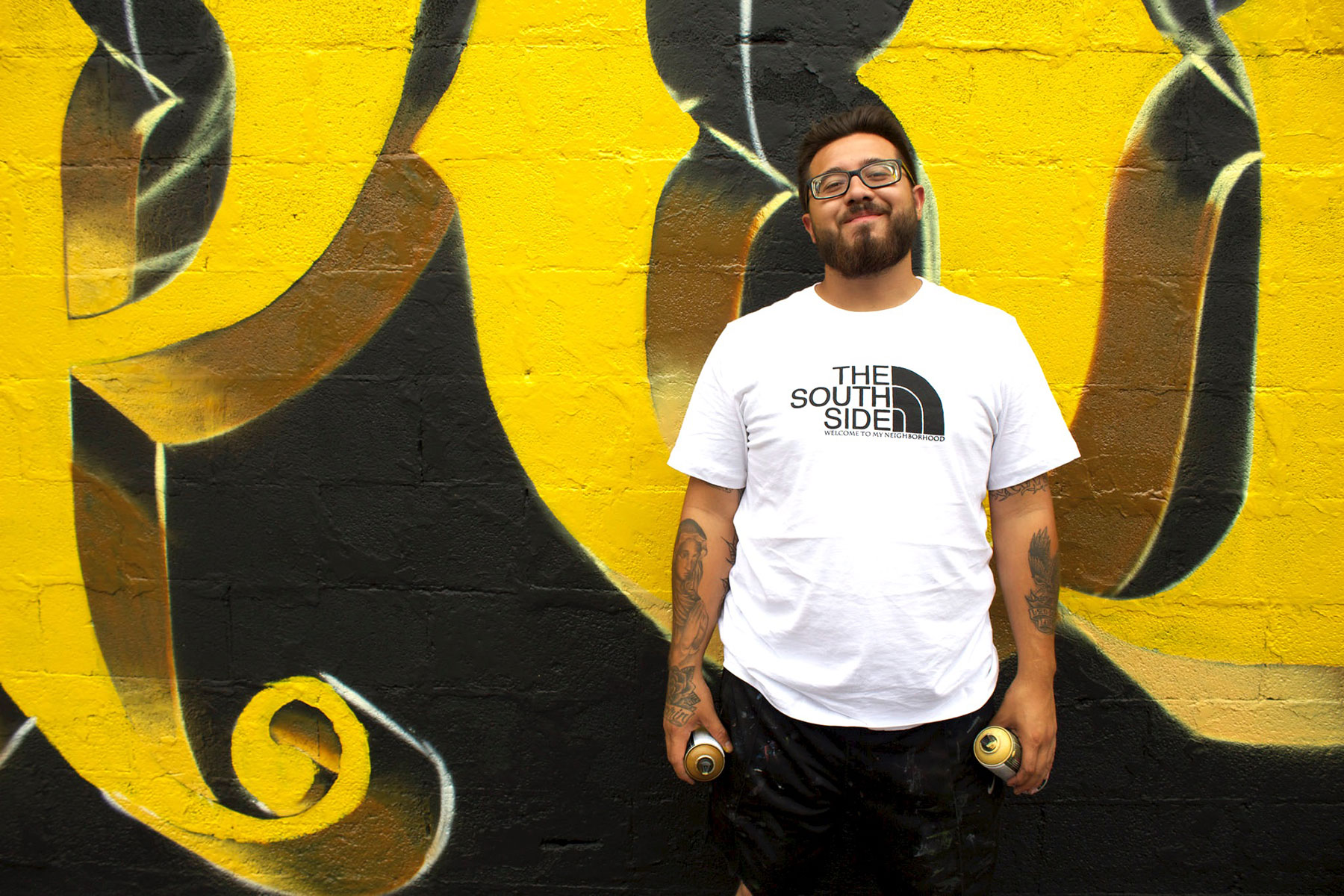 Local artists Chacho Lopez, Adam Correa, Julian Correa, Jon Bartels, Ben Stark, Josh Ebert, Tom Aldana and Mike Davenport all contributed to the mural in Walker's Point.
Looking out the classroom window of the high school he seldom attended, 16-year-old Chacho Lopez could see police officers pulling up to the school building. Scared out of his mind because he knew they were looking for him, he pulled his hood over his head and crept out of the building past the officers. Lopez remembers his gut dropping as his father screamed over the phone, "They've raided the house, they've got the cans, they're coming to get you now!"
Lopez, who said he was always getting into trouble as a teenager, remembers hiding in his father's car, praying. A week later he turned himself into the police and was charged with vandalism, trespassing and loitering. Because he was a minor, he was sentenced to community service.
Graffiti and street painting have always been a part of Lopez's life. Having come from a highly artistic family, he isn't surprised that his earliest memory of graffiti is from when he was 5 years old.
Now 25, Lopez has chosen to produce art that's more positive for his community.
"Graffiti is 100 percent selfish," Lopez commented. "You're risking your freedom, you're hurting your family, loved ones and your friends. If you think about it, you're running around all night writing your own name. You're going around terrorizing by putting your name everywhere."
During the past two years alone, Lopez has been involved in painting nine free murals for Milwaukee neighborhoods.
"We're doing murals for free, but it's priceless." Lopez said. "You can't put a price on something that means so much."
His uncle did graffiti and his father was a tattoo artist. Born and raised in Walker's Point, Lopez has been tattooing at Walker's Point Tattoo Company for more than two years. He said it's easier painting a wall than tattooing an arm. He looks at spray cans as his paintbrush, and blank walls as his canvas.
Lopez sees painting murals as a more mature way of continuing to do graffiti, and it's his way of giving back, because he thinks murals are for everyone. He prefers working with other artists; by collaborating they can inspire each other and meet people who share the same passion, he said.
His most recent mural in Walker's Point is located on the side of La Michoacana, an ice cream store at 717 S. 2nd St. The mural reads "Bienvedios A Walker's Point," and is filled with neighborhood landmarks such as the Allen-Bradley Clock Tower, Basilica of St. Josaphat, Bruce Guadalupe church and Escuela Verde charter school.
About 65 feet long and 14 feet high, the mural took three weeks to create, including three days of prep work, two days of priming, and more than 130 hours of painting with 300 cans of spray paint. Local artists Adam Correa, Julian Correa, Jon Bartels, Ben Stark, Josh Ebert, Tom Aldana and Mike Davenport all contributed to the piece.
Josh Ebert, who worked on the project, thinks murals foster a sense of community pride.
"It's something that creates a bond among neighbors," Ebert said. "It bridges the gap between neighborhoods and gives an artist the chance to represent their heritage or home."
Lopez said he often sees muralists from out of town being paid for painting walls in cities they don't live in. "Milwaukee never wants to put Milwaukee artists on the map," he said. "The talent is right here, right in front of everyone and this city isn't supporting that."
When it comes to collaborating on a large wall, Lopez said there needs to be a solid idea for the piece, and there's little room for artists to be hard-headed. At the same time, he knows it's important to let fellow artists express themselves without restrictions.
"There's beasts you need to unleash like Adam (Correa)," Lopez said. "You have to let an artist like that do what he needs to do. There needs to be trust sometimes because every artist is different."
The Walker's Point mural is filled with details that represent who each artist is or where he came from. Correa said he looked at the mural as a way to honor his grandfather, Rau'l Correa Sr., whose portrait is about 10 feet wide.
"I've always wanted to paint him," Correa said. "There's a lot of stories that can be told through hands and faces. That's why it was great having the opportunity to paint details that big."
Lopez hopes the murals influence young people to be more artistic. He and the painters who worked on the Walker's Point mural are in the process of planning a mural group that serves Milwaukee neighborhoods. Lopez is confident it will become a movement.
"We're going to start seeing murals pop up like wildfire," Lopez said. "It's the same graffiti mentality of getting up and doing a roller here or a tag there. We're still getting up, just legally. There's still that heart and that sense of graffiti, but we're more motivated now to do things right."
Lopez also said fatherhood helped put him on the right track. He draws inspiration everyday from his own father, Leo, and his daughter, Nana.
"Being a father really got me going because I want to leave something physically for her," Lopez said. "These murals, these walls, she'll be able to see them when she's older and say, 'My dad did that,' and everyone will know and respect her because of their respect for me."