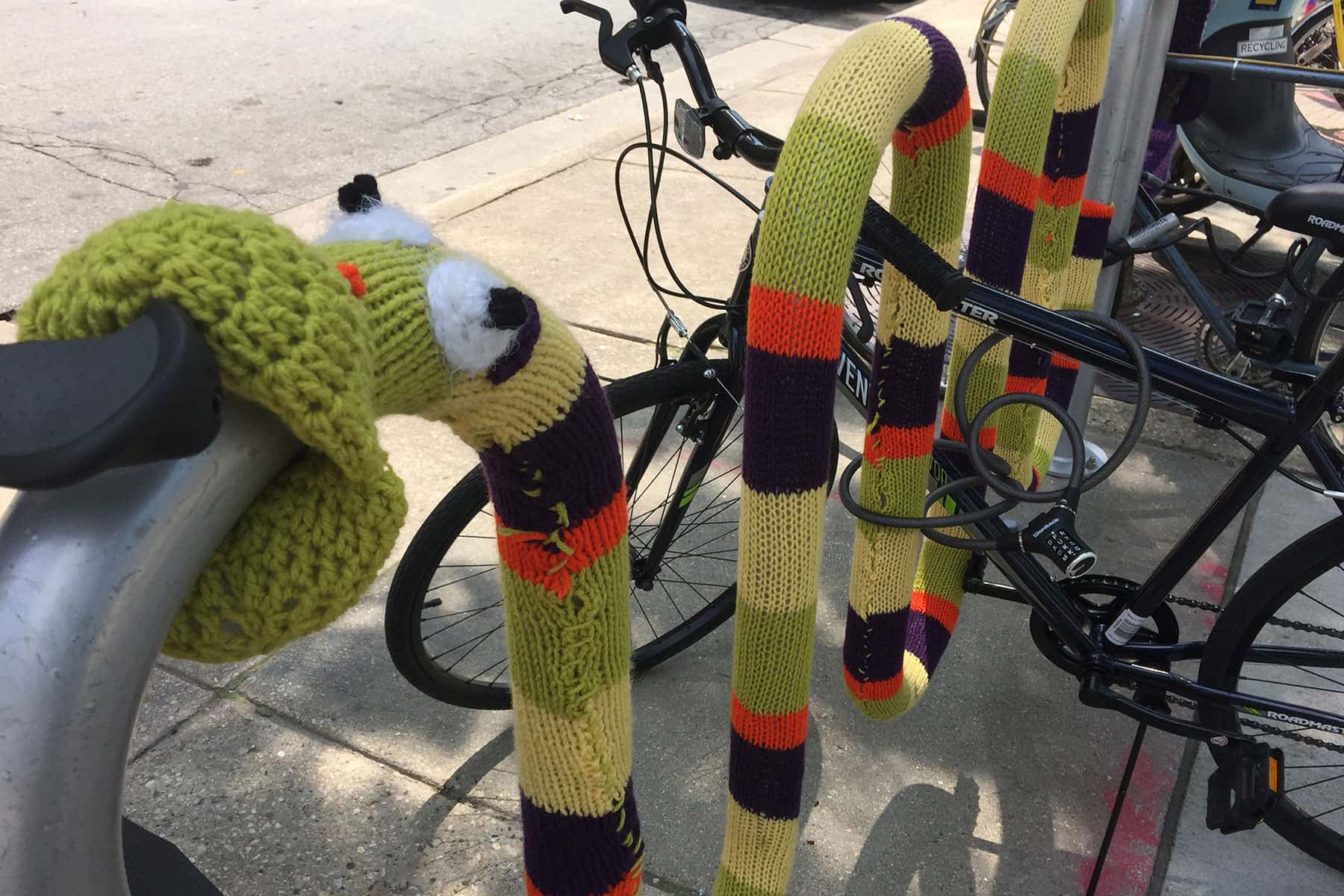 Art becomes the voice of people with Alzheimer's Disease.
The Alzheimer's Association – Southeastern Wisconsin Chapter rolled out art from its "Memories in the Making" program in front of the Grand Avenue Mal on August 1.
"The Blue" exhibit will be on display around the Rait Reuss Plaza of the Milwaukee Federal Building at 310 W. Wisconsin Avenue. The unique display of urban art was created by fifty area guerrilla knitters will be on exhibit in downtown Milwaukee during the months of August and September.
In addition to the exterior knittings, the interior of the Federal Building has on display more than sixty pieces of watercolor art. Each paining was created by individuals with dementia who participate in the Alzheimer's Association "Memories in the Making" program.
"As an art therapist myself, I'm just fascinated to see the artwork, the memories, and the stories that come out of the process," said Angel Duncan, Director, Memories in the Making. "There is something about watercolors that just looses and taps into the subconscious, and the memories are able to surface. It definitely brings a sense of dignity."
The program offered creative art expression for individuals with early to the middle stages of Alzheimer's disease. Even after individuals with dementia have lost the ability to use words, they are still able to paint their thoughts, emotions, and memories in a manner that is expressive and beautiful.
The catalyst for the colorful pop-up street art project was to bring greater awareness of Alzheimer's disease and the power that art has to enrich the lives of those living with it.
On Wednesday, August 17 from 5:00-700 pm, artist Mike Neilsen will be painting live in the Plaza at "The Blue" during the NEWaukee Night Market. It is part of the overall effort to engage community members in Milwaukee about the Alzheimer's Association mission.
The "Memories in the Making" program offers an emotionally safe environment with positive messages. It is designed to be fun, but also serves as a communication tool for families and professional caregivers to learn more about the person with dementia.
Through this experience, people with Alzheimer's are often able to reach outside of their dementia and paint a picture that reconnects them with a past memory. These documented memories become powerful tools that reassure family and caregivers that the essence of the individual is still there.