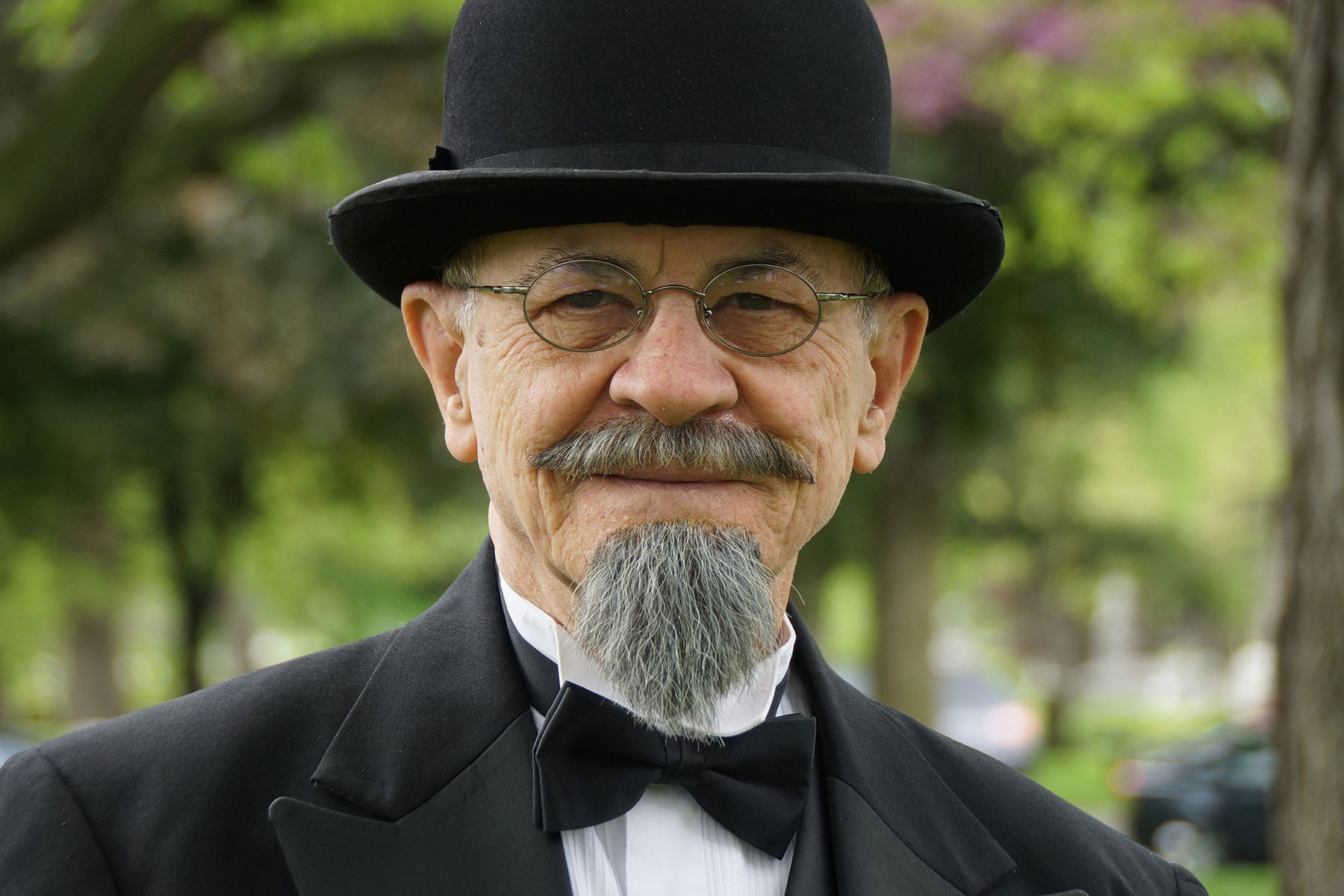 On the day of his passing, local historian became part of the narrative he spent a lifetime preserving.
Daniel Paul Emmer had an affinity for the Pabst legacy and volunteered his time for years to portray the German-American brewer, at events held by the Milwaukee County Historical Society and the Captain Frederick Pabst Mansion. Pabst was buried at Forest Home Cemetery in 1904, and just last October Emmer played the beer baron at his gravesite during a Halloween tour.
So it was a bittersweet honor for Emmer to be interred on August 4 at the cemetery he loved and supported for most of his life. His plot at Forest Home is within view of the Pabst patriarch he admired so much. Emmer's headstone is surrounded by the historical figures he had told stories about during countless guided tours. Family and friends gathered to offer their respect to a man who gave so much of his time to preserving Milwaukee's historical treasures.
"Dan was a dedicated volunteer, supporter, and cheerleader for the Milwaukee County Historical Society, the Pabst Mansion and other historical organizations," said Mame McCully, Executive Director of the Milwaukee County Historical Society. "We will forever be grateful for the many contributions he made to the Society and to the Milwaukee area through his time, talents, generosity, and support. He truly made a meaningful and lasting impact."
Emmer passed away peacefully at the age of 77 on the morning of July 28, 2016 at the Milwaukee Catholic Home. His cancer had only been diagnosed a couple months earlier in May. He was born February 1, 1939 in Medford, Wisconsin. Following his high school graduation in 1957, Emmer joined and served proudly in the Navy as a clerk aboard the aircraft carrier, USS WASP.
After his discharge from the service, Emmer moved to Milwaukee to attend the Layton Art School to pursue his appreciation of fine art. That was when he began his lifetime of research about the founding of Milwaukee, its progress, the people, and particularly the breweries.
He worked as a clerk for the Milwaukee County Sheriff's Department and Milwaukee County Court House. After retirement, his love for the city drew him to involvement with the Milwaukee County Historical Society and the Pabst Mansion where he volunteered as a dossier, and did historical reenactments.
"Dan was out here at the cemetery on July 27, the day before he passed, placing a good friend of his in the Scattering Garden, so I got to see him for a minute and he expressed how he loved Forest Home Cemetery," recalled Jan Van Rens, Executive Director of Forest Home Cemetery. "After the service, his driver told me that he wanted to ride around the cemetery and just stop at Beer Baron's Corner."
As a docent, Emmer donated thousands of hours. His research was instrumental in developing the free lecture service, Speaker's Club, for the Pabst Mansion. He donated his time to provide presentations, free of charge, about the Pabst family, Brewing Company, and Pabst Mansion.
"He contributed greatly to the Pabst Mansion for over twenty years as well as to many other historic organizations in Milwaukee. He will be greatly missed by all of us," said John C. Eastberg, Executive Director of the Captain Frederick Pabst Mansion. "We are grateful for his years of service, extraordinary acts of generosity and kindness, and his commitment to the Mansion. He will continue to serve as an inspiration to us all."
Emmer's grave rests in eternity under the shadow of the massive Blatz Mausoleum, surrounded by the Schlitz/Uihlein family, in his favorite section of the cemetery commonly referred to as the Beer Baron's corner.