Dr. Means expects a tough road ahead for MPS turnaround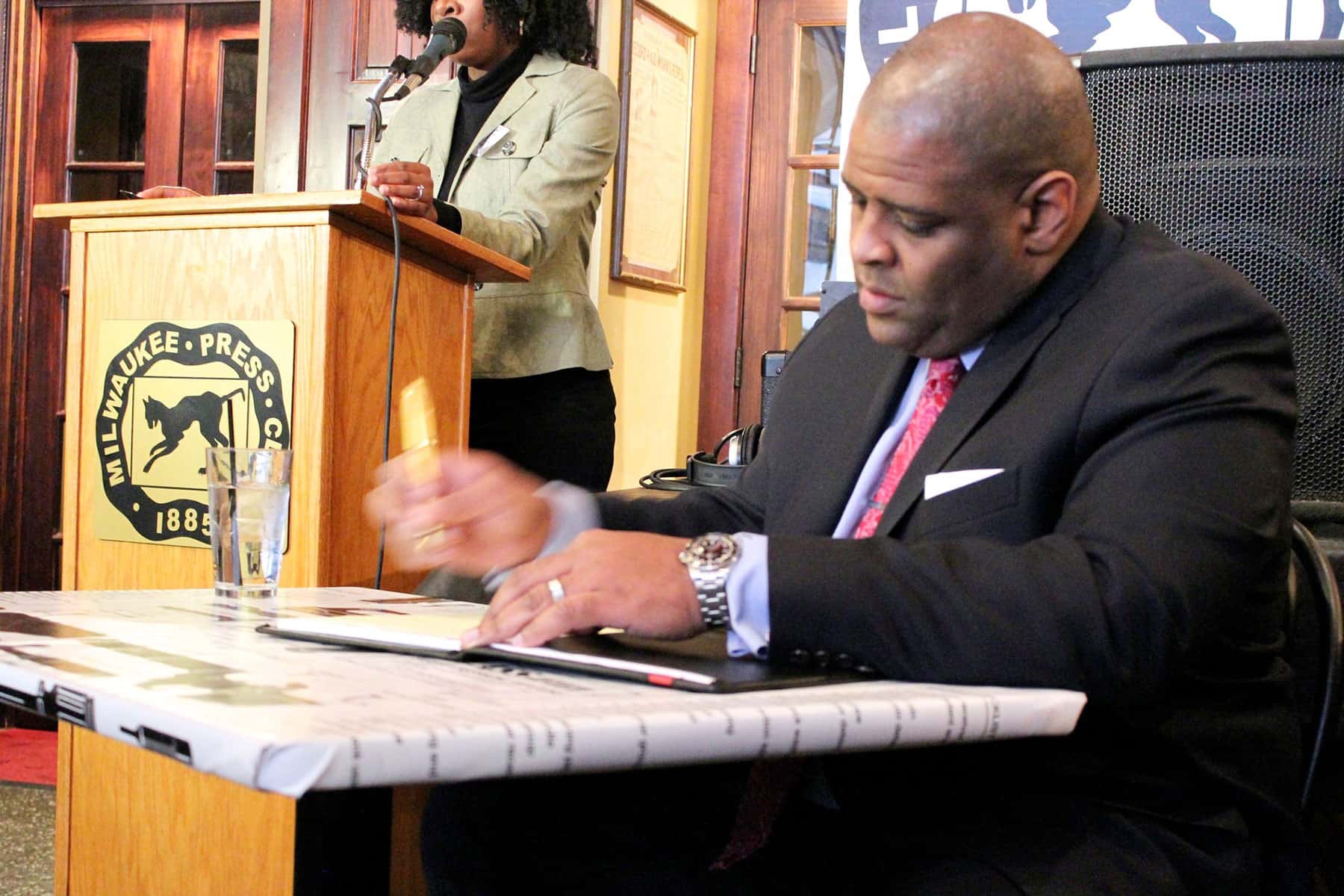 Demond Means, who was recently appointed commissioner of the Opportunity Schools Partnership Program (OSPP), said additional financial investment in education will be necessary to move education forward in Milwaukee and the state. Although he has the authority to do so, Means has said he does not intend to take over any failing MPS schools. Instead, he will work with those schools to make sure they have the resources and support to improve educational outcomes for all students.
"We can't continue to cut our way to excellence. And that's what we've been doing in all of our school districts," said Means at a Milwaukee Press Club event in January. "We're going to need more revenue at some point, but that comes along with dialogue and discussion and understanding the priorities."
Although, by law, school districts are required to provide certain services, they have been unable to do so because of insufficient funding. For example, Wisconsin law requires districts to provide "adequate instructional materials, texts and library services" as well as regular instruction in language arts, social studies, mathematics, science, health, physical education, art and music. Public schools in Milwaukee have cut art and music programs and some have a shortage of textbooks and other instructional materials.
Mary Young of Support Our Schools (SOS) Wauwatosa, a nonpartisan group of parents, teachers and residents concerned about the cuts to public education, said the group has been working with districts in northern Wisconsin that have been "hit very hard," as well. "These are our children; these are our neighbors; this is their future," she said. "I want to be part of a state that values education."
Means, the Mequon-Thiensville School District superintendent and an alumnus of MPS Riverside High School, wrote a letter to families in his district early last year warning of the harmful effect of state funding cuts to education and the elimination of Chapter 220, which allows minority students from the city to transfer to white suburban schools. That program will end as of the 2016-2017 school year.
Still, Means said he is sympathetic to some legislators' concerns about education spending. Wisconsin spends just over 18 percent of its budget on K-12 education, more than any other individual expenditure but down as a share of the total budget since 2007.
Per-pupil state funding declined between the 2007-08 and 2013-14 school years. In 2007-08, MPS received $7,922 per student in funding from the state. In 2013-14 MPS received $7,806 per student. Had the amount simply kept up with the rate of inflation (12.4 percent), MPS would have received $8,900 per student—a total difference of $89 million.
Across Wisconsin, public schools received $6,018 per students from the state in 07-08. In 2013-14, they got $5,756 per student, but would have gotten $6,761 had the amount kept up with inflation—a total difference of $861 million.
Over that same period, the state budget increased 19 percent, from $46.8 billion to $55.7 billion. Public schools have also been hurt by the expansion of the voucher program statewide. MPS Board District 1 Rep. Mark Sain estimated the impact at $60 million per year in his district alone.
While state funding has declined, poverty has been increasing, statewide. The percentage of students receiving free or reduced lunch doubled, from 21 to 43 percent, between 2001 and 2012. To qualify, a typical 4-person family must have earned less than 43,074. In 2013-2014, 82 percent of MPS students qualified.
As a result of the funding formula for public K-12 education in Wisconsin, which includes federal, state and local aid, districts with higher rates of poverty receive less money on average.
Sain said education is getting more expensive because expenditures such as transportation, heating and maintenance continue to rise while schools are being asked to do more for students. "You have all those things that are going up, but one of the things that seems to be staying put are the salaries of the workers in the schools," Sain said.
He added, "When you look at some of the demographics of the young people who are coming into our buildings, there's a lot of needs that are there. And, you need to have a staff that can accommodate the needs of the students."
Means, who froze teacher salaries as superintendent, said such measures need to be an option in the short term, but can't be the solution. "You can't budget and finance your school district on the back of your employees. You can't do it forever," Means said in an interview. "That's wrong."
"What I've learned is that, in order to move public policy, you have to continue a dialogue — you can't just get [mired] in ideology and [partisanship]. You have to continue to talk with all parties, because the children need us to do that," he said.
One possible solution Means mentioned is to allow local school boards to work with their communities to determine an appropriate level of funding. In 1993 the state legislature placed a uniform, statewide limit on how much school districts could raise per student through property taxes. Local aid represented 43 percent of school funding, statewide, in 2013-14.
Sain said it is absolutely necessary to address poverty and that the "core needs" of students can't be met by simply putting a non-traditional school in a particular community and expecting academic performance to improve. "We've got to meet our young people where they are; we've got to meet their families where they are."
"As Milwaukee goes, so goes Wisconsin," said Means. "We have to all, collectively, across the state, make sure that the children of Milwaukee are receiving the very best educational opportunities that they can, because it will impact our economic future as a state."
Means, who called the undertaking "personal," plans to form an advisory committee to work on a strategic plan and provide feedback on the 55 failing schools identified by the OSPP. He expects to release the strategic plan in early April.
Marva Herndon, a member of Schools & Communities United, "a coalition to defend and improve our public schools," said she and others met with Means and County Executive Chris Abele at the beginning of January. The group expressed a willingness to be part of the committee and a belief that traditional public school activists should be involved.
Herndon, who believes Means' "heart is in the right place," said only time will tell whether the OSPP will play out as Means and Abele have said. "We're all in a waiting game, here."