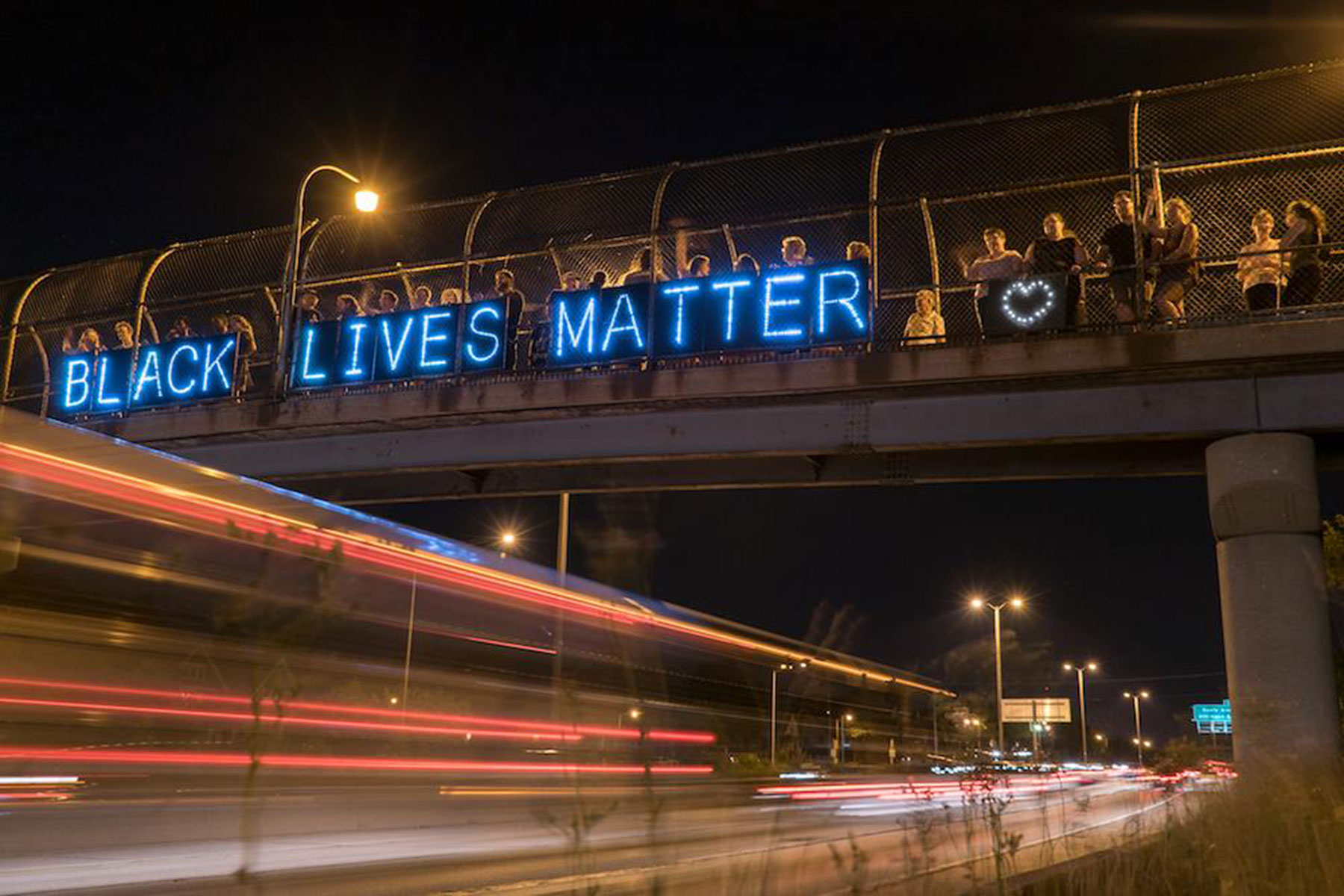 As sirens blare through the warm summer air on a recent Milwaukee night, a group of about 40 demonstrators gathered on the corner of North 7th and West Ring streets near a pedestrian overpass spanning the I-43 freeway.
One of those demonstrators was 9-year-old Nya Bryant, who accompanied her parents to the protest; it was her first. "You know, they see the images just like we do," said Jerome Bryant, Nya's father, of his four children.
Bryant, who is black, said he and Nya had "deep conversations" about the recent killings of black men by police, during which he took the opportunity to "explain the hurtful truth to her."
The demonstration was a collaboration between Showing Up for Racial Justice (SURJ) Milwaukee and the Overpass Light Brigade (OLB) in solidarity with the family of Jay Anderson, a 25-year-old black man who was killed by police in June while sitting in his car at a Wauwatosa park. Other chapters of SURJ, a national network of groups and individuals organizing white people for racial justice, held solidarity demonstrations across the country to show support for the Black Lives Matter movement, which has called for the end of police violence against black people.
The demonstrators, diverse in age and race, displayed the words "Black Lives Matter" for drivers traveling north on the expressway using OLB's signature lighted letters. Lane Hall, a member of the Overpass Light Brigade, called the demonstration "a celebration, and a vigil, and a witness." Attendees held the signs for about an hour, receiving supportive beeps from many passersby.
Claire Van Fossen, a white co-organizer of Milwaukee's SURJ chapter, said the goal of the demonstration was to interrupt the daily routine of white people, "who can move so easily through our lives without having to be conscious of this kind of horror and terror that black people are enduring every day." The Anderson family was expected to be present, but did not attend after seeing the video of Jay's death for the first time, an experience Van Fossen, who has been in contact with the family, described as "horrible."
Last week, the family, along with supporters, demanded that the Milwaukee County District Attorney's office release full video footage of the incident, the name of the officer who shot Anderson and other evidence relating to the case.
Turning a corner
In the wake of the recent police killings of two black men, Philando Castile and Alton Sterling, public opinion, particularly among white people, has started to shift, according to Van Fossen. She said 40 new SURJ chapters have formed in the weeks since the incidents, which set off another set of protests nationwide. Van Fossen said "several hundred people" have joined the local group's Facebook page during that time, as well.
"We've received dozens of emails from white folks saying, 'I've stayed silent on this too long,'" she said.
Jahmes Finlayson was driving by as the group prepared to demonstrate and stopped to talk. Finlayson, a poet, musician and teacher, is involved in social justice work with a number of local organizations. He said it's important for people to acknowledge the "institutional and systematized racism" at work in America.
"There are many people in this country that are still second-class citizens," said Finlayson.
Finlayson, who is black, added that he experiences subtle and overt forms of racism "all the time." However, he said it is hard for most people to admit that these issues still exist because it "pushes guilt buttons" and the country has been ignoring them for so long.
"It's just like somebody who wants to go into treatment or therapy," Finlayson said. "You've gotta start being honest."
Kirsten Maier, 25, said an eye-opening experience for her was being able to point the finger back at herself. "I think one important thing that happened for me was … I, at some point, gained the ability to say out loud that I do act and think in ways that are racist," she said. "And that's not me, as a person; that's the institutions that raised me."
Maier, who has been involved with SURJ Milwaukee for about a year, said it's important for white people to educate other white people "who haven't given much thought to the ways that our institutions are racist." She said white people can support people of color by showing up to protests and other demonstrations, and to talk about these issues with friends, family and coworkers.
"Everyone has value," said Finlayson. "We're all different, and we're all the same. No matter how different we are, everybody wants to eat, everyone wants to have a safe place to live, everyone wants to educate their children and feed their families."
He said the people who profit from conflict and discord, and who benefit from the status quo are "not going down without a fight." Finlayson added that he doesn't pay attention to sensationalism, misinformation and negativity and he continues to treat others with respect, even when he is disrespected.
"It stimulates me to want to do more positive, to want to spread more love and spread the concepts of the truth and reality of our unity," he said. "Everybody's in this together."
"I think we have turned a corner," Van Fossen said. "I think we're at a seminal moment in our history, as a people, and I'm hopeful that things will improve" as more people are ready to take action.
"Black lives do matter," said Bryant. "It's not saying that nobody else doesn't, but, you know, we count as well. That's all we're saying."