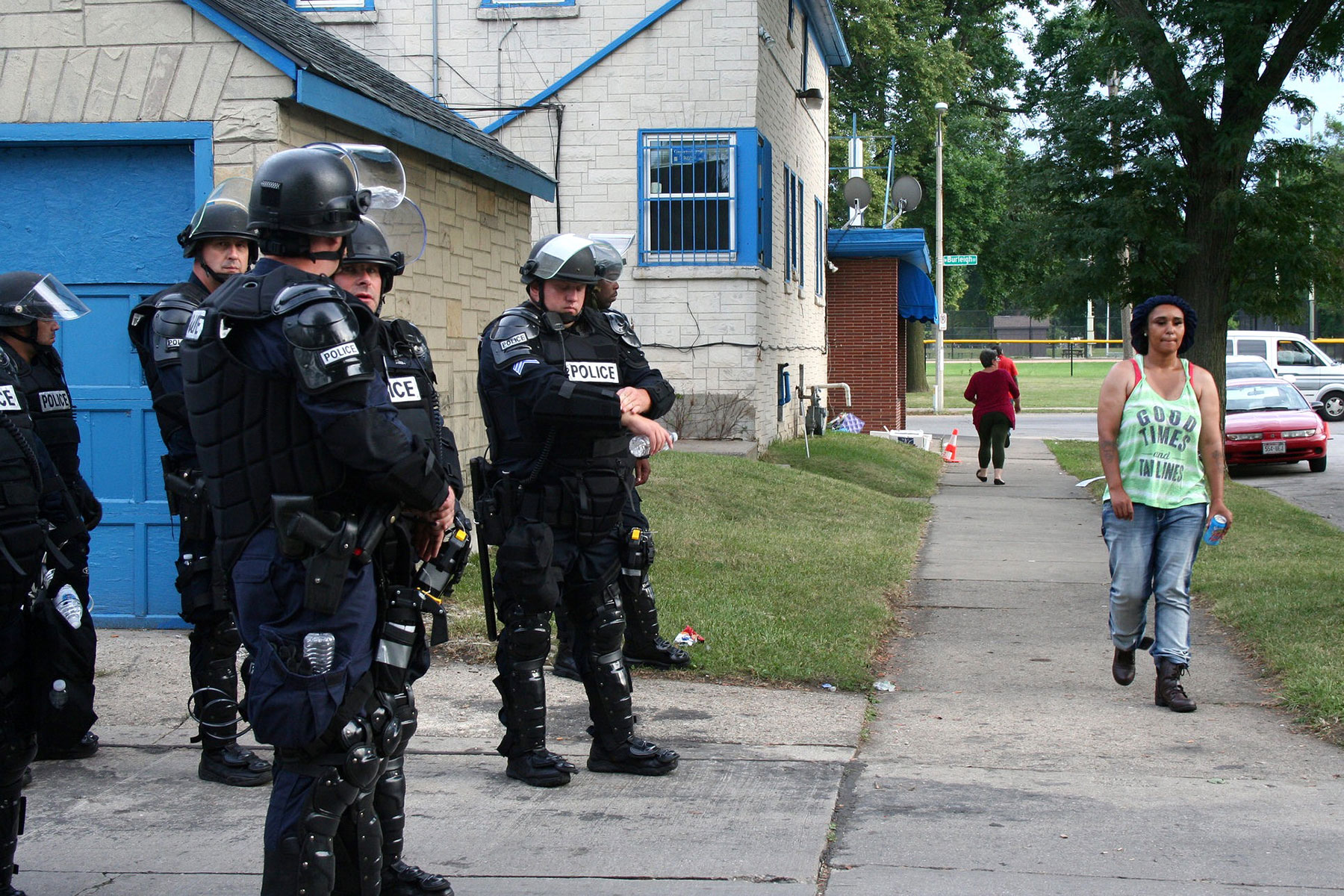 Since Saturday night, Sherman Park has been roiled by protests that have, at times, turned violent in the wake of the police killing of Sylville K. Smith, a 23-year-old black man.
Residents have expressed pain over these events but many who were present in the area following the shooting said they understand why people are angry.
"Milwaukee is a powder keg that exploded," said King Rick, a general in the Milwaukee Black Panther Party. "When you're number one in every statistical category that's negative towards African-Americans, you're going to have carnage, mayhem, chaos."
Smith was shot and killed after a traffic stop Saturday afternoon on North 44th Street near Auer Avenue, blocks from Sherman Park. Body camera footage from the officer involved has not yet been released and police said there is no timeline for its release.
"The real issue is African-American individuals, especially in this area, are tired and upset with the fact that we have been treated unjustly. We get racially profiled … daily," said Altiese Perry, 32, who lives near 48th and Burleigh streets. Racial profiling or profiling people because of where they live is not right. Police should be there to "protect and serve" no matter a person's skin color, he said.
"If I keep spitting in your face, eventually you're going to slap me … If I keep pushing you, eventually you're going to push me back," he added.
"It was wrong what (some violent protesters) did but they're tired of cops shooting black people," said Reginald Hughes, a Sherman Park resident.
Dontre Hamilton was killed in 2014 after being shot 14 times by a former Milwaukee police officer. Derek Williams, a 22-year-old black man, died in 2011 while in police custody. No criminal charges were brought against the police officers in either case. Most recently, 25-year-old Jay Anderson was shot and killed by police while in his car at a Wauwatosa park.
A video producer who declined to give his name but identified himself as "Ghetto the Director" has captured and posted multiple videos of the demonstrations. He agreed that young people are "fed up with the violence and the way the police … treat them." Though misguided, their actions were "courageousness in the face of adversity," he added.
Not much has changed in the city despite listening sessions and workshops held to address its many issues, said Marcelia Nicholson, a new county board member who represents much of the Sherman Park area.
"This is what happens when people speak and they're not heard," she said. "If someone was listening, then we would have better policies in place."
Nicholson added that poverty is the issue, pointing to mass incarceration, low-performing schools and segregation along racial and economic lines as some of the ills that plague this community. "People are oppressed," she said. "They're not able to lift themselves up and out of the situation that they were born into."
Milwaukee's poverty rate of 29 percent is almost twice the national average. Almost 40 percent of Milwaukee's black population lives in poverty and the county has the highest rates in the country for incarcerating African-American men.
There was a heavy law enforcement presence in the area Monday night after one police officer was taken to the hospital Saturday and a civilian was shot Sunday night. Gov. Scott Walker activated the National Guard and Milwaukee County Sheriff David Clarke closed Sherman Park at 6 p.m. on Monday. Mayor Tom Barrett instituted a 10 p.m. curfew for Monday night.
Office of Violence Prevention Director Reggie Moore criticized the park closure. "We can't make decisions, as a city, or as a county, or as a state, that actually provoke continued outrage in the community. We need to be moving to a place of healing and a place of really trying to move forward," he said.
Milwaukee police arrested two mixed-race youth Monday evening. One was said to have been identified in connection with the violence, and was peacefully taken into custody; the other was forcibly subdued by multiple Milwaukee Police Department officers who claimed he had a gun.
"They're escalating the situation, but we're de-escalating," said Frank "Nitty" Sensabaugh, an organizer who has been working with youth in the area. "We're civilized people that will act in a civilized manner. We're not beasts or animals."
Sensabaugh, who was arrested early Sunday morning and released Monday, said the prior violence was an emotional response to the shooting of Smith combined with a reaction to police posturing.
In an email response, Milwaukee Police Department (MPD) Sgt. Timothy Gauerke said, "MPD has used trained tactics and best practices to allow the public to demonstrate. When dangerous situations arise and there is a threat to safety and property, the police have to take action."
Peter Borg, a white Sherman Park resident who has lived in the area for 18 years, said the angst and anger that has come to the surface in the last few days is not new. He said it is a result of a "vicious combination of race and poverty together that is keeping people from having the same life opportunities, same hopes and dreams that you have, that I have, that I have for my kids."
Multiple residents, black and white, criticized the media's role, saying one-sided news reports have contributed to a skewed perception of the events. One African-American man said he was referred to with a racial slur in his neighborhood near 103rd Street and Capitol Drive after Saturday's events.
Solutions
"Everyone has their own narrative, everyone has their own story to tell, everyone has their own needs and I think it starts with listening to one another, coming together, uplifting one another and just becoming … more tight-knit," Nicholson said.
Sensabaugh said that demonstrators intend to concentrate on Smith's family and to help them raise donations to bury him. "Our focus is to help the community; our focus is what our focus was before the incident actually happened, which is to give back to the community," he said.
Matt Erickson, the pastor of Eastbrook Church, 5385 N. Green Bay Ave., said it is important for white folks to "ask questions to understand," to take ownership of the issues affecting Milwaukee and to follow the lead of people of color in addressing them. "My hope is that we can rally people together not just for one night … My hope is something really constructive comes out of this."
Reggie Moore said getting information out to people promptly is important in the short-term. He added that Milwaukee needs to figure out how to address the current inequity and create a vision for what healthy and safe neighborhoods look like.
"As a community, we really have to do some soul-searching to make sure that all of our decisions are really about justice, and really about healing, and really about progress in this city," he said.
Shawn Moore, co-founder of Safe Zones, a city-funded community policing initiative said, "Until we start focusing on the needs of the people … we're going to continue to see this happening."