President Joe Biden visits Wisconsin after State of the Union address to promote infrastructure plans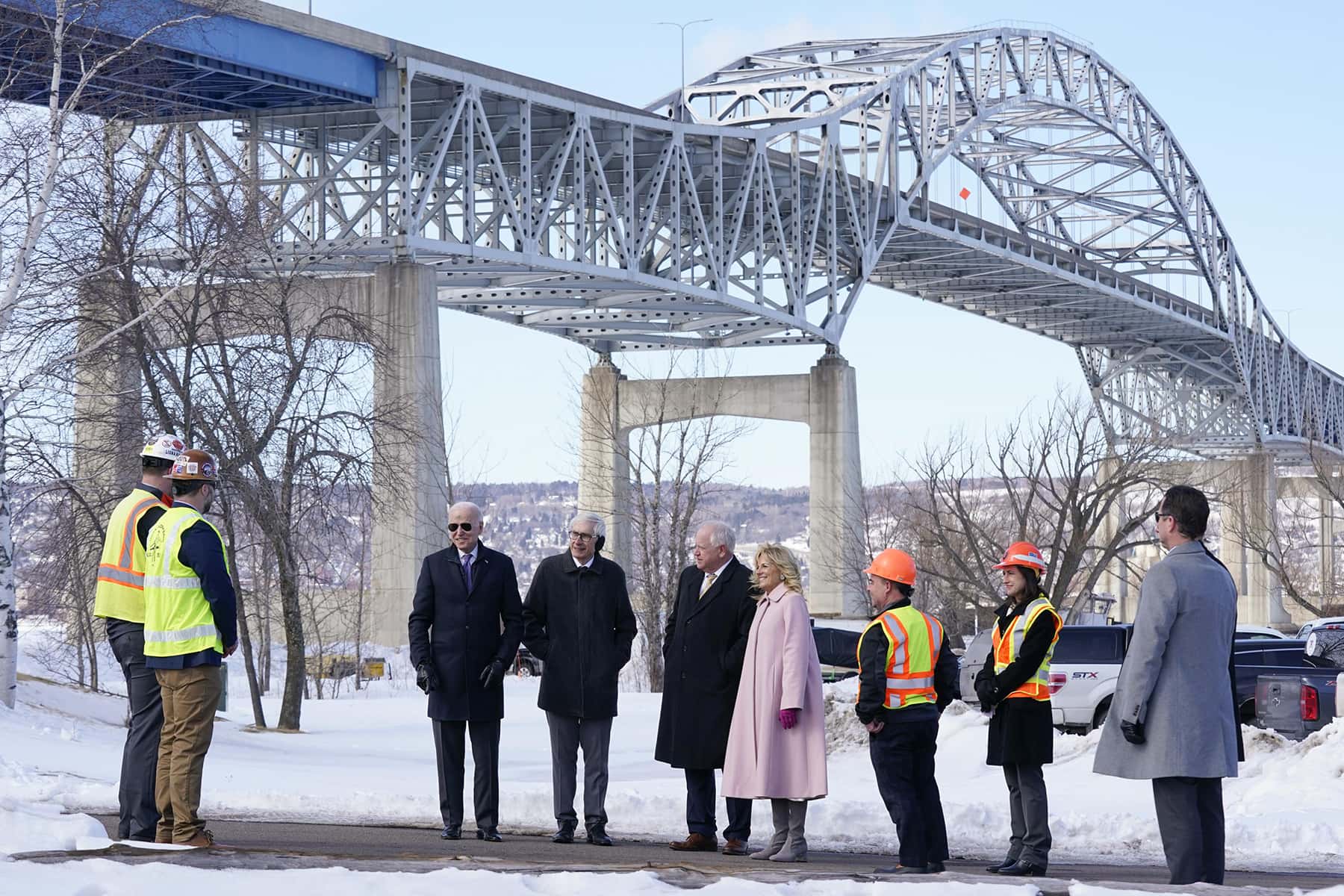 President Joe Biden visited the crucial state of Wisconsin on March 2 to promote one of his top accomplishments, a bipartisan infrastructure measure that will distribute billions of dollars to fix roads, bridges and other public works.
Biden's trip was part of a customary post-State of the Union blitz to showcase the administration's plans. Along with first lady Jill Biden, the president shook hands with workers in hard hats and neon vests near the base of the John A. Blatnik Memorial Bridge, which connects Superior, Wisconsin and Minnesota by spanning a corner of Lake Superior.
"After years of talking about infrastructure, we're finally getting it done," Biden said in a speech at a nearby college campus.
The president touted his Bipartisan Infrastructure Law, or BIL, that provides $40 billion for bridge investments, including $27.5 billion for states to repair and rehabilitate bridges. Another $12.5 billion is earmarked for a competitive grant program, the Bridge Investment Program, that focuses on replacing the most economically significant bridges in the country.
More than 33,000 vehicles cross the Blatnik Bridge jointly owned by MnDOT and WisDOT every day, but it is nearing the end of its usable life. It was built in 1961, and because of the deteriorating condition, there are load restrictions in place that bar vehicles heavier than 40 tons from crossing.
With that weight limit in place, large trucks and other heavy-weight vehicles cannot pass, and that is a serious limit when you consider all the agriculture, forestry, mining, manufacturing, construction and power generation that happens in that area.
According to the American Road and Transportation Builders of America, 618 bridges in Minnesota, or 4.6%, are classified as structurally deficient, meaning one of the key elements of the bridge is in poor or worse condition. In Wisconsin they have 14,307 bridges and 987, or 6.9%, are classified as structurally deficient.
Although the $1 trillion infrastructure legislation was a bright spot in his first year, Biden's broader agenda — including education programs, price controls for prescription drugs and financial incentives for fighting climate change — remains stalled on Capitol Hill.
Biden was also trying to demonstrate that his administration remained focused on domestic issues even as he confronts the Russian invasion of Ukraine, a crisis that has required close coordination with European allies.
"When the history of this era is written, Ukraine will have left Russia weaker and the rest of the world stronger," Biden pledged.