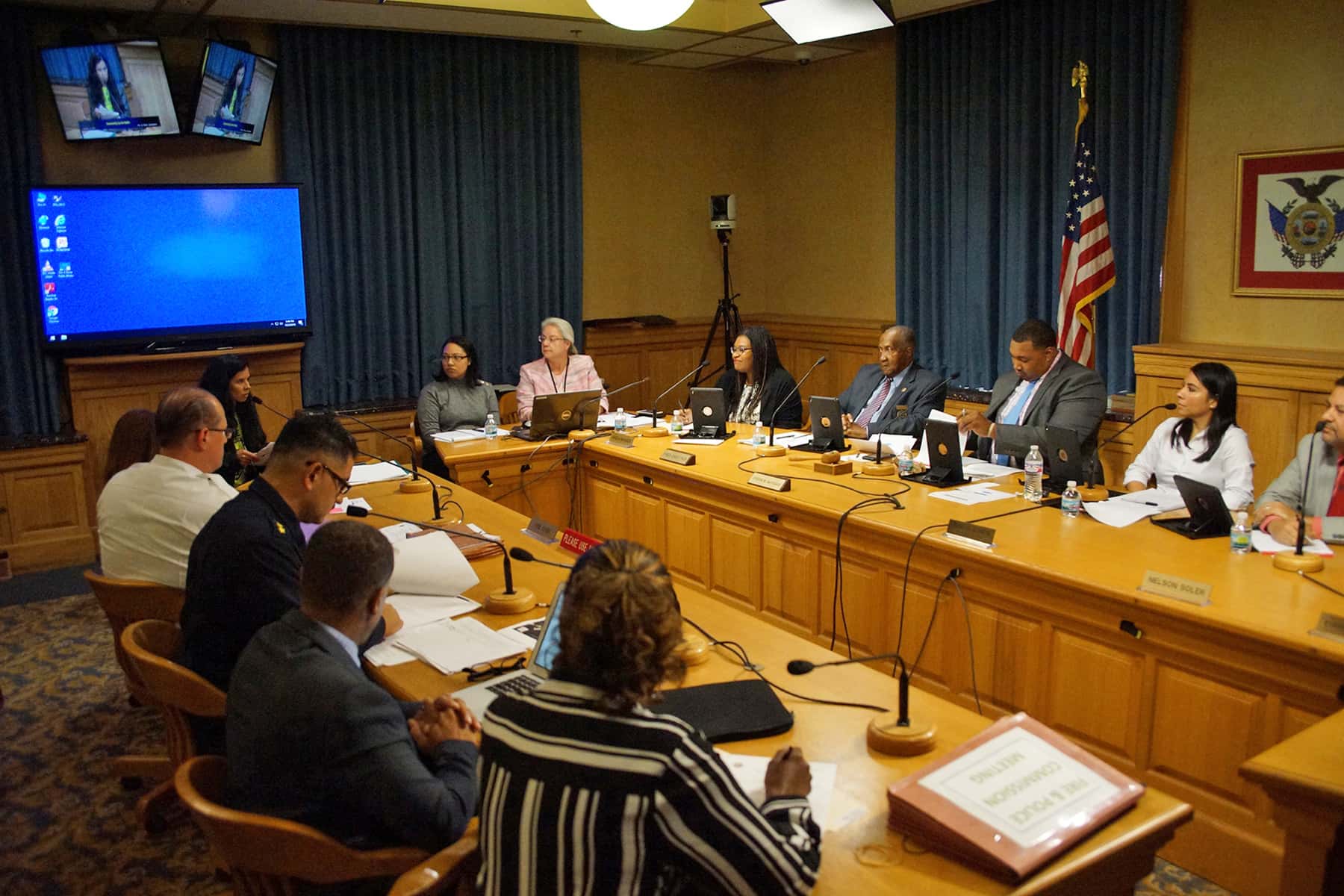 Community members gathered to rally at City Hall for a second week in a row on October 3, to seek support from the Fire and Police Commission to forbid collaboration between the Milwaukee Police Department and Immigration and Customs Enforcement (ICE).
Nearly three dozen concerned residents also gave testimonies to the Fire and Police Commission during its public hearing to evaluate the city contract of Milwaukee Police Chief Alfonso Morales. Speakers included Kristine De la Cruz, wife of Jose De la Cruz-Espinosa and the Milwaukee man who was detained by ICE with the assistance of the MPD last week.
A video of the incident released by Voces de la Frontera featured Milwaukee Police officers assisting ICE in an arrest of a family member and sparked a public outcry. The video showed Jose De la Cruz-Espinosa in a parked car near South 5th with his wife and their three daughters, ages 14, 13, and 11. The children were visibly distressed from the encounter with ICE.
"The things that have happened to me and my girls I don't want to happen to other families. I'm just asking for you to consider strengthening the policy because of other families that are going through this. My girls' father was taken away on a normal day," said De la Cruz-Espinosa during her testimony.
Voces de la Frontera and allied organizations have proposed changes to the existing Milwaukee SOP 130, to create stronger safeguards against collaboration between local law enforcement and ICE. They have highlighted the ways in which prohibiting collaboration between the MPD and ICE would improve public safety, keep families together, decrease incarceration, take away fear in immigrant, refugee, and Latinx communities, and affirm that Milwaukee is a welcoming community that values the contributions immigrants make to our city and state.
"The changes we are seeking is very simple," said Christine Neumann-Ortiz, executive director of Voces de la Frontera. "The MPD is not going to be an arm of immigration in handing over information in participating in any kind of raid or collaborating in any form unless immigration agents present a warrant signed by a judge."
The current MPD policy reaffirms that immigration enforcement is the responsibility of the federal government. Local police do not undertake immigration-related investigations or inquire into the immigration status of people they come in contact with. However, the policy does not prohibit police from cooperating with immigration officials when requested in situations where a potential threat to the public is perceived.
Because the MPD policy is too discretionary and lacks due process protections, the proposed changes would ensure that no information, resources, or people are transferred to ICE unless there is a judicial warrant. It will also ensure that ICE does not use local law enforcement to conduct raids.
Members of the Fire and Police Commission began the process of reappointing Chief Morales at the meeting. However, it was felt that his reappointment should be connected to the discussion about non-cooperation with ICE moving forward. The commission will accept public comments through direct testimony, letters, and emails until October 20.
Milwaukee County Sheriff Earnell R. Lucas released a statement on October 1 connected to the MPD incident with De la Cruz-Espinosa, in response to the Chicago Field Office of ICE. The federal agency attempted to misrepresent the facts surrounding the arrest.
"By placing the responsibility for the arrest of Mr. De La Cruz Espinoza on the Milwaukee County Sheriff's Office, ICE has engaged in an egregious attempt to misrepresent facts. This marks yet another attempt on ICE's part to point a finger at local law enforcement for not performing ICE's own duties, and to take attention away from ICE's horrific act of terrorizing a family, thereby having a chilling effect on our community."