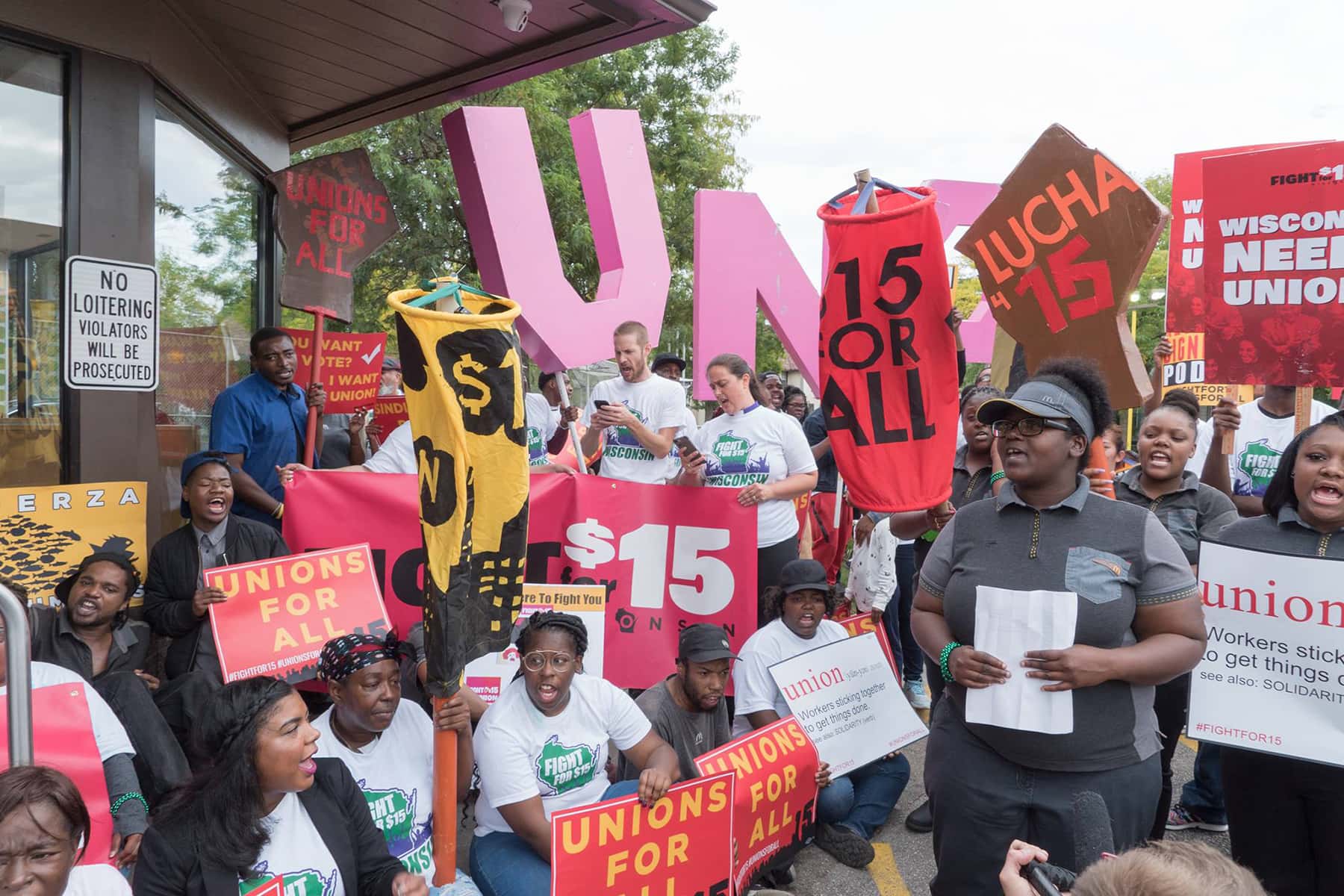 Lorenda Smith has worked at a Burger King in the Harambee neighborhood for five months. On her first day as a cashier, two police officers were on the premises for an "incident," and after that, she had to clean up after more than a dozen youths left a whirlwind of half-empty soda cups, bags and trash strewn across the tables.
"We do more than what we get paid to do," Smith said. As a mother of three with a baby on the way, she said that $8 per hour simply is not enough to pay the rent and other bills and to take care of her children.
Under a resolution by Alderman Tony Zielinski, the City of Milwaukee would officially support the plan by Governor Tony Evers to increase the minimum wage in Wisconsin to $15. Zielinski said that between one-fourth to one-third of city residents live on incomes below the official federal poverty line.
"Who can live and raise a family on $7.25 an hour?" Zielinski asked. The wage is the same as the current federal rate.
Advocates are discussing ways to address the issue in Milwaukee as groups work to secure the $15 minimum wage and union rights for Wisconsin service industry workers with the support of the new governor. The service and hospitality sector includes janitors, hotel housekeepers, cashiers, cooks, food industry workers and other similar positions.
"It has been nearly 10 years since the minimum wage was raised from $6.50 to $7.25 in Wisconsin, while costs of living have increased," Zielinski added. "It's vital we start addressing this disparity once and for all."
Living wage advocates such as Peter Rickman say the path to $15 per hour and a union is paved with "concrete gains and material victories."
As president of the Milwaukee Area Service and Hospitality Workers, or MASH, he has been involved in movements to secure these goals. MASH was born out of the Alliance for Good Jobs that created an initiative to secure $15 and a union for all service workers and employees involved in the construction of the Fiserv Forum and surrounding developments.
"We wanted to focus in on this arena area on the jobs that typified the 'good jobs crisis' as we put it here in Milwaukee," Rickman said. "In that effort to win a community benefits agreement, we secured everything we sought out for," including a path to a $15 an hour wage floor by 2023.
He added that the agreement went into effect in 2017 and by August 2018, 1,200 to 1,300 arena workers were working at $12.50 per hour. The deal also secured the right for workers to organize a union and to bargain for a union contract to raise wage standards further. Also, half of those service industry jobs were to be filled by people from ZIP codes with the highest levels of poverty and unemployment.
"Service and hospitality jobs in our city disproportionately employ people of color and other folks who have otherwise been left behind by this economy," Rickman said. "We're not going to just get more people into building trades jobs to address economic and racial inequality and injustice. We need to turn the jobs that exist and will exist into good family-supporting jobs."
Democrats in Congress recently introduced the Wage Act of 2019, which would gradually raise the federal minimum wage to $15 an hour in 2024.
"Those of us who are really interested in tackling this challenge of raising wages are focused on a number of policy measures that could be moved through executive authority at the state level and then here in Milwaukee at the local level," Rickman said.
Ossie Kendrix, president and CEO of the African American Chamber of Commerce, said he sees the potential minimum wage increase as a positive for small business owners. It could reduce employee turnover and increase morale because providing higher wages will show the employees that they are valued, he said.
However, he added, any raise should be done gradually so that small business owners can afford the change. He said larger corporations can more easily cover these expenses. Zielinski said he does not know how long it will take for his proposal to gain traction. He is working with Rickman, other grassroots labor organizers and Evers to see what kind of bargaining power the new administration can bring to the cause.
The ordinance was originally presented at a Judiciary and Legislation Committee meeting in January. It is currently being held until Zielinski, Rickman and others can identify the most effective ways to enact the policy change. Marc Freedman, vice president of employment policy at the U.S. Chamber of Commerce, said in an opinion piece that politics, not economics, is driving the discussion on increasing the minimum wage.
"Economic growth is what allows employers to pay higher wages, not mandates from on high," he said. "And what we're seeing in the economy now, higher rates of growth than in past years, is indeed being accompanied by companies announcing increased starting wage levels."
Meanwhile at Burger King, Smith said she believes corporate companies can afford to pay their employees livable wages but will only do so on their terms.
"They [Burger King] have us come in at the crack of dawn and work until the evening time," she said. "You've got to go through loops and turns and twists just to get a 50-cent raise."