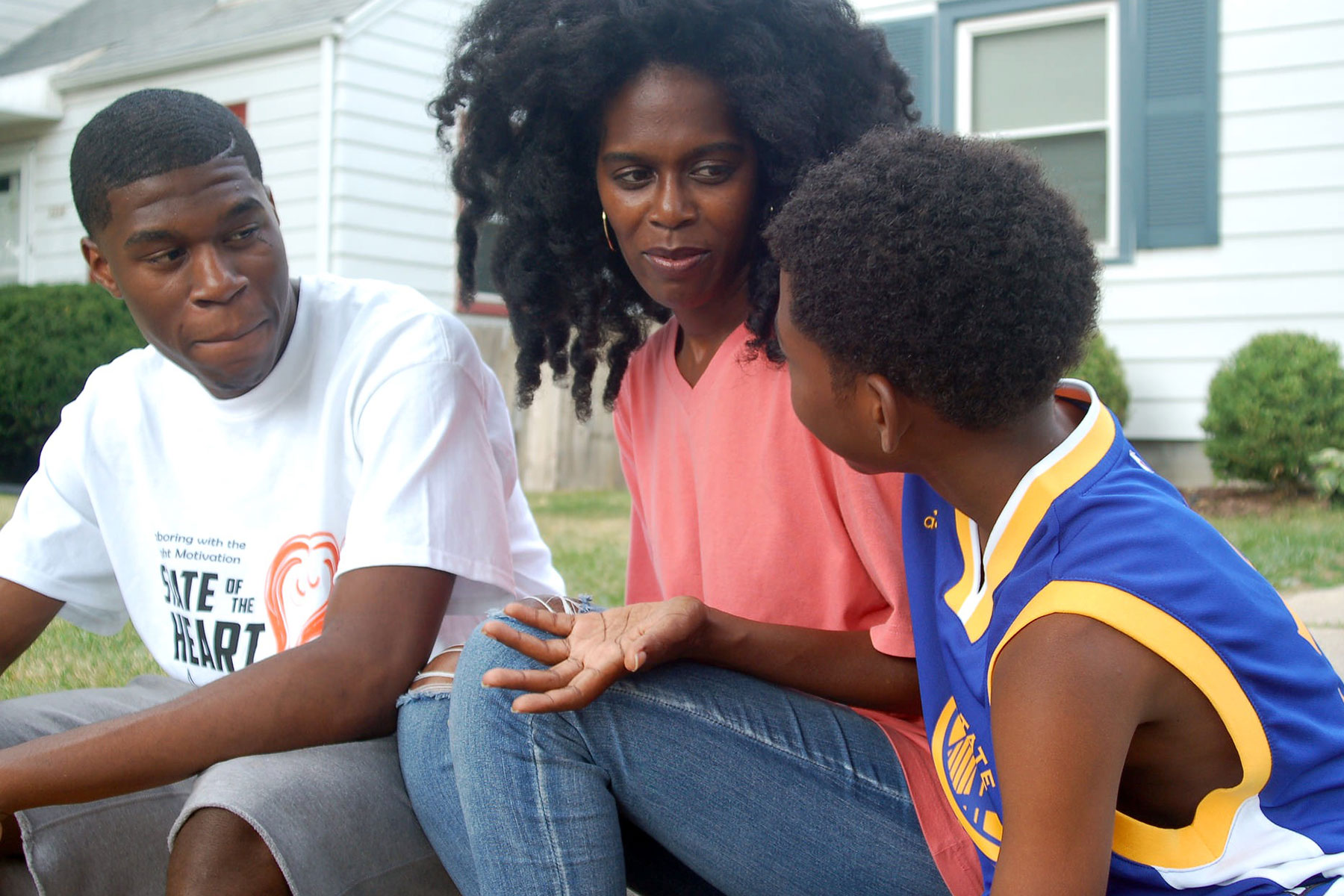 J'Ali Thornton loves sports, particularly football and basketball. When the wiry, energetic 9-year-old is not in school, he's usually absorbed in a ball game with his friends. But when J'Ali starts to have trouble breathing, he often doesn't want to stop playing.
"It's s very scary thing," said his mother Latrina Thornton, who lives on the Northwest Side. "His asthma is very severe … When I take him to urgent care, they have to rush him to the back for his breathing treatment."
From J'Ali's perspective, the hardest part of having asthma is that "it makes me slower sometimes and I run out of breath fast and sometimes it gives me a migraine so I can't think in school."
Thornton, who has a 20-year-old daughter in college in Indiana and five sons ranging in age from 2 to 18 at home, owns a daycare center where she works full time. Emergency visits to the hospital with J'Ali typically take four hours, and last year she took him to urgent care "maybe once a month." Sometimes she has to call her clients and tell them she has to close the center to care for J'Ali. "It's worth it because this is his life," Thornton said.
Children's Hospital of Wisconsin is launching a new research study that aims to reduce the health risks and economic burden of asthma in children such as J'Ali. Funded by a $1.25 million grant from the Greater Milwaukee Foundation, the five-year study will focus on identifying and reducing irritants that trigger asthma in the home.
"Research shows that asthma disproportionately affects communities of color with devastating impact," said Ellen Gilligan, executive director of the Greater Milwaukee Foundation. "African-Americans have the highest prevalence of asthma, are hospitalized at five times the rate of white patients and are four times more likely to die of asthma," she added.
Asthma, a chronic lung disease that inflames and narrows the airways and causes recurring periods of wheezing, chest tightness, shortness of breath and coughing, affects people of all ages, but it most often starts during childhood, according to the National Heart Lung and Blood Institute. In the United States, more than 25 million people are known to have asthma and about 7 million of those are children. In Wisconsin, Milwaukee County had the highest rate of hospitalization for asthma and the second highest rate of emergency room visits, after Menominee County, from 2012 to 2014, according to the latest Wisconsin Department of Health Services asthma statistics report.
Gilligan noted that every time a child has an asthma attack, the child misses school and the parents potentially miss work and other things that have a great impact on their finances.
Children's Hospital allergists Heather Hartman and Mitchell Grayson, who designed and will direct the study, had been trying for a couple of years to get it funded, according to Hartman.
Home visits
The new study, which will focus on children ages 7-13, is part of a larger Children's Hospital asthma study of people ages 2 to 40. Both studies work through an ongoing program of Fight Asthma Milwaukee (FAM) Allies, a community health advocacy organization and asthma coalition, where Grayson is the medical director. Asthma educators from the FAM Allies program provide in-home education and environmental assessments to patients with uncontrolled asthma.
The new study also will measure chemical irritants in the home and genetic factors related to asthma.
FAM Allies outreach staff members to into each subject's home for three visits to teach patients and families about their medicines, asthma triggers and how to be healthier, Hartman explained. On three additional visits, they identify problem areas in the home and teach residents how to better clean, get rid of rodents and cockroaches and decrease other irritants such as second-hand smoke. "We go room to room … and talk to families and educate them on the spot," Hartman said.
"We're … talking to them about their environment, not somebody else's environment, and identifying problems as we see them," she added.
The children participating in the new study will wear a silicone wristband for the first week. The band is a passive sampling device that absorbs chemicals in the air and water around it. "It's very similar to a "LIVESTRONG" band," Hartman explained.
"One of the things we really like about (the wristband) is that it's so unobtrusive. … A lot of other research that's done on irritant exposure and asthma requires big, heavy backpacks that filter the air and sample it and you can definitely tell the kids that are wearing them," she said. The backpacks also need their batteries changed every night, so they are labor intensive, Hartman added.
Research subjects will then wear the band for a week at the end of the study and the house will be monitored a second time to see if the environment has become healthier.
The study also includes a blood test for the children to look for genetic differences between subjects whose asthma improves and those who do not improve after changes are made in the home environment.
The researchers hope to complete the study for 50 children during the five-year period. They expect to recruit more than twice that number, as there is typically a 50 percent dropout rate in studies like this. Subjects will participate for nine to 12 months.
This research is very costly to do because the silicone band technology is very expensive, Hartman said. "Hopefully we can get more funding to do more in the future, based on the results from this," she added.
In addition to in-home education and service, research participants in the GMF-funded study, like all participants in the FAM Allies program, are given home supplies based on need. These include vacuum cleaners, dust mite covers and "anything that we have in our supply closet that we know that they could use," Hartman said.
Brenda Rivera has a 7-year-old son and 5-year-old daughter with asthma.
After a difficult year with two children who were constantly ill, Rivera found FAM Allies while looking for help online. At about the same time, she was referred to a specialist who diagnosed both children with asthma. "The combination of the doctor and the (FAM Allies) program is really helping," said Rivera, who missed a lot of work during the winter.
Thornton happened upon a FAM Allies booth at a women's conference she attended last year and decided to take advantage of the help being offered. Though J'Ali has been seeing a specialist for three years, and Thornton thought she knew something about asthma, she said the in-home assistance "has helped out so much."