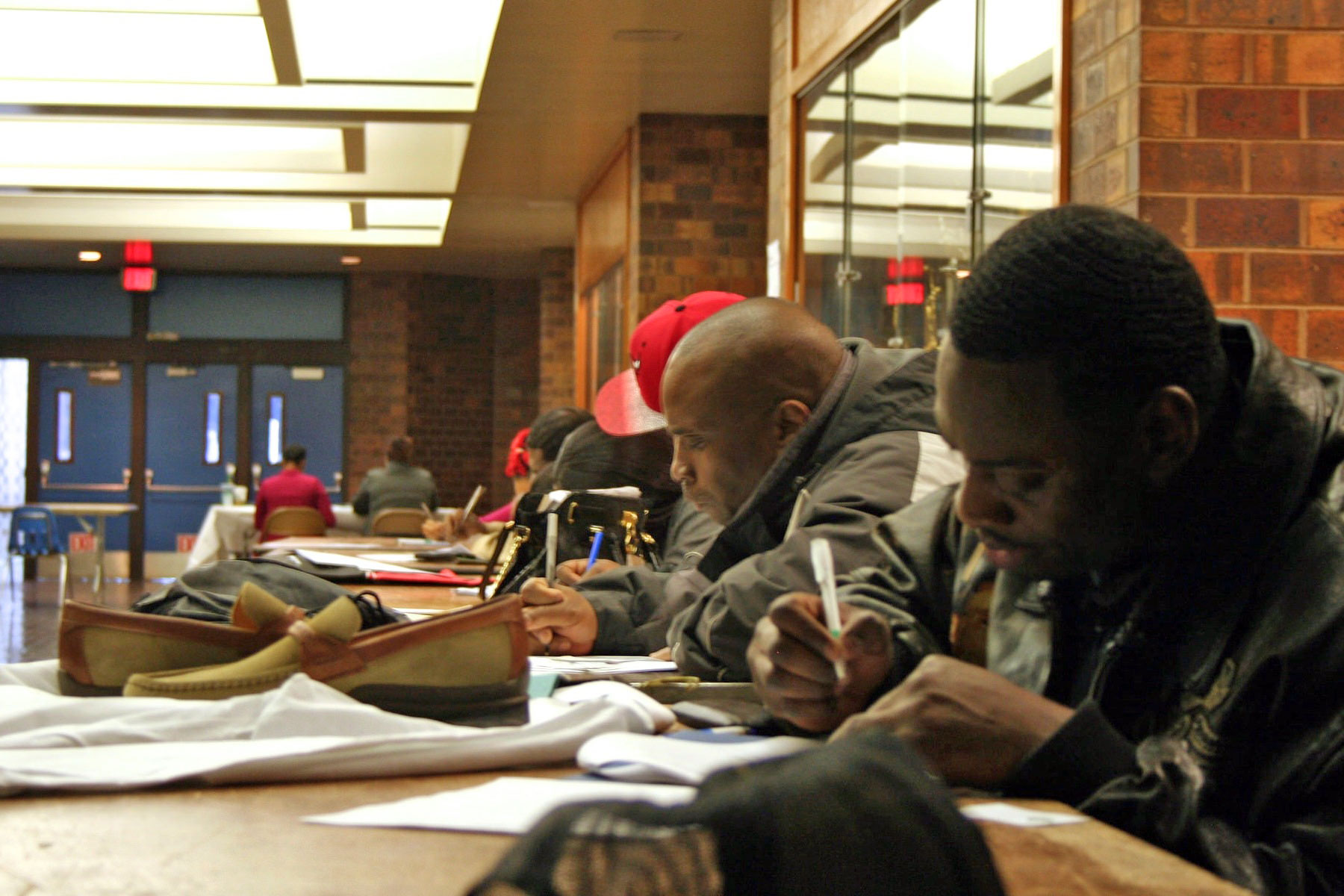 America Works, a nationwide organization that connects job seekers and employers, recently held its first large-scale job fair in Milwaukee's central city. The employment event, which focused on connecting people with jobs in the transportation industry, drew almost 100 companies.
About 1,100 out-of-work and struggling Milwaukee residents attended the event, which was held at North Division High School, 1011 W Center St. The school's hallways and tables were crowded throughout the day as people spoke with employers and filled out job applications.
Deshawn Nabors, who most recently worked at Habitat for Humanity for five years doing home demolition, has been out of work for six or seven months. Nabors said his short-term goal is just to land a job but, eventually, he wants to own his own business.
"I'm adamant [about] working; I'm motivated to be a positive, productive citizen of society," he said.
Similar to Nabors, many attendees had longer-term goals but were hoping to come away from the event with better prospects for immediate employment. Monica Willis, a single mother of four who lost her job at Sam's Club a week earlier, wants to find a stable job that will provide for her family and give her the financial resources to open a retail store down the line.
Dejaun Jones, a father of two, has been working for two different temp services, making between $8 and $9 per hour, and sometimes as low as $7.50. Jones said he spoke to a representative of WFA Staffing, a temp agency, at the event who said he wouldn't be set up with temporary work that paid less than $10 per hour. Jones arranged an interview for the next day.
Though he's ultimately hoping to find full-time work, Jones said the interaction was encouraging. "That's the whole point of you coming … hoping to catch some opportunity," he said. "You know, something that makes you feel like, okay, this was worth coming, you didn't waste your time."
State Rep. David Bowen, who helped organize the event, expressed pride in the turnout, saying it dispels the notion that people in Milwaukee don't want to work. "I know a lot of people who work hard," he said. "They usually work weekends, they work overtime, they work holidays, and they are putting in a lot of time away from their families that they otherwise could spend taking care of the folks that they love."
"What they need access to are living-wage jobs," Bowen added. "Living-wage jobs give people the opportunity to pull themselves out of poverty."
He praised the employers in attendance because he said they understand the need for good-paying work. Vendors included the United States Postal Service, Home Depot, PepsiCo and Enterprise car rental. Many of the employers present, such as TaxAir, represented the commercial trucking industry.
Neal Kedzie, a former Wisconsin state legislator and president of the Wisconsin Motor Carriers Association, a nonprofit trade group, said there is a projected shortage of 240,000 truck-driving jobs nationwide. Wisconsin, where 90 percent of manufactured goods are shipped by truck, is developing 1,800 jobs every year.
"We are an industry that is looking for you," Kedzie said. "The demand is high."
The jobs available, which include intra- or inter-state driving, start between $26,000 and $37,000 per year and top out at $75,000 or more, according to Kedzie.
Anthony Staton owns Professional CDL Training Institute, a company that trains people to obtain a Class A driver's license, which is required to drive a semi-truck. Staton said the average person takes between 32 and 44 hours to be certified.
He said taking such a class is an investment, equating its impact to that of a college degree. "If I can jump from a job that's paying me $9 an hour, which is approximately $18,000 a year, to a job that's paying me $20 an hour — that's approximately $40,000 a year — I just picked up $22,000 in year one."
"I was born and raised here in this community," said Staton, who grew up near North 24th Place and West Burleigh Street and attended Bradley Tech High School. "I'm from this area, so I'm just trying to show these folks that there's a way out here to get a job, but you've got to want to help yourself, too."
Connecting
During a town hall portion of the event, people expressed frustration over barriers to work, including past criminal history, not having a driver's license and issues involving child support.
Tyrone Lowe, 45, was released from federal prison on Thanksgiving after serving 58 months of a 15-year sentence that was eventually thrown out. Lowe said he's submitted three applications a week since but hasn't found any work.
"What I'm looking for is a job that is consistent; a job that, if I don't know exactly how to do it, I can be trained to do it," said Lowe. "I'm looking to learn new things … I'm looking for stability, a friendly work environment, and someone that won't judge me."
Robert Spencer, 33, whose 4-year-old son was with him, said he hasn't been able to find steady work since being released from the Milwaukee County House of Correction in January 2014. Spencer, who worked in the industrial maintenance industry for nine years, said he's had two or three temporary jobs that didn't last any more than a few months.
"My rent's due — I'm gonna get evicted," said Spencer, who added he doesn't smoke or do drugs. "I don't want to go out here and do nothing that's going to cause me to go back to the institution I just left from."
Driver's license recovery and child support services were available at the event. State Sen. Lena Taylor and other attendees also suggested contacting organizations including Word of Hope Ministries, Project Return and Clean Slate Milwaukee, which help ex-offenders and others connect with resources.
Taylor said Milwaukee needs "community connectors" to direct people to organizations and individuals that can help, offering her office as such a resource. "It's not so much that help isn't there; [people are] just not sure which place to go," she said.
But Taylor also encouraged people to "take the bull by the horns and decide what you want to do, because … opportunities exist."
Justin Bryant, who represented UPS Freight, spoke with attendees about a part-time dockworker position, starting at $12 per hour, which he said could lead to advancement with the company. Bryant said he expected to find some good candidates from the event and would "absolutely" participate again.
"We hope to make this a long-term solution, being able to come to Milwaukee and have individuals apply and come work for UPS and build a career," he said.
Carlyle Outten, director of operations at America Works, said he expects positive outcomes to result from the fair and guaranteed the event would not be the last of its kind.
"This one event is going to make a difference in the community," said Outten. "If we had 10 of these, it would make a huge difference in the community, especially if the same people are coming back, and doing more, and doing better."