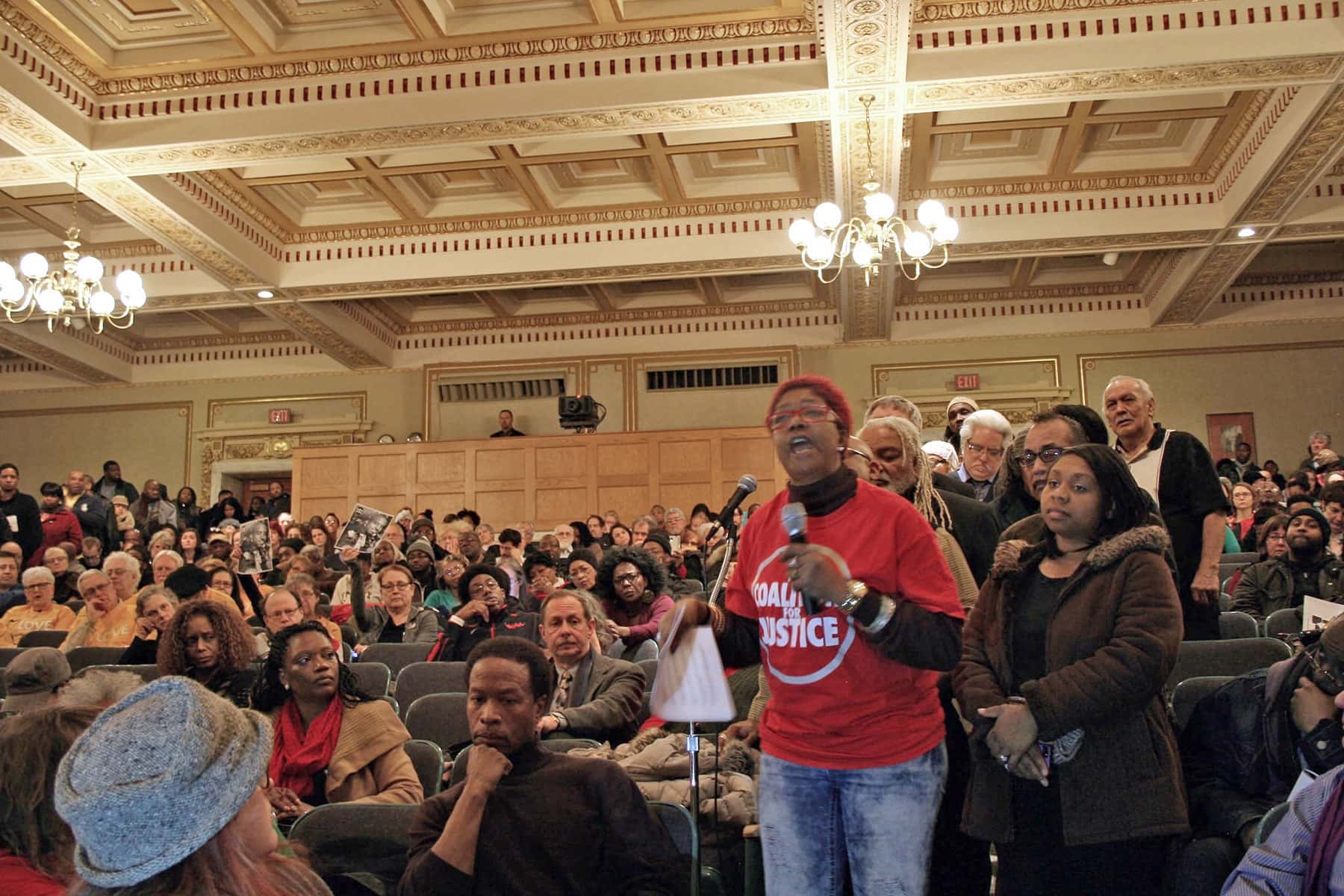 Parents of unarmed people who have been killed by Milwaukee police and others called for a civil rights investigation into the patterns and practices of the Milwaukee Police Department at a recent United States Department of Justice listening session held at the Milwaukee Public Library.
"I have suffered for a long, long time," said Victor Rodriguez, whose son Samuel was shot and kіIIed in 2002. "These officers, this system doesn't seem to realize the pain they bring on family members. And, it doesn't die the next day — it stays with you forever."
The listening session was the first of many, according to Mary Brandenberger, press secretary with the Department of Justice Office of Community Oriented Policing Services (COPS). It signaled the beginning of a "collaborative reform" process that Police Chief Ed Flynn requested and was entered into voluntarily by the Milwaukee Police Department (MPD). The process calls for an initial report and recommendations for MPD, followed by reports six and 18 months later to verify compliance.
Brandenberger made it clear that COPS does not have authority to legally enforce the recommendations. "We don't have the court of law behind us. But we do have the court of public opinion," she said in an interview.
Many of the attendees said it wasn't enough.
"We don't need you to go around and do anything else — just look at the patterns and practices," said Debra Jenkins, whose son was also kіIIed in 2002. "Anything that goes on in the streets is within our police department. We need you to take a hard look."
Many attendees expressed a lack of confidence in the DOJ and suspicion of the collaborative reform process. William Muhammad, a student minister at Muhammad Mosque #3, 4202 N. Teutonia Ave., said historical context, especially in regard to the dеаths of Dontre Hamilton, Corey Stingley and Derek Williams, is necessary. Hamilton was shot to dеаth by a police officer; Williams died in police custody; and Stingley's dеаth at the hands of white civilians prompted calls for a federal civil rights investigation.
Muhammad also criticized DOJ for failing to secure convictions or indictments for the dеаths of Tamir Rice, Mike Brown and Trayvon Martin. He called the collaborative reform process a "dog and pony show."
Keith Bailey, a founder of Milwaukee Matters, an organization whose mission is to help victims of violence, said he and a group of 15 to 20 individuals met with former U.S. Attorney James Santelle and other DOJ officials more than 50 times over a three-year period with the hope of forming a local task force on police-community relations. Santelle has since resigned and is under federal investigation.
The group brought in a number of people who have experienced police violence, including the Hamilton family, but Bailey said he ended the meetings because no progress was being made. "We would be meeting just to meet," he said. "We could never solidify and come to [an] agreement."
Added Bailey, a candidate for alderman in the 2nd District, "We knew there was a problem; the Department of Justice knew there was a problem."
Harrison Kern, a retired Milwaukee police officer who served 24 years on the force, detailed a 1993 investigation by the federal Equal Employment Opportunity Commission (EEOC) Milwaukee-area office. The three-year probe, which resulted from a letter written by Kern and a few other black officers, "found patterns and practices involving the Milwaukee Police Department that were biased [and] racially motivated."
DOJ indicated it would look into the issues but, after seven years and a handful of meetings, decided not to prosecute the case. "The bottom line is, we've been here before. What is the difference now?"
Lines to speak stretched to the back of both aisles of the packed, 700-seat Centennial Hall at the Central Library. Local public officials, activists and other community members, as well as representatives from the ACLU of Wisconsin, Milwaukee NAACP and the Coalition for Justice attended. Among the accounts were accusations of rape, brutality, intimidation, racial discrimination, racial profiling and disproportionate enforcement of laws based on race.
Dank Essbaum, a German emigrant, said that Milwaukee "is becoming like (the biblical cities) Sodom and Gomorrah" and that he "prays the police will be successful" when he hears sirens. "In the 20 years that I've lived in the inner city … I have, with one exception, which I won't go into, been treated quickly and fairly (by the police)."
Essbaum's views were in the minority at the event.
Criticism also included a documented racial gap in traffic stops — blacks were seven times more likely to be stopped than whites — and the heavy use of traffic stops for minor offenses. The stops, which are classified as "pretextual," are part of a strategy to disrupt potential criminal activity.
ACLU of Wisconsin Executive Director Chris Ahmuty said Milwaukee police perform more than 200,000 of those stops every year, mostly in poor neighborhoods. "How can they do that and be serious about having good police-community relations?"
Criticisms of Police Chief Ed Flynn, in particular, were also raised; a number of individuals called the chief's personal views and professional tactics into question. Russell Stamper Sr., a lawyer and judge in Milwaukee for more than 40 years, called Flynn "a throwback to Harold Breier," the infamous Milwaukee police chief who served from 1964 to 1984. Stamper also offered sharp criticism of Milwaukee Mayor Tom Barrett, City Attorney Grant F. Langley and District Attorney John Chisholm.
"What are the people supposed to do when every avenue of justice is cut off or compromised?" Stamper said. "Milwaukee police profile black people, kіII black people, rape black people with virtual impunity."
Responding to a request for comment from Flynn, MPD Sgt. Timothy Gauerke wrote, "Chief Flynn and the Milwaukee Police Department look forward to the ongoing Collaborative Reform process … and appreciate that many people attended the first listening session and expressed their varying opinions, experiences, and perspectives."
Craig Stingley, father of Corey Stingley, the 16-year-old who was strangled to dеаth by three white civilians in 2012, said, "Our problem, here, and I would say across the country, is that district attorneys have too much discretion. That is what needs to be addressed."
Verona Swanigan, a candidate for Milwaukee district attorney, said the city is getting to the point where "chaos is taking over," and called the issue a matter of leadership. "If we're going to start fighting crime, we also have to start [doing] things that are based on community and everyone growing stronger," she said. "If we don't do that, we will continue to suffer, we will continue to live in fear."
James Boudreaux, owner of Boudreaux's House of Fashion Design, commented, "If you truly want to make change and seriously, wholeheartedly enter into this arena with the concept of making positive change for this great city of Milwaukee, you need to do it with a broken and open heart." Boudreaux said he tried to bring jobs to the city but was investigated, instead. "The heart is broken. It's not being broken by you, as individuals, or us; it is broken by the system and it has to be repaired."
Nate Hamilton, Dontre's brother, said the issue centers around race. "We have been irrelevant. Not only to our mayor, not only to some of our aldermen, not only to our district attorney but we have been irrelevant to the Department of Justice, to the nation as a whole. We are not represented … as black and brown people," he said. "There are problems with the system."
Maria Hamilton, Dontre's mother, called on DOJ to hold police accountable. "If you all are going to continue to protect them (police officers) and say it's okay, and not incarcerate them, all the police officers … are going to continue to keep doing what they're doing," she said.
The collaborative approach doesn't rule out a civil rights investigation, said Brandenberger. In order to avoid a "patterns and practices" probe, MPD will have to make a "goodwill effort" to adhere to the recommendations that come out of the initial report.
"They have to meet the recommendations," said George Fachner, a collaborative reform specialist with COPS. "We'll do a thorough job at reviewing documents and looking for evidence. It's not a check-the-box [kind of process] … it's a lot more than that."
Brandenberger said to expect more listening sessions over the coming weeks in different Milwaukee neighborhoods. She added that she welcomes feedback, throughout the process. DOJ provided an email address, milwaukee.crita@usdoj.gov, during the session that multiple people said did not work. Brandenberger did not immediately respond to an inquiry about the email address.