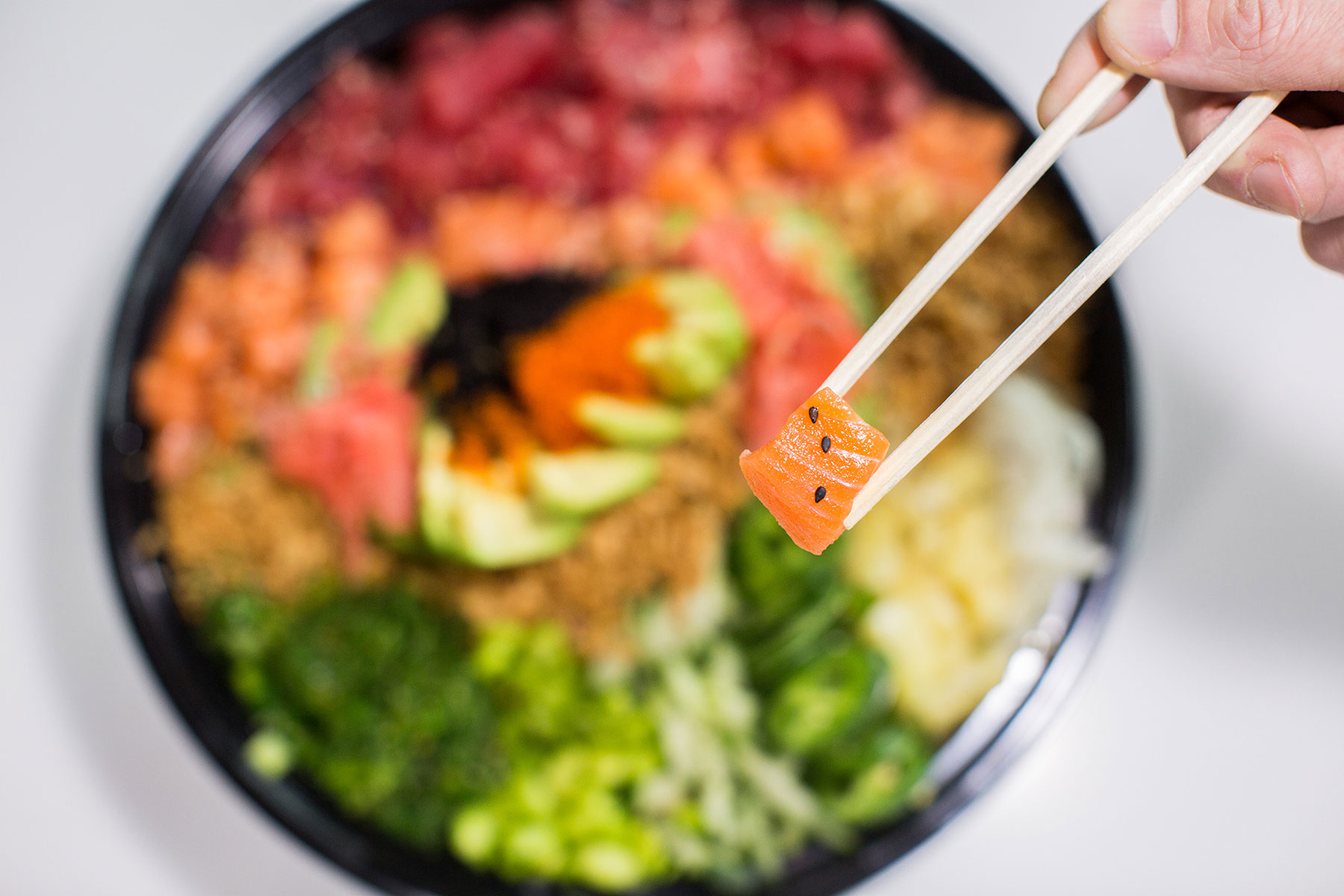 The Chicago-based poke chain has been accused of cultural appropriation, after it sent cease-and-desist letters to similarly named shops. In June, the chain opened a Third Ward location in Milwaukee to sell its Hawaiian-style raw-fish bowls.
Hawaii residents have criticized a Chicago-based poke chain after it tried to stop other U.S. restaurants selling the trendy sushi bowls from using "aloha" in their business names, accusing the company of cultural appropriation.
In May, lawyers for Aloha Poke Company, sent cease-and-desist letters to a native Hawaiian family business in Anchorage, Alaska, ordering it to stop using "aloha" or "aloha poke" in its name, Aloha Poke Stop. Aloha Poke Co had done the same to other shops around the country, including at least one in Hawaii, where poke originated.
Over the weekend, the Anchorage business announced that it had been bullied into changing its name, setting off a firestorm in Hawaii. The Chicago business has since been pummeled with bad Yelp reviews and messages on social media, accusing it of bullying native Hawaiians out of using their own language.
"Aloha" means both "face to face" and "breath of life," according to Davianna Pōmaikaʻi McGregor, a Hawaii historian. It is a Native Hawaiian word used around the islands in place of "hello" and "goodbye". But the word is also an important cultural concept for the islands' culture, and its generally peaceful, kind and welcoming way of life.
Poke is a native Hawaiian food – and recent foodie fad off the islands – consisting of raw fish seasoned with spices and served over rice. Aloha Poke Company has allegedly been targeting poke restaurants across the country that have similar names for the past two years, citing a 2016 trademark.
"We got a love letter from them in January," Jeff Samson, co-owner of Aloha Poke Shop in Honolulu, said of the cease-and-desist order they received – identical to the one received by Aloha Poke Stop in Anchorage. It reads: "Your use of 'aloha' and 'aloha poke' in promoting, marketing and selling your food … is a direct infringement of of aloha poke and Aloha Poke Co's registered (trademarks). Your use of 'aloha' and 'aloha poke' must cease immediately," according to a copy obtained by the Guardian.
Like Aloha Poke Company, Samson opened his business in 2016. He considered trademarking the name, but said it seemed ludicrous, in part because Hawaii already has multiple businesses that use that name.
"We could have gone and tried to trademark the name," he said. "But I was like: 'How could you trademark aloha? How could you trademark poke?'"
"We don't wish them any ill will," Samson said about the criticism now being aimed at Aloha Poke Co. "But they could have stopped this a long time ago." Samson said his store decided to ignore the threats from Aloha Poke Co hoping that the company wouldn't actually come after it.
David Jacobsen, the owner of Fairhaven Poke in Bellingham, Washington, said his business, which was formerly called Aloha Poke and Aloha Poke Fairhaven, was also bullied into changing its name. Jacobsen, who is from Hawaii, said he was shocked and upset when he received the first letter from Aloha Poke Co, but said he didn't have the money to risk a legal battle with the larger company.
On Facebook, the company apologized and denied the claims against it. Phone calls and requests for comment to the company and one of its former owners were not returned.
"Perhaps the most important issue that needs to be set straight is the false assertion that Aloha Poke Company has attempted to own either the word "aloha" or the word "poke." Neither is true and we would never attempt to do so," the company wrote.
"What we have done is attempted to stop trademark infringers in the restaurant industry from using the trademark 'aloha poke' without permission. This is a very common practice: the company holds two federal trademarks for its design logo and the words 'aloha poke.' This means that the company has the exclusive right to use those words together in connection with restaurant services within the United States."
Kaniela Ing, a Hawaii state representative, said in a video posted on Twitter: "It's bad enough that [aloha] has been used and commodified over time. But this is the next level. To think that you have legal ownership over one of the most profound Hawaiian values – it's just something else." Ing encouraged people to boycott the Chicago-based chain.
Ing also pointed out that there were several Aloha Poke outfits in Hawaii that also use that name. "They should be suing you," Ing said. "But they probably won't, because that's not 'aloha.'"