Milwaukee Health Department confirms several cases of COVID-19 tied to April 7 in-person election activities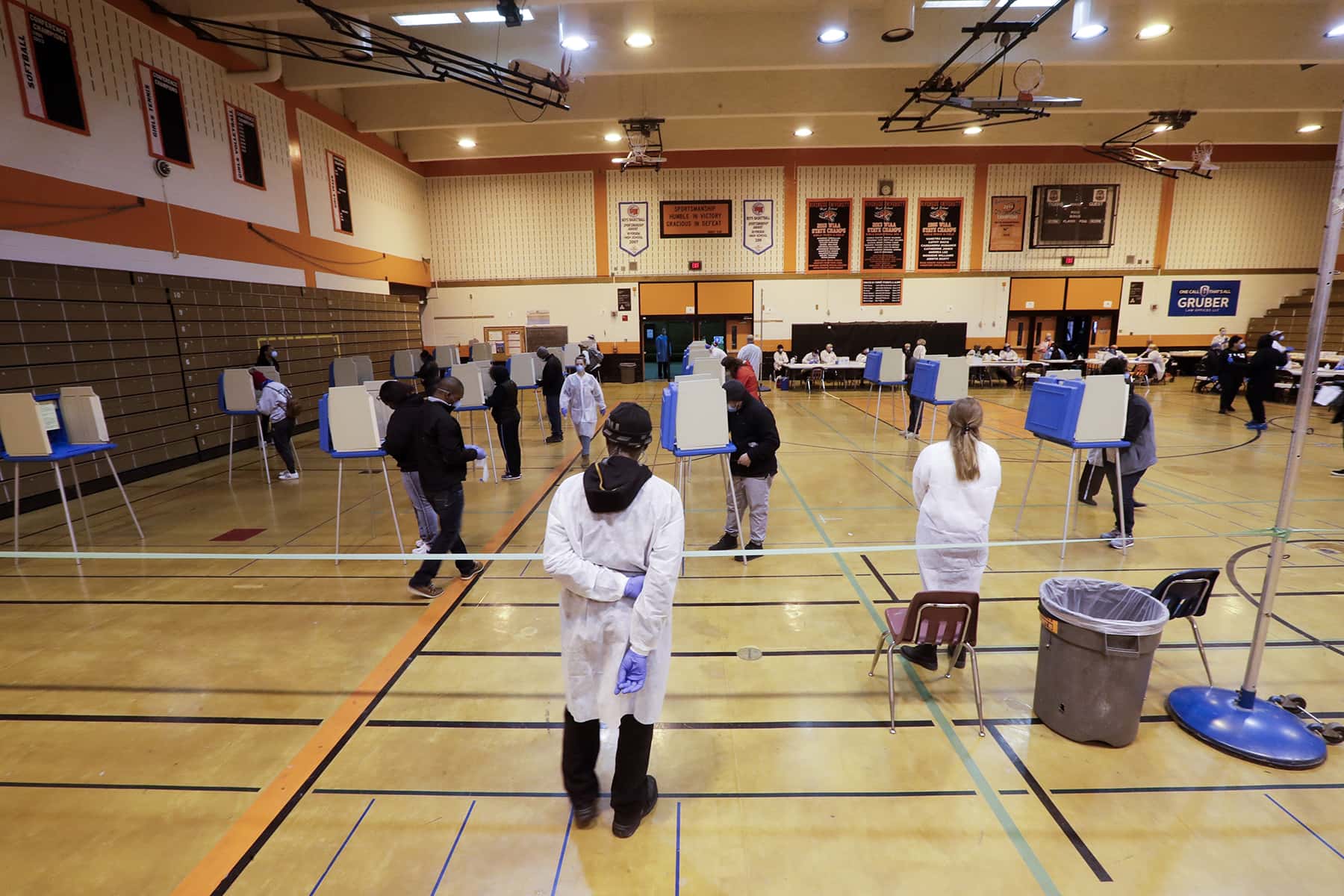 The Milwaukee Health Department (MHD) confirmed on April 22 that 15 people who either voted in-person or worked at a polling location during Wisconsin's state elections have tested positive for COVID-19, the disease caused by the novel coronavirus.
Five Wisconsin National Guard members who helped staff the polls on election day have also reported symptoms of COVID-19, but those who were tested came back negative according to Major General Paul Knapp.
The State of Wisconsin Department of Health Services added "election activity" to its list of COVID-19 investigation questions in the state disease registry on April 8. The electronic disease surveillance system is used to notify public health and manage disease investigations including contact tracing.
The goal of the effort was to identify anyone who may have voted in-person or worked at a polling place including location on April 7, 2020. has been monitoring any new cases that began after that date, as the maximum incubation period for COVID-19 is 14 days which ended on April.
"As of April 20th, we only have 30% of the investigation data from new cases which indicated participation in election activity. We hope to have complete data by the end of the week. Regardless, we will provide a complete update, ruling out any confounders, once we have it," said Dr. Jeanette Kowalik, Commissioner of Health. "There needs to be a little bit more analysis so we can connect the dots, that's why case investigation and contact tracing are so important."
Wisconsin's elections became the subject of intense debate over public safety. Governor Tony Evers attempted to block in-person voting and to hold the entire election by mail. The effort addressed public fears and a growing outcry about safety at crowded polling stations, during a time when health experts pleaded for the public to avoid mass gatherings.
However, Republic legislators led by Speaker Robin Vos refused the request and used a gerrymandered judicial system to ensure that the public had to vote under dangerous conditions. The ploy was widely seen as the latest in a decade-long effort to attack urban centers like Milwaukee and Madison, and to disenfranchise urban voters from participating in a fair election.
The Republicans were hoping that a low-turnout election might help their chances of electing a GOP-backed ultraconservative Supreme Court candidate, Justice Daniel Kelly, who nonetheless lost by double digits to Judge Jill Karofsky, a Democratic Party-backed Dane County judge and former victim rights advocate. Advocates of voting by mail say Wisconsin's experience should be a warning to other states as the country grapples with how to hold an election during the pandemic.
"This was entirely preventable, but now Wisconsinites are paying a real price for the reckless disregard for their safety," said Sean Eldridge, who runs the liberal advocacy group Stand Up America. "If Congress fails to provide states funding for vote-by-mail and other election assistance, then what we're seeing in Wisconsin right now could be the tip of the iceberg."
The
Milwaukee Independent
began reporting on what was then referred to as the mysterious "Wuhan Virus" in January 2020. Other local media did not picked-up on the story until many weeks later. Our early features focused on the economic impact, social issues, and health concerns long before other Milwaukee news organizations even mentioned the coronavirus. Over the following year, we have published hundreds of articles about the pandemic and how it has affected the lives of Milwaukee residents. This extensive body of work can be found on our
COVID-19 Special Report
page, a chronological index of links by month. Our editorial voice remains dedicated to informing the public about this health crisis for as long as it persists.
For medical resources, please visit the
CDC's COVID-19 page
or the
Wisconsin Department of Health Services
. All editorial content published by
Milwaukee Independent
can be found at
mkeind.com/COVID19
. With a mission of transformative journalism, our staff is free from commercial bias and are not influenced by corporate interests, political affiliations, or a public preferences that rewards clicks with revenue. As an influential publication that provides Milwaukee with quality journalism, our award-winning photojournalism and features have helped to achieve a range of positive social impact that enriches our community. Please join our effort by entrusting us with your contribution. Your Support Matters -
Donate Now