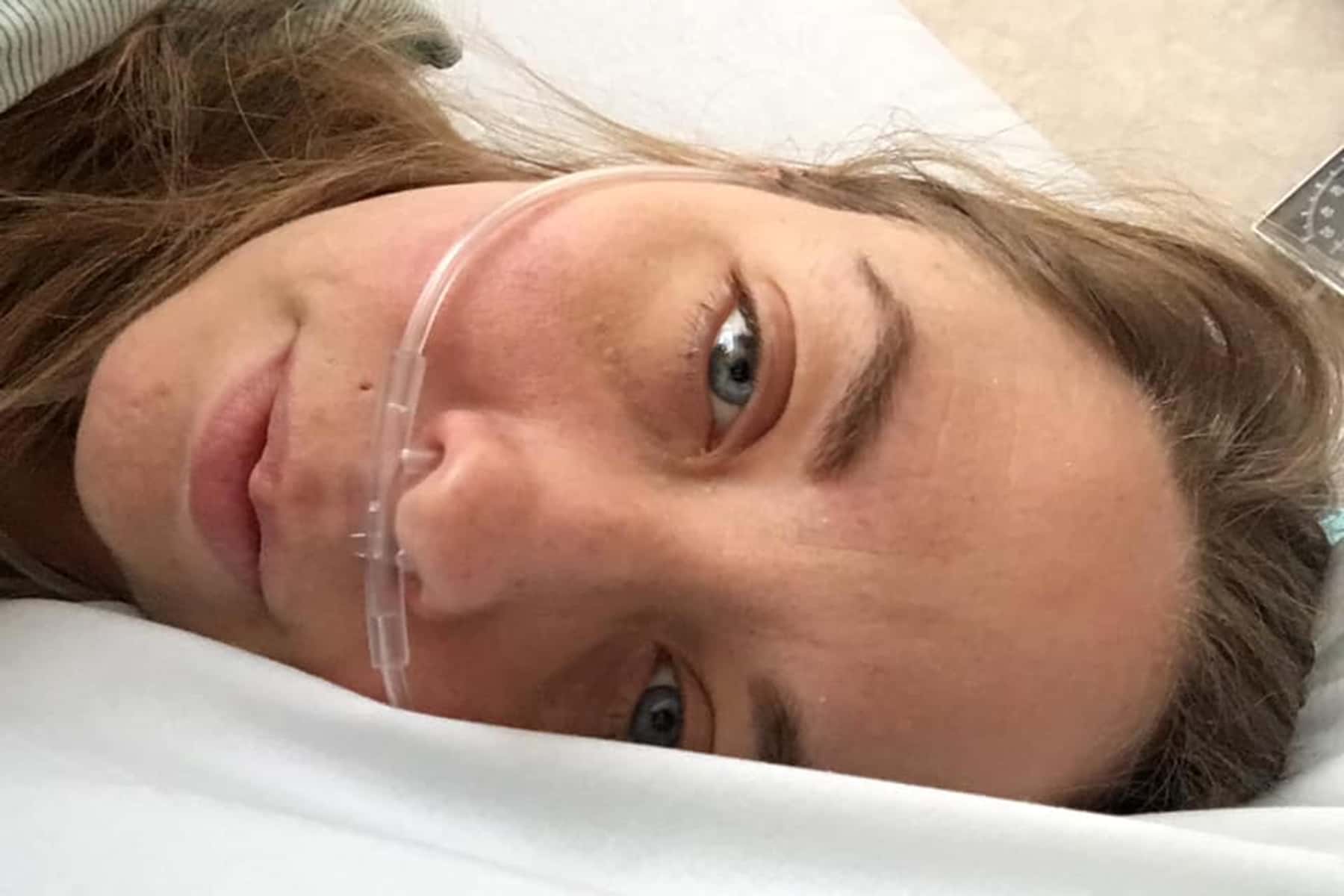 On April 2, a young Milwaukee resident shared the harrowing details of getting sick with the coronavirus and the long road to recovery on Facebook, fulfilling her pulmonary doctor's earnest request to "please tell people what happened to you."
Danielle Nelson, a development professional who raises funds for educational institutions, posted a photo of herself from when she was still receiving oxygen in the hospital. She did not mention her age, but talked about how unexpected and serious the pneumonia-like illness was as a young and physically fit individual.
The personal testimony by Nelson came as clusters of COVID-19 cases have been reported in retirement communities across Ozaukee and Washington Counties, and the overall total for Milwauke County continues to climb. Early reports had originally minimized the health risk to young individuals, compared to the dangers face by the elderly. However, every age has proven vulnerable with no group immune from becoming a fatality.
Nelson said that she tended to be a private person, but at the urging of medical staff wanted to share her story to help inform the public with insight and encouragement.
This was me 5 days ago at the West Allis Hospital. I have COVID-19. I tell you this because it has been a terrifying moment in my life and I urge you to take care. I also share this really personal thing with you so you can see a face of someone who actually has it. This global pandemic felt so abstract to me. Until it didn't.

I am a generally healthy person. I have no underlying health conditions. Before March, I had never spent a night in a hospital bed. About 3 weeks ago, I started having chest pain. I self-quarantined but I wrote it off as anxiety. About 2.5 weeks ago, I got a fever. Despite regular Tylenol and ice packs, it could not be controlled. After a week of this and sleeping 20 hours a day, I went to the ER. They tested me and sent me home. A few days later I barely had the energy to get to the bathroom. I was so tired and winded. I went back to the ER and was admitted.

For the week I was in the hospital I had to have help going to the bathroom. The doctors were having a hard time controlling my fever. I slept covered in ice packs. My blood pressure was dangerously low. I was getting IV fluids because I was severely dehydrated. I could barely eat. I was on oxygen because I had a hard time breathing due to the pneumonia and fluid in my lungs. I feel so lucky I didn't need a ventilator. When I had moments of physical relief, I sobbed. I tried to focus on my meditation app. I tried to reply to texts. I reflected on my life. I told my mom and Patrick I loved them.

I was released from the hospital 4 days ago but it's not over. I am tired. I can do a little something and then have to rest. In fact, I write this with my head on a pillow.

The doctors are confident I'll pull through, but there is always a caveat ("We aren't sure exactly how this virus works"). This caveat leaves me edgy. I'm afraid of taking 2 steps forward to take 3 steps back but so far I'm trusting the improvements my body is making. I feel a little better every day. Being home has really helped my spirits.

If you are afraid, I understand. I've looked face first into the beast and I am still afraid for me and for all of those who have yet to get COVID-19. If you have been diagnosed and are losing your mind, I want to be there for you to the best of my ability. DM if you are able. It doesn't matter if we haven't talked since elementary school, or barely at all. While not everyone will get as sick as I did, many will have mild symptoms and unknowingly spread it. Some will be more sick. I hope very few.

As I was being discharged, my pulmonary doc earnestly said, "Please tell people what happened to you." I'm setting aside my tendencies toward privacy and I'm honoring his request. I guess it's the least I can do to thank him for being on the frontline for me. Please take care of each other. And please take care of yourself.

– Danielle Nelson
The
Milwaukee Independent
began reporting on what was then referred to as the mysterious "Wuhan Virus" in January 2020. Other local media did not picked-up on the story until many weeks later. Our early features focused on the economic impact, social issues, and health concerns long before other Milwaukee news organizations even mentioned the coronavirus. Over the following year, we have published hundreds of articles about the pandemic and how it has affected the lives of Milwaukee residents. This extensive body of work can be found on our
COVID-19 Special Report
page, a chronological index of links by month. Our editorial voice remains dedicated to informing the public about this health crisis for as long as it persists.
For medical resources, please visit the
CDC's COVID-19 page
or the
Wisconsin Department of Health Services
. All editorial content published by
Milwaukee Independent
can be found at
mkeind.com/COVID19
. With a mission of transformative journalism, our staff is free from commercial bias and are not influenced by corporate interests, political affiliations, or a public preferences that rewards clicks with revenue. As an influential publication that provides Milwaukee with quality journalism, our award-winning photojournalism and features have helped to achieve a range of positive social impact that enriches our community. Please join our effort by entrusting us with your contribution. Your Support Matters -
Donate Now