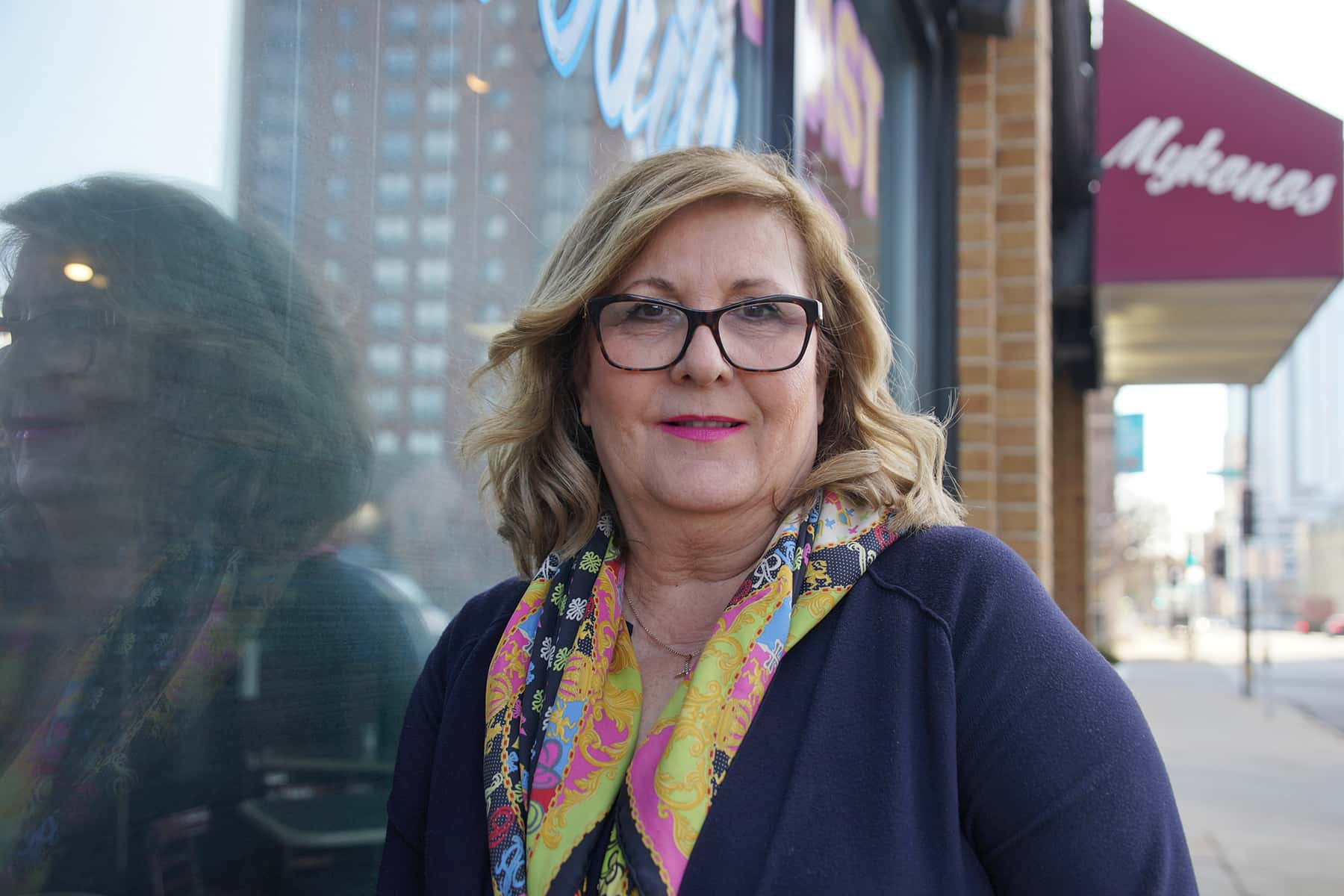 After serving classic Greek and American dishes for more than two decades, the owners of Mykonos Gyro & Cafe closed the landmark restaurant in downtown Milwaukee on December 20, 2018.
An "Opa!" was exclaimed for Mykonos's Saganaki, Kefalotiri cheese flamed with brandy, for the last time just before the cafe closed its doors at 1014 N. Van Buren Street, where it had welcomed the public since 1995.
"After 24 wonderful years, Mykonos Gyro & Cafe will be closing its doors on Sunday, December 30th. That is a difficult thing to write but what is even more difficult will be saying good bye to all of you. This community has grown through the loyalty of customers like you will always have a special place in our hearts. we are grateful and blessed for your friendships and support. It has been a privilege serving you all throughout the years. To our family and to all current and past staff, we are so grateful for your support and hard work. we couldn't have done it without you."

– Tina Kambouris, December 13 Notice to Customers
One of six children, Kambouris emigrated from southern Greece to Milwaukee at 14-years old. The Milwaukee Independent sat down with her just before the cafe stopped serving, and she shared reflections from the past two decades in business in the heart of downtown.
Milwaukee Independent: What is the fondest memory of your youth, and who was the most influential person in your life while growing up?
Tina Kambouris: Growing up in Greece was a very special experience for me. Trying to adopt to a new world after moving to America was a challenge. But my mother was full of life, endless energy, and not afraid to take chances. So she gave me a lot of courage.
Milwaukee Independent: How thriving is the Greek community in Milwaukee today compared to your parents generation? And, have you ever felt like an outsider due to your Greek heritage?
Tina Kambouris: I feel we were closer as a community because many were the first generation here. We were involved more with the Greek Orthodox churches and their organizations. It is natural when people move to a different country, regardless of their age, to feel out of place. But I have learned that any negative situation can be turned into something positive, and it is important to not allow comments or actions by other people affect us.
Milwaukee Independent: How did Mykonos Gyro & Cafe begin, and what were your early challenges as a female business owner in Milwaukee?
Tina Kambouris: Mykonos Gyro & Café was established in 1995 by my brother Ilias and his wife Jodi Demolas. I purchased the business from them in 2003. As with any business, I had to earn the public's trust and respect by being present and willing to do the work. As a female owner, it is getting better, but women still have to work harder to prove ourselves. I think there is more confidence these days that we can manage a company, and have the knowledge to be successful business women.
Milwaukee Independent: If someone had never tried Greek food before and only had one opportunity to taste something, what dish would you recommend?
Tina Kambouris: Spanakopita (spinach pie) and Avgolemono soup
Milwaukee Independent: What has been the biggest change over the past two decades in the Yankee Hill area or downtown Milwaukee in general?
Tina Kambouris: More buildings and additional businesses have opened around the neighborhood. It is a clean and beautiful area, and we always got such nice feedback from all the people that visited us from out-of-town.
Milwaukee Independent: How has Mykonos Gyro & Cafe supported the local community over the years?
Tina Kambouris: We have been deeply involved with local charities such as ABCD (ABCD: After Breast Cancer Diagnosis), the St Ben's Meal program, Jewish Family Services, local churches, and area schools. We have tried to give back to the community as much as possible.
Milwaukee Independent: Who was Harry Kemp, and how did you know him?
Tina Kambouris: Harry became part of our family back in the 1990s, a true friend and a mentor. He was an icon and treasure for the City of Milwaukee with his decades of photography. Through his pictures, he captured over 50 years of local history. He was a fixture at our cafe, and our customers always looked forward of seeing him at our place. Harry was well liked by everyone. He had the ability to interact with a 2-year old or a 90-year old, and he always found something positive to say. His knowledge about topics like sports, politics, and education was endless. Before he passed away in 2011, Harry's day would begin by stopping in to say good morning. Then he would return late at night to finish the day with a glass of wine, and we would take him home.
Milwaukee Independent: What will you miss most about Mykonos Gyro & Cafe when it closes? And is there anything you will not miss?
Tina Kambouris: I will miss my staff, and each individual who has entered our door and allowed us to provide our services. We are so grateful and blessed to be part of this community for 24 wonderful years.
Milwaukee Independent: If you could send a message back in time to yourself 15 years ago, what would you say?
Tina Kambouris: Life is full of challenges but stay focused.
Milwaukee Independent: What is your hope for the future of Milwaukee?
Tina Kambouris: I want to see Milwaukee continue to become one of the best and safest cities in the country. We have excellent leaders and potential to grow.
Milwaukee Independent: What advice would you give to young women who are interested in starting their own business in Milwaukee?
Tina Kambouris: To be successful, it requires hard work, staying focused on your plan, and a 100% commitment to following your dream. It is also vital to support your local community, because you depend on them for your success.