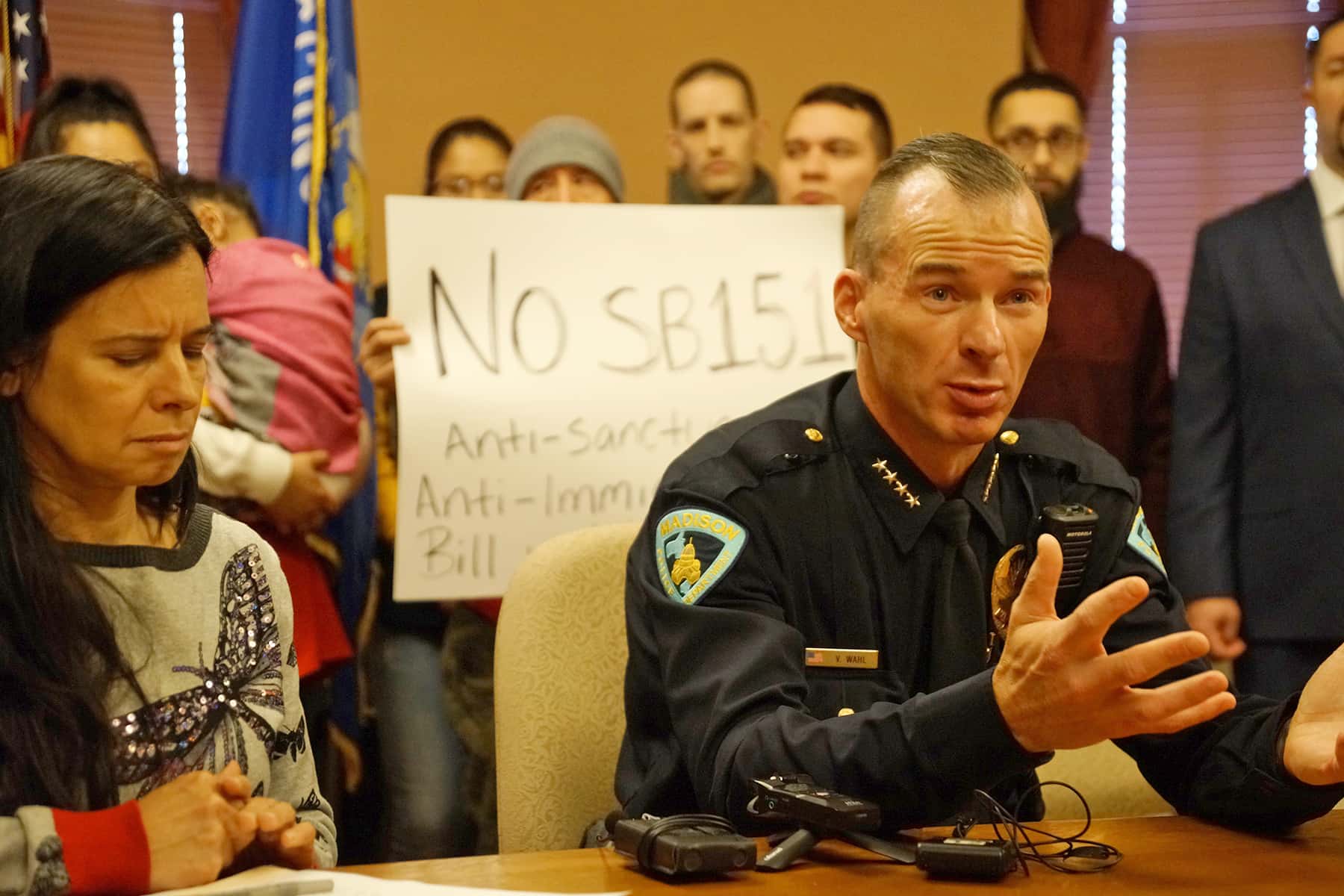 Wisconsin's largest grassroots immigrant rights organization Voces de la Frontera held a press conference with allies on December 17 at the State Capitol, prior to members giving testimony on the issue of Senate Bill 151.
"This is a bill that was introduced in 2011, 2016, and 2017, and has been resoundingly rejected by Wisconsinites. The only driving agenda behind these national copycat bills is the private prison industry. It is shameful that as Christmas approaches, this is the kind of bill that would be introduced. This is a bill that separates families, and it promotes racial profiling. It goes against what Wisconsinites really need, which is real solutions that value the dignity and contribution of Wisconsin's immigrant working class families." – Christine Neumann-Ortiz, executive director of Voces de la Frontera
Republican State Senators recently introduced Senate Bill 151, an anti-immigrant legislation that would forbid local municipalities to refuse to cooperate with ICE. The Senate Committee on Labor and Regulatory Reform held a public hearing to take testimonies for support and opposition of the potentially discriminatory proposal.
"The so-called 'Sanctuary Cities' bill will be detrimental to every single Wisconsin resident's public safety, whether you're an immigrant or a fifth generation U.S. citizen. This bill is detrimental and decreases the public safety of all wisconsinites. It threatening our local governments with penalties for having policies in place that encourage cooperation between immigrant communities and law enforcement." – State Representative JoCasta Zamarripa
Sanctuary rules protect undocumented immigrations from arbitrary arrests and deportations sought by the federal government. As a result, they encourage—rather than discourage—immigrant communities from fully cooperating with local police and other officials.
"The Madison Police Department (MPD) does have a policy in place that really limits the circumstances under which our officers will engage in immigration related enforcement activities. We've had that policy in place for many years, and the reason is pretty simple. We think it benefits public safety. And as a police chief, that has to be my number one job – public safety of our community, and improving the quality of life for our citizens. We really have to work in partnership with all members of the community. It's a requirement and that's the only way to be effective. When law enforcement is interacting with the immigrant community, we have some particular challenges in building relationships and developing trust. The MPD works very hard to build those sort of relationships. This law would remove our discretion to determine how we do business. And that would, in effect, require us to enforce federal immigration law. That would really have a chilling impact on our ability to develop those relationships, to build trust, and to work with all of our community members." – Interim Madison Chief of Police Vic Wahl
Police departments and sheriffs across the country agree that sanctuary policies encourage communication between immigrant residents and law enforcement, making everyone safer. If some people in the community are afraid to call the police when they are in danger, or to serve as a witness in a criminal case, it makes it harder for the police to solve crimes
and harder for District Attorneys to prosecute criminals.
"I want to specifically talk about the importance of local control, as a local elected official. I understand the values of my community, the city of Madison, a community that has been a welcoming community to immigrants. We have spoken loudly and clearly about our continued support for those of us who are immigrants in this country, and who have brought so much to the city of Madison. We feel as local elected officials that our policies represent the values of our city, and we're the best place for making sure that we continue to voice the support of the local residents for these type of policies. We don't see any value in the state representatives to be telling us how to run our city. We have collaborated with the immigrant community and made sure that we have heard their voices." – Shiva Bidar, Madison Common Council President
SB151 would also withhold state aid from any jurisdiction that enacts a policy to protect resident immigrants from punitive enforcement by federal immigration agents. For the City or County of Milwaukee, the loss of funds would be $5,000 per day, or $1,825,000 annually. This would undermine the ability of municipalities and counties to fund local law enforcement, schools, health care and other essential programs.
"This bill is attack on human dignity. We've heard how this bill will not make our community safer, but in fact make them more dangerous, creating fear in the community. Wisconsin has always been a place that believes in fair play, that wants to help the underdog. Do we not want individuals in our neighborhoods calling the police when they do see a crime? Or a house that is fire? Or a medical emergency? These are all the questions that we really need to discuss. Most of the provisions in this bill have already been struck down by the courts. The motivations behind the introduction of this bill is for creating fear, further division, raising funds, and quite honestly for the election to come. Based on those fears. It's our position that Wisconsin isn't best served by representatives and senators who make decisions based on those criteria. We would rather see legislators advanced initiatives that are in the public interest, that are representative of good governance." – Darryl D. Morin, National President of Forward Latino
Our mission of transformative journalism means that we are editorially independent. Our staff determines what is important news to report on, and in what voice to speak on issues. No one influences our opinion, and no one edits our editors. We are free from commercial bias and are not influenced by corporate interests, political affiliations, or a public preferences that rewards clicks with revenue.
Your Support Matters – Donate Now
As an influential publication that provides Milwaukee with quality journalism, we depend on public support to fulfill our purpose. Our award-winning photojournalism, columns, interviews, and features have helped to achieve a range of positive social impact that enriches our community. Please join our effort by entrusting us with your contribution.