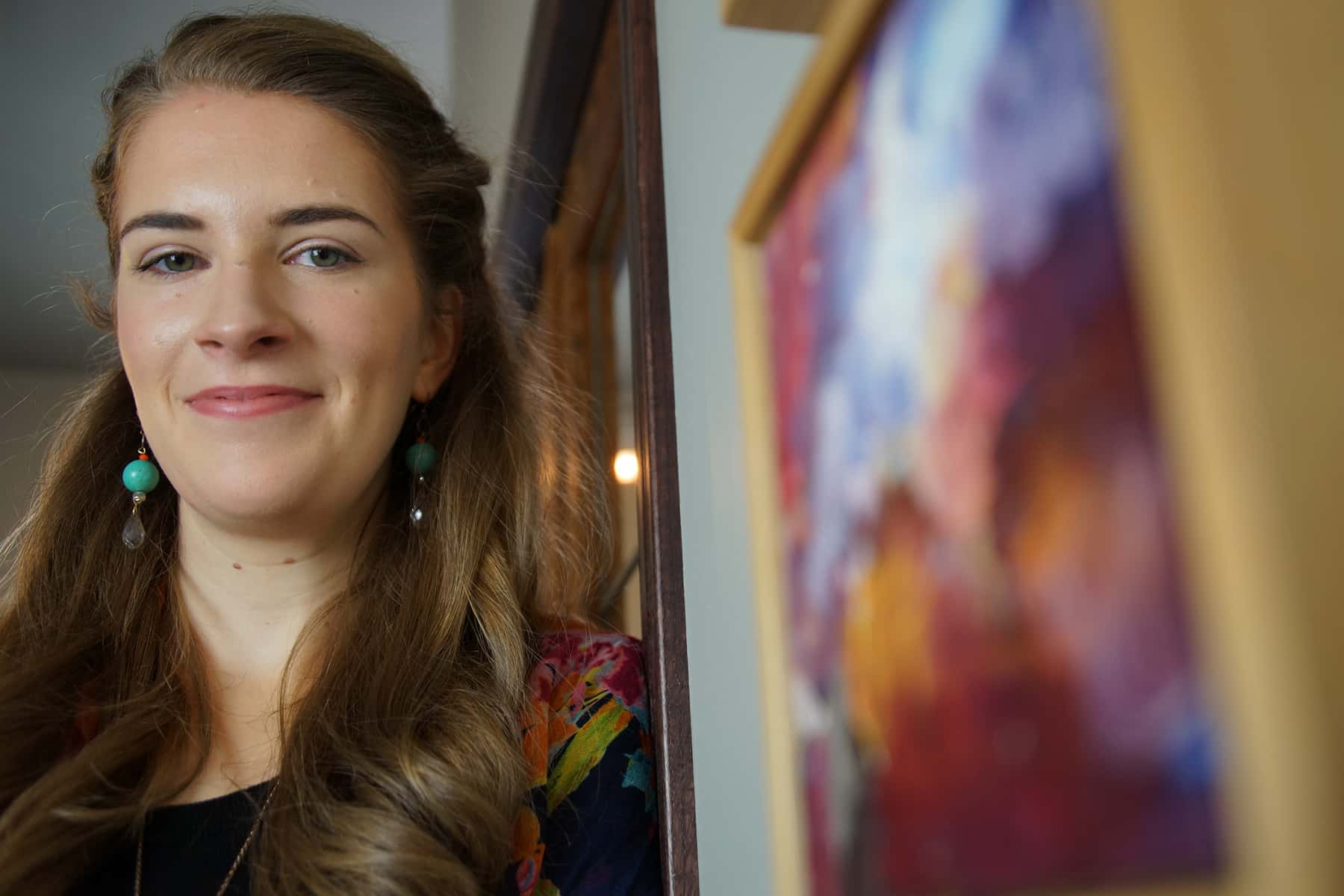 This multi-part editorial series was based on the "Rise and Thrive: A Lives in Landscape Exhibition" created by Milwaukee artist Brianna Joy Seipel. The project was produced in partnership with LOTUS Legal Clinic and the Untold Stories program. https://mkeind.com/riseandthrive
Whether we encounter wild beauty, quiet poetry, or raw power, artist Brianna Joy Seipel believes that we draw strength from the natural world and the stories of others. With a goal to highlight the resiliency, courage, and indomitable spirit of survivors of sexual violence, her debut show – Rise and Thrive: A Lives in Landscape™ Exhibition – explores the life stories of six individuals through the landscapes that inspire them. The Milwaukee Independent caught up with Brianna to talk about her vision for collaborative storytelling.
Q&A with Brianna Joy Seipel
Milwaukee Independent: What was the inspiration for "Rise and Thrive" and how did it become a public exhibit?
Brianna Joy Seipel: My oil paintings typically fall into two categories – commissions and passion projects capturing places that have transformed my life. Last summer I began to wonder how I could develop the latter into a charitable project to bless others, helping them find a visual language to describe their "lives in a landscape." With this idea, I wanted to explore how the natural world shapes our identities. So I began considering why certain landscapes endure in our hearts, our memories, and – most importantly – in our stories That took me on a path to one of my favorite Milwaukee-area nonprofits. In December of 2018 I approached my friend and mentor Rachel Monaco-Wilcox, Founder and CEO of LOTUS Legal Clinic, to see if we could pilot the program as part of their ongoing empowerment initiative for survivors of sexual violence and trafficking. Serving the state of Wisconsin since 2013, LOTUS has provided direct, comprehensive legal services, advocacy, community education, and they invest in survivors as change agents. Specifically, I was interested in working with alumni of their "Untold Stories" program. As of this year more than 117 survivors have participated in "Untold Stories" trauma-informed writing workshops – learning to be a witness and share their stories as platforms for social change. We presented the idea for "Rise and Thrive" to a small group of "Untold Stories" alumni as an opportunity to approach their story from a new perspective – one of healing, inspiration, and transformation. Survivors were invited to write about a particular place in the natural world that had deep personal meaning, and to provide me with a photograph of that place, which I would respond to artistically and in writing. It turned out to be a powerful combination.
Milwaukee Independent: What was the creative process like for the survivors of sexual violence who participated?
Brianna Joy Seipel: All participants were asked a series of pre-interview questions via email to help them reflect on their journey to healing. These questions included writing prompts like telling me about … "a place where you find peace or purpose, a place that filled you with joy, or a place where you found courage." That was followed by an in-person meeting, usually at a coffee shop, to get to know one another. It is hard to describe how cool it was to sit down with a total stranger and talk about the landscapes that inspire us. It was also a little nerve wracking. Although I have experience designing programs like this from my past work in the nonprofit sector, I had never implemented one as the primary artist. The participants truly took a leap of faith on this journey with me, and I am so grateful for that trust. After our initial meeting, the survivor-writers chose a final photo and wrote rough drafts of the story they wanted to tell. Together we worked for several months to finalize those written statements. Throughout the summer and fall of 2019 I wrote responses to their work, and created oil paintings inspired by their photographs. Participants were welcome to visit my studio throughout the painting process, and all six survivor-writers chose to do so at various times. That was an unexpected joy. It was so fun to connect and share my workspace with fellow creatives.
Milwaukee Independent: Who helped to shape the project and were you able reach the goal you originally envisioned for it?
Brianna Joy Seipel: The amazing LOTUS team members provided feedback and oversight to help ensure the project ran smoothly and was respectful of each survivor's privacy. One of the earliest decisions we made was to donate the original oil paintings to the survivors as a gift. It was really important to me that participants could walk away from the project with a tangible piece – and these paintings are first and foremost their stories. It made perfect sense to structure the project that way.
Milwaukee Independent: What was the ultimate goal of the project and were you able to achieve what you originally envisioned for it?
Brianna Joy Seipel: This project was designed simply to honor the stories and celebrate the spirits of these individuals who have learned what it means to rise, and thrive. The work culminated in a series of 12 oil paintings, six sketches on paper, and six larger paintings on panel. They were accompanied by "artist statements," which I wrote together with the participants. We hosted the exhibition at Knowlton Law Group – Kate Knowlton's private practice. Kate has always had a dream to host art exhibits in her space, and her office was the perfect destination for this show. The exhibition was a two-day event from November 15 to 16. Friday night was a private opening for survivor-writers and their families, and Saturday was a public exhibition. The show included process sketches, final paintings, artist statements, a print magazine, archival prints of each painting, and other print collateral for sale. With the exception of the original artwork, all of these pieces were for sale, with a portion of proceeds benefiting the ongoing work of LOTUS Legal Clinic.
Milwaukee Independent: How do you measure success with your art and creative work?
Brianna Joy Seipel: I believe we find satisfaction in knowing what our work is, doing it well, and the relationships we build along the way. This project has been especially rich in relationships. Being a self-employed artist can be isolating work, so the process of creating alongside LOTUS survivor-writers to collaboratively tell their story has been so inspiring.
Milwaukee Independent: What has been the most impactful creative challenge that you faced recently, and what did you learn from the experience?
Brianna Joy Seipel: As an artist, this was new territory for me because these stories were so deeply personal and yet the images and ideas themselves are truly universal. When working with survivors, I had to be sensitive to the fact that each individual is in a different place of their healing process. Privacy is incredibly important. Making sure we had contracts, so I knew how each participant wished to be represented, that was also a key element to make sure I was proceeding in a respectful way. LOTUS staff were always there to answer my questions. That was invaluable. One of the biggest lessons I learned this year actually came from a commission project that ran concurrent with the creation of this exhibit. I was really struggling with the piece and a mentor recommended literally "putting the piece in a closet" and taking time to "play" artistically with subject matter that brought me joy. She then recommended coming back to the piece in a week or two, and approach the piece differently by making a series of small sketches to see the work in a new light. That process was transformative. I never had a dedicated "sketchbook" practice until this year, but now I am hooked. Working small eliminates fear and leads to creative discoveries that I can take to the larger painting. Each painting in the "Rise and Thrive" exhibit began with such a sketch, and I feel that the final pieces are much better for that change in my artistic practice.
Milwaukee Independent: Was there a part of the project that exceeded your expectations or offered a pleasant surprise?
Brianna Joy Seipel: The "Untold Stories" alumni were incredibly creative and articulate writers, and the project blossomed above and beyond what I had originally imagined it would be. I am so thrilled with the resulting landscape-narrative pairings, and so honored to be trusted with the curation of these stories. In addition, I loved meeting visitors on our opening weekend who recognized physical locations in the paintings and began to tell their own stories connected to that place. There is something powerful about storytelling over "shared places" that brings us together. I want to continue to dig deeper into this idea with future projects.
Milwaukee Independent: Are there plans for a continuation of the project or was this exhibit all there will be?
Brianna Joy Seipel: Yes, planning for 2020's "Rise and Thrive" exhibit is already underway with a similar timeline – interviews in the spring, artwork creation in the summer, and a culminating exhibition in the fall. We are also exploring ways in which this model can be replicated with other artists to keep the project sustainable long-term.
Support from LOTUS Legal Clinic's team, particularly Director of Survivor Empowerment Austin Mahlon Reece, and interim Executive Director Kate Knowlton, was vital for the completion of the project. Their passion for championing the voices of survivors, both here in Wisconsin and sharing their program model across the United States, is unparalleled.
Brianna Joy Seipel
Through her
Lives in Landscape™
Project,
Brianna Joy Seipel
has worked collaboratively, curating exhibitions that honor the stories of remarkable human beings in Milwaukee. By telling their stories through "landscape narratives," her work highlights the wild beauty of the natural world that is a reflection of the true self we all share.
LOTUS Legal Clinic
empowers survivors of sexual violence and trafficking. They provide direct, comprehensive legal services, advocacy, and community education, and they invest in survivors as change agents. Serving the state of Wisconsin since 2013, their vision is to create a national model for restoring the dignity, rights, and voices of survivors. As of 2019, Legal Clinic has served 117 survivors through the Untold Stories project, empowering men and women alike to bear witness and share their stories as vehicles for powerful personal and social change.
Rise and Thrive: A Lives in Landscape Exhibition
is supported in part by a grant from the Wisconsin Arts Board, with funds from the State of Wisconsin and the National Endowment for the Arts.