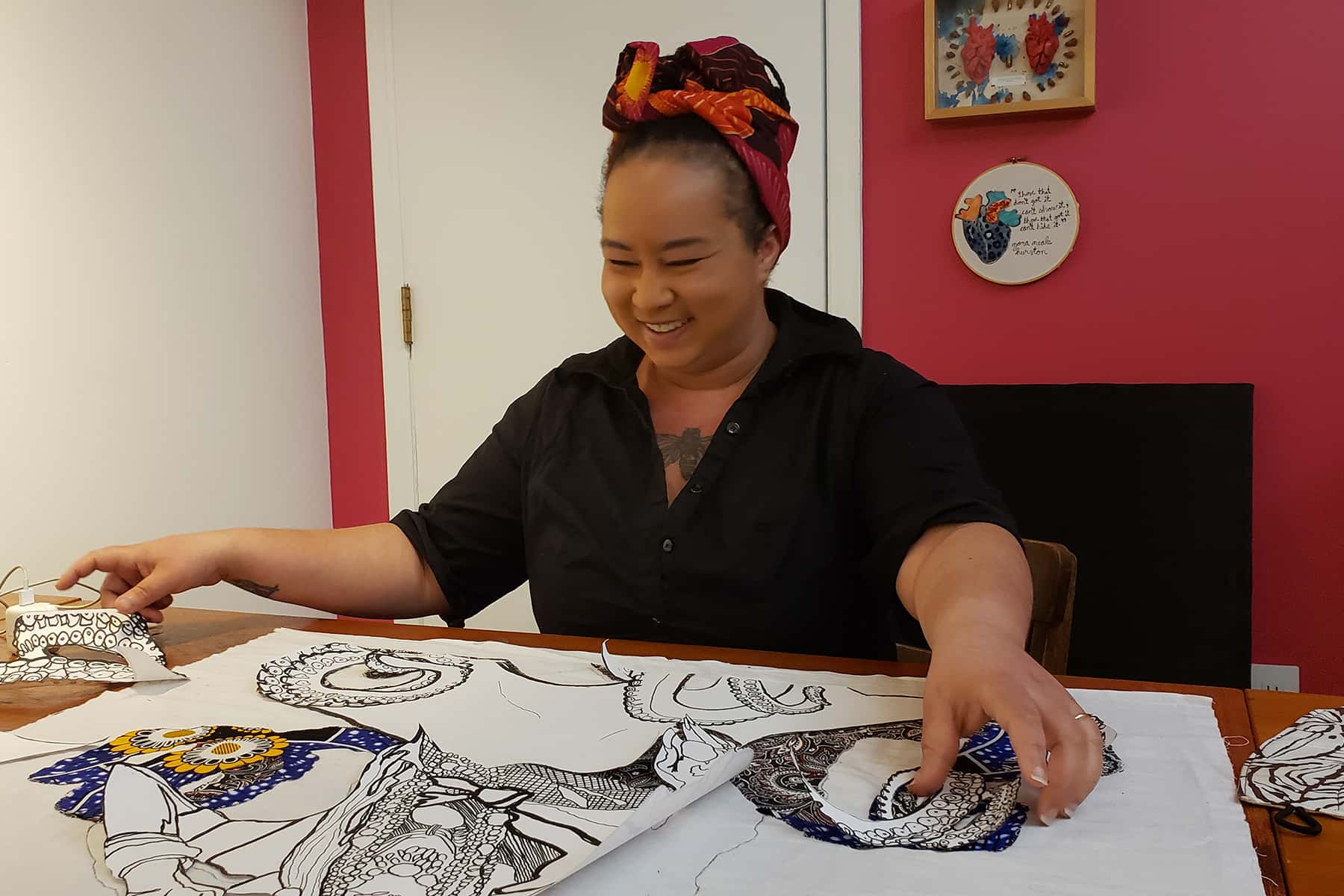 Wearing a white fur stole and belting out respect, Aretha Franklin holds court on the deep pink wall of The Pfister Hotel artist studio. Her face is a pastiche of blue and white patterned fabrics sewn together, pinching her cloth muscles into passionate vocals. Postcards with stitched icons of people I don't recognize at first are neatly stacked under Aretha, as are dozens of folded fabrics and neckties in a white antique hutch. Ella Fitzgerald and Louis Armstrong stand guard over a pink-upholstered sofa, and an unassuming sewing table grounds the left wall, as of yet unadorned with any art. Next to the studio picture window, thick quilts full of meaning drape over two armchairs. And Tennessee's Brownie McGhee sings the blues.
On April 8, Rosy Petri began her year-long appointment as The Pfister Hotel's 11th Artist-in-Residence, taking over from Stephanie Schultz. During her tenure, she plans to create portraits and podcasts of guests, capturing them in the moment and revealing their personal mythologies in photographs, her signature textile portraits and recordings. Petri is interested particularly in their "myths of creation." She says, in the video she created when she applied for the residency, that "the act of creation belongs to everyone. We are creating culture together, and we bear witness to our own creation on a daily basis." Her studio at the Hotel will bear witness to countless stories over the year.
Even though there are a few examples of her past creations on the walls and a photo book of her personal and artistic journey that's available to peruse, Petri tells me that on her first day, a guest to the studio kept insisting, "But what do you do?" Indeed, it's difficult to pinpoint exactly what Petri does. Is it fiber art? Mixed media? Photography? Storytelling? Is it dressmaking? Neckties? Bow ties? I would soon learn that it could also be small batch body products or sustainable gardening and cooking lessons. Her business is called Paradise Home, but what is a "paradise home"?
The way Petri tells it, and what I've come to understand through listening to her journey, what she does is celebrate the dignity of the human spirit and our individual and collective experiences. Her social justice mindset is woven into every item she creates. Every photograph or art piece or item of clothing is about representing the unrepresented, of making visible the invisible. And every piece of art comes with a story, told with reverie and honor and confident details.
Before we began our interview, Petri explained her process of creating her textile portraits by showing me a piece that was in the works, showing me her multiple layers of sketches that are templates for swirling fabric pieces that will be stitched together to form a version of the sea witch Ursula from Disney's The Little Mermaid. "Ursula," she explains, "gets a bad rap as the villain. She was trying to take back from Triton the throne which she believed was rightfully hers." Indeed, powerful paisley tentacles extend from the head-wrapped female figure emerging on the sewing table.
Welcome to the studio – and the story – of Rosy Petri, who is bringing Paradise Home to The Pfister Hotel.
I see you've noticed the postcards. They're only two dollars each. I love postcards because they're accessible and useable, and because I believe that everybody deserves art. Anyone can walk in from the lobby and walk out with art. They're photos of my latest series of textile portraits, called "The People's Church." Each one is inspired by stained glass windows, with wood frames. The portraits are icons of everyday saints who take care of each other. Della Wells – yeah, you can tell it's her from her eyes, right? It was because of Della that I really started doing art, especially after going to the Kentuck Art Festival in Kentucky with her a few years ago. That's Michelle, one of my first dress customers, in a formal dress and headwrap. This one is my friend Charles, who I have known since elementary school. He's modeling one of my neckties and playing the trombone. And this one is a Black Panther from Detroit who spent 26 years in prison, then began non-violent community organizing, teaching residents leatherwork, and working on the Detroit chapter's Black Panther Oral History Project.
And the story of this quilt? Six years ago, I lived for a month in the city of Highland Park, a few blocks away from the original Model-T plant. Highland Park is actually surrounded by the city of Detroit. Like many of the places I've lived, it was impoverished, so impoverished that there were no street lights and packs of wild dogs roamed the streets. On top of that, the flat I was in had bed bugs. So I saw lots of stars from my second-floor balcony, which saved me from the bugs and protected me from the dogs – and gave me light. You can see that the quilt is made up of many stars, with other shapes representing my experiences in Highland Park. And these dark stars? Those are the nights with no street lights.
After a month in the city within a city, I moved away from the darkness and back to Wisconsin to work on an organic vegetable farm, and that's where I would meet my future husband, Mark. All this you see around you in the studio – all this is journey.
Two years before the wild dogs, when I was seventeen, I left my Milwaukee home. My journey to The Pfister began with a blanket made from my friend's blue jeans, a basket full of clothes and a guitar that someone gave me. For a while, I lived with seven people in a two-bedroom flat. But then I moved to Detroit and for eight months lived at a Franciscan friary and interfaith arts center. What's cool about the Franciscans is that they're supposed to live in community with each other in the communities they serve. In community in the community.
The friary and arts center was a mini compound. I lived in the community center in the Abbot's room. There was so much goodness there: a woodshop, recording studio, a beautiful library. Women from the community would have a weekly meeting where they would make mosaics that they could sell. I remember the 86-year-old door man, Al Edmunds, a Black World War II veteran who made candles and read a mystery book each day. And a Jewish maggid who was married to a Catholic woman would hold havdalah services that would mark the end of the Jewish sabbath and the beginning of the Christian sabbath. They would also collaborate with the local imam and people from other faith traditions. Everyone was really about connecting the community.
During my time at the friary, some of the Franciscans had me visit the Sarah Center in Cincinnati, in the Over-the-Rhine neighborhood, named because of its German immigrant origins. Despite its poverty, the neighborhood has the oldest collection of Italianate architecture in the country and even more importantly, it had a soup kitchen that was more like a cafe, a traveling nurse and a women's art cooperative, among many other institutions created by the Franciscans then transferred back to the community. The women at the cooperative created jewelry, textiles, paintings and fine art, and the sales would benefit the women and give them dignity. The culture of this whole neighborhood was one of extreme generosity. I've never seen anything like it. And I've never forgotten it.
In 2014, I found myself in Chicago, where my Paradise Home Goods concept began brewing. I worked at a Catholic Worker House on the south side of Chicago, in the Back of the Yards neighborhood. I would eventually convert to Catholicism after I got married, but I've always been enamored with Dorothy Day, one of the founders of the Catholic Worker Movement. Because the shelter was partly a refuge for undocumented women, I wanted to find a way to give them a safe and reliable job opportunity. So I decided to teach them how to make quilts to help give them income. I'd seen too many people with no control over their future, their destiny. I'm all about work with dignity, and I believe that commodities should benefit the people who make them. I thought that I might be able to create an artisan collective that could sell fiber arts, body products, and other commodities. I wanted to be create a "paradise home" for people who needed it.
But Detroit called my name again after about a year, and I went there to buy a house and settle, but the house was broken into and every piece of furniture, all my tools, even the fixtures were stolen. Unfortunately, I never got to spend a single night in it. I ended up working at vegan restaurants and seamstressing at an African dress shop until a friend actually gave me a house in Minock Park that I dubbed the "Cottage in the Hood." I had to deal with lots of break-ins from the previous tenant, a drug user who had been squatting and selling. She tried to break in often, and I had to quit my restaurant jobs to ensure that I wasn't wiped out one more time. The good thing was that I worked more on sewing at home and started making other things like hand-blended teas and jams.
I loved Detroit. But the lack of economic stability made it emotionally difficult for me, so when I got engaged to Mark, we moved to his family's farm in Theresa, Wisconsin (in Dodge County) to get married. Partly at his urging, I really began focusing on my art, developing a style that was one part farmhouse aesthetic, one part classic 50s, one part African diaspora. I began taking custom dress orders and initiated a dapperwear line of bow ties, neckties and headwraps. At the same time, I was working in the fields and eventually got certified as a master preserver and a master gardener. Mixing fiber arts, small batch artisan body products, sustainable cooking and educational components, my business, Paradise Home Goods, was finally ready to launch.
Last year, Paradise Home held its first retreat, called (Un)Intentional Community. It was designed to be a day of healing specially for women, people of color and LGBTQ individuals, all of whom were pampered and nurtured by local women entrepreneurs who taught them massage and yoga, healthy cooking and self-care. Things moved quickly for me after that. Soon after the retreat, I participated in the Pop Up MKE program through the Local Initiatives Support Corp and the Wisconsin Women's Business Initiative, and received entrepreneurship training through the RISE program run by the African American Chamber of Commerce in Wisconsin. Most recently, I went through the Milwaukee Artist Resource Network mentorship program. My art has grown to include sewn textile portraits like "The People's Church" series, including the pictures of Aretha and Louis and Ella. I love how each one of them has imperfections but still retains its dignity. I mean, look at Louis' mouth!
To tell you the truth, I'm still a little overwhelmed. I've never had a studio like this, in such a grand space. With open doors to the public. And I've never had, you know, people? By that, I mean, after all my moving back and forth between here and Detroit and Chicago, and after all my work serving others, it's still a little surreal that people at the Hotel have already done so much for me and are showing me the ropes, hanging my chandelier, restoring the wood on my furniture pieces. Just like that.
It's only been three days so far, and I'm not rushing to fill the walls of my studio with art yet. I'm trying to be intentional and to build it out slowly and carefully. I just feel honored to have people see my work – and the people in them. And for people to hear their stories. It's good for any of us to be seen and heard, yes?
Rosy Petri's studio is located off the main lobby of The Pfister Hotel. Her artwork is currently on display in two other locations, at After Gallery (514 E. Center Street) and 5 Points Art Gallery & Studios (3514 N. Port Washington Avenue).