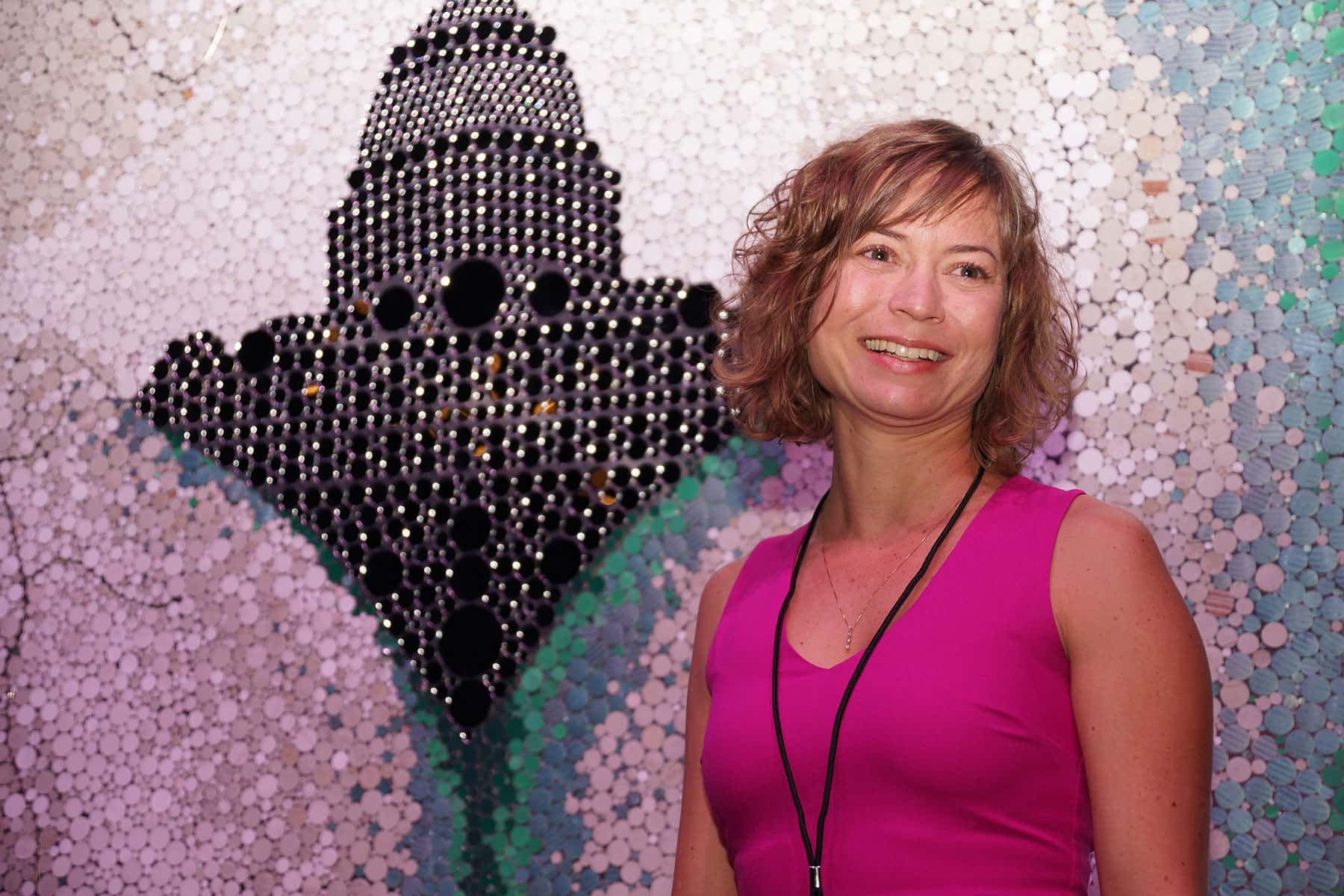 "I made this piece, titled Hills & Valleys, to insight action and compel voters to take support women's rights. Reproductive rights are an American tradition." – Niki Johnson
Internationally recognized Milwaukee artist Niki Johnson unveiled her latest artwork, made out of the signage from Planned Parenthood health centers de-funded under the Walker administration in Wisconsin, at the organization's 80th celebration on October 14. Hills & Valleys will be on display to the general public at Material Studios & Gallery from October 21, with the beginning of the Historic Third Ward's Gallery Night and Day.
Johnson also received the 2017 Voices Award during the PPWI event. She is previously known for creating Eggs Benedict, a portrait of Emeritus Pope Benedict woven out of condoms. That piece is part of the Milwaukee Art Museum's permanent collection.
Milwaukee Independent: Was there a person or event in your youth that was influential with your artistic development? Did you always want to be an artist?
Niki Johnson: Not really. It didn't occur to me that art could be an occupation. Art was something we did in class growing up. It was non-exclusive, and in comparison to math and spelling (which I also loved), there was no right way to do it. The activity of making something was experientially based. Like learning a foreign language, figuring out how to use tools or express ideas was a community undertaking, rooted in trial and error, and usually a whole lot of laughter. I think this may be why I have continually returned to art through my life.
Milwaukee Independent: Can you share both a positive and negative example that was an unexpected result of your "Eggs Benedict," the portrait of Emeritus Pope Benedict woven out of condoms?
Niki Johnson: During the viral media events of 2013 and 2015, I experienced a deepened sense of purpose and value for my work as a contribution to social discourse. It was incredible. While both experiences were well worth the lost sleep and hours spent keeping the intention behind the work front and center, going viral was extremely disruptive to the creative process. I was thankful when the excitement dіеd down and I could get back to work.
Milwaukee Independent: Do you feel that our culture has a double standard towards women when it comes to issues of faith and sex?
Niki Johnson: Of course. Patriarchy per definition benefits men at the expense of women. We live in a patriarchal society. Morality in patriarchal societies is often used to limit a woman's agency, especially in context of her body.
Milwaukee Independent: What inspired your idea for Hills & Valleys, and addressing women's reproductive rights with art?
Niki Johnson: As a feminist, my artwork voices my politics, and being politically engaged is part of my everyday life. To create social change, I believe you must be willing to speak up, listen closely to others, and give of yourself. These ideas shape my studio practice. The design and concept behind Hills & Valleys took years to develop, as I really needed to sit with the material before I could understand what it needed to become. I knew one thing immediately after picking up the first load of signs in the fall of 2013: the material was sacred, and I knew I would need to proceed cautiously in an effort to balance respect for the organization while drawing focus to the broader fundamental problem of human rights being stripped from women across our nation.
Milwaukee Independent: Have other media outlets asked if your art is a protest towards Republican Candidate Donald Trump and his misogynistic statements about women?
Niki Johnson: Donald Trump is a joke. Scott Walker and his administration are not. Hills & Valleys only exists because of the legislation successfully passed by the Walker administration limiting women's health care, access to safe and legal abortion, and because of that – our independence. Both Trump and Walker enjoy shaming and controlling women, they just go about it in different ways.
Milwaukee Independent: How did you choose the composition materials, like using the Planned Parenthood signs?
Niki Johnson: Usually I work idea to material. The idea and design come first and the material becomes the vehicle by which the concept becomes whole. With Hills & Valleys, I had the material before the idea or design appeared. So I waited. The design appeared moments before falling asleep, in early October of last year. I awoke the next morning to a rough drawing of a pair of women's hips dawning a vajazzle of the US Capitol in front of a quilt.
Kind of like an alphabet soup, the elements of this piece had been swirling around in my mind for awhile. Like the quilt was inspired by a project I had assisted my friend Greely Myatt with in 2009. We spent months transforming scraped street signs in Memphis into beautiful reflective "quilts" to cover an air conditioning unit on city property. I loved the way the altered industrial materials spoke to heritage and the domestic experience – essentially feminizing the message of the metal, while giving it an arguably enlightened second life.
After drawing out the piece, I reached out to Greely to see if it would be okay for me to incorporate this language into my piece, to which he said, "Of course!" Greely is the best.
In the summer of 2015, I learned what vajazzle was while driving a group of employees to a job site, and was immediately struck by a wave of feminist boredom. A close relative of lawn mowing and other metrosexual activities, vajazzle seemed akin to a merkin's insidious and less funny cousin. However, the glistening red hearts and Hello Kitties continued to flash through my mind days after my first Google search. It was then that I realized I wasn't bored by vajazzle at all. In fact, reevaluating vajazzle as a component for self-expression recast it as a potentially valuable cultural signifier to work with in the studio. Expression through artifice has been a part of women's practice in patriarchal cultures for millennia, after all.
Capitol buildings had began to appear in my work in 2010, when I was a graduate student at UW-Madison. Each morning I drove to the base of the capitol before parking my car. It took a few months before I realize how much I was looking forward to that part of my commute, which sparked a fascination that inspired weekly tours of the building, investigating metanarratives of state, symbols of government, and emblems of national power.
Milwaukee Independent: Can you describe what the production process was like?
Niki Johnson: Shortly after coming up with the design for Hills & Valleys, my friend Glenn Williams asked if I would be interested in working with his Advanced Sculpture class at UW-Milwaukee as a visiting artist during the spring semester of 2016. Excitedly, I agreed and asked if he had a metal shear.
In February, I began slicing the signs into strips and punching the strips into metal circles with a jeweler's punch and a hammer. The first week of cutting up the signs on the shear was deeply upsetting. I couldn't shake the idea that I was physically partaking in what legislatures across this country take part in everyday – carefully deconstructing women's access to health care and legal abortion. It was only when I began punching the circles, I began to feel hopeful about rebuilding. Much like a phoenix, Hills & Valleys stands as a symbol of regeneration. Because when they try to tear us down, we rise.
After a few weeks of hammering, I realized that if I were to process all of the strips on my own, the piece would take several years to make. I put out an open call on Facebook asking that anyone who believed in women's reproductive rights and was good with a hammer to message me so we could set up a time for them to come to the studio. Thirty volunteers ranging in age from 14 to 75 helped process the materials for two months, expediting the process and transforming my studio into a space for personal and political empowerment.
The dots hammered out of the signage were then attached to an aluminum substrate (or backing) temporarily, allowing me to move and adjust them until the image was finished. The final steps involved engineering a frame, attaching it to the back of the piece and securing the dots permanently. I estimate making this piece from start to finish took 2,500 hours.
Milwaukee Independent: Now that the artwork is finished, what are your plans for it? Will it be part of a traveling exhibit or educational program?
Niki Johnson: Hills & Valleys will be on display in my studio at Material Studios & Gallery beginning on gallery night, Friday, October 21st. I designed the piece to travel, so it may stand with communities across the country. After making sculptural pieces for years, and developing a slight amount of envy for my friends who send their video pieces in envelopes to exhibitions, I engineered both the artwork and it's frame to break down into four crates. Hills & Valleys will be traveling through 2017 as part of a collaboration between myself and a number of Planned Parenthood affiliates across the country.
Milwaukee Independent: Can you talk about your experience meeting and spending time with Gloria Steinem?
Niki Johnson: Meeting her and hearing her speak in person was incredibly moving. It reinforced my personal commitment to my practice. I am excited for what's ahead.
Milwaukee Independent: What has been the biggest life lesson you have learned from expressing your views through art?
Niki Johnson: Like most artists, I am not personally interested in being in the spotlight. I dream of that for my work. The past few years have taught me a great deal about the importance of being able to stand by my work, and share more of myself, in an effort to contribute to getting communities to talk.
Milwaukee Independent: Do you have any advice for the young girls of Milwaukee, who may feel an inner artistic spark but lack the support to develop their passion?
Niki Johnson: Feminism is not only for women. You never know who is going to be empowered by the message of your artwork, or how they will move forward that message in their own lives. That's the beauty of art. It creates conversation with a single glance.
To produce this piece, Johnson and a team of volunteers cut and punched the signs into geometric pieces to create and image of a woman's hips, groin, and thighs. At the center of the artwork is a silhouette of the US Capitol made out of mirrors in a vajazzle pattern. The mirrors, purchased at Hobby Lobby, a corporation that has been an outspoken leader in denying contraception coverage to its employees, stands at eye level to reflect the audience.
"It is important to me people see their reflection in this piece, as we are responsible for electing government officials to uphold our rights. Women's rights are human rights. In this election year, The US Capitol is the ideal image to carry forward the message. Hills & Valleys symbolizes the fight that continues within and beyond our state borders, because just like the signs, they can try to tear us down, but we will rise." – Niki Johnson