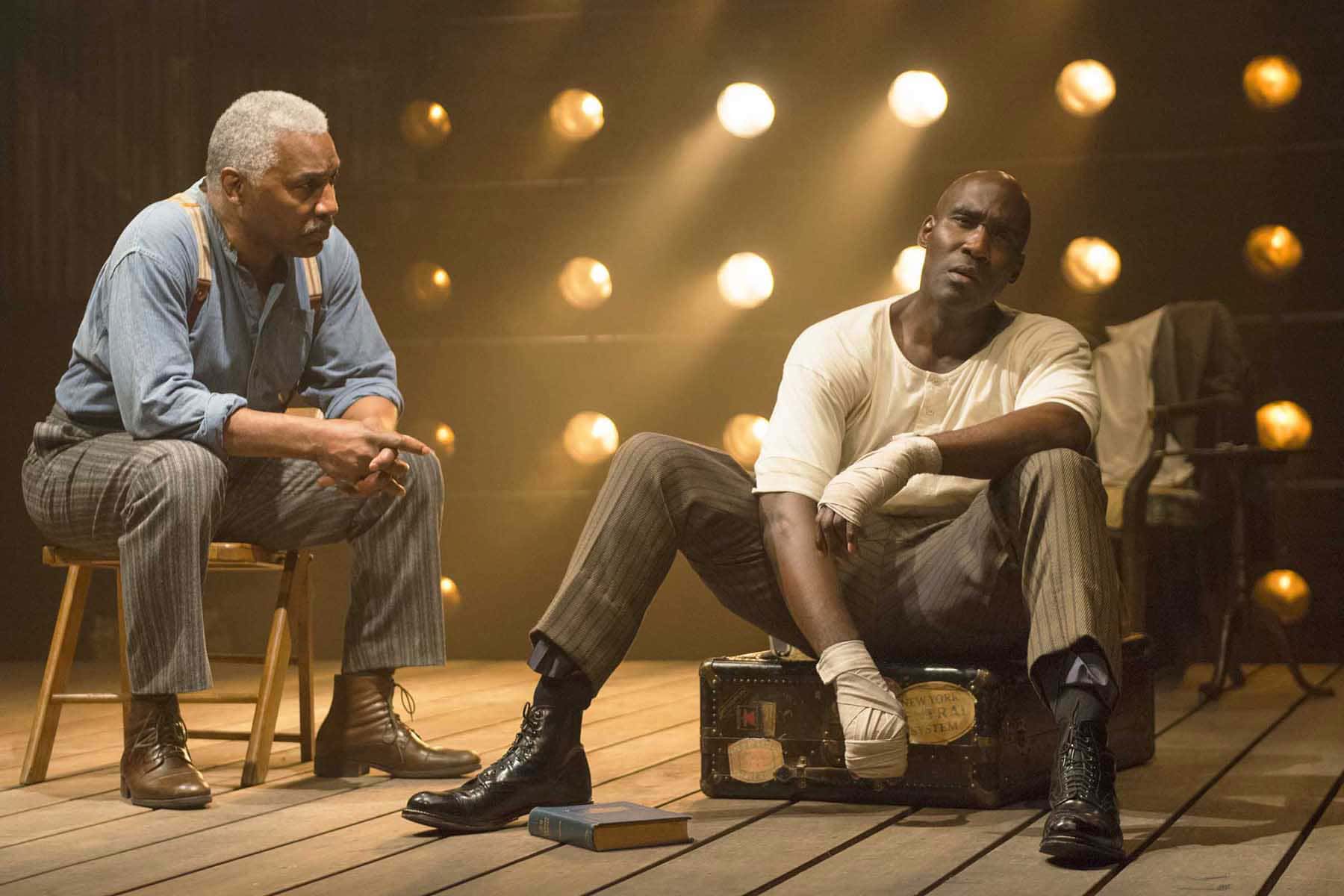 The Milwaukee Repertory Theatre's play about the hardships of a Jim Crow-era boxer captivated its audience during the October 15 performance, which was followed by a panelist discussion related to Milwaukee's Civil Rights movement and present-day racial tension.
The Royale, a play that will run at the Milwaukee Repertory Theatre until November 6, vividly portrays the physical and psychological trials Jay "The Sport" Jackson faces as an African American boxer deep in the middle of the Jim Crow-era South. Based on the real life accomplishments of boxer Jack Johnson, the play grapples with the consequences of Jackson's rise to becoming the world's first African American heavyweight champion.
Written by Orange Is the New Black's Marco Ramirez and directed by seasoned Rep director Kevin Ramsey, The Royale poignantly tackles issues of systematic racism. In it, African Americans fight each other for practically nothing and Jackson struggles for months to fight with the white heavyweight champion, who finds it beneath him to fight an African American. Jackson wins the fight, but not without devastating consequences, as most people in the early 1900s were not ready to accept an African American champion.
Like his real-life counterpart Johnson, Jackson was above all a game-changer. After Saturday's matinee on October 15, The Rep hosted a panel with real life Milwaukee game-changers Margaret Rozga, Fred Reed, and Prentice McKinney. Reed and McKinney were former NAACP Youth Council Commandos and Rozga was a prominent civil rights author and activist. McKinney began the panel with a powerful statement.
"Something I wrote down before I came in was that I know Jack Johnson's history, and I wondered if white people would see it the same way I would see it," said McKinney. "I doubted it. When I see things, I see it through a black lens. What I saw was a man who was full of anger for a reason. He knew that he was being judged solely by the color of his skin, not by his abilities."
The rest of the panel put the issues of race and discrimination in dialogue with past and present conflicts in Milwaukee. All three panelists were involved in the 1965-68 March on Milwaukee, a march protesting the deplorable housing conditions for African Americans, as part of the Open Housing Movement. Much like Jackson's fights in the ring, these marches were dangerous, often resulting in injuries and imprisonment for participants. But they were necessary, as Rozga explained, detailing the circumstances that led to the housing crisis.
"African-Americans were coming to Milwaukee and meeting what was basically a self-deportation strategy. They were confined to a very small part of the city. The housing, because of the overcrowding, was dilapidated. The building codes were not being enforced. There was one landlord who was brought to court for 170 code violations. He was found guilty and the penalty was $1," said Rozga.
Rozga also appreciated how The Rep connects art to the city's history and ongoing situation. The panel, for example, dissected a moment in The Royale when Jackson is called a gorilla, explaining the moment's relevance to past and present events.
"Anybody here have a pet you love?" McKinney asked. "You really love that animal, don't you? But it's not your equal. We were seen as animals, and we still are. We say we're human beings, but our experience is of being treated like caged animals. What sparked the demonstrations back then, what sparked Black Lives Matter today, is it any different?"
McKinney continued, saying that to be an African American is be treated as subhuman, as inferior, the same way Johnson must have felt being exploited to the public for his fighting abilities. But Johnson, like the panel members and his fictional double Jackson, was able to change the game by becoming a champion in a ring not built for him.
Attendees of The Royale were encouraged to continue the discussion of these issues after they left, which also reflects The Rep's increasing involvement with community engagement. Most of their shows, especially those that cover important social issues, also include post-show talkbacks and panels. Those platforms providing audience members with an outlet to process what they saw, and hopefully allow them to change how they interact within the Milwaukee community.