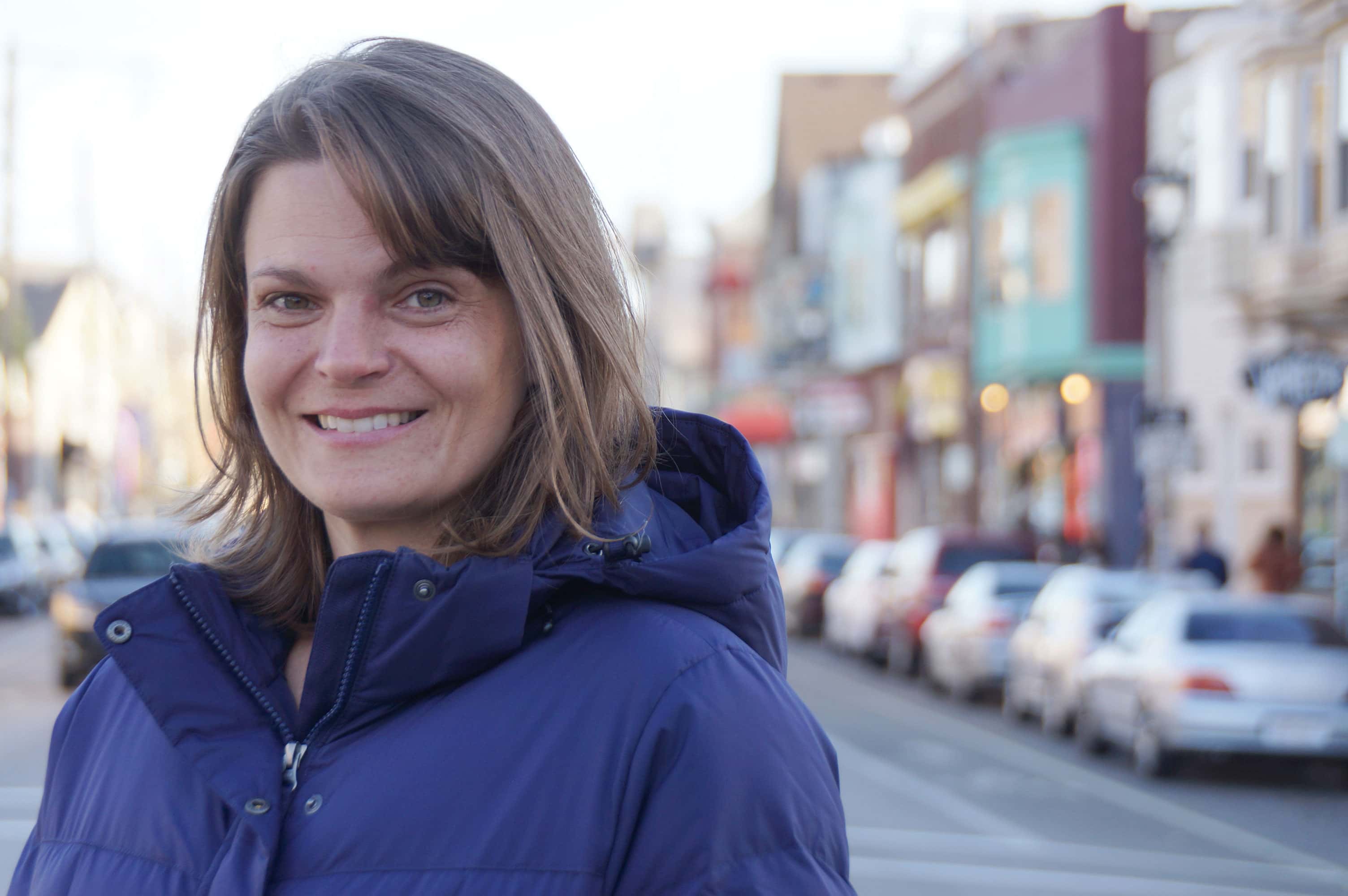 With a track record for engaging the community and working for change, the Bay View mother of four talks about her family and civic duty to enrich the lives of others.
Milwaukee Independent: How did you become involved in doing volunteer work?
Meagan Holman: I think that making my community a more just and fair place is in my DNA. I've always been at home in the nonprofit sector, and I can't remember a time when the idea of poverty, in this land of so much, made sense to me. I want every family to have the choices and opportunities they need to thrive, and I can't seem to give up that fight! In a lot of cases, it has meant working in a volunteer capacity, but working for justice pays you back in other ways. It is rewarding when you can see that in some manner large or small you've made an impact on the lives of others, but there is always more work to be done.
Milwaukee Independent: You were elected to the Milwaukee Public School Board. What originally got you interested to run for this position?
Meagan Holman: When I was approached about running for school board, I was initially hesitant. What did I know about running a school district? But then I thought about my own experience as an MPS parent, a voice that was lacking on the board. I have a Masters degree in public policy, so I know the academic side of budgeting and approaching public problems. But most importantly, I'd worked for nonprofits in Milwaukee with close relationships with MPS, in each case spending a tremendous amount of time in buildings throughout the city. So I knew about interventions for struggling students, the psychosocial needs that youth bring to school each day, I knew enough to campaign, to learn more, to lead.
Milwaukee Independent: After serving four years on the MPS Board, what accomplishments are you most proud of?
Meagan Holman: Two specifically come to mind when I am asked this. First, there was the "Believe in Bay View" process and all of the changes at Bay View High School. When I joined the MPS School Board in 2011, Bay View High School was the first thing everyone wanted to talk about. Not satisfied with the status quo, I worked to engage the community and convinced MPS leadership to dedicate time and resources to wide-scale change. This work culminated in returning Bay View High School to traditional high school years rather than grades 6-12, and the introduction of the curriculum focused on Creativity and Innovation. Now, more students from area feeder elementary schools choose Bay View High School than in over a decade. The climate of the school is improving while the hard, quiet work of turning around a school continues.
Another really exciting moment for me was opening Howard Avenue Montessori School. The waitlist at Fernwood Montessori School was staggering, and we had the vacant building on Howard Avenue that needed a solution, as well. The former Superintendent, Dr Thornton, wasn't the biggest Montessori proponent, but I worked for months to educate him on the model and why it is such a great choice for our families. He finally relented, but with a challenge — could I open the school in just 4 months time, rather than the usual 18 month ramp-up that we have for new schools? Luckily, our passionate public Montessori community, the largest in the US, rose to the occasion. Today, Howard Ave is educating more than 100 students that otherwise might not have chosen MPS, in a thriving school community with a brand new playground that is an asset for the entire area! MPS continues to have challenges, reflecting Milwaukee as a whole, but my friends and neighbors in District 14 trust that I will keep proposing workable solutions that benefit all of us.
Milwaukee Independent: How do you balance a political life as a mother of four boys?
Meagan Holman: I approach it the same way any parent juggling a challenging job would with the needs of their children. In a way, political life has slightly more flexibility than the typical 9-to-5 job, some of the time. There are trade-offs, the boys don't always have perfect patience when we are trying to run an errand and people stop me to talk shop. But I imagine that happens to teachers and doctors and electricians, anyone when you get known in your community for your work. Of course there are the benefits, like when my boys met the President. They've sat and colored through meetings in the Superintendent's office where we made progress on Bay View High School. And we all love marching in parades. I remind them that they are directly contributing to making Milwaukee a better place simply by helping me do what I do.
Milwaukee Independent: Your children are not teenagers yet, but do you see any of your civic efforts influencing them?
Meagan Holman: Absolutely. My sons understand that we are here to contribute and make the world a better place. They are very aware of social issues, but they are also just kids. We don't have C-SPAN on all day in the house or anything. What I love most is when one of the boys comes canvassing with me and we can talk about our dreams for the city.
Milwaukee Independent: What advice would you offer a young woman interested in running for a public office?
Meagan Holman: Do it. Not enough women are in the pipeline to higher office, and decisions are made based on the voices and experiences of those in the room to make them. Participate in Emerge Wisconsin or another candidate training program. Ask a female leader out for coffee, volunteer on other campaigns, join your political party and your neighborhood association. We have too much at stake for women not to show up and lead.
Milwaukee Independent: You earned a Master's Degree in Public Policy from Harvard University's John F. Kennedy School of Government. Was there a lesson from that education that you still apply in your life?
Meagan Holman: My graduate school program brought together young leaders from a variety of backgrounds, and my biggest take away was how intrinsic our work is to each other. Today, that lesson is more important than ever. Local governments in Wisconsin have seen a reduction in state and federal funding over the last ten years. With all levels of government feeling the pinch, we need to go beyond intergovernmental cooperation and expand our efforts to inter-sector problem solving: collaborative, comprehensive intergovernmental cooperation with private and nonprofit entities. Milwaukee's challenges are too big for us to silo our efforts. The ability to navigate across the government, business, and nonprofit sectors is more important than ever when society's most difficult problems increasingly cannot be solved by one sector alone. No one person or group is ever responsible for causing a problem, nor for fixing it. It takes all of our assets to move the city forward. Collaborative problem solving starts by building relationships, welcoming opportunities to work together, sharing best practices, and believing, fundamentally, in our shared humanity.
Milwaukee Independent: What is the personal or public achievement you are most proud of?
Meagan Holman: Besides my beautiful children, I would have to say opening Howard Avenue Montessori School. I've done a lot of things I'm proud of through the years, but that vibrant school community opening its doors every day, Milwaukee's Montessori community as a whole growing with it, and meeting the unmet needs of our neighborhood, will always be special to me.
Milwaukee Independent: What one thing would surprise people to know about you?
Meagan Holman: I'm incredibly motivated by food. I love to cook, and the way to my heart is certainly through my stomach! Anti-hunger advocacy is also an area that I'm incredibly passionate about. It brought me to work for (and to continue to volunteer with) Hunger Task Force, and when I have free time my personal service commitment is making up bags at food pantries. I can't imagine asking families to take the steps needed to get out of poverty, or children to succeed in school, if they are starting the day hungry, and that is simply the reality for far too many people!
Milwaukee Independent: If you were elected to another position to make your community better, what would you do to achieve this?
Meagan Holman: Combating poverty, protecting our freshwater resources, improving education, and spurring economic development across the city is needed to change the stakes for our children. Our community must respond to our challenges, together. Elected officials have a unique and valuable opportunity to leverage their position in the community to do good, and I'd like to harness that to create a Milwaukee that works for everyone. I will combine excellent Aldermanic services, using both new technology and, of course, the always-reliable shoe leather and hard work. But we must also focus on inter-sector collaboration to bring the region's resources to bear on our largest challenges. Starting with income inequality and poverty, which I believe will have the greatest impact on crime and educational disparities, we must use our assets like Lake Michigan, colleges and universities, independent businesses, and more, to create a unified vision for Milwaukee in 30 years and what it will take for us to achieve that vision.
Milwaukee Independent: Being a Bay View resident, what is your view of the community's long-term future?
Meagan Holman: Bay View doesn't exist in a vacuum, although sometimes it might feel like it does. Our primary business district is popular, but my friends and neighbors want to maintain the careful balance of a family-friendly place to live, work, and play. The bones of this community are so strong: Bay View Neighborhood Association, Chill on the Hill, the KK BID, our artists and countless entrepreneurs, neighbors forming cooperatives… We have so much to love in 53207! But we are also mindful neighbors. We now need to grow Milwaukee's economy as a whole, because no one wants to be the hottest neighborhood in a troubled city or watch the middle class in this state shrink any further. The work, and the vision, of improving Milwaukee as a whole is Bay View's work too.