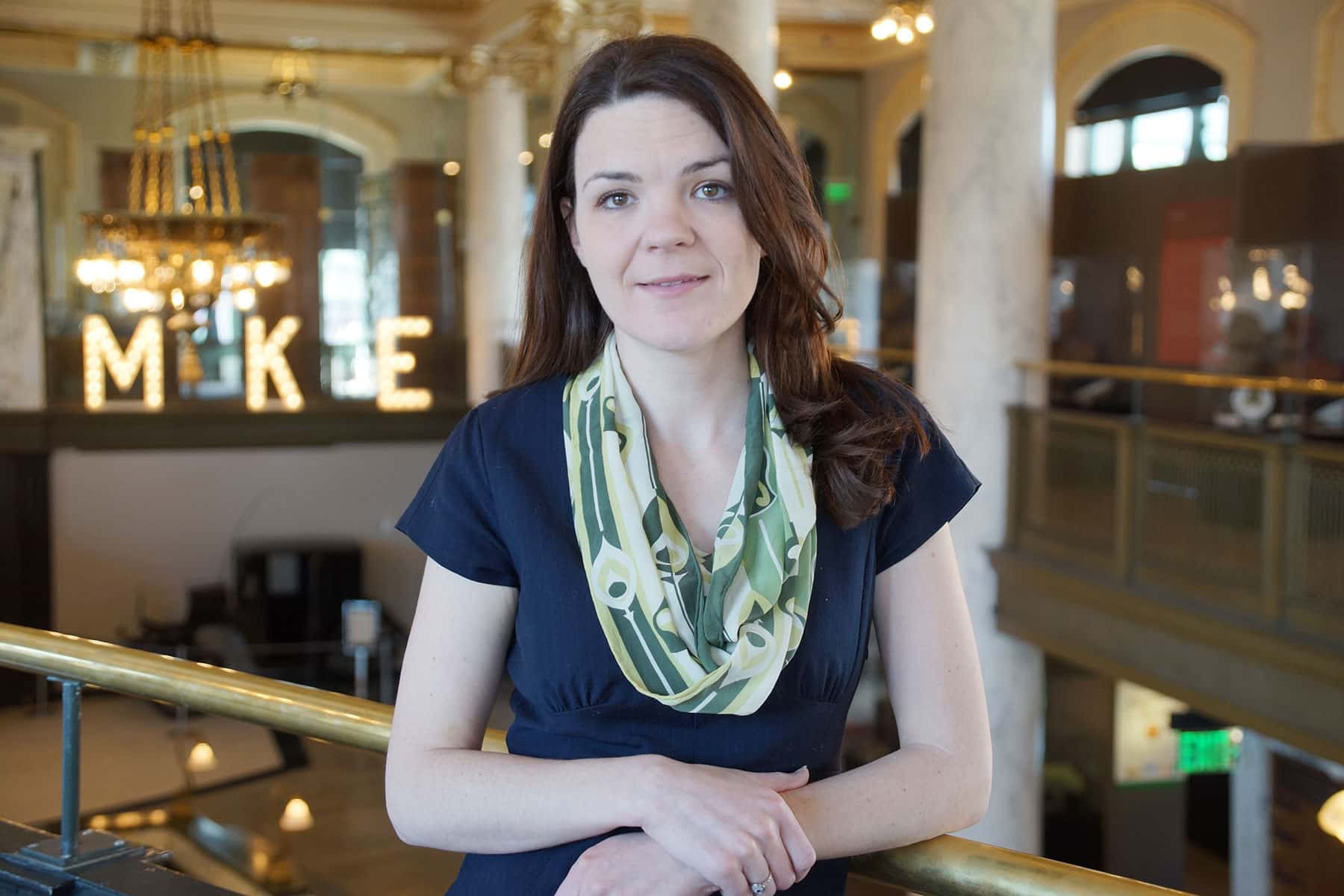 After establishing her professional career in Washington DC with the White House Historical Association and the National Trust for Historic Preservation, Mame Croze McCully returned to the hometown that first nurtured her love of history.
She now works to educate our next generation and preserve Milwaukee's most precious treasures, its memories.
Q&A with Mame Croze McCully
Milwaukee Independent: Where did your interest for history come from?
Mame Croze McCully: You may be surprised to learn that my interest in history comes from my love for place. I love to learn about where I live and what surrounds me. If you want to talk about Milwaukee, Michigan's Upper Peninsula, or Washington DC, I would love it. I particularly enjoy walking through neighborhoods, visiting small businesses that make each area unique, and understanding how it is both the same and different from years ago.
Milwaukee Independent: What was the biggest lesson you learned from working for the National Trust for Historic Preservation and the White House Historical Association?
Mame Croze McCully: I learned that when you make something relevant to people, they care. For example, I am told often by people that they don't like history. But then they go on about a family story, or items they have collected, or a certain subject. When you make history relevant to each person and connect our past to their experiences today, that is where interest and passion surfaces. Our beer exhibition has been a great example. We have people coming to see Brew City MKE that have so many different reasons for interest. They often tell us what resonated with them and these connections vary widely.
Milwaukee Independent: You lived in Washington DC, which is the best place to be for someone with a Communications specialty. So why did you return to Milwaukee, and how does it compare?
Mame Croze McCully: I went to DC after I graduated school. It was a great place to start a career and to be young. I loved the experiences I had there, however, I always had plans to move back to the Midwest. My hope was to come home and to use my experiences, enthusiasm, and love for this city to make a positive impact on the community. For those who knew me in DC, they were not surprised when I announced I was moving home. The sentiment was "finally!" because people knew of my passion for this place. Milwaukee, while very different than DC, is wonderful. It is a town that offers a great quality of life, so many cultural options, great restaurants, festivals, and culture. As a new mom, it is a great place to raise a family and we spend a lot of time being out and enjoying all this city has to offer.
Milwaukee Independent: When you applied for the job as Executive Director for the Milwaukee County Historical Society (MCHS), did the organization consider your age a risk?
Mame Croze McCully: I was pleasantly surprised at how open the Board was to considering me as a candidate. It is also what I saw in them, the fact that they would be open to new ideas and to moving full speed ahead with building the Society as the community's center for learning about and celebrating Milwaukee. The biggest risk to any organization is a leader who believes in continuing the status quo. If you look at businesses and organizations of the past that have survived through today, they have constantly changed and adapted. So I think the Board was looking less at age and more at attitude.
Milwaukee Independent: What was the status of the Historical Society when you arrived, and how have your efforts helped transform it?
Mame Croze McCully: The Society has always been a wonderful resource for Milwaukeeans but not as well-known as we would hope. It also had some turnover in leadership but was doing so many great things, and with the potential to do much more. It is the efforts of the dedicated staff, volunteers and Board that have allowed the Society to be more present in Milwaukee, and that is really our greatest goal right now. It is one we are beginning to achieve. We are making meaningful collaborations, offering dynamic and unique programming, and ensuring we continue to do things like our annual holiday and Billie the Brownie exhibit. I hope that more and more people identify with MCHS as a destination for celebrating their heritage, and appreciating this amazing community that we have and their role in it.
Milwaukee Independent: Our heritage is not an exciting subject to many people, so what motivates you each day at the Historical Society?
Mame Croze McCully: People enjoy history as it relates to them or their interests. So I am motivated by finding unique and interesting ways to connect with people, and to relate Milwaukee and its history to the story of who they are. Other organizations in Milwaukee, popular television shows, and local historians, also do the same. I think the more people know, the more they enjoy the stories behind our great city. For those who already enjoy history, it is great to hear from them after their visit, if they were excited to learn something new or to see something that had deep meaning to them.
Milwaukee Independent: Having grown up in Milwaukee, what is the biggest change you have witnessed?
Mame Croze McCully: One of the characteristics of Milwaukee that I missed so much while living in other places was Lake Michigan. I have been so pleased and supportive of the tremendous emphasis and progress on sustainability programs that we have seen in recent years. From the revival of the Menominee Valley as a confluence of emerging manufacturing and green sustainability, to the revitalization of the Milwaukee River and its banks, to the overall protection of our fresh water.
Milwaukee Independent: Is there one question the Historical Society gets asked most often?
Mame Croze McCully: "Would you like to add my grandmother's wedding dress to your collection?" I joke a bit, but this is a common donation offer and the type of item that we do have a good amount of within the more than 60,000 artifacts that comprise our collections. I think the neat thing about this place is that our days, what we are learning about, who we are interacting with, and what the subject is constantly changes. This week ranged from a conversation about Milwaukee breweries to Milwaukee's fish fry culture and the Milwaukee Braves. Every day is unpredictable and while it can make for some very interesting times, I think many of us would say it is what we love about the Historical Society.
Milwaukee Independent: What cultural legacies do you think Milwaukee is best at preserving, and where does it fail?
Mame Croze McCully: I think one of the great parts of Milwaukee is how diverse the population is and has been. This has evolved over time and continues to do so. When it comes to what we preserve, I think documenting and understanding the many cultures that are present in Milwaukee is something we do well and that we could also improve upon. One of our goals is to build our collections, specifically the historic documents and photos, that represent the heritage and cultures of Milwaukeeans. We are actively doing so by building relationships with people, groups and organizations throughout Milwaukee and by being present throughout the County. When we do have these collections, they are organized in a way so that as people visit our research library, we can immediately offer them relevant documents, images, and resources.
Milwaukee Independent: The early settlers of Milwaukee were devout in their faith, as seen in the amazing cathedrals and churches in the city. What religious objects does the Historical Society have in its archive?
Mame Croze McCully: Probably the most interesting is a collection given to us by Mario Carini that includes a large variety of items from Our Lady of Pompeii Church. There are statues, monstrances, candlesticks, vestments, and more. Known fondly as the Pink Church, this revered Third Ward gathering place was demolished in 1967. Carini was devoted to preserving and sharing the history of Italians in Milwaukee and donated a large collections of artifacts and documents. But items from the Pink Church really stand out as special religious objects in the collection. Some of these items are displayed at Festa Italiana in their popular annual celebration.
Milwaukee Independent: What is the most treasured object the Historical Society has in its archive, and the most peculiar?
Mame Croze McCully: The most peculiar could be the cow's hairball used by kids as a baseball, the mummified cat, or the chair and matching stool made out of bull horns. My favorite item is a set of blue ribbons that were awarded to Pabst in 1904. Many people would be surprised to learn that Pabst never won a blue ribbon for their beer. They won a gold medal. The 10 blue ribbons were awarded for their draft horses at the St. Louis World's Fair. These are the ribbons that are in our collection. It is interesting to note that these ribbons were won for draft horses in a town otherwise known for their own draft horses.
Milwaukee Independent: Preserving a city's heritage takes a lot of space, how does the Historical Society manage its archive? And is it running out of room for storage?
Mame Croze McCully: The Society has more than one million documents and photos, and more than 60,000 artifacts. They are stored on-site at our downtown museum and research library, and at a storage warehouse. We are constantly working on better organizing and storing methods since our collection is constantly growing. We are selective about what we take in and this helps us to make sure the items align with our mission. It also lets us plan for the room we will need in the future to preserve new things that will be vital to making our collection even more comprehensive. We also have sites throughout the County that help us to take on new items that have a place at those locations, like Trimborn Farm, the Jeremiah Curtin House in Greendale, the Lowell Damon House in Wauwatosa, or the Kilbourntown House in Shorewood.
Milwaukee Independent: If you had a blank check to accomplish one thing for the Historical Society, what would it be?
Mame Croze McCully: It would be used to expand the hands-on educational experiences for all Milwaukee County youth at all of the Society's sites.
Milwaukee Independent: How can people help support the Historical Society's mission?
Mame Croze McCully: People can support the Society in many ways. Through the donation of historic documents, photographs, and objects. Or by becoming a member or making a donation. Also, giving time is very important. We need people to help with our student education programs, as volunteer docents or gardeners in the warm months at our historic sites. Or for carpentry and other trade skills to help us preserve and care for our historic buildings. By supporting the Society in any of these ways, we are able to further our mission and to serve more people.
Milwaukee Independent: What would surprise people to know about you?
Mame Croze McCully: Because we are a Historical Society, I think people usually expect me to be much older than I am. When I started this position I was 29.