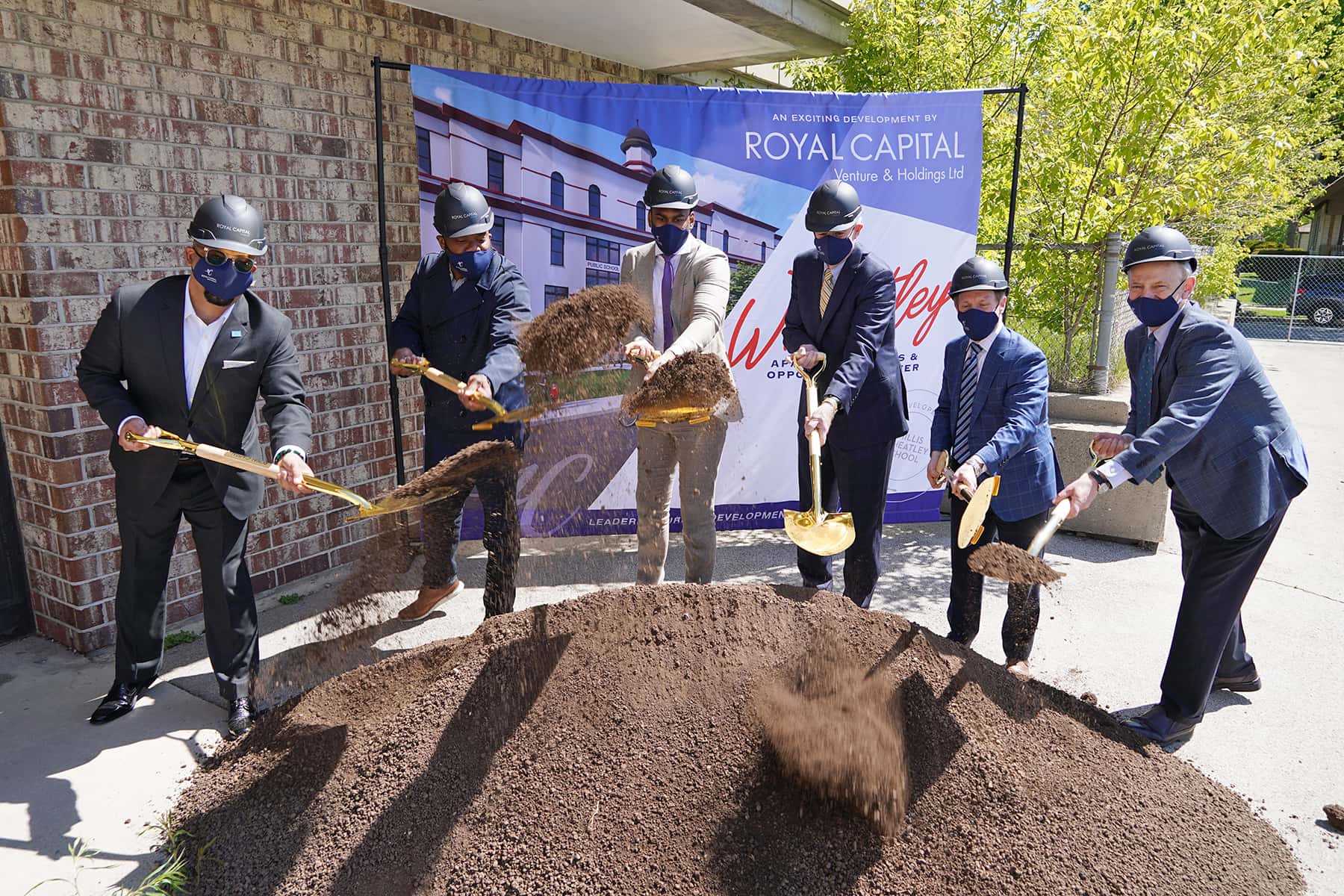 Royal Capital celebrated the start of its $22 million redevelopment of the former Phillis Wheatley Elementary School, located at 2442 N. 20th Street in Milwaukee on May 13.
It was announced on April 13 that Royal Capital had purchased the site to develop it into safe, affordable, and quality housing for the distressed 53206 zip code. Closed in 2005, the school was named for Phillis Wheatley (1753-1784), who, despite being enslaved, was one of the best-known poets in pre-19th century America and was the first African-American and the second woman to publish a book of poems.
Royal Capital executives, Alderman Russell Stamper II, and Milwaukee Mayor Tom Barrett were joined by Royal Capital's financial backers to break ground before a crowd comprised of community, business, and political leaders. Remarks were made by Mayor Barrett, Alderman Stamper, Wisconsin Housing and Economic Development Authority CEO Joaquin Altoro, John Bernhard of JPMorgan Chase, Richard Coomber of Hunt Capital Partners, and Kevin Newell and Terrell Walter of Royal Capital.
"We as a community are excited about this transformative project," said Alderman Russell Stamper, II of Milwaukee's Common Council. "The work to bring this development to the district was significant and will result in a much-needed benefit to the 15th district residents. The beautiful and affordable housing, the classes and mentoring, community cafe and the public gathering places that will be provided through this project are all welcome developments for this area. Thank you and congratulations to Royal Capital on this special day."
The project will include the adaptive reuse of the existing school building and new construction of a four-story building on the same site. In total, the redevelopment will have 140,880 square feet, provide 82 living units, impressive amenities, and useful educational, wellness, and entrepreneurial programming and support for residents and neighbors alike.
"Phillis Wheatley really was a groundbreaker, so it is fitting that we are doing a groundbreaking today," said Mayor Tom Barrett. "This development adds renewed energy to this neighborhood. The Phillis Wheatley redevelopment is part of our Strong Neighborhoods Plan to strengthen places like Lindsey Heights. The City of Milwaukee added financial support so that this project could move forward, and that's an investment that will pay off for this area and the entire city."
Forty-two units will be in the existing building and 40 more will be in the new construction building. The units will be a mix of one-bedroom, two-bedroom, and three-bedroom units. The majority of the units will be mixed-income, while some units will be market-rate units. The amenities on site will include a fitness center, a community room, a media room, a demonstration kitchen, and a cafe.
"This redevelopment is the perfect example of what we're trying to achieve at Royal Capital," said Kevin Newell, Founder and CEO of Royal Capital. "We want to be a catalyst for positive change. In addition to quality aesthetics across the campus, we're also providing amenities, programming, and education that will add value to the residents of the neighborhood. With Phillis Wheatley being my former neighborhood school, it's my honor to lead such a transformational opportunity."
In part, the project is receiving funding from a developer-financed tax incremental financing (TIF) district, low-income housing credits, historic preservation tax credits, a grant from Milwaukee's allocation of federal HOME funds, a Federal Home Loan Bank grant, and developer equity. JPMorgan Chase and Hunt Capital Partners are financing the project.
"We are incredibly proud to announce this place-based investment," added Newell. "This development is vested with great story telling. Not only providing much-needed, quality housing, services and programming that will contribute to the ongoing rejuvenation of the 53206 zip code, but it also pays tribute to an incredibly inspiring Black woman. In addition, it's been a very nostalgic moment in walking these halls again, as Phillis Wheatley Elementary happens to be my neighborhood school that I first attended in K4."
Joaquín Altoro, Executive Director of WHEDA, gave a passionate speech to highlight recent achievements by developers of color. But to also call attention to the need for creating a sustainable pipeline for them.
"Imagine what Kevin Newell could have already accomplished if he had the same access to opportunities," said Altoro "This building is amazing, but we have to have an amazing commitment to our developers of color. Black excellence is not just Kevin Newell. Black excellence is an ecosystem that supports Kevin Newell."
Construction technically began last month and is slated for completion in Spring 2022. The monthly rent will depend on the size of the unit and is expected to range in price from $370 to $1,125.