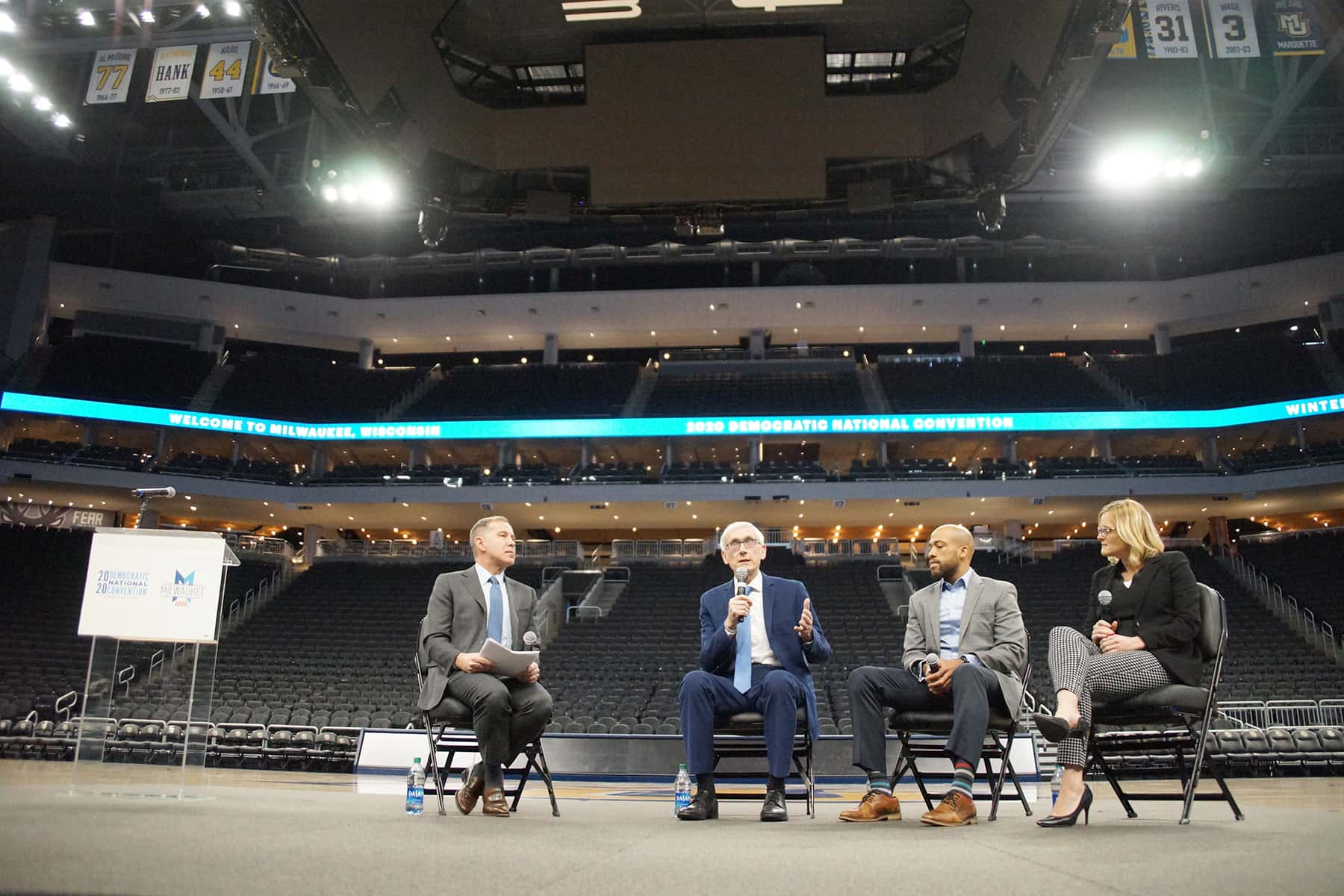 The Democratic National Convention Committee (DNCC) and the Milwaukee Host Committee welcomed members from national news organizations to Milwaukee on January 7 for the winter media walkthrough, with events at the Fiserv Forum and Milwaukee Convention Center.
Media walkthroughs are held once in winter and once in spring to provide members of the media an opportunity to be updated on convention planning, and to learn operational details as they begin to develop their own plans to attend and cover the convention from July 13 to 16.
"Members of the media play an important role in bringing the story and the message of the Convention to millions of voters during this critical election year," said Joe Solmonese, CEO of the Democratic National Convention Committee. "We'll be making history this year – not just because we're nomination the next president of the United States, but because we're doing it in a city that has never before hosted a major party's national convention."
The convention will also be the first time in more than a century that Democrats will nominate their presidential candidate in a Midwestern city other than Chicago. Solmonese welcomed more than 500 representatives from the news industry, and encouraged them to learn about Milwaukee.
He promised that the convention in July would be focused on substance over spectacle, as part of a strategy to be more successful in key battleground states like Wisconsin. Democrats learned a hard lesson from 2016, for not being effective enough with how they communicated their message in swing states.
"Democrats believe in the profound importance of free speech and freedom of the press," added Solmonese. "We believe that our nomination process and official party business should be open, inclusive, accessible, and transparent. And we know that we can't do this without your help.
The winter media walkthrough kicked off the night before at Discovery World on January 6, with a welcome reception featuring remarks from Congresswoman Gwen Moore, Mayor Tom Barrett, and Milwaukee 2020 Host Committee President Liz Gilbert.
"There's a renaissance happening in Milwaukee, and it's one that, as the host committee, we are very proud to highlight. We're here to showcase what makes the city so special: its distinctive neighborhoods, its incredible diversity, its rich history, and – most of all – its hardworking people," said Liz Gilbert, President of the Milwaukee 2020 Host Committee. "We want to leave a lasting and positive legacy that contributes to the growth of this region for years to come. We'll do that by increasing our civic engagement efforts and making a commitment to diversity and intentional inclusion."
Programming for the January 7 event included a Q&A with Wisconsin Governor Tony Evers, Lt. Governor Mandela Barnes, and state Treasurer Sarah Godlewski about the significance of the convention being held in Wisconsin. Governor Evers talked about the lessons he learned from the 2018 election, and how to apply those efforts to be more thoughtful and intentional to the 2020 electoral landscape.
"I think the message is to focus on some really specific issues, making sure that we do it in a pragmatic way." said Governor Evers. "Also, I think we need to have a better turnout of voters, and we need to get our young people more involved."
Picking Milwaukee to host the convention has a symbolic significance for Democrats, because the party's 2016 nominee, Hillary Clinton, never campaigned in the state during the primary. That was one of the factors cited as why she lost the state to Donald Trump, by less than 23,000 votes. Holding the convention in Milwaukee sends a clear signal that Democrats do not plan to overlook Wisconsin this time.
"As a native of Milwaukee, it is very exciting that we are this center of the political universe right now with the convention, the next President of United States will be decided in our town," said Lt. Governor Barnes. "I think the lasting impact on the city and the entire state is that we can no longer take states like Wisconsin for granted, or cities like Milwaukee."
Trump was the first Republican presidential candidate to carry the state since 1984. Other than Barack Obama's two wins, Wisconsin has been decided by less than one percentage point in three of the past five presidential elections.
The opening discussion was followed by a walkthrough of the convention complex from the Fiserv Forum to the Wisconsin Center, and breakout information sessions for the media regarding credentials, workspaces, housing, the general convention timeline, and security.
As part of a welcoming package that introduced visiting members of the media to Milwaukee with souvenir mementos specific to city, a small handbook was included. Along with logistical information, it featured some local trivia.
Dubbed "America's Fresh coast," the city is located at a natural harbor on the Great Lakes, where three rivers – the Milwaukee, Menomonee, and Kinnickinnic – converge.
Over 23 million visitors come to the Milwaukee area each year, supporting a tourism industry in the city valued at 5.7 billion dollars.
Milwaukee is nicknamed Cream City because of its distinctive cream-colored brick and Brew City because of its rich brewing history.
Milwaukee was incorporated in 1846, bringing together three separate villages named after Solomon Juneau, Byron Kilbourn, and George H. Walker.
Several city tours by bus also showed off Milwaukee landmarks and the vibrant fabric of neighborhood communities, including an overview of the city by Rocky Marcoux, Commissioner of the Department of City Development. The excursions put a spotlight on the metro area of about 1.6 million people, and planted seeds for future topics of news coverage.
Milwaukee Independent is an award-winning and advertising-free daily news magazine that advocates for inclusive social understanding by publishing positive news content that covers a wide range of topics as a catalyst for community development. Our content is open to the public, with no access restrictions. As a nonprofit news organization, we are supported through charitable contributions from organizations and individuals in order to produce our activating, engaging, and solution-focused coverage of news in Milwaukee. Please consider supporting our work or making a donation.