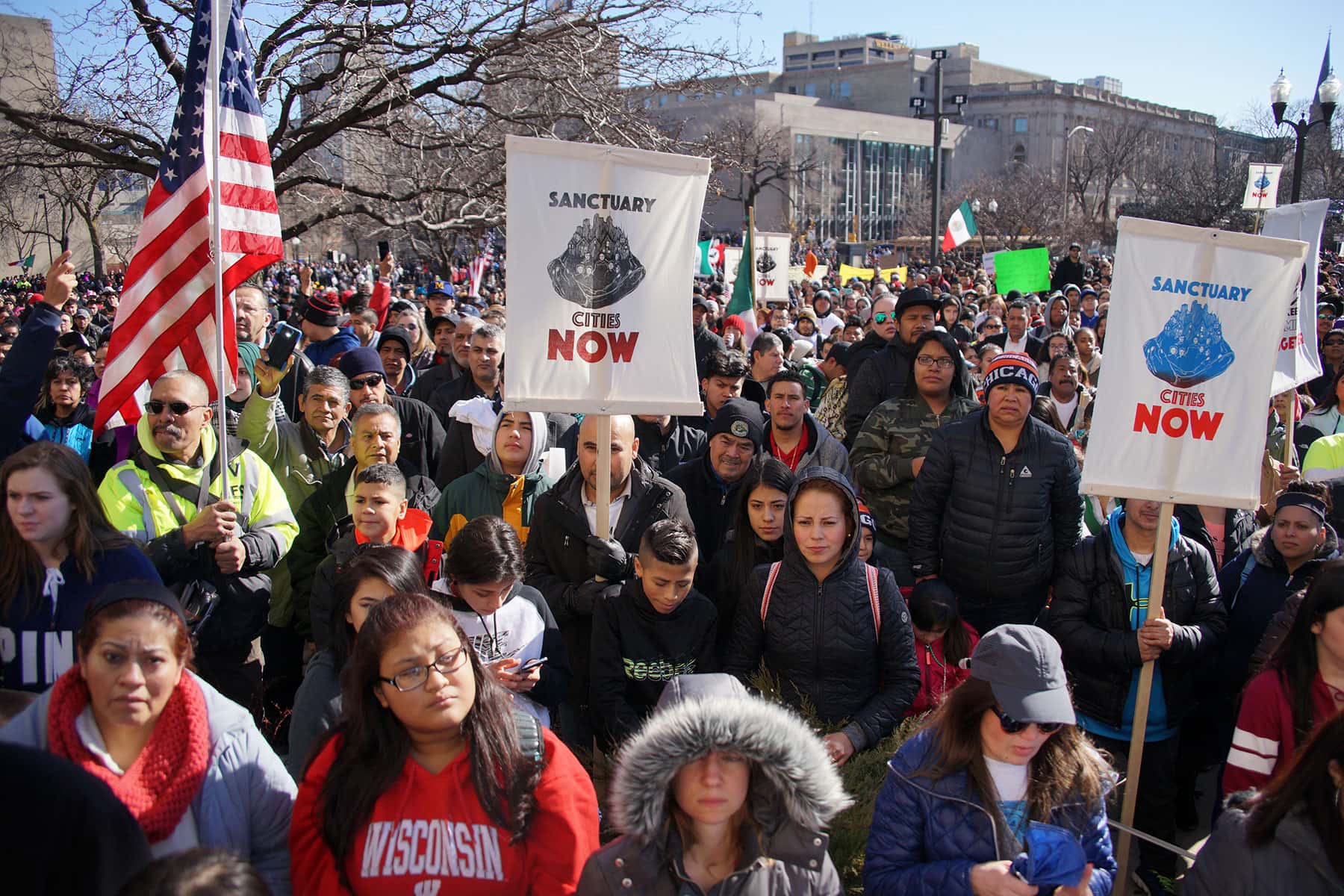 An estimated 30,000 people marched on February 13 to protest Milwaukee County Sheriff David Clarke's intention to enroll his department in the Federal 287g program, which would empower his deputies to act as ICE agents.
Voces de la Frontera organized the "Day Without Latinos, Immigrants, and Refugees" event. A similar protest took place a year ago in Madison, that brought thousands of Hispanics and others to the state Capitol to oppose Anti-Immigration legislation.
"Trump wants to paint immigrants as something we should be afraid of, that it is something bad," said Christine Neumann-Ortiz, the director of Voces de la Frontera. "When people do this general strike, what they show is that immigrants are actually lifting up this economy. When they withhold their contributions we see a financial decline."
Thousands of community members and supporters throughout Wisconsin stayed away from work and school, closed their businesses, left their farms, and joined the march on February 13. The demonstration started at Voces de la Frontera's offices and ended at the Milwaukee County Courthouse. Dairy, hotels, restaurants, manufacturers, grocery stores, and other industries were affected by closures and labor stoppages.
"This city and this country cannot live or function without Latinos, immigrants, and refugees. We are physicians, scientists and engineers, we are chefs and waiters, we are farmers and farmhands, we are business owners and domestic helpers. We give life to our city and to our country, and we are not going anywhere," said Janan Najeeb, President of the Milwaukee Muslim Women's Coalition. "I can't get over the hypocrisy from people that claim such concern for unborn fetuses. Yet they turn their back on living, breathing, walking, talking human beings, fleeing war and violence. They are willing to split families apart while claiming a monopoly on family values. What kind of ideology is that?"
As a frame of reference for crowd size, the protestors were 158% the capacity of the BMO Harris Bradley Center (19,000) and 71% of Miller Park (42,200).
These images capture every step of the march and rally, documenting the massive population that came together to raise awareness that scapegoating Latinos, immigrants, and refugees through fear was not a solution to very real public problems.
"My husband was deported. I know what that feels like and the impact it had on my children. Immigrants are the backbone to the dairy industry in my area and without them, the economy would get worse for all of us. People should not be afraid of law enforcement, they should not live under the threat of their families being torn apart. I am proudly marching to say no to Sheriff Clarke's plan to enroll in 287g. If it starts in Milwaukee, it will spread to other counties."
– Jennifer Estrada, community leader
Read the article and view the photo essay that were produced as companion features for this news report.