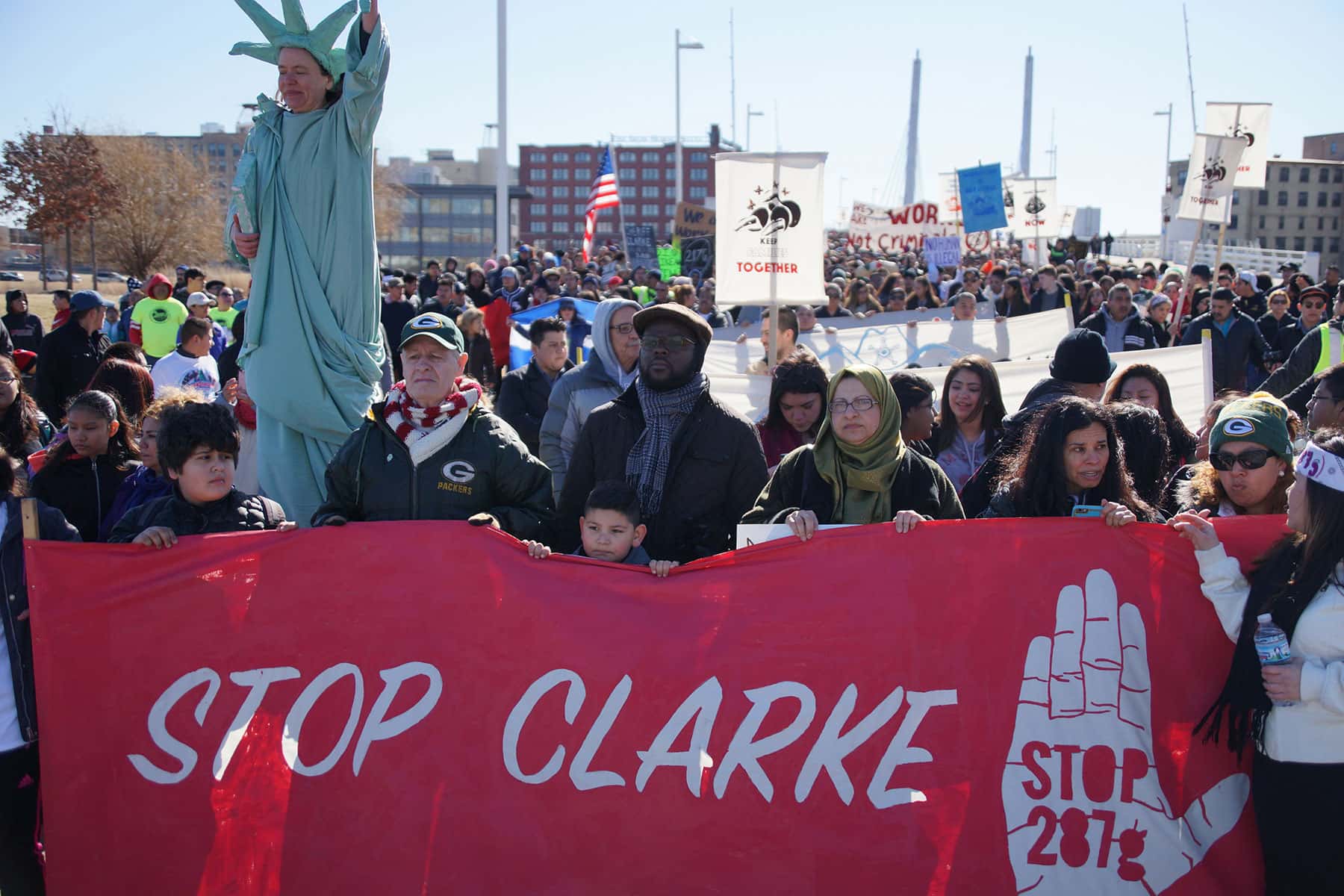 On February 13 more than 150 businesses closed and thousands went on strike to stop Milwaukee County Sheriff David Clarke from turning sheriff deputies into Immigration agents.
An estimated 30,000 people gathered at the steps of the Milwaukee County Courthouse in protest of President Trump's executive orders on immigration, and the resulting wave of immigration raids that swept across. The demonstration also aimed to stop Milwaukee County Sheriff David Clarke from enrolling his department in the federal 287g program, which would deputize his force to act as ICE agents.
The events, known as a "Day Without Latinos, Immigrants, and Refugees," began as a massive march from the offices of Voces de la Frontera, through the streets of downtown Milwaukee at midday, and to the Milwaukee County Courthouse. At one point in the demonstration, the crowd stretched close to a mile over the 16th Street viaduct.
The diverse march included hundreds of Muslim community members. Many of them also went on strike, closed their businesses, and joined the march as the protesters entered downtown.
Throughout Wisconsin, more than 150 factories, grocery stores, bakeries, construction companies, auto dealers, restaurants, and many other types of businesses closed their doors in solidarity or due to worker absence. In Milwaukee alone the total was 120. Many other businesses, including hotels, manufacturers, and dairies experienced decreased production due to work stoppages.
"Today, we escalate the national and international struggle against Trump's executive orders, which aim to expand the machinery of mass deportation and legalize discrimination based on race and religion," said Christine Neumann-Ortiz, Executive Director of Voces de la Frontera. "We came from more than 25 cities in Wisconsin to show Trump and his lapdog Sheriff Clarke that the people of Milwaukee, the people of Wisconsin, and this whole country reject the 287g program and their mass deportation plans. Today, we organized a Day Without Latinos, Immigrants, and Refugees to use our economic power, through work stoppages, small business closures and our consumer boycotts, to defend our families and communities."
Following the march, the peaceful crowd rallied on the steps of the Milwaukee County Courthouse, listening to music and speeches from community leaders. Elected officials who spoke included Milwaukee County Executive Chris Abele, Milwaukee County Supervisor Supreme Moore-Omokunde, and State Representative JoCasta Zamarripa of Milwaukee.
"This country is made great and is made strong by immigrants. This isn't a Republican issue or a Democrat issue, this is an American issue. Thank you for your voice," said Milwaukee County Executive Chris Abele, as he welcomed the crowd of thousands.
Under the Federal Immigration and Customs Enforcement 278(g) program, Milwaukee County deputies would be allowed to perform immigration law enforcement functions in the county. Sheriff Clarke, a strict supporter of President Trump, has pushed for adopting the Federal program. Demonstrators at the rally said that they feared that Milwaukee County deputies would become ICE agents and begin arresting immigrants.
"This is not a struggle that has Muslims, immigrants, and refugees on one side and everyone else on the other side," said Janan Najeeb, President of the Milwaukee Muslim Women's Coalition. "This is a struggle between people that stand for brotherhood, compassion, mercy, justice and human dignity on one side and those that stand for hatred, racism, xenophobia and injustice on the other side. Scapegoating Latinos, immigrants and refugees distracts from addressing real issues and offering real solutions."
Clarke has praised Trump's executive order that expands ICE's enforcement priorities to include most undocumented immigrants. The Sheriff is known for his outspoken behavior and extreme views on law enforcement, particularly in the African American community.
"Please accept my regrets. I will be working with agents from Immigration and Customs Enforcement helping them identify criminal illegal aliens and therefore cannot attend your rally being held for me," said Sherif Clarke, in a statement on Facebook in response to the march notice.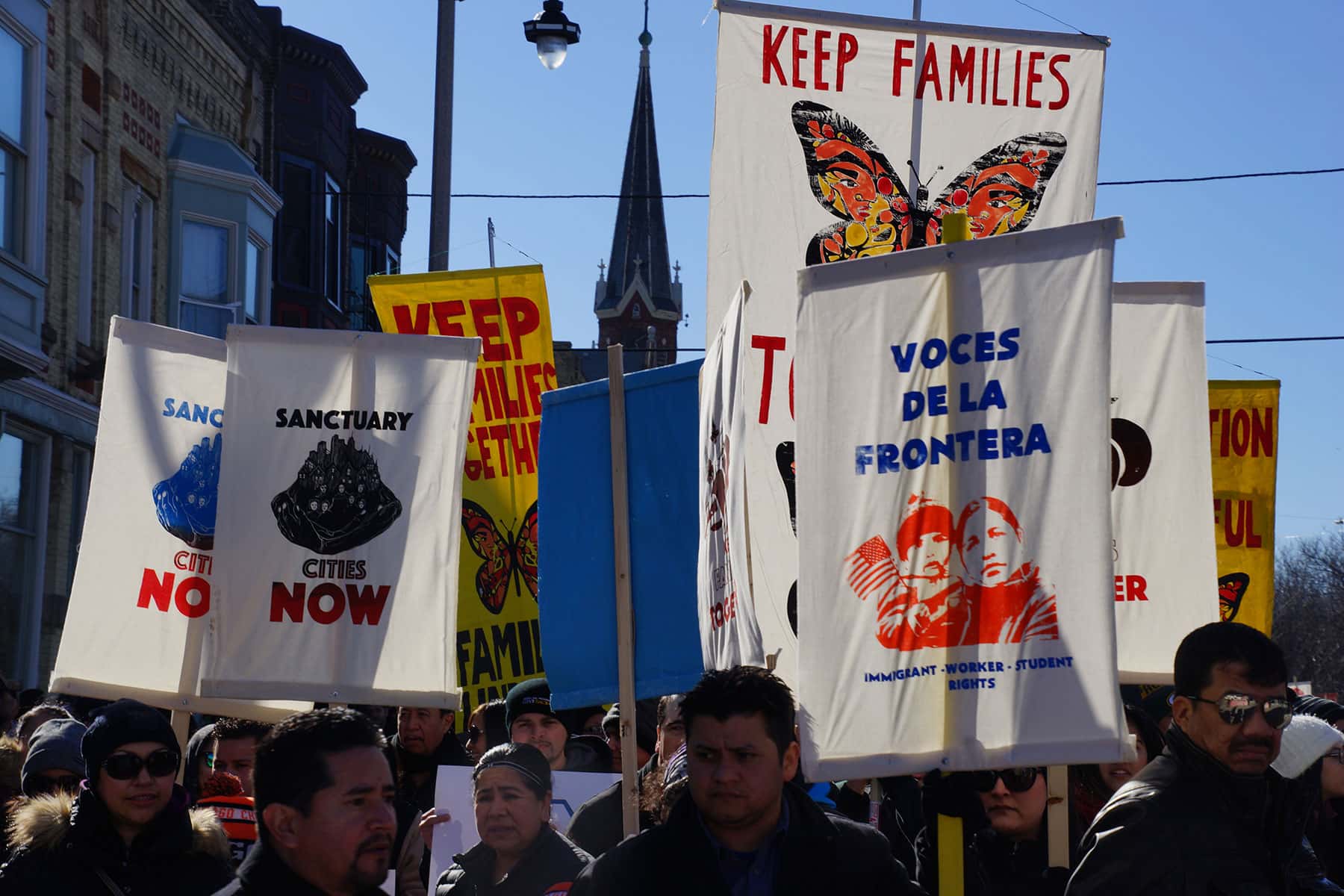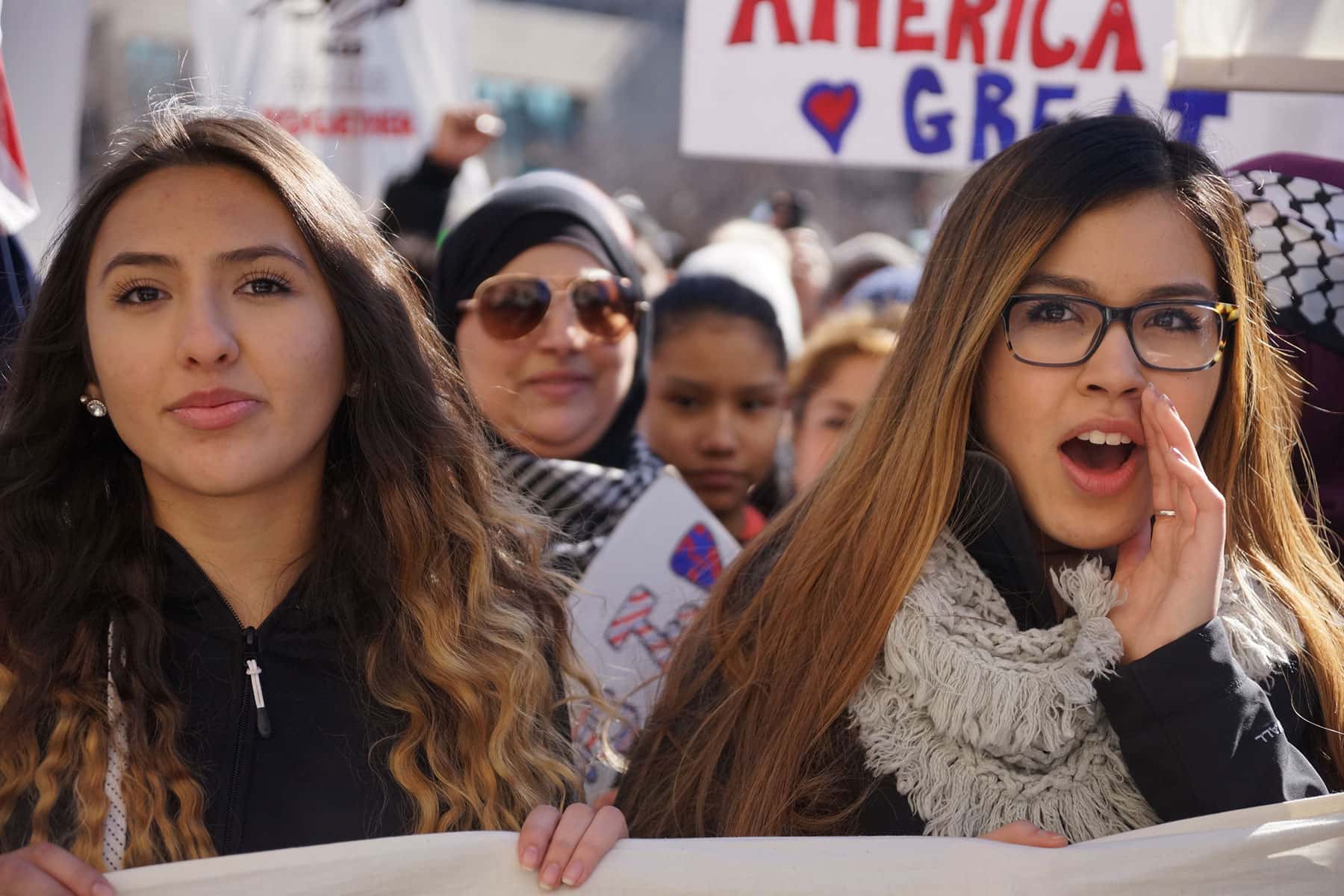 Read the article and view the photo essay that were produced as companion features for this news report.