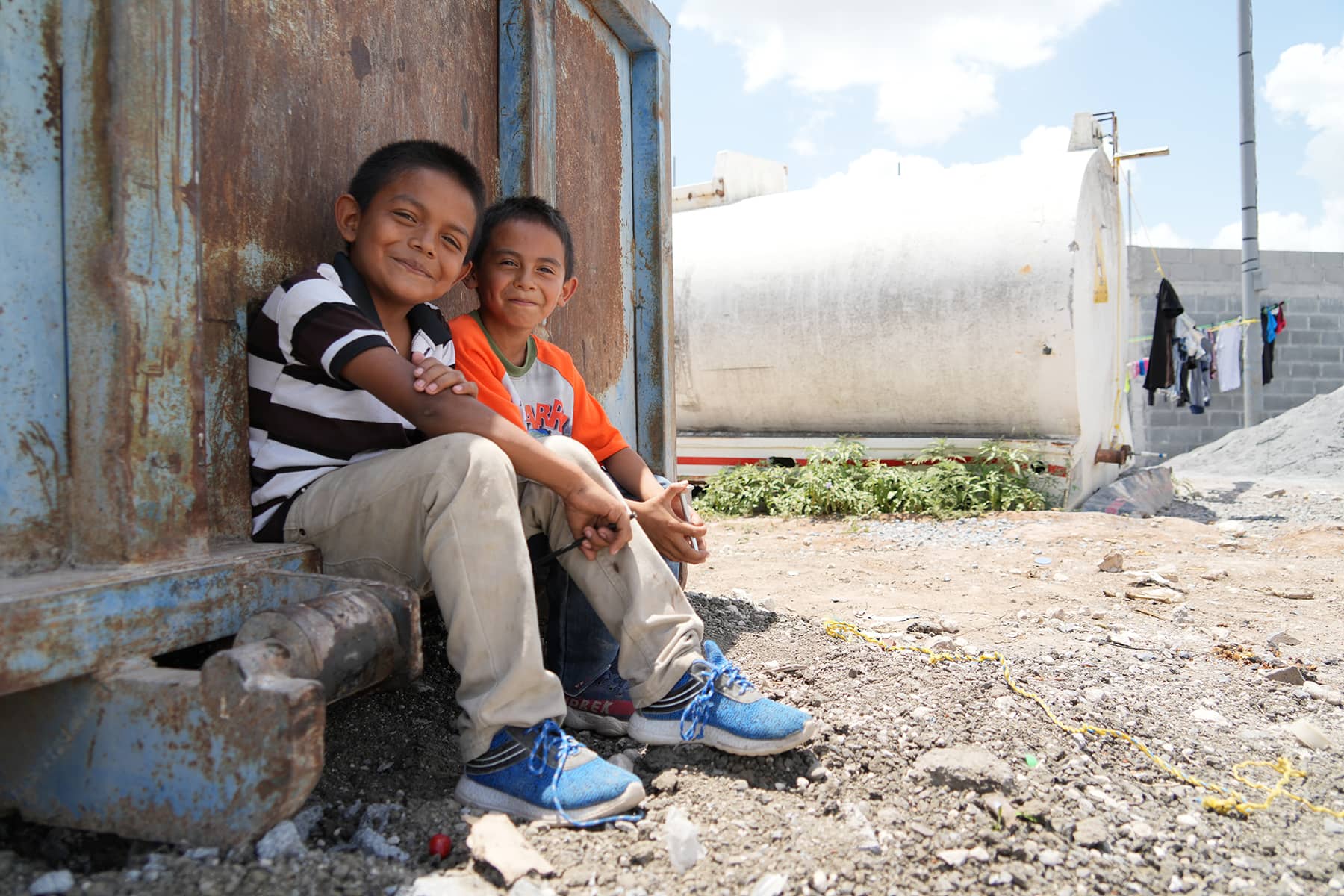 MISSION TO THE BORDER: Milwaukee-based Forward Latino led a delegation to the southernmost border section between Mexico and the United States. Leadership and board members of the nonprofit Hispanic advocacy organization planned the trip as a way to separate politics from the reality on the ground, by seeking first-hand reports for themselves. The group met with U.S. Customs and Border Protection, immigrants, refugees, relief agencies, border city officials, local faith leaders, and the government of Mexico. The spectrum of voices and views offered a closer narrative to the truth of the actual situation at the border. mkeind.com/missiontotheborder
This article and photo essay takes a limited look at the situation along the Mexican-United States border, regarding facilities that care for those seeking relocation to America. The information and visuals primarily explore what led to the creation of the Senda de Vida shelter, and its condition in late June of 2022.
Families fleeing from their oppressive situations in South American countries are often incorrectly referred to as "immigrants," when they are actually "refugees." These people are seeking asylum in America, not simply relocating. Rightwing ideology basically classifies anyone south of the border as both something to fear and also less than human, in order to promote an agenda of fear. The political weaponization of the term "immigrant" also makes it easier to deny help and compassion to these vulnerable people.
Likewise, designating a facility as a "camp" has far different emotional and political connotations than calling it a "shelter." Most perceptions see a shelter as a place where people get care. By contrast, a camp has the image of where terrible people do terrible things – a big outdoor space where rot takes hold as people wait.
How these definitions are used depends on the circumstances of why a facility was created. Some places are purposefully built while others spring to life out of necessity to survive. A shelter does tend to be a smaller enclosed facility with the ability to offer better services, as people move to America or find local work opportunities in Mexico.
But they are not scalable for processing thousands of people who require the basic needs of food, clothing, and a place to sleep that is safe. Complicating issues of disfunction and the process of assigning blame has been Title 42.
Title 42 was first invoked in March 2020 as a pandemic health provision, which enabled the rapid expulsion of close to 2 million immigrants and asylum seekers back to Mexico. The Trump-era policy was implemented by his administration, under the pretext of the emerging coronavirus pandemic, to circumnavigate the due process of the court system.
The MPP program (Migrant Protection Protocols) claimed success under Trump at reducing applications for asylum and blocking those seeking a better life in America. But the effort was poorly implemented, and the misrepresented numbers did not reflect the actual reality. Ultimately the process merely punished people and delayed actual progress.
As tens of thousands were left stranded, a camp in the Mexican city of Reynosa formed at a public plaza. It became an improvised refugee center in March 2021. Located right across the U.S. border from McAllen, Texas, many people sought shelter at the Reynosa camp in tents or under tarps to flee the violence or persecution in their home countries.
It was estimated that 2,000 migrants, including families with young children, lived for months in the open camp – which eventually grew to cover the entire public plaza.
Residents lived in squalid conditions, enduring heat waves and a lack of sanitation. They depended on donations of food and supplies from church groups, while living at the mercy of criminals who raided the camp to kidnap and rob the most vulnerable. The mounting dangers at the Reynosa camp eventually raised concerns with many immigration advocates.
An overwhelming number of asylum seekers fled violence from the Northern Triangle countries of El Salvador, Guatemala, and Honduras. But thousands of Ukrainians escaping from the brutal and unprovoked Russian invasion also sought refuge in America through Mexico.
In May, it was incorrectly reported that Reynosa officials had cleared the camp, using force to push the occupants to relocate. The incident was twisted by political opponents, but stood as a powerful reminder of the human toll that resulted from Trump's effort to keep immigrants out of the United States.
Sister Norma Pimentel, executive director of Catholic Charities of the Rio Grande Valley, escorted a fact-finding delegation from the advocacy group Forward Latino, along with a photojournalist from Milwaukee Independent, to the Senda de Vida family refugee shelter in Reynosa. During the trip she explained what actually took place in the Plaza camp. As an eye witness, she told a different story than what was widely reported.
"The camp was a mess. It was terribly for the families. There was a lot of fever. And so what happened was that we were very concerned for the families and the children that were being kidnapped. So many things were happening that the city government and the Mayor said, 'help me clear this, is not right. It's wrong, I have to look out for the best interests of the city and everyone.' But he didn't want to move in and tell them to move, because they were not going to want to cooperate. So we started to move families out in groups of 100 and processing them to cross into United States, through the exemption program of Title 42. We got it to the point where only a thousand people were left.

For the last few hundred, I asked a pastor I knew and had worked with if there was room in the shelter he managed. I thought we could invite people to move there, and he agreed. I asked the people if they wanted to come to the shelter. Sure enough, they all say yes. But the pastor could not organize them, so he left that for us to do and we would follow him.

So basically from that point where we got ready, all the people with families and children with their babies or luggage, everything, and left the square singing in the middle of the night. That's how it was done. When every single person was out after midnight, I called the mayor and said, the plaza was clear and he could take it over. They brought in equipment to clean up the plaza and return it back to the city.

Everybody had either crossed the border or got to a shelter in the right way. But the thing wass that nobody knew what we were doing. We didn't announce it to the media, because we didn't want it to do it during the day. The media would just inform those who wanted to create chaos and hold us back.

It all went smoothly, but because there was no public witness, people made up stories that the city demanded they leave by using machine guns. I read all different types of news stories, and none of those things were true. There was even a Jesuit podcast that really upset me, and I asked them why are you saying all these lies?

I witnessed it all. I was there, I was part of it. It was not until after we – until all the people were safe, that the city moved in to clean the plaza. I think the move was the best thing that could have happened. The families are safer. Every place is difficult. More people are coming, and we're constantly trying to find the space for them. But at least we got them from an open plaza into a shelter, and we now have five shelters in the community. So that is where everybody goes, and there's less corruption. The gangs and the cartels no longer have control over them, so a lot of good things."
Five family refugee shelters in Reynosa are currently receiving up to 100 migrants daily, consisting of new arrivals and others sent back from South Texas by U.S. Customs and Border Protection officers under Title 42. The new Senda de Vida shelter can hold 3,000 migrants. It has a revolving population of about 2,000 with the majority being asylum seekers from Haiti.
Spirits in the shelter remain high because families feel safe. But aside from processing the unimaginable trauma they experienced in reaching the shelter – especially for the Haitians, many must endure the unrelenting 100-plus degree heat. They wait in disappointment until the path opens for them to claim asylum in the United States.
President Joe Biden's administration planned to lift Title 42 in May, but a Federal judge in Louisiana temporarily stopped authorities from proceeding and left the Migrant Protection Protocols (MPP) in place. But even with fate of Title 42 undecided, Sister Norma is already planning for when the policy is lifted.
"We are very working very close with all the NGOs that are doing work here. We are trying to make sure that we are prepared. If it is lifted tomorrow and people suddenly rush to the border, it will create chaos. So I hope that they implement some type of policy that helps people going through the proper points of entry in a controlled way, instead force people to divert to risky ways like river crossings. That way it gives immigration agents an opportunity to screen everybody and know who is entering the country. People can be processed correctly, and we need that. Especially for families, so we are able to prove things for basic needs like water, food, and a place to be safe."
After visiting the refugee shelter in Reynosa and speaking with its residents, the Forward Latino delegation visited Casa de Migrante de San Juan Diego in Matamoros, Tamaulipas, Mexico across the border from Brownsville, Texas. The facility functions more like a halfway house. It consisted of a traditional building structure, providing safety from the cartel, shelter, and essential services for up to 150 refugees.
Forward Latino's National President Darryl Morin spoke with a family who fled Honduras due to the unspeakable horrors there. They talked about suffering great hardships on their way to Mexico, and they expect more on the journey ahead. But they pray that one day their dream will come true by delivering them to safety in the United States.
Editor's Note: On June 30, the day before this feature was published, the U.S. Supreme Court ruled in a 5-4 decision that President Joe Biden could cancel the Trump-era "Remain in Mexico" program. The controversial policy had required authorities to either jail or deport asylum applicants from Central America, denying any entry to the United States until their cases were resolved. With the Supreme Court's ruling, lower courts must now consider whether the government complied with administrative law to end the policy.