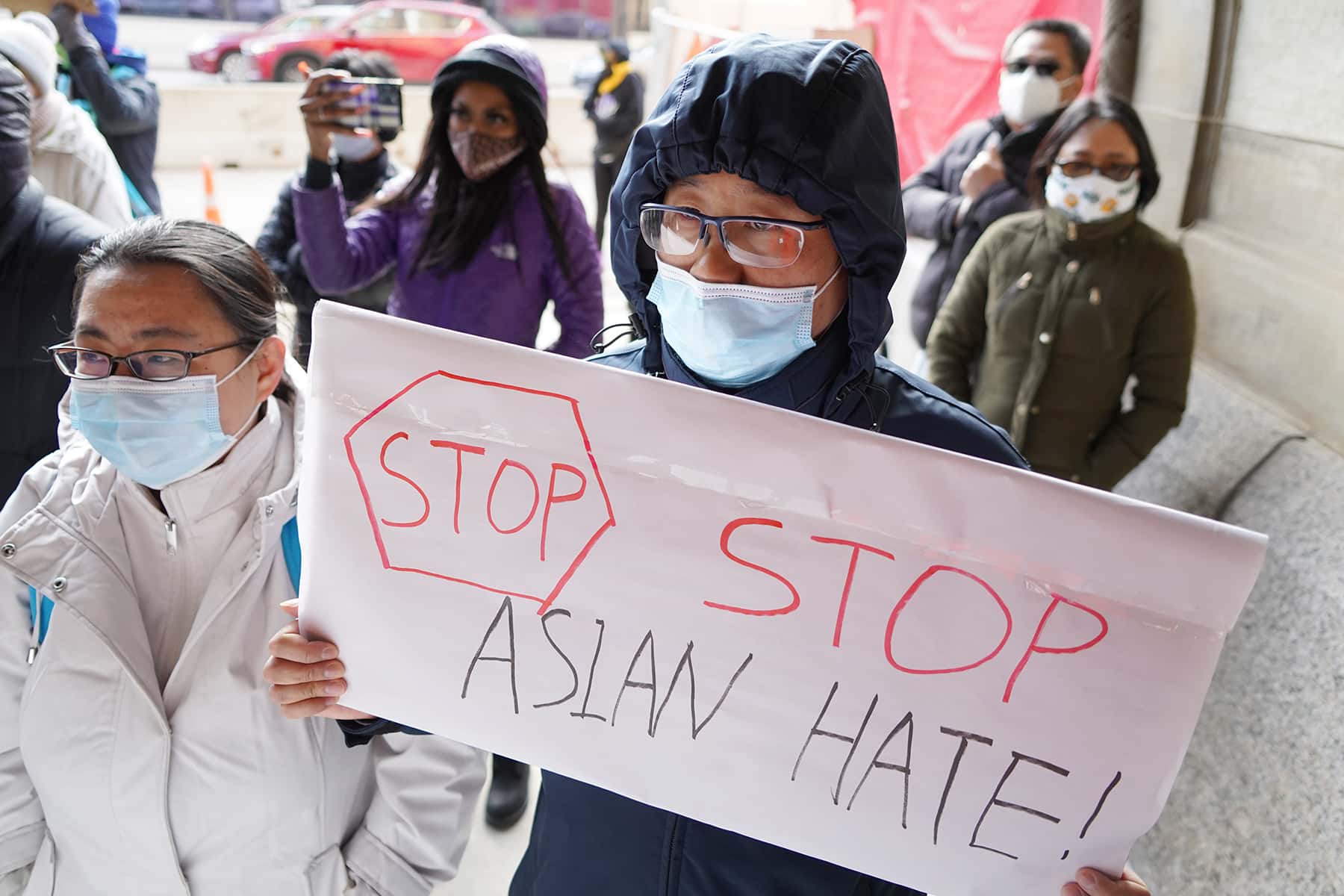 Milwaukee residents gathered with community and religious leaders outside City Hall on March 18 to mourn the women killed during the mass shootings at several Atlanta-area spas, and demand an end to violence and hatred against Asian Americans.
The "Standing Up Against Anti-Asian Violence" vigil was organized by the Asian American Pacific Islander Coalition of Wisconsin (AAPI), with support from many local and statewide organizations – in response to the March 16 mass shooting. That incident involved six women of Asian decent, along with two other individuals, who were racially targeted by a White gunman.
"Anti-Asian hate is not new. It is deeply embedded into the moral fabric of America. Indeed, it is inherent to its history and foreshadowing of a bitter, hateful future if we do not stop it." said State Representative Francesca Hong (D-Madison). "This violence has been heightened and exacerbated by the White Supremacy culture that the previous administration and its supporters perpetuated, championed and reveled in. That is our shameful truth. No one should live in fear in this country and certainly not in Wisconsin, but this is not our current reality."
The Milwaukee event joined similar vigils in cities across the country, and followed recent nationwide #StopAsianHate protests in response to a wave of attacks and racism that have surged during the coronavirus pandemic – instigated by ex-president Trump's racist rhetoric and hate. The spa killings have added to the sense of horror and despair that many Asian Americans already face.
Milwaukee County Sheriff Earnell Lucas and Reggie Moore, director of the Milwaukee Office of Violence Prevention, also condemned the racially motivated killings. Moore said the killings were an example of hatred in action.
"We have to be committed not only to calling it out, but addressing it at its root cause. The greatest way to overcome that is with love and with accountability," added Moore.
According to data from Stop AAPI Hate, 3,800 incidents of hate directed at Asian Americans were reported over the course of roughly a year during the pandemic — significantly higher than the prior year. Women were 2.3 times more likely than men to report hate incidents. Nationally, a 2019 study found that in at least 22 mass shootings since 2011, the perpetrators specifically targeted women, had stalked or harassed women, or had a history of domestic violence.
The theme of denying or downplaying the role of racism — exemplified by a Georgia sheriff's captain suggesting that the Atlanta gunman acted because he was having "a really bad day" has resonated with many Asian Americans and other people of color in the wake of the mass shooting and other recent attacks.