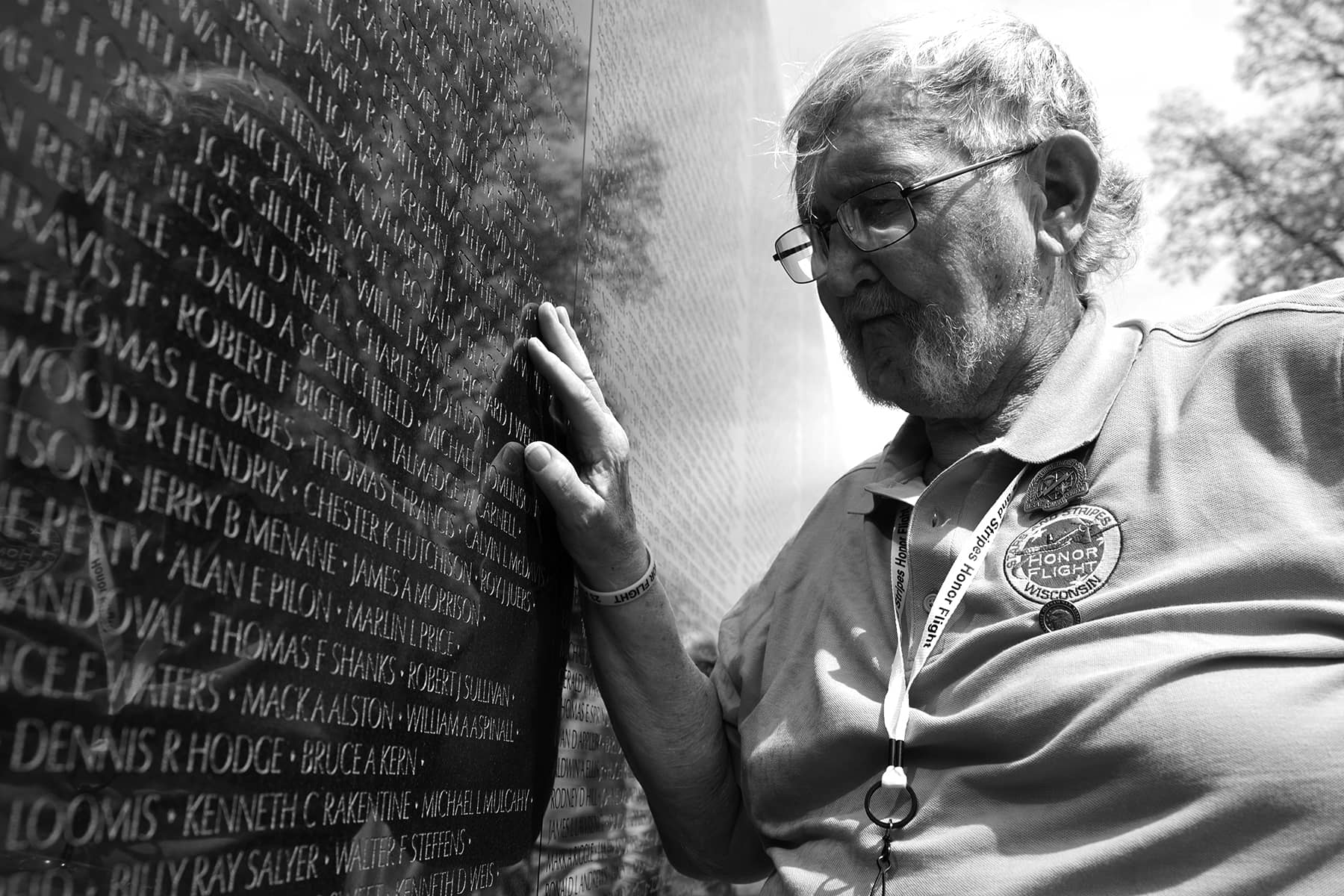 © PHOTO NOTE: All the editorial images published here have been posted to the Milwaukee Independent's Facebook Page.
The 61st mission of the Stars and Stripes Honor Flight embarked on April 23, taking 112 local veterans on a once-in-a-lifetime day trip to visit the nation's capital.
Two Allegiant Airlines A320 aircraft, referred to as Alpha and Bravo, left Milwaukee's Mitchell International Airport with the veterans and their guardians. Of the 112 retired soldiers who made the journey, one had served in World War II, six in the Korean War, and 105 in the Vietnam War. The youngest veteran was 66-years-old, and the oldest was 94.
Over the course of the day, the veterans from every branch of military service saw the changing of the guard at the Tomb of the Unknown Soldier at Arlington National Cemetery, and went on to visit the the U.S. Marine Corps War Memorial, Air Force Memorial, National 9/11 Pentagon Memorial, World War II Memorial, Korean War Veterans Memorial, Vietnam Veterans Memorial, Franklin Delano Roosevelt Memorial, and Martin Luther King, Jr. Memorial.
"Honor flights are about a lot of things, but really they are about the relationships. For me it is watching veterans with their children or grandchildren, sharing things that they've never shared. Somehow they didn't feel comfortable before. But with the presence of other veterans around them, they feel more able to share," said Karyn Roelke, president of Stars and Stripes Honor Flight. "So watching them grow closer, watching veterans bond with a volunteer Guardian that they just met that morning – and by the end of the day they're best friends and members of each other's family. Watching those relationships flourish over the course of the day is one of my favorite things."
All veterans, guardians, and volunteers on Alpha and Bravo flights were fully vaccinated against COVID-19 in order to participate. Sponsored by We Energies, the Stars and Stripes Honor Flights had been postponed in 2020 due to the pandemic. Operations resumed in August 2021 with Mission 57.
Counting the April 23 mission, Stars and Stripes Honor Flight – Wisconsin has flown 8,118 local veterans to Washington DC since 2008. As an all-volunteer organization with no paid staff, the organization is proud that $.97 of every donated dollar goes directly to flying and honoring veterans.
Because the World War II Memorial did not open until 2004, many of the nation's oldest veterans were originally unable to visit Washington DC without assistance. From the desire to thank that generation for their service, the Honor Flight network evolved. It now consists of 130 hubs across the country, and has brought more than 250,000 veterans to visit the national memorials.
However, as the World War II population of veterans has dwindled, followed by Korean War veterans, Vietnam veterans were included in 2017.
"Joe Campbell flew in June of 2017, and he was one of the first Vietnam vets that went," added Roelke. "He was on a lot of oxygen, so we weren't sure how much more time we had to fly him. He came along with Ray Stubbe, and that paved the way for the rest of the Vietnam vets in the Milwaukee area to sign up."
The Stars and Stripes Honor Flight's motto, "Every Day is a Bonus," was taken from a quote by World War II veteran Joe Demler. The Port Washington native took a deferment from high school to join the Army in 1944. Within weeks of completing training and arriving in Europe, he was thrust into the Battle of the Bulge, where he was captured.
Demler was held by the Nazis for months with little food and water available. Of his group that was captured together, he was one of the only survivors. When he was liberated, he weighed 70 pounds. A photo of him in that condition was published on the cover of Life Magazine.
Demler flew on one of the first Stars and Stripes Honor Flights, and he told the story about the two things the learned in the Nazi prison camp. He learned to pray, and he learned that "every day is a bonus."
After a full day in Washington DC on April 23, Alpha and Bravo flights returned to Milwaukee. The veterans were greeted by a silent salute as tribute, then a cheering crowd of hundreds packed into the Mitchell International Airport. Family, friends, and members of the public gathered to welcome the veterans during their homecoming parade, and celebrate their service to the nation.
Photojournalist's Note: Why all the photos are presented in Black and White
Designated by color, four couch buses were used to transport members of Alpha flight around Washington DC on April 23. Another four were used in the same way for Bravo flight. I was attached to the 13 veterans of Alpha Red, along with their guardians and members of the Honor Flight crew.
Honor Flights are a spectacle of vibrant reds, whites, and blues, and that palette was reflected in the images taken on April 23.
But during the photo editing process, the veterans felt lost in the sea of those patriotic hues and overwhelmed by the spectrum of colors. By contrast, monochrome pictures are timeless and express emotion far better than color photographs which communicate information.
The Tomb of the Unknown Soldier at Arlington National Cemetery is guarded 24 hours a day by members of a special detail from the 3rd U.S. Infantry Regiment, known as The Old Guard. The sentinel does not wear any rank insignia, which ensures that the guard is junior in rank to whoever is buried in the tomb.
Likewise, each veteran on Honor Flight 61 wore a shade of blue that was distinctive for which war they served in. There were three different blues for three different wars. But by removing those colors for the purpose of this editorial narrative, the veterans could be seen as a single band of brothers without segmentation. All were equal in their shared experiences regardless of the decade.
And after 60 previous Honor Flights featuring color images, it was decided to try something that no photojournalist had done before and publish a massive photo essay in Black and White. Monochrome would have been the predominate 35mm film stock used by soldiers and their families up until the Vietnam War.
Also, the style fit with the different editorial approach for the feature itself, to let the images give a report of the day instead of interviewing the veterans. The reality is, every veteran from every generation has a story, but not every veteran is willing or able to be a storyteller.
"The Vietnam Vet population in particular is not accustomed to people asking them to tell their story. In fact, the opposite is true. They have been told to hide it, forget it, do not bother us with it. Just get on with your life. It often takes more than a little coaxing to get them to open up. I read and listen to a lot about Vietnam Vets. Time after time I hear that when they landed at home they were told to take off their uniforms before they got off the plane. They had seen their fathers and uncles welcomed home from WWII as heroes. Imagine the punch to the gut feeling after experiencing what they did, only to come home and realize they were not viewed in the same way. It breaks my heart." – Jennifer Pankowski, Honor Flight volunteer
For me personally, documenting the Honor Flight was the fulfillment of several years of effort. It was an opportunity to walk with the generations of soldiers who influenced my youth, and fundamentally inspired my work. The Black and White images captured by combat photojournalists from past wars taught me the lost art of visual storytelling at an early age.
I spent April 23 with these incredible veterans and saw them as individuals. Only when we returned to the homecoming in Milwaukee did I see them in the context of family, being a husband, father, brother, or grandfather.
Stars and Stripes Honor Flights were designed in part to bring healing to veterans, and that was the story I wanted to tell with my images. By recording the emotions of the day and presenting them as a visual record, it remains my hope to encourage reluctant veterans that the trip is something they should and can do.
It is an opportunity not only for themselves, but also for their families to share. A very special trip, reflected in this collection of images, when a group of heroes were bound together by a timeless experience of the service and sacrifices made for their nation. And a journey of love for all those who have been connected to their lives.