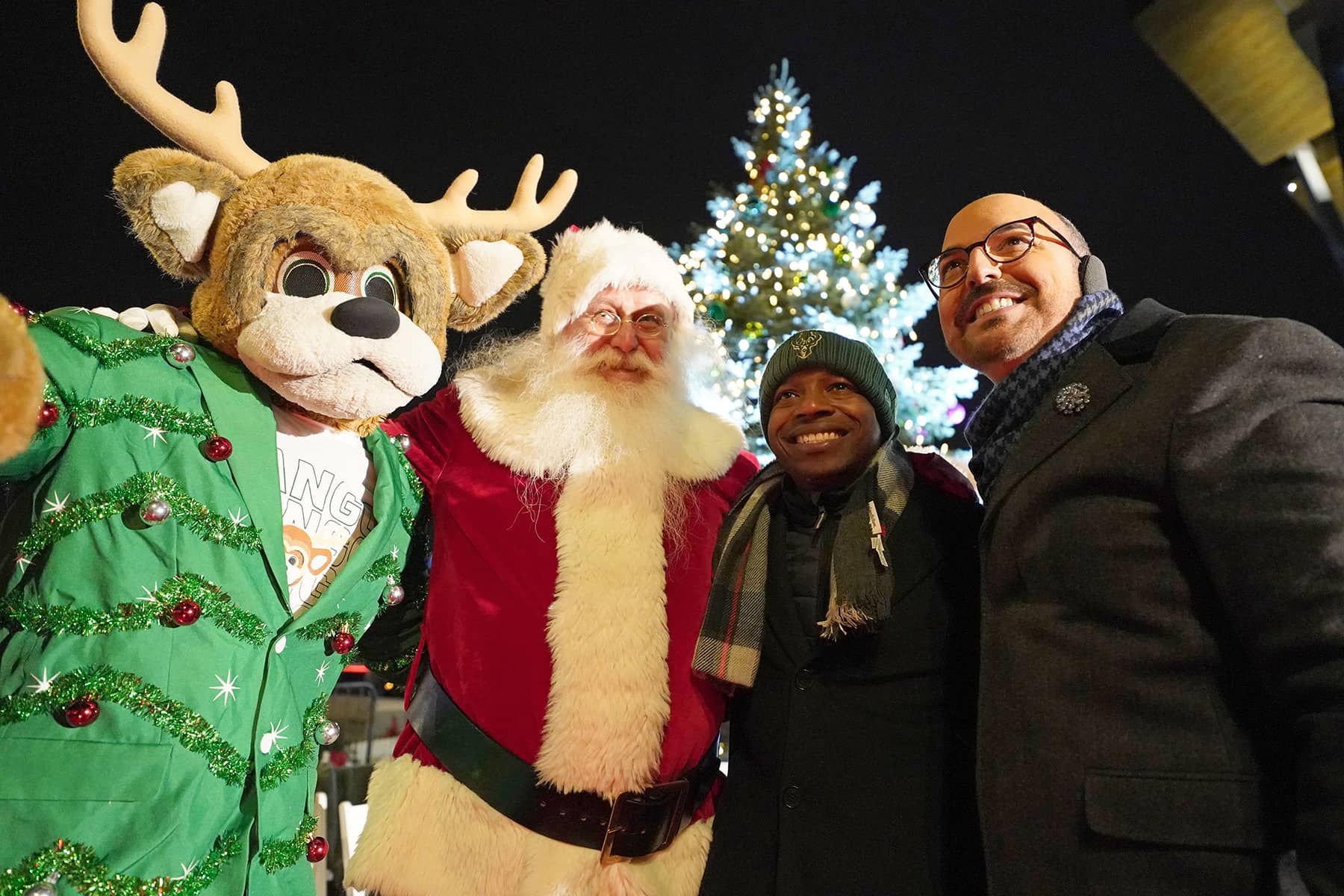 The City of Milwaukee held its annual Christmas Tree Lighting on November 18, transforming the Deer District plaza outside the Fiserv Forum into the "Cheer District."
2022 marks the 109th year of the Christmas tree lighting in Milwaukee, making it the longest running official tree lighting ceremony in the United States other than New York City's.
"As a lifelong Milwaukeean who loves this fabulous city, I am filled with pride to see all of us together for this joy filled celebration. Displaying the tree here ensures that hundreds of thousands of people will have the opportunity to enjoy this community collaboration throughout the holiday season," said David Caruso, President and Creative Director of Dynamic Events. "The highlight of this year's tree design are the 30 ornaments that were created by local artists. Many of them are here tonight. They all represent the diversity of the people, places and ideas that make Milwaukee so unique."
The 2022 Christmas Tree for the City of Milwaukee was donated by 10th District resident Erwin Boehme. The 31-foot Colorado Blue Spruce was harvested from outside his home in Washington Heights, and then escorted by the Milwaukee Police Department to downtown where it was installed outside the Fiserv Forum in the Deer District.
"Thank you to all of our partners for making this event possible. Their efforts with this special tree shows the City of Milwaukee, and everyone here tonight, what the holiday spirit is really all about," said Mayor Cavalier Johnson. "It's a great example of the power of partnerships. Through partnerships we can continue to come together, not only to work to solve the big issues, but also to put on amazing events like this that brings the entire community together."
The night before, on November 17, Milwaukee's downtown began its illumination spectacular. More than 500,000 lights and dozens of animated displays were set aglow for the 24th Annual Milwaukee Holiday Lights Festival.
The annual display of lights, coordinated by Milwaukee Downtown BID #21, transformed three downtown parks into winter wonderland scenes. "Community Spirit Park" at Cathedral Square Park, "Christmas Chalet" at Pere Marquette Park, and "Santa's Celebration Square" at Zeidler Union Square. Also included were street decorations along three downtown thoroughfares, along with an 18-block stretch of lights along Wisconsin Avenue.
The holiday lights downtown were turned on during an in-person switch-flipping ceremony during the Milwaukee Holiday Lights Festival held at Pere Marquette Park.
The extravaganza featured live entertainment including cast members from Black Arts MKE's "Black Nativity," Jenny Thiel, Donna Woodall, DJ Shawna, Dance Academy of Mexico, St. Michael's Ukrainian Choir, Vertical Essence, and Sarah Fierek. A fireworks ceremony along the Milwaukee River concluded the night's festivities.
Both holiday events were the first major in-person return for residents in Milwaukee, since life-saving vaccines for the COVID-19 pandemic were widely distributed in 2021.