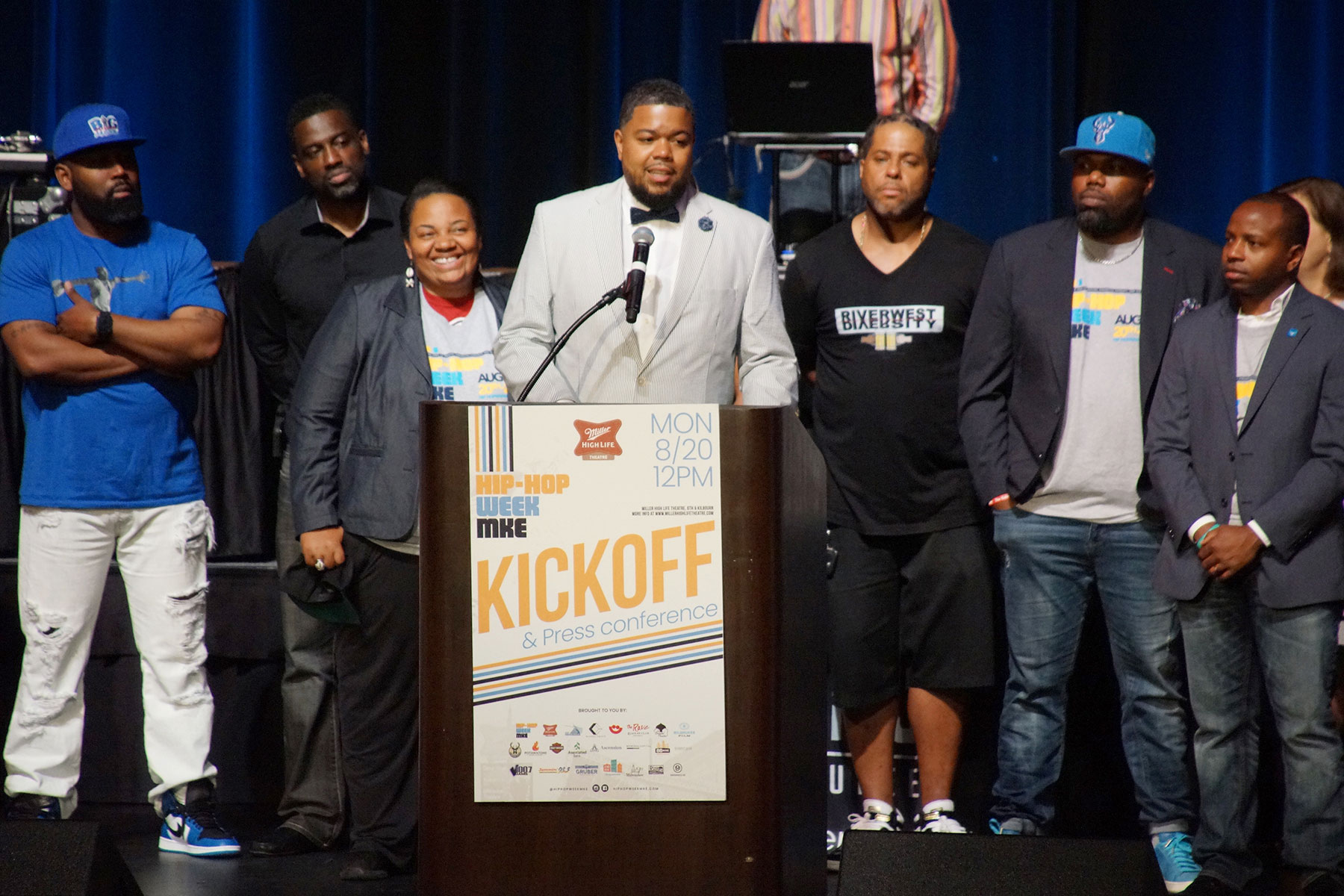 The Miller High Life Theater hosted a news conference with Alderman Khalif J. Rainey and community leaders on August 20 to launch Hip-Hop Week MKE, the first official city-wide event of its kind.
The inaugural event runs from August 20 to August 26 at various venues around Milwaukee. Alderman Rainey, who sponsored the successful legislation that created Hip-Hop Week MKE, invited the public to attend and be a part of the historic launch.
Programming includes sessions on health and wellness, employment opportunities, financial literacy, civic engagement, and live musical performances.
"The idea for Hip-Hop Week MKE is to take the music, a form of art that lots of people are connected to, and use that platform to have conversations about health, financial literacy and civic engagement," said Rainey. "It is about taking these topics and making the conversations more palatable, and putting them in a voice that is comfortable and familiar, which is Hip-Hop."
Hip-Hop as music and culture formed during the 1970s in New York City, from the multicultural exchange between African-American youth and immigrant children from the Caribbean. As of last year, it was officially ranked as the dominant genre of music in the United States for the first time.
"Hip-Hop was born out of a peace movement, when gang violence was bad. So in our community, we should be considering every possible way to connect with people and show them alternative ways of living life," Rainey added. "The primary goal of Hip-Hop Week MKE is to open the dialogue to talk about important ways to improve the lives of people in Milwaukee."
Hip-Hop music has been described as an outlet and a voice for the disenfranchised youth of marginalized backgrounds and low-income areas, as the Hip-Hop culture reflected the social, economic, and political realities of their lives.
The members of the early Hip-Hop community are now in their 50s, and with that age comes a spectrum of health risks from obesity, to colon cancer, and high blood pressure. This has led to conversations about destructive health choices and efforts to promote positive alternative lifestyles.
Beyond his love of Hip-Hop, Rainey also found inspiration for Hip-Hop Week from documentaries and events like the Black Lens series at the Milwaukee Film Festival. Milwaukee Film took over operation of the Oriental Theatre this year and will host its first major event with RZA on August 24.
Hip-Hop Week will feature performances by renowned Hip-Hop artists, including IshDarr and Ghostface Killah, and conclude with the August 26 "Hip-Hop on the Block" event as part of the Milwaukee Bucks grand opening celebration for the Fiserv Forum.
The official City of Milwaukee event was approved by the Common Council in January. Hip-Hop Week MKE celebrates the culture of the Hip-Hop music genre. The series of Hip-Hop themed performances and programming opens up a dialogue about key issues with the goal of bringing the residents of Milwaukee together.
"We have to understand that there is a lot more to learn from this genre, and the people who made it happen," said Ashanti Hamilton, Common Council President. "So I'm excited that all of these people who have contributed to the soundtrack of most of our lives are coming to the City of Milwaukee to impart some knowledge to us. Hopefully we'll be able to take that information and build something from it."